This post may contain affiliate links. We earn from qualifying purchases. Learn More
For horse-obsessed girls, a horse is likely the top gift they ask for. Since a horse might not be in your budget, we have found some great horse presents.
If you have a girl in your life that loves horses, finding the right horse gift for a girl is easier than you may think.
From clothes to custom saddle pads and everything in between, these equestrian gifts are guaranteed to make any horse gal happy no matter your budget.
Whether you are looking for a horse gift your daughter, niece, granddaughter, or friend, we have you covered. With personalized items included, these presents are fantastic for Christmas, birthdays, or special occasions.
Here are the best horse gifts for young and teenage girls:
"Barn Hair Don't Care" Baseball Cap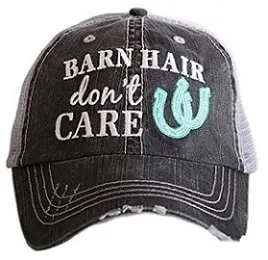 Every horse girl deals with barn hair on a regular basis. A sloppy bun with sweat, shavings, and hay mixed in isn't exactly stylish, but this cute cap is. This practical gift is perfect for teenage equestrians to wear in the summer.
Lightweight and breathable, this cap is a must-have for long, hot days at the barn. Available in adorable different styles, this quality hat features genuine distressing, a mesh back and beautiful embroidery. If you want an awesome gift for your niece, look no further.
How To Draw a Horse Guide Book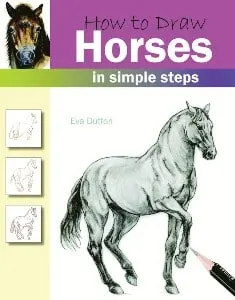 A wonderful introduction for beginning artists, this in-depth book teaches the step-by-step process of drawing a horse. Starting with initial shapes, this book shows every step from beginning to end to draw the perfect horse.
Splendid for rainy days or long car rides, this is an ideal present for those who love to draw. With over 28 breeds and 32 pages featuring horses in different poses, this book will keep your daughter occupied when she's not at the barn.
LEGO Horse Kit: Stephanie's Horse Jumping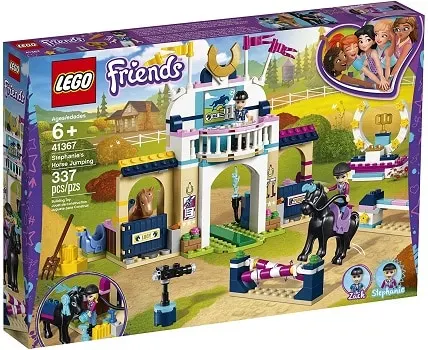 LEGO Friend's creative kits are the perfect gifts for horse girls who love to create and build! The Horse Jumping Kit comes with 2 mini-dolls, 2 toy horse figures, as well as a horse-washing station, winners' podium, and a viewing balcony.
This horse LEGO set comes with337 pieces and will provide hours of fun building and playing. If your horse girl needs additional LEGO friends, the Foal Stable and Stephanie's Trailer Kit are great add-on sets to this LEGO horse world. Suitable for girls 6 years old and up.
Horse Sweat & Leather Smelling Candle
Bring the smell of the barn home for your favorite horse girl to enjoy. This unique candle captures the essence of leather and fresh summer grass. This fun rustic candle is sure to be a gift that is cowgirl approved.
This natural soy candle will keep any girl from missing the barn when she's at home. You'll be surprised by how inviting the warm fragrance of this barn-themed candle is. The unique, rustic smell will bring a bit of country home.
You can also find other country and horse smell candles on Etsy. Visit Etsy here to see more candle smells.
Take-Along Show-Horse Stable with Horse Carrier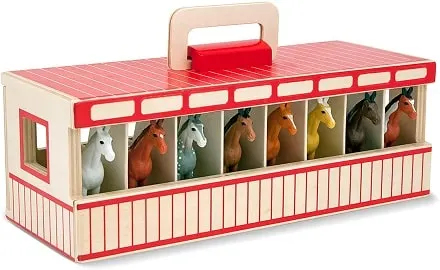 Every little girl will enjoy the fun horse gift with this set of show horses. Made to carry along on her travels. This set not only comes with the stable and horses, but she'll also have a truck and trailer to boot!
The fun little horses with this set are made of hard plastic and are similar in size to the small Breyer horses. (About 3"/7.5cm tall) The stable also comes with a breed book to learn about the different horses in the stable.
Horse Flowers Personalized Jewelry Box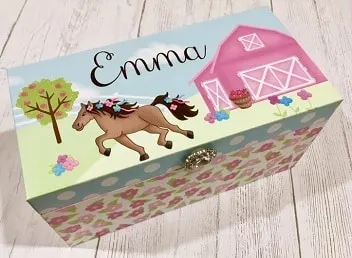 Every horse-loving girl needs a jewelry box to store her accessories. This beautifully crafted jewelry box includes an adorable pony with flowers. Personalize this gift with your cowgirl's name to make a unique and special present.
This fun gift is great for taking to shows or keeping at home. It can be used to store show jewelry and hair supplies. With a jeweled handle, this quality box is an adorable present to give your granddaughter.
Breyer My Dream Paint Your Own Horse
Let your horse girl design the horse of her dreams. This exciting gift lets users paint their own Breyer horse toys. With the ability to create different coat patterns and add markings, this is an ideal gift.
Every girl will have fun designing her very own horse. With two model Breyers, a handy instruction book, six paint colors, and three paintbrushes, everything is provided for an enjoyable day of crafting. This makes a fantastic present that any young rider will love. Recommended for 6 to 15 years old.
LaLa Horse Subscription Box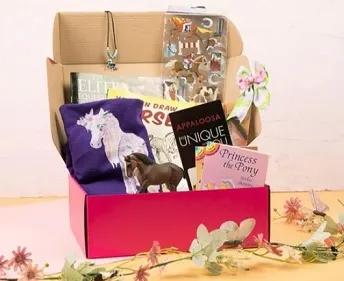 Subscription boxes are the big craze right now with kids, and this LaLa Horse subscription box is perfect for young girls who love horses. See the excitement and surprise of your girl's face as opens and looks inside the box to see what's inside.
The Lala Horse box is a monthly box that has a variety of horsey items for kids such as toys, books, crafts, clothing, and more. See the range of horse subscription boxes here on CrateJoy.com.
Also, read our guide on the 8 best horse subscription boxes.
Horse Girl Dress-Up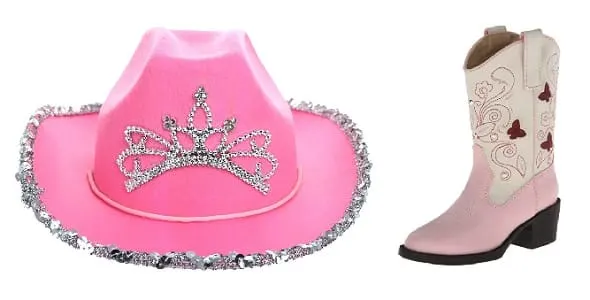 Every horse girl needs to look the part, and a hat and boots are a definite must-have gift for all ages! My own daughter wore these Roper boots for years. The light-up boots flash in pink with every little step. A matching hat completes the adorable picture.
If your little girl is dreaming of her ponies, these dress-up accessories are just what she needs. Additionally, if yours is like mine, they're durable enough to not fall apart when she wears them everywhere! Find the hat here on Amazon and the boots here on Amazon.
Horse Memory Box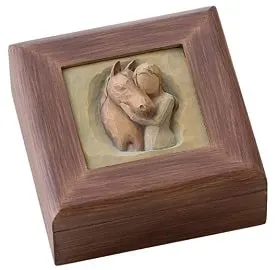 The bond between a girl and her horse is a sacred thing. By giving the gift of a memory box, she will always be able to remember her beloved equine partner.
Perfect for adding mementos, this beautifully crafted wooden box is something she will always treasure and keep close to her.
Engraved with the saying "Always there for me," there is a constant reminder of how special horses really are. Any equine owner will value this sentimental gift. Hand-painted and elegantly carved, this quality wood box makes a wonderful present for any age.
Fun Horse Book: Everything About Horses
Featuring everything your horse girl needs to know about horses, this book includes information on breeds, care, health, and fun horse facts.
Released by Breyer, this book really is meant for horse-crazy girls. In addition to interesting facts, it also includes trivia, quizzes, and lists. It even includes movies, party ideas, and equine sports.
Featured in our best horse books for kids guide, your daughter will want to bring this jam-packed book to sleepovers to share with her equestrian friends. Suitable for girls 8 – 11 years old.
Custom Horse Hair Bracelet
Hand-crafted with a gorgeous four-strand braid, this bracelet will receive lots of compliments. This thoughtful piece of horsehair jewelry is a gift that represents the strong bond between people and horses.
This unique bracelet can be made from the horsehair you send in or with the ethically sourced horsehair they provide. Each bracelet features a heart or circle charm that can be engraved with any name. Available in different sizes, this is truly a one-of-a-kind present.
Horse Pendant Necklace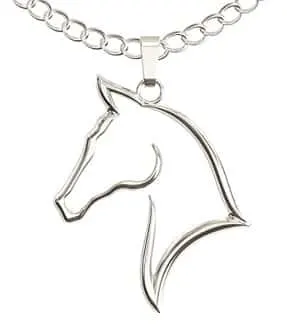 A classy horse necklace for young girls is a gift that can be worn with anything. This necklace is available in silver, gold, and rose gold, the adjustable chain accommodates girls of all sizes.
A beautiful horse silhouette pendant is 1"x1.1" (26mm x 28mm). Teenage horse girls love a good accessory.
National Geographic Horses Sticker Book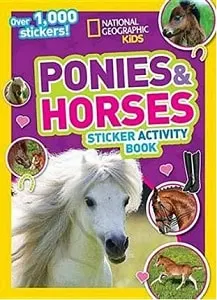 Packed full of beautiful horses and pony stickers, this interactive book for your horse girl includes mazes, games, and drawing activities.
With over 1,000 stickers, any horse-obsessed kid will go crazy for this book. National Geographic goes all out to provide hours of horse-filled entertainment.
This book is great for taking on long car rides or for stormy days stuck inside. This makes an affordable birthday present for a young equestrian. Suitable for girls 4 – 8 years old.
Horse Throw Blanket
When your horse girl is spending her dreams flying through pastures, give her a gift of snuggles with her favorite horse.
This plush and comfortable blankie is a soft way to wrap up with her ponies. Nice and big, at 60" x 80" (150cm x 201cm), the pretty pony design on one side is backed with sherpa fleece on its reverse. Machine washable, this blanket will be keeping her warm in dreamland for years.
Riding Center with Accessories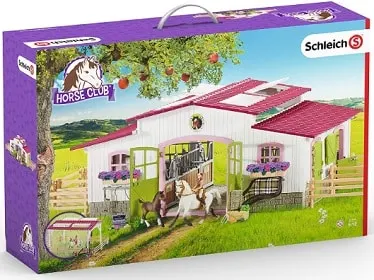 Every horse girl dreams of owning her own stable one day. Let your daughter live out that dream with this fantastic stable playset gift. With 43 quality pieces, this stable set is the second best thing to being at the barn.
Realistically detailed, any girl will absolutely love to play with this riding center. With two horses, tack, feed, a grooming kit, rider, barn, and paddock, this gift will provide hours of entertainment.
A splendid Christmas or birthday present, this stable set is guaranteed to bring a smile to your daughter's face. Suitable for kids 5 – 12 years old.
Horse-Opoly Board Game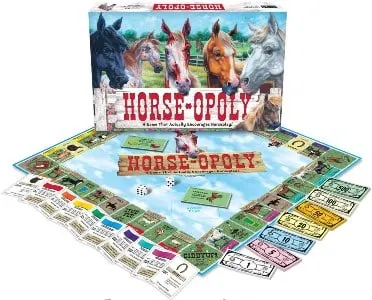 Any horse girl will enjoy showing off her horse knowledge with a fun gift in this exciting equine board game. This property trading game encourages horseplay and is a great activity for the entire family.
Featuring different breeds, players learn all about horses while collecting properties on their way to become the richest player. It even contains cards with horse facts and equine-themed game pieces. Suitable for girls 8 years old and up.
Plush Horse with Styleable Mane and Tail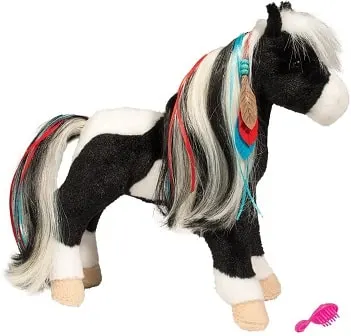 Give your horse girl the gift of a new best friend with Warrior the Princess Horse! Warrior is a very pretty Pinto pony. She has a colorful and silky mane and tail to braid and style again and again.
Safe for all horse girls aged 24 months and up, she is a cuddle friend to treasure.
Horse Backpack
A great horse girl gift to show off her love of horses at school is always fun. With room to store riding boots, brushes, or a riding helmet, this stylish backpack is a must-have. It's even great for school or taking on camping trips.
With a cute grey horse pattern, this sturdy backpack is great for everyday needs. This fun backpack is made from heavy-duty canvas and features multiple pockets for storing belongings. Lightweight yet durable, this stylish bag will hold books, clothes, or riding supplies.
Wonderful World of Horses Coloring Book
With 30 pages of beautiful horses, this coloring book gift for your horse girl will keep her happy when she is not at the barn. With depictions of different breeds, wild steeds, and people riding, this book has a wonderful array of pictures to color.
Imaginations will run wild as this coloring book's detailed drawings are perfect for creating dream horses. Any artist will love the ability to color different coat patterns with unique markings.
This handsome coloring book offers realistic illustrations and features heavy-duty pages. Suitable for 8 years old and up.
Horse Hoodie
No horse girl's wardrobe is complete without some horse apparel. With high-quality print, this sweatshirt features cute text and a beautiful horse.
Made from soft cotton, this hoodie includes double stitching, eco-friendly ink, and a front pouch. The hoodie is available in gray, black, navy, and red.
Breyer Horse Figure Toy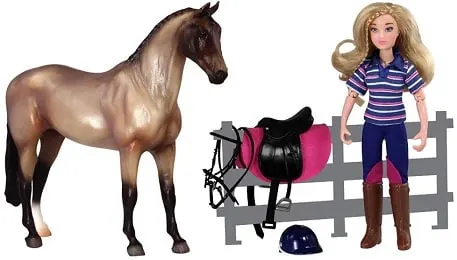 Breyer is the leading horse figure toy company and is a very popular gift among young horse girls. Young girls act out day-to-day riding adventures and mix this horse figure with other horse toys and build complex environments.
Includes 6″ rider, horse, saddle pad, English saddle, and bridle. Suitable for girls aged 4 years or older.
Sequin Art Horse Craft Picture Kit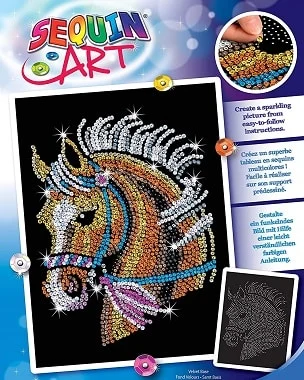 A Sequin Art Horse Picture Kit is a fun gift for crafty horse girls everywhere. kids 8 years old and up can follow super easy instructions to create a gorgeous sparkly horse picture with pins and sequins to a velvet frame. Once she's done with her craft, she can hang it in her room to display!
My Horse Riding Journal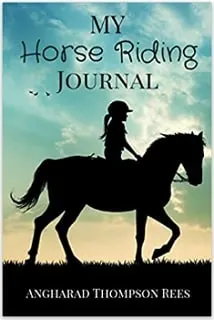 Great for keeping tracking of riding lessons, this journal is equestrian approved. With room for doodling, quizzes, coloring pages and writing tips for pony poems, this journal has it all. While recording all her favorite barn memories, your daughter will also learn valuable horse facts.
Horse-crazy kids will be kept busy filling up all the pages of this journal. Not only is this fun for kids, but it also lets them be creative. They will love reminiscing on their riding memories with this great journal.
Insulated Kids Horse Lunch Box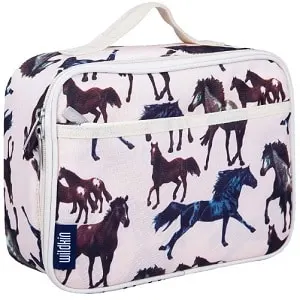 Whether for school or long days at the barn, any equestrian will love this lunch box. Fun and roomy, this lunch box makes a great horse gift for girls and features a cute pony wearing a flower crown.
Thermal insulation is built in to keep food hot or cold. Made from durable, water-resistant fabric, this lunch box will even survive a day at the barn. A convenient strap is featured, making it ideal for the on-the-go equestrian.