This post may contain affiliate links. We earn from qualifying purchases. Learn More
Though many of us would love to spend all day at the barn, unfortunately, that is not always possible. Fortunately, there are some great horse board games you can play while you are at home.
Board games make great horse gifts and are a good way to spend quality time with friends and family, especially when horses are involved.
Let's take a look at the best horse-related board games for the family.
1. Horse-Opoly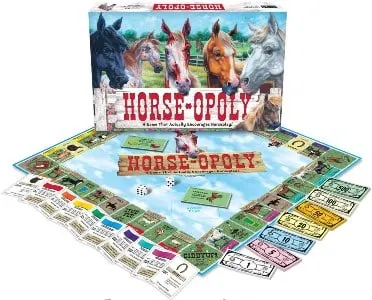 The Horse-Opoly Board Game by Late For The Sky is an equine-based property trading game. Horse-Opoly encourages horseplay, as you can buy horses, feed, and barns.
During the game, you buy and sell different properties with the goal of becoming the richest player. The board game even teaches you fun facts about different horse breeds. Just be on the lookout for bucking broncos, farries bills, and the dreaded task of being sent to the horse trailer.
2. Fantasy Ranch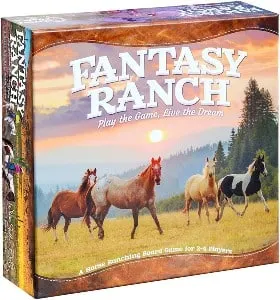 Fantasy Ranch allows you to build and manage your own dream stables. This ranching horse board game includes three different levels, making it great for people of all ages.
Not only can you build your dream barn in Fantasy Ranch, but you are also able to compete at horse shows, collect horses, expand your land, manage your resources, and hire employees. You're even able to collect trophies and rewards to help you succeed.
Fantasy Ranch includes ranch tiles, horse game pieces, twist of fate cards, and guest ranches that actually feature real-life ranches from around the world.
3. Herd Your Horses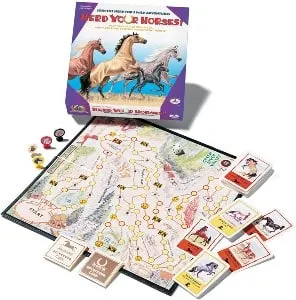 Herd Your Horses is an exciting board game that lets you play from the rancher's or horse's perspective.
In this game, you will be met with three wild adventures where you play as mustangs navigating the challenges of the wild in their herd for the first game and ranchers rounding up their horses for the next two games.
Throughout the game, you have the ability to meet over fifty different horses. Each horse has an illustrated card that includes their name, breed, color, and fictional biography.
4. Monopoly – Horses & Ponies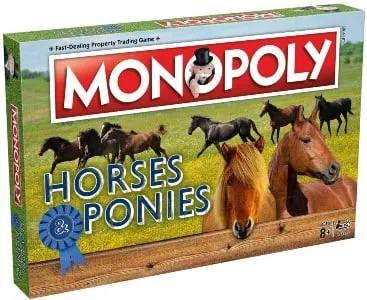 Featured in our best gifts for girls who like horses guide, this is an exciting take on the classic Monopoly board game. In Monopoly – Horses & Ponies, you will build your own barn on the way to success in this property trading game.
Buy and trade from a large variety of different horse breeds while building your barn. Buy tack, invest in stables, and take riding lessons, just make sure to have enough money for vet and farrier bills. Be sure to be on the lookout for different equestrian taxes and fees as you navigate the game.
5. Horse Sense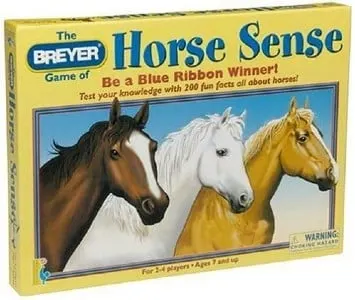 Created by the makers of the beloved Breyer model horses, Horse Sense is a board game that will test your horse knowledge. Throughout the game, you will learn about horse care, health, breeds, and riding.
With over 200 hundred horse fact questions, your horse skills will be put to the test. This board game allows you to expand your horse knowledge while testing you on what you know.
6. Round-Up
Round-Up is a cooperative board game where players work together to round-up escaped horses. Each player works together for the same ranch to rescue the five escaped horses.
Round-Up includes 26 randomly distributed pieces, which allows for the game to be different every time you play it. With every turn, players will pick up a card that will either reveal a horse, rock, or tool. With every item collected, you can work to bring back the runaway horses.
7. Ravensburger Hundreds of Horses Kids Board Game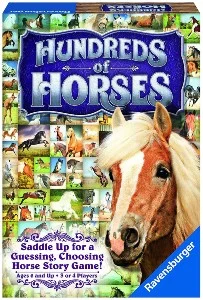 Test your real-world "horse sense" against friends with this unique horse storyboard game. A player must round-up four horse cards and read a description of each horse. Then, each player must secretly vote and determine which horse suits the story best.
The player with the highest score wins. Suitable for adults and kids over 6 years old.
Here is a list of some awesome family-orientated horse games we like but didn't include. They aren't all strictly board games, but they're still fun horse games we had to mention.
8. Gallop Home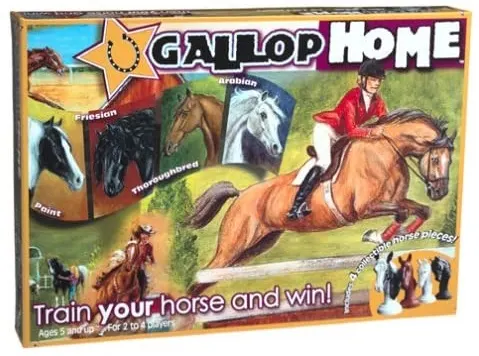 Put your equestrian skills to the test with this intricate board game. Players can try their hand as a horse trainer, with a full range and variety of skills to choose from.
Riders have the ability to choose what disciplines and fields they want to acquire. The game's goal is to build a stable of winning skills while experiencing the joy of training horses. Players can choose to play with an Arabian, Friesian, Thoroughbred or Paint, with stunning game pieces of each horse.
The game is ideal for horse lovers ages eight and up. It can accommodate two to four players.
9. Spirit Untamed Hide & Seek Kids Game
This hide-and-seek game will provide hours of entertainment for the young Spirit lover. It features horses, a board, and buildings from the Spirit Untamed animated film.
In the game, hiders quickly place the horses under buildings while the seeker keeps their eyes closed. The seeker then chooses a building to uncover and receives one token for each wild horse found. However, if they find Spirit, they lose one token. Hiders win if they can get their wild horses to the finish, and seekers win if they get three point tokens.
This game is ideal for ages five and up as it helps with decision-making skills, manual dexterity, and hand-eye coordination. It can accommodate two to four players.
10. Spirit Untamed Hoppin' Horses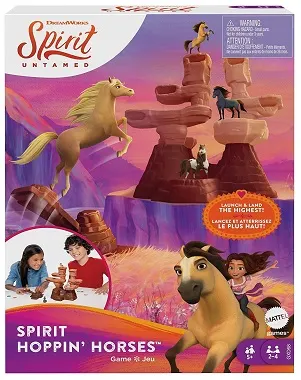 This unique game will take family game night to the next level. It is an easy-to-play game that will bring out friendly competition in kids.
The goal of this game is simple: launch your horse to the highest peak on the mountain to earn a token. Whoever gets three tokens first wins the game.
This game is great for developing manual dexterity and hand-eye coordination in children as they launch the horses. The game is for ages five and up and can accommodate two to four players.
11. Spirit Untamed Stackin' Apples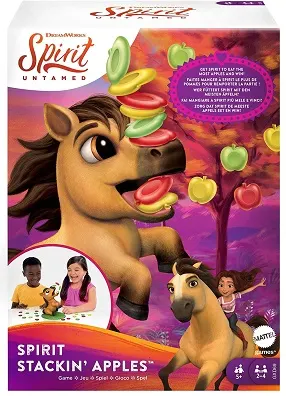 Kids will love this game as it features an adorable Spirit the Mustang game piece. Not only is the game fun to play, but Spirit also makes a great decoration to keep on display.
The game's objective is simple, stack treats on Spirit's nose and then push his hoof so he will eat the treats. Watch Spirit eat the apples and win the treats as points. Any apples he doesn't eat go back in the draw pile.
In addition to making kids laugh, this game is also great for building manual dexterity. It is ideal for ages five and up and can accommodate two to four players.
12. Horse Bingo Board Game
No matter your age, Bingo is something that you can enjoy playing. This rendition of Bingo takes it to the next level by incorporating horses into the gameplay.
The Bingo cards incorporate different horse breeds and terms. It is a great way to test your equine knowledge while also learning new horse terms. This Bingo set features six playing cards and is ideal for ages three and up.
13. SmartGames Horse Academy Path-Building Game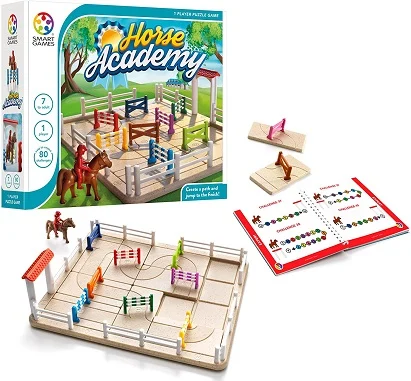 This logic-based game is fun for both children and adults alike. It features four different skill levels depending on how much of a challenge you want: Starter, Junior, Expert, and Master.
As a path-building puzzle game, there are 80 different challenges you can do. Build the jumping course based on the challenges in the book. Logic is needed at the starting gate to ensure your horse can complete the course.
This game requires spatial insight, planning, and problem-solving skills. It is ideal for ages seven and up and is designed to be played by one person.
14. Spirit Top Trumps Match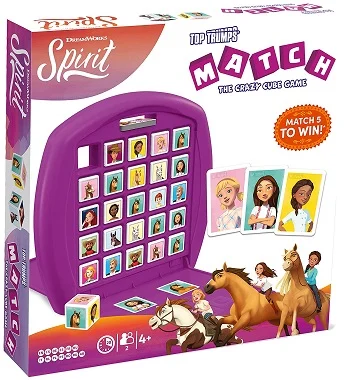 This popular game now comes in a Spirit Untamed edition that horse-lovers will enjoy. Its simple design stores easily, making it a great game to travel with.
The objective of the game is to match five Spirit characters in a row, whether that is horizontally, vertically, or diagonally. Each player selects two cards at random and then takes a turn to push out and replace cubes in the grid. Players receive one point for matching five characters in a row and two points for matching with a card.
This game features 15 beloved characters from Spirit Untamed. It is ideal for ages four and older and can accommodate two players.
15. Candy Land Unicorn Edition Board Game
This fun and adorable unicorn edition of Candy Land is a great twist on the classic board game. Kids can let their imagination run wild as they follow the magical path to Rainbow Mountain.
The colorful game board features adorable unicorns and a fun 3D Rainbow Mountain. In this simple game, kids draw cards to guide their unicorns down the magical path.
The game is a great first board game for children as there is no reading involved. It is fitting for ages three and up and can accommodate two to four players.