This post may contain affiliate links. We earn from qualifying purchases. Learn More
Many children on their birthday or at Christmas beg their parents for a pony of their own. However, a good horse toy is a much more affordable option, without the mucking out!
Kids have enjoyed Rocking horses since the 17th century which started the trend for horse toys. Appealing to both boys and girls of all ages, toys are excellent for developing a child's imagination and role-play. They also help children learn more about these magnificent creatures.
To help you find the right toy, we've compiled a list of awesome horse toys for young girls and boys who love horses.
1. PonyCycle Ride on Horse Toy
This mechanical bouncy horse toy has the look and feel of riding a real horse. Its sturdy steel frame is covered using soft plush fur and high-quality leather with a sophisticated drive system.
When the rider bounces up and down, pressing the saddle, the horse moves, offering a safe but fast riding experience. The horse can go in a straight line, turn and even swerve, and the soft wheels ensure no marks or scars left on your floors.
It also encourages children to exercise and use the muscles of the waist, abdomen and legs.
2. WALIKI Toys Stick Horse with Sound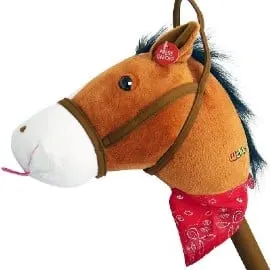 Let your toddler ride through the plains of imagination with this WALIKI stick horse! The horse toy measures 30 inches tall, is made from soft, plush materials that ensure your little one stays safe.
It also makes realistic wild horse sounds when pressing the button in the ear. This fantastic interactive horse is ideal for children aged 3 years and over.
3. Blue Ribbon Champions Deluxe Horse Toy
This champion quarter horse has numerous features along with a set of accessories to help your child care for them and win best in show. It even comes with a trophy.
The horse's head and neck can move, and when pushed down, it makes trotting sounds and whinnies. This kids horse toy will provide hours of entertainment as well as encouraging imagination, role play and creativity.
4. Schleich Western Rider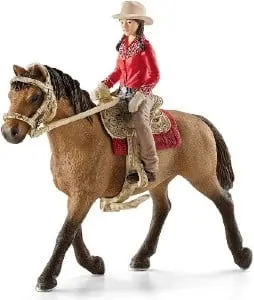 Your young horse lover will love this hand-painted, highly detailed horse and western rider. Remove the figurine and saddle and bridle from the horse after a long day of riding. Beautifully made, this toy makes the perfect addition to any collection.
5. Melissa and Doug Giddy-Up Soft Horse
Start your little one's interest in horses early with the Giddy Up and Play baby activity horse. This cute and cuddly plush companion features a variety of textures and sounds to develop vital skills.
The horse responds to a pat on its neck by playing music, weighing, and making galloping noises. It also has a shatterproof mirror to engage your baby's fascination with faces and light. Requires two AAA batteries, not included. Suitable for toddlers 3 years old and up.
6. Horse-Opoly Board Game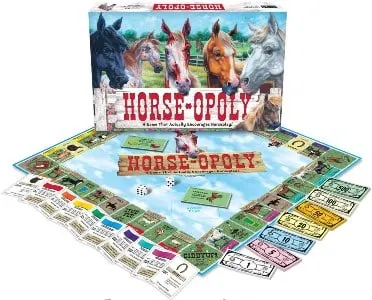 Featured in our best horse board games for kids guide, the whole family can enjoy this horse-themed monopoly game. Players can opt for either the standard game or the one-hour version.
As you turn over the deeds, learn interesting and fun facts about our equine friends. As well as for kids, this will make a great gift for horse lovers of all ages.
7. LEGO Heartlake Riding Club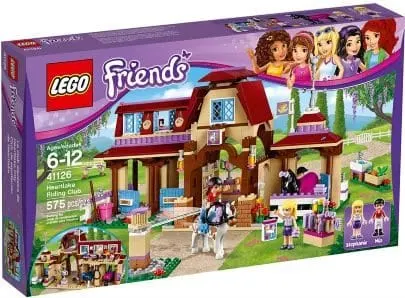 The LEGO Heartlake Riding Club will keep pony-mad kids occupied for hours! Your boy or girl can build this 2-story stable building which features two stables for the two horses included, a grooming station, horse training equipment, and a cafeteria.
It also has a loft bedroom complete with two beds for Mia and Stephanie, the mini-doll figurines in riding gear, and even a mouse house! Put the horses on the rotating exerciser then set the height of the jump for some jumping practice.
Also, see our guide to the best horse LEGO sets for kids.
8. Breyer Classics My Dream Horse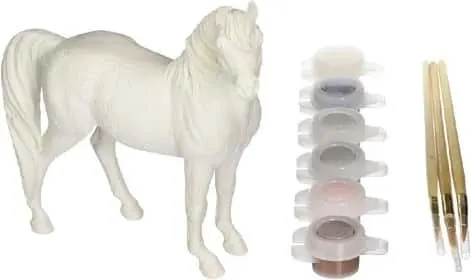 Bring out your child's creative side as they paint their horse with the Breyer Horse Craft Activity set. The set includes an unpainted model horse, six paint colors, three paintbrushes, a bottle of glue and two shades of mohair.
Kids can paint the model to look like their favorite horse and once dry can play with it, discovering numerous adventures.
9. Melissa and Doug Take-Along Show-Horse Stable Play Set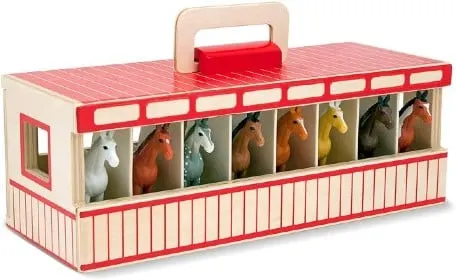 This beautiful horse stable toy set for children is easy to carry and comes with eight different model horses. Each horse has a stall along with write-on tags above so your child can name their equine friends.
The hinged doors allow for simple access when taking them out for playtime. A metal latch keeps the doors securely closed when carrying the stable set.
10. Breyer Stablemates Deluxe Horse Stable Set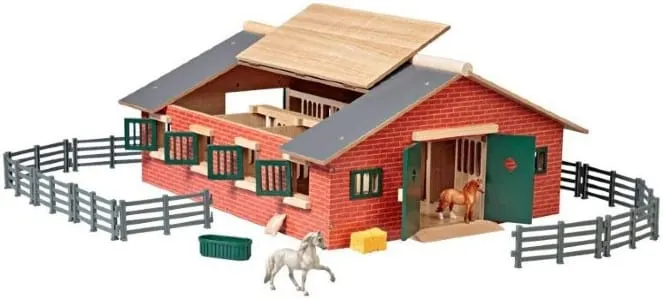 This 7-stall barn comes complete with two model horses along with 12 fencing pieces, a feed bag, water trough, and hay bale.
It has everything to run a busy stable such as a tack room with riding equipment and sliding doors for horses to go in and out. Kids can add their personal touch with the stickers included.
11. Melissa and Doug Horse Carrier
This wooden horse carrier is just like the real thing! It features a "hitch" to hook up the trailer to the truck and a realistic pull-down ramp to load and unload the horses with ease.
The horse toy includes two flocked play horses that fit easily into the carrier. Once the horses are safely inside, they can hit the road for some fun adventures!
12. Schleich Stable with Horses and Accessories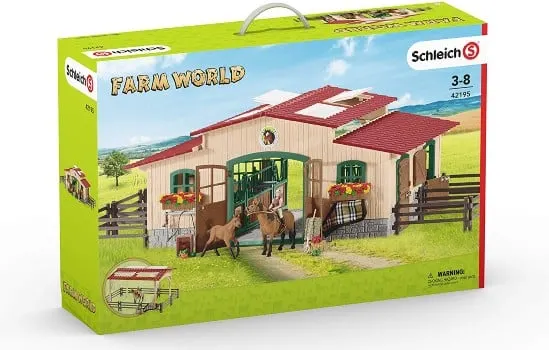 Your horse mad toddler will adore this horse toy stable that has all the features and characteristics of a real-life barn! The building has large stalls equipped with hay racks and drinking troughs so the horses can live in comfort.
Included are 12 paddocks assembled to make a riding area when removing the stable roof. The additional accessories such as a saddle and bridle set, pitchfork, straw bale, hay bale, and feed allow the child to care for the included Mustang mare and her foal. Suitable for kids 3 – 10 years old.
13. Radio Flyer Champion Ride On Horse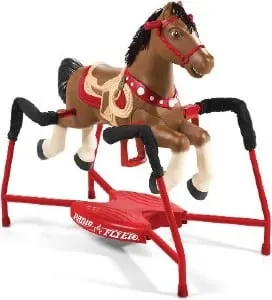 This ride on horse toy offers children an experience close enough to the real thing! They can choose to ride at a walk, trot, or canter accompanied by real-life sounds.
When fed the included carrot, the toy horse makes realistic eating sounds, and they can brush the soft yarn mane using the comb accessory. The horse is mounted on an 'X' frame base and has built-in safety stirrups. The EZclimb step makes it easier for young riders to mount up onto this magnificent steed.
13. Breyer stablemates Red Stable Set
The Breyer Red Stable and Horse Set continues to be a bestseller, and it is easy to see why! This beautifully designed three-stall barn features a tack and storage area, fencing, a water trough, a jump and three race barrels.
The set also includes two Stablemates horses and is sure to keep your kid occupied for hours. To discover more, read our Best Breyer Horse Toys guide here.
15. Melissa and Doug Giant Horse
For kids who would love to keep a pony in their bedroom, the Melissa and Doug Giant Horse is the next best thing!
Standing nearly three feet in height, this hand-crafted plush horse features a realistic mane and tail and four white stockings. Kids can cuddle, pet, and groom this toy horse, making it the perfect companion.
16. Melissa and Doug Wooden Stamp Activity Set
For the young horse lover who loves arts and crafts, this wooden stamp activity set makes the perfect horse gift. It comes complete with horse-themed tools to create some fantastic equine masterpieces. Included are ten stamps, two-color ink pads and five colored pencils.
17. Decorate Your Own Horse Figurines Craft Kit
This all-inclusive craft kit comes with two ready-to decorate horse figurines, six pots of paint and a paintbrush. Children can create the horse of their choice, and once it is dry, can enjoy some fun and imaginative playtime. This art set is an ideal activity for kids' parties.
18. Melissa and Doug Children's Pasture Pals
This collection of twelve different horses is ideal for the young equestrian who is interested in learning about the various breeds. Every figurine features velvety texturing and realistic manes and tails, and each one has a compartment in the wooden barn-shaped display box.
19. Schleich Riding School with Riders and Horses
Your child can run their own riding school training for dressage, showjumping, or vaulting. This unique set comes complete with model horses and riders as well as a riding teacher so the lessons can commence!
It also includes paddock fencing, saddles, and bridles, food for the horses, and grooming accessories. The roof is removable so riders can ride whatever the weather!
20. Schleich Vet Visit to the Riding Center
For the aspiring veterinarian, your child can diagnose and treat sick or injured horses with this mobile vet set. It features an x-ray machine and prescription pad along with numerous other accessories to make horses feel better. Included are an Icelandic pony mare and her foal.