This post may contain affiliate links. We earn from qualifying purchases. Learn More
In the summertime, it is vital to have fans running in order to keep your horses cool. Summer heat can be tough for both horses and people. Having fans will help keep everyone cool and happy in the barn.
In addition to cooling down horses, fans help keep proper airflow and will help prevent the build-up of mold and fumes. They are a must-have during the summer season.
5 Best Horse Barn & Stall Fans:
Choosing the Right Barn Fan
When choosing a fan, you want one that will be fitting for the size of your barn and will provide adequate airflow. However, not all fans are suited for use in a barn. Many boxed fans are not meant to be used in a barn.
Most boxed fans are designed for residential and light commercial use, not for use in barns. Dust and hay can cause certain fans to short out if it reaches the motor and could even potentially cause a fire.
When selecting a fan for a stall, you will want one that can be mounted and has an airflow of around 2,000 – 3,000 cubic feet per minute (CFM).
We have carefully selected 5 of the best fans to use in barns and stalls. These fans are designed to provide quality airflow and hold up against dirt and hay.
5 Best Barn and Horse Stall Fans
Air King 9020 1/6 HP Industrial Grade Wall Mount Fan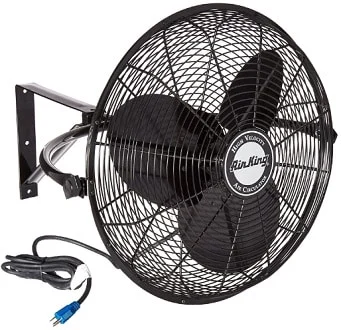 This powerful fan measures 20 inches and can effortlessly be mounted in stalls. Featuring three different motor speeds, it has the capability to reach 3670 CFM. With safety certifications, you can rest assured this fan is ideal to use in barns.
This industrial grade fan is safe to use in a barn environment with a powder-coated finish added to the blade guard.
Made from sturdy steel and powerful construction, this fan is built to last. Horse owners like the air circulation and cooling this fan provides.
Pros:
High airflow capacity
Durable steel construction
ETL and OSHA compliant
Cons:
It can only be mounted to the wall
iLIVING ILG8E18-15 Wall Mount Outdoor Waterproof Fan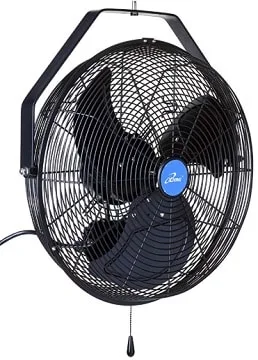 This waterproof fan is ideal to use in a barn setting. The curved blades produce efficient airflow and cooling that benefits both people and horses. A pull chain feature is included that can be used to adjust the fan to three different speeds.
With a wall mount included, you can conveniently hang this fan if desired. A steel frame and sealed motor help protect the fan from damaging dirt and hay. A mister can be purchased separately and attached to this fan for additional cooling powers.
Pros:
The motor is sealed and permanently lubricated to protect it from water and debris
A wall mount is included
Provides optimal airflow and cooling
Cons:
The pull switch is a plastic chain and is not the most durable
Maxx Air Industrial Grade Air Circulator Fan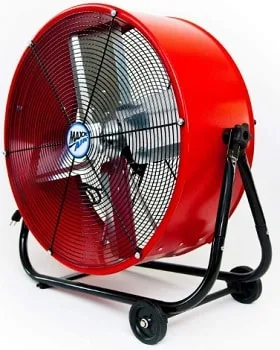 Perfect for setting up in barn aisles and arenas, this heavy-duty large fan provides great air movement and cooling with two speeds. Made with tough steel and OSHA compliant grills, this fan can withstand tough conditions.
The fan features a 10 foot grounded cord and the ability to tilt it 120 degrees. This versatile fan can also be wall-mounted. Horse owners find this to be a great solution for cooling down their barns on hot summer days.
Pros:
Great for setting up in aisles or arenas
Can be used with wheels or mounted
High quality and powerful
Cons:
This fan can be noisy on the high setting
Some people experience their fan vibrating
Maxx Air Wall Mount Fan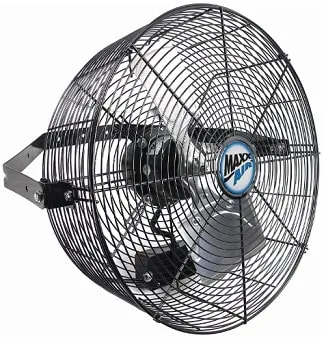 Designed with extreme durability, this fan is a popular choice for using in stalls. It provides up to 2,500 CFM, allowing for optimal airflow and cooling capabilities. A heavy-duty bar is built on to provide easy mounting in stalls, saving you time and energy.
The enclosed motor is both dust-proof and energy-efficient, so it is safe to use in barns. With a 180 degree tilt, this fan can be positioned to keep horses comfortable in the heat. It has three different speeds that can conveniently be controlled with a dial switch.
Pros:
The motor is enclosed to be dust-proof and energy efficient
Provides efficient and powerful air flow
Can be easily mounted with a heavy duty bar
Cons:
Air King 9318 Industrial Grade Fan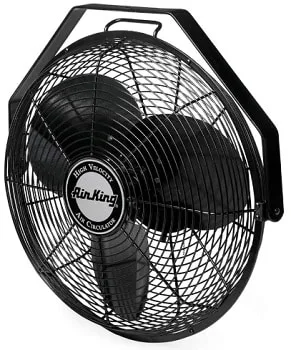 Featuring a totally enclosed motor, this efficient fan is fitting for using in a barn. It can be easily mounted or set up on the floor. At 18 inches, it is a great size for hanging up in stalls. With up to 3,190 CFM, this fan can be set at three different speeds with a pull chain.
Easy to install, this fan will fit in most stalls. It is designed to last a long time thanks to its powder coated finished blade guards. Its quite design will keep horses and people alike happy. ETL and OSHA compliant, you can rest assured that this fan will be safe for barn use.
Pros:
Powerful and efficient
Safety certified
Can be easily mounted in different places
Cons:
Pull chain could be longer and sturdier
FAQs
Where is the Best Place to Mount a Fan in a Horse's Stall?
Ideally, you want to mount the fan upright in the front or corner of the stall to optimize air flow for horses. Make sure to keep the fans out of the horse's reach. Curious horses may try to play with the fan and wire if it is in reach, which could be potentially dangerous.
How Long Should I Keep the Fan On?
Typically, a fan only needs to be on for eight hours during summer. Fans can be turned off overnight, as temperatures normally drop enough at night to keep horses comfortable.
How To Keep Fans Clean?
Even though these fans are designed to hold up well in dusty environments, you still want to clean them regularly to expand their lifespan, as dust can build up. Blade cages can typically be opened, allowing you to wipe down the blades with a damp cloth. Fan filters can also be purchased to help prevent dust and hay from entering the fan.
Also read our guide on the best barn and horse stall heaters to keep your horses warm on cold winter nights.