Our readers support us. This post may contain affiliate links. We earn from qualifying purchases. Learn More
The Duttons are the focal point of Yellowstone (2018- ), Paramount Network's popular neo-western drama series.
John Dutton, the head of the Dutton family, is the current owner of the largest ranch in the United States.
Conspiring with his children and allies, John fights to protect every inch of his land from greedy developers and investors.
Through their actions, we get to know each member of the Dutton family inside and out. However, there is more to this universe than what the original show reveals.
The Yellowstone spinoff 1883 features the first generation of Dutton ranchers. In the show, James Dutton and his family embark on a perilous journey from Texas to Oregon to find their forever home.
While 1883 casts the spotlight onto the earliest known ancestors of present-day John Dutton, the upcoming spinoff 1923 is set to introduce various missing pieces of the Dutton family puzzle.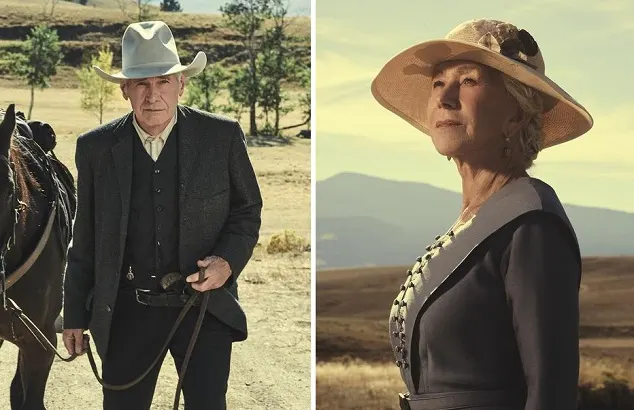 Given its titular year, the show will explore how the Duttons coped with the aftermath of WWI, the prohibition, and Montana's great depression.
Yellowstone Dutton Family Tree Explained
Thanks to Paramount revealing the core characters of 1923, we now have an accurate idea of how different members of the Dutton family are all connected:
We now know that Harrison Ford will play James Dutton's brother Jacob Dutton in 1923, with Helen Mirren portraying his wife, Cara.
The show will also feature the adult John Dutton Sr. (James Badge Dale) along with his wife Emma (Marley Shelton), as well as their son Jack Dutton (Darren Mann). This new addition finally cleared up disputes about a lost generation in the Dutton family tree and set the show's timeline straight.
Last but not least, it has also been revealed that Spencer Dutton (Brandon Sklenar) is the brother of John Dutton Sr., not the son of Elsa Dutton, as many have theorized.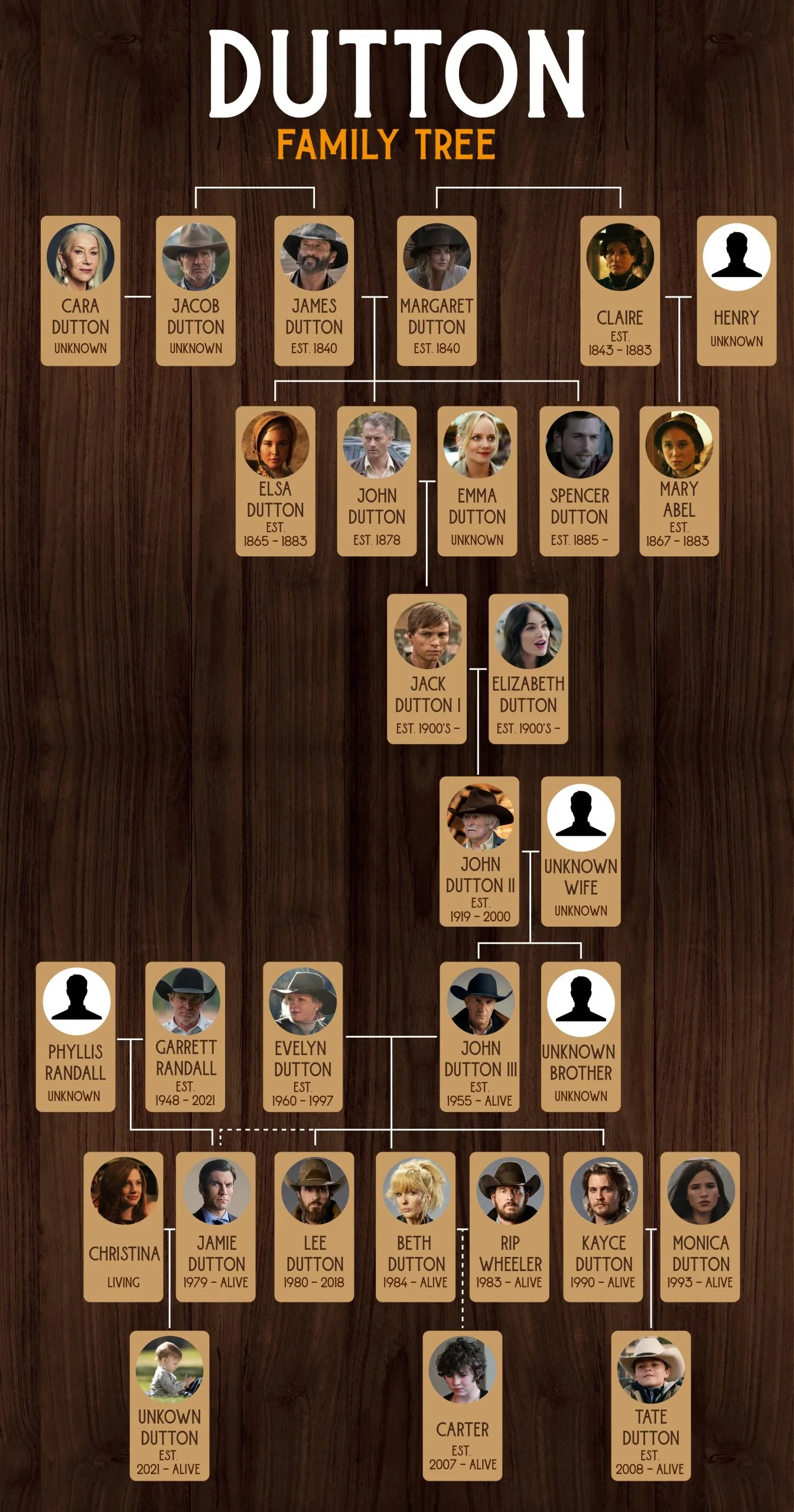 Fast-forward to the present day, the family tree is about to expand with a brand new member in Yellowstone Season 5, namely Kayce and Monica's second child.
Monica revealed her pregnancy in Season 4 Episode 8, "No Kindness for the Coward," and we are likely to see the birth of the new Dutton towards the second half of the new season.
Also read: Yellowstone Season 5 Release Date, Trailer, Plot & Latest News
1883 Actor Tim McGraw Reveals James Dutton's Family Relations
For a long time, it was unclear who James Dutton from 1883 was to Yellowstone's John Dutton (also called John Dutton III).
Most fans believed he was John's great-grandfather. However, this has now been corrected by country music superstar Tim McGraw, who plays James Dutton in the series.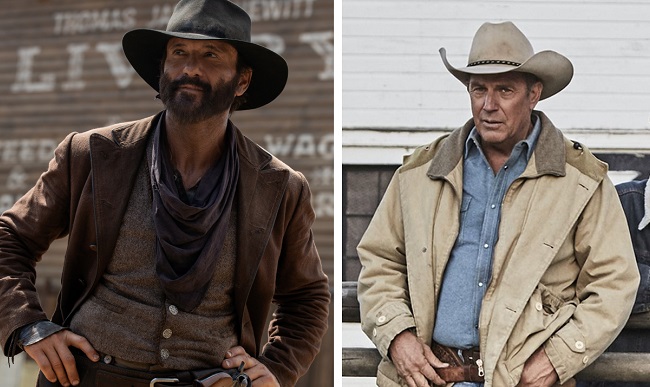 In a special feature of the Yellowstone: Season 4 Blu-ray set titled "Yellowstone: Origins", the actor revealed the truth about the Dutton family tree.
"I play John Dutton's great-great-grandfather. Our family is the first to discover Yellowstone and settle it. And in doing that, we are the first to really defend it and fight people off, and try to establish it and then survive."
And so, our theory about James Dutton's relationship to John Dutton is confirmed. However, this also means that Tate Dutton is, in fact, the 7th generation of the family, and we all know what that means.
In the finale of 1883, a Crow elder named Spotted Eagle warned James that in 7 generations, his people will rise up and take back the land he was about to settle on.
With Tate being that very generation, the downfall of the iconic Yellowstone Ranch could be rapidly approaching.
Not to mention Kayce's vision in Yellowstone Season 4 might have already foretold the coming of this fateful event.
Also read: What Happened to John Dutton's Wife Evelyn Dutton?
Who Is the Unknown Brother of Yellowstone's John Dutton?
In a Season 2 flashback, John shares a moment with his elderly father who makes him promise never to sell the ranch.
Other than revealing why he's madly committed to keeping the ranch, we also find out from their conversation that John wasn't an only child.
Taylor Sheridan is yet to reveal who the unknown brother of Yellowstone's John Dutton is. All we know for now is that his father John Dutton Jr. had at least two sons, and the mysterious brother either died or abandoned the family.
In the Season 2 finale "Sins of the Father", John remembers the promise he made his father before he died. In the flashback, John Dutton Jr. talks about how he's longing to be young again, saying:
"I miss… I miss your mother… and your brother. God dammit, " he says, upset. "Guess I miss more than I thought."
While his words suggest John's brother likely died before his time, there's also a possibility that he left the Yellowstone ranch and started a family. It wouldn't be unlike Taylor Sheridan to deliver such a twist into the storyline.
If John's brother did have children, they could pose a direct threat to the Duttons currently sitting on the Yellowstone throne, adding even more complexity to the situation.
In either case, his brother's memory seems to be deeply buried in John Dutton's mind, who has never mentioned him in conversation. Upcoming Yellowstone spinoffs will probably reveal what truly happened to this elusive Dutton.
Who Are Ned and Chance Dutton?
In Yellowstone Season 1, John remembers Ned Dutton during the funeral of his eldest son, who dies in the show's opening episode.
During the funeral scene in Season 1, we are also given a short glimpse of Ned and Chance Dutton's gravestones. While Ned's headstone is partly obscured by grass, fans could make out the date engraved on it: March 16, 1863. No date was seen for Chance.
It is unknown who Ned and Chance Dutton are. The most popular fan theories are that they are nephews of James Dutton from 1883. Many also believe they were brothers and died around the same time.
Other fan theories about Chance Dutton speculate he could be the unknown brother of John Dutton III. Yet more theories suggest Chance was another one of James' brothers and the father of Ned.
There's also a possibility that both Ned and Chance Dutton were children of James and Margaret from 1883 who died at a young age.
However, fans won't have to wonder for too long, as either 1923 or the upcoming spinoff 1883: The Bass Reeves story will likely reveal the true identities of these forgotten Duttons.
Also read: 20 Best Yellowstone Characters Ranked
3 Dutton Family Theories and Mysteries
There is much room for speculation in the Yellowstone universe, and fans like to grab every opportunity to get inside the head of show creator Taylor Sheridan.
1. Phyllis Randall Was a Dutton
Many agree it is rather odd of John and Evelyn Dutton to adopt someone's orphaned baby, unless the child was somehow related to the family. This train of thought gave rise to the theory that Jamie's mother Phyllis Randall had to be a Dutton herself, either by blood or by marriage.
A likely scenario is that Phyllis was in fact Evelyn's sister, which would give the couple enough motive to take Jamie under their wing.
A conversation between John and Jamie in Yellowstone Season 3 also indicates Phyllis Randall had close ties with the Dutton family:
"When he married the woman who gave birth to you," John said to Jaime, we begged her not to do it because we knew. But, I guess she thought she could save him. I don't know how to explain the chemistry of attraction, the thing that drives us to kill ourselves."
Also read: How Did John Dutton Know Jamie's Mother?
2. Jamie is Part Native American
A somewhat contradicting theory states that Jamie Dutton could have Native American heritage and therefore has a stronger claim to the Yellowstone Ranch.
One Redditor says he could even become the fulfillment of the ominous prophecy the Crow elder set out in the 1883 finale:
"Yes, Paradise. Good name. But you know this: that in seven generations, my people will rise up and take it back from you," the elder told James Dutton, who answered:
"In seven generations, you can have it."
AmericanWanderlust on Reddit believes Jamie is the true heir to the Yellowstone throne due to his mother being "either full or 75% Crow".
The Redditor writes:
"This would explain that jet black hair (his father had sandy hair) and the high cheek bones and sharper features that he didn't share with his bio dad. So where do they come from? Mom."
"The reason I like this theory is because in Season 4 Randall kept saying stuff to Jamie like "they stole your birthright" or "they stole your inheritance," which would work from a Native American perspective.
"That could help to explain why John has always been fearful of his "selfishness" or whatever; that ultimately he knows Jamie has a stronger claim and multiple claims that would trump those of his biological children."
Convincing? Maybe not at first, but we have to admit, in Taylor Sheridan's Yellowstone universe, nothing can be ruled out.
Also read: Will There Be a Yellowstone Season 6?
3. The Ranch Was Named After Elsa Dutton
Another Redditor TheXNerd pointed out why Elsa Dutton from 1883 plays such a central part in the history of the Yellowstone Ranch.
We know that to honor her memory, James Dutton has decided to settle on the land where Elsa is buried. This way, the family can always visit her grave and keep Elsa in their hearts for generations.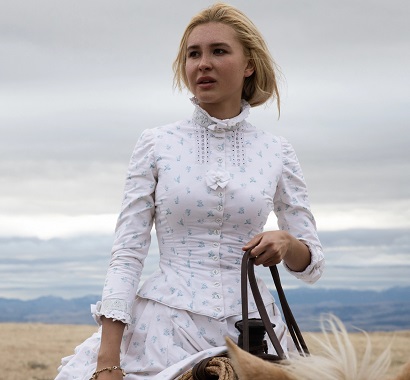 What's more, James probably makes his eldest son John Dutton Sr. promise that he will look after his sister's grave and keep the ranch in the family. This promise then passes down to subsequent generations, which is why Elsa narrates 1883, the Redditor says.
Others have speculated the name of the Ranch might also trace back to Elsa, whose Indian name was "Lightning with the Yellow Hair."
As a result, there is a good chance her husband called her grave the "yellow stone", hence the name of the ranch.
Also read: Who Plays Elsa Dutton in 1883? Meet Isabel May
Potential Yellowstone Spinoffs to Cover the '40s and '60s
Following the announcement of 1923 Season 2, Taylor Sheridan revealed he is considering adding two more spinoffs to the Yellowstone universe. According to Deadline, the new limited series would focus on the Dutton family's struggle to hold onto the ranch in the 1940s and '60s.
Other than introducing new Yellowstone players, the spinoffs are also likely to be heavily intertwined with the historical events of the time.
The series set in the 1940s would further explore the lives of present-day John Dutton's parents and grandparents and their struggles during the Second World War and the aftermath of the Great Depression.
Whereas the 1960s series will likely revolve around turbulent events such as the Cold War, Vietnam War, and Civil Rights Movement.
Yellowstone's John Dutton was also born in the years preceding this time, which means we'll finally get to find out more about his tumultuous childhood.
Also read: How the Yellowstone Cast Are Paid (Including Kevin Costner)