Our readers support us. This post may contain affiliate links. We earn from qualifying purchases. Learn More
If you want to find out what the best horse trailer cameras are, then this article is for you! We all know that towing a trailer can be hard, especially when you are wondering how your horse is doing.
As an owner, you must take every precaution to ensure their safety and comfort during travel which is why this modern piece of technology is so essential.
Overview of the best horse trailer cameras we've chosen:
A horse trailer camera allows you to monitor your horses during transit, taking immediate action if necessary. The last thing you need is to reach your destination with a distressed or injured animal. You can drive more relaxed, knowing that your precious load is safe.
A camera also provides extra visibility when parking or reversing, which is invaluable and helps avoid blind spots.
Should I choose a wired or wireless horse trailer camera?
A wired camera requires more involvement in the setup but works in any type of vehicle. These can be expensive, but you do not have to worry about losing signal giving greater peace of mind.
A wireless camera is both cheaper and easier to install. You can plug the device into a 12-volt DC connection or cigarette lighter and away you go! Some though can be unreliable.
5 Best Horse Trailer Cameras
iStrong FHD 1080P Digital Wireless Camera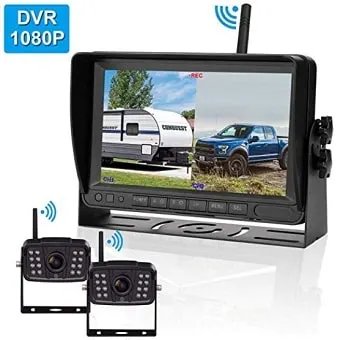 The iStrong FHD 1080P Digital Wireless 2 Backup Camera is excellent value for money and features everything you need in a wireless horse trailer camera. It comes complete with two wireless night vision cameras which can also record via the built-in DVR.
This device has a working range of up to 450 feet with a viewing angle of 150 degrees. The system offers four different monitoring modes with IP69K rating for being thoroughly dust and waterproof. It can withstand all weather conditions and is easy to install.
Key Benefits:
Installation instructions and YouTube video
Two Year Warranty
FHD 1080P 7-inch monitor
Different mounting options
Swifthitch SH04 Wireless Battery Camera System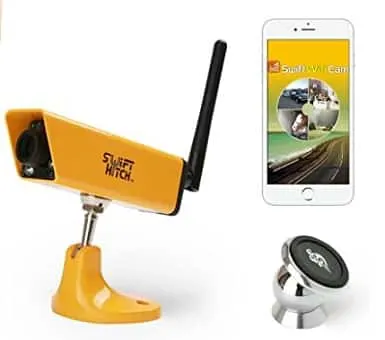 This versatile wireless horse trailer camera links and views directly onto your Smart Phone or tablet. There is no need for internet connection or data plan as it creates its own mobile hotspot perfect for no signal areas.
You can also receive calls and text messages while in camera mode without any problems allowing you to use your phone should you become lost.
Sleek and water-resistant, this device comes complete with a hands-free holder as well as an adaptor and charger for connection.
You also receive a full warranty should you encounter any issues and includes full tech support. This camera is ideal for all types of applications including keeping an eye on your horses in the trailer, blind spots, and parking.
Key Benefits
High quality, durable horse trailer camera system
Onscreen guidelines for backing up view
Includes magnetic smartphone/tablet holder for easy mounting on the dashboard
Displays alert when the battery is running low
No internet connection required
Yuwei RV Rearview Wireless Camera
This highly portable horse trailer camera can work from the cigarette lighter on your vehicle's dashboard, making it easy to take out and about. Made by Yuwei, the system is quick and straightforward to install.
The 7-inch screen supports up to four wireless cameras allowing you to keep an eye on your horses and reverse without any problems.
The waterproof rating for this camera is IP69, and Yuwei tests all their devices under 3 meters of water for two hours before they leave the factory. You can be confident this system will work even when it is raining! A major plus to buying the RV Rearview is the lifetime technical support.
Key Benefits:
12-month replacement warranty
Takes less than an hour to install
Worry-free after-sales service
eRapta Backup Camera 2.0 with Split Screen Monitor
This device is excellent value for money and comes with four cameras allowing you to customize the system according to your requirements. You can mount the cameras wherever you choose, including the inside of the trailer to monitor your precious horses.
As this is a wired system, you always have a prominent image on the 7-inch-high quality LCD screen which has a four-channel display.
The system is weatherproof and waterproof, allowing you to use it whatever the conditions are outside. The cameras also have night vision to reverse safely in the dark. Installation is straight forward, and the whole system made to last.
Key Benefits:
Comes with 5mm aircraft grade cable
Instruction manual included
Night vision
Warranty period up to two years
Trailer Eyes Wi-Fi Horse Trailer and Barn Camera
This horse trailer camera provides a 360-degree view and sends an image to a SmartPhone or tablet within a range of 150 feet. These devices are for trailers that are 30 feet or less in length. For those on a budget, this device is the perfect choice as it is in the lower price range.
One major plus point is that it functions even without phone service, so you don't have to use up all your data package.
Unlike some systems, you can make and receive calls and text messages even with the camera in full use. It also has intercom ability, although the mic and speaker come separately.
Key Benefits:
For use in the trailer or barn
Weatherproof metal casing
Infrared night vision
Includes Booster antenna
One-year warranty
Compatible with nearly all horse trailer brands and styles
What features must I consider when buying?
When buying a horse trailer camera, you should look for the following features:
Monitor Quality
Look for a high-quality monitor that shows a clear picture, so you can see what is going on.
Waterproof
Your system encounters all types of weather. Look for one with an IP69 waterproof rating, which is the highest standard.
DVR Recording
Having a recording facility is extremely useful, as you can go back over your footage to see what happened during an incident or accident.
Number of Cameras
You want a system that has at least two cameras—one for inside the trailer and one for the exterior to help when reversing.
Night Vision
Night vision is essential as you will often transport your horse in the dark. Many trailers do not have much light in them, so by having this feature, you can always monitor your horse.
Warranty
With any electrical device, you must have a warranty. If there are any issues, the manufacturer can help resolve or replace it.