The Horsey Hooves Network is an online platform created to connect and educate horse lovers from all around the world.
Our passionate team of equine professionals and enthusiasts strive to publish the latest equestrian news and helpful guides on all aspects of horses.
Whether you are an equine professional wanting to perfect your skills or someone who loves horse videos, we have it all.
If you have any questions or would like to submit a news story, then please see our contact page.
Our Editorial Guidelines & Publishing Principles
At Horsey Hooves, our objective is to provide unique, educational, and inspiring content to help people find answers.
Providing accurate, original, and engaging content is our top priority. Ethics is important to us, and as a team, we strive to keep our content free of conflicts.
If you have any concerns about any of our articles or how they can be improved, please reach out to us at; [email protected]
Meet The Team
---
Christine Hirlehey – Co-Founder
Christine Hirlehey is the co-founder of Horsey Hooves. She has also been the owner of Willowbrook Riding Centre since 1989, an Associated of British Riding Schools (ABRS) approved horse riding school licensed by Chichester District Council.
Christine is a qualified horse riding instructor with a BHS Horse Mastership accreditation that she achieved in 1981 while training at South Weylands Equestrian Centre in Surrey.
She has won numerous horse riding awards and competed for over 20 years in ridden Arabian showing classes on her purebred Arabian, Double Magic. Her most notable competition win was the Ridden Arabian Horse Showing class at the Royal Windsor Horse Show in 1998.
As well as the general day-to-day tasks of running her horse riding school, she continues to ride and train horses regularly. She can also be found at various horse shows and events in the UK.
---
Anna Stanek – Author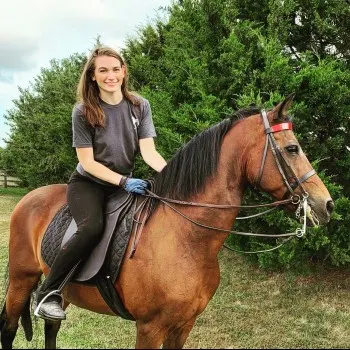 Anna attended William Woods University where she graduated with a Bachelor of Science in Communication, with a focus on Media Journalism.
While at William Woods she was a member of Lambda Pi Eta, the National Communication Association's honor society. Since graduating, she has combined her passion for writing and horses in her work.
For several years, Anna was a member of 4-H where she competed in horse bowl and hippology competitions. While in 4-H, she spent many years learning about horse health and care.
Anna has been riding horses since the age of six. She has two beloved Morgan horses, Sam and Orion. Anna has competed in driving and saddle seat divisions at horse shows throughout the United States.
Her proudest accomplishment was winning the Grand National Road Hack Saddle Seat Finals at the Grand National & World Championship Morgan Horse Show with her horse Sam. She continues to love every second she spends with her horses.
---
Henrietta Szathmary – Author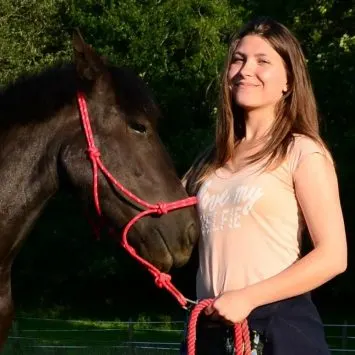 With over a decade of experience in the equine industry, Henriettas's got her life built around horses.
Her diverse equestrian background includes competing in amateur showjumping and dressage, instructing at riding camps, and holding western riding and natural horsemanship clinics.
At the age of 17, she decided to travel around Europe and volunteer at various equine facilities. In the summer of 2018, she joined the Portuguese National Endurance Riding Team and trained horses for the World Equestrian Games.
She has also started a degree course in Equine and Veterinary Biosciences and spent her second year as an exchange student at the University of Guelph, Canada.
Henrietta's own horse called Dream is a black Friesian cross Welsh D gelding whom she has big plans for. In her free time, she enjoys working on her EquiNerd YouTube channel and blog (links above).
---
Rachel Major – Author
The daughter of a professional Jumper and Steeplechaser, Rachel was brought up with horses. At the tender age of twelve, a local scout troop provided her the education, training, and certifications to ride, train, work, and ultimately teach others.
Beginnings in the local show and rodeo circuit led Rachel to the University of Missouri Rodeo Team. It was there that she learned a love for cattle horses and the cattle-competitions that are rarely found far from a cattle ranching community.
An apprenticeship with a nationally ranked American National Cutting Horse Association trainer paved the way for successful competition with the NCHA.
When traveling the country for competitions lost its appeal, Rachel accepted a unique and valuable-experience opportunity to work as a Thoroughbred Exercise Rider and Groom at Fairmount Race Track.
Ultimately, Rachel transitioned to a barn that would purchase Thoroughbreds from the racetrack to rehabilitate them for work in other competitive fields.
Throughout the years, she's worked as a Troubleshoot Trainer to help other owners and their horses resolve bad habits or quirks, and reaffirming the relationships between them.
Teaching youth riders with new horses has always been her favorite activity, and she would rather teach for free than fly around the backstretch any day of the week.
---
Amelia O'Connor – Author
Obsessed with horses since my first pony ride at the age of five, these beautiful creatures have been a recurring theme in my life. My favorite riding instructor said I was too smart to waste my life on them though. I still strongly disagree. She taught me the importance of connecting with your horse. We went to numerous shows and learned the ins and outs of each discipline.
But the one thing that stuck was the spiritual connection between horse and rider. I learned so much about intuition and energy from her. We focused on natural horsemanship a lot. And after the first time I did "Join Up" with a horse, my life changed forever.
After rehabilitating abused horses, taming wild horses, and teaching others the importance of connecting with horses I can thank her for not only introducing me to the spiritual aspects of horses, but also for my career in Spiritual guidance and healing.
---
Sommer Smith – Author
Sommer Smith grew up in rural Oklahoma and fell in love with horses at an early age. Her first horse was a cow pony that she shared with her older sister, but she taught herself how to ride and learned much about caring for her horse through trial and error.
Still in love with horses as an adult, she took lessons at a stable in Tulsa to learn how to ride English, something she had always wanted to do. She learned the basics of dressage, show jumping, and cross country, competing in low-level events for a short time.
Later, she discovered the thrill of barrel racing, another sport she had long wanted to take part in. Through friends in the sport, she learned much more about horse care and how to be competitive in the barrel racing world.
Sommer has won various titles in lower-division barrel races around her state and has worked with some important names in the barrel racing industry. She continues to grow in her understanding of horses and their care.
---
Jess Shipman
Jess Shipman was obsessed with horses from the first time she laid eyes on them as a child. She began riding at age 12 and bought her first horse, a black AQHA gelding named Mescalena Joe, shortly after.
She is a well-rounded equestrian and has competed in everything from pole bending to dressage. Currently, she is involved in Thoroughbred horse racing and also trains retired racehorses for their next career. She is the proud owner of two off the track thoroughbreds, Honey Smacks, and Distribution.
---
Alison O'Callaghan -Author
Alison O'Callaghan is an avid equestrian and writer who has been around horses all her life. Her first pony, Humphrey, was a rescue animal and she spent more times on the floor than she cares to remember! However, with time and patience, they developed a partnership, competing successfully in show jumping competitions.
Alison has spent many years in the equestrian industry, and her main passion is training young horses and off the track Thoroughbreds. She believes each horse she encounters is a learning experience.
---
Alison Lincoln
With an equine science degree, Alison has taught higher education courses in various colleges in the UK as well as managing the distance learning degree course at Warwickshire College.
Alison is also a published equine author with her book Equine Sports Coaching. Published in 2008, the book is on the recommended reading list for the British Horse Society's coaching qualifications.
She has trained and competed her own horses in the Uk up to medium level dressage, novice eventing, and fox-hunter show jumping.
Currently, Alison works as a freelance groom allowing her the time to bring on her youngster for eventing.
---
Owner Information
Horseyhooves.com is a trading name of the company Hopnetic Limited, registered in England.
Company number: 12564062
Registered office address: 1st Floor, Unit 12 Compass Point, Ensign Way, Hamble, Southampton, Hampshire, England, SO31 4RA.
Contact Us
For all enquiries, please contact us at;
Email: [email protected]
We aim to respond within 24 hours.
Our Social Media Network
The Horsey Hooves Network incorporates many social media channels. Here is a list of them below:
Facebook Pages
Instagram