Table of Contents
Who We Are
In the heart of the equestrian world, a vision was born in 2019. The Horsey Hooves Network emerged from a deep-rooted passion for horses and the dream of creating an unparalleled online hub for equine aficionados worldwide. Our platform is more than just a website; it's a dynamic community where horse lovers converge, share, learn, and grow.
Our Mission: Bridging Equestrian Passions
Horsey Hooves is dedicated to three core principles:
Connect: We aim to unite equestrians from diverse backgrounds, fostering a global community where experiences, stories, and knowledge are shared.
Educate: With the expertise of seasoned professionals, we provide comprehensive resources, from intricate horse care details to advanced riding techniques.
Inspire: Through captivating stories, breathtaking imagery, and engaging content, we aspire to ignite the passion in both seasoned riders and newcomers.
Diverse Content for Diverse Interests
Equestrian News: Our fingers are always on the pulse of the horse world. We bring you timely updates, covering events, innovations, and trends that shape the equestrian landscape.
In-Depth Guides: Whether you're troubleshooting a horse-related issue or exploring advanced riding styles, our guides, penned by experts, offer clarity and depth on a plethora of topics.
Equestrian Entertainment: Dive into the world of horse-centric media. We review and discuss popular horse and western TV shows and movies like Yellowstone, Heartland, and 1923, ensuring fans have a dedicated space to revel in their favorite content.
Our Editorial Guidelines & Publishing Standards
At Horsey Hooves, we recognize the profound impact of the written word. Our commitment to editorial excellence is unwavering, and it's a responsibility we shoulder with utmost seriousness.
Guided by Principles: Every piece of content that graces our platform is a testament to our dedication to authenticity, accuracy, and value. We don't just publish; we curate, ensuring that our content not only informs but also inspires.
Commitment to Authenticity: Originality is at the core of our editorial ethos. We prioritize genuine, firsthand insights and experiences, ensuring that our readers receive content that's both unique and trustworthy.
Accuracy Above All: In the dynamic world of equestrianism, staying updated and accurate is crucial. Our team of experts meticulously researches, verifies, and cross-references information to ensure precision in every article.
Engagement & Relevance: We strive to create content that resonates. By understanding our audience's evolving needs and interests, we ensure that our articles are not only informative but also engaging.
Ethical Publishing: Integrity is non-negotiable. We maintain a clear line between our editorial content and any partnerships or sponsorships, ensuring unbiased and conflict-free articles. Our readers' trust is paramount, and we go to great lengths to preserve and nurture it.
If you ever have feedback or concerns about our content, or suggestions on how we can elevate our standards further, we're all ears. Reach out to us at [email protected], and let's engage in a constructive dialogue.
Meet The Team
Christine Hirlehey – Founder
Christine Hirlehey is the co-founder of Horsey Hooves. She has also been the owner of Willowbrook Riding Centre since 1989, an Associated of British Riding Schools (ABRS) approved horse riding school licensed by Chichester District Council.
Christine is a qualified horse riding instructor with a BHS Horse Mastership accreditation that she achieved in 1981 while training at South Weylands Equestrian Centre in Surrey.
She has won numerous horse riding awards and competed for over 20 years in ridden Arabian showing classes on her purebred Arabian, Double Magic. Her most notable competition win was the Ridden Arabian Horse Showing class at the Royal Windsor Horse Show in 1998.
As well as the general day-to-day tasks of running her horse riding school, she continues to ride and train horses regularly. She can also be found at various horse shows and events in the UK.
Anna Stanek – Writer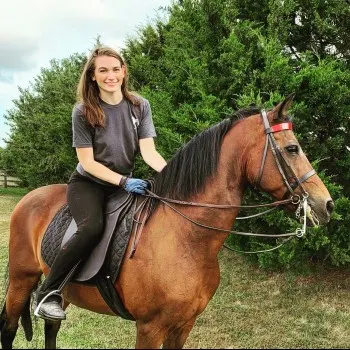 Anna attended William Woods University where she graduated with a Bachelor of Science in Communication, with a focus on Media Journalism.
While at William Woods she was a member of Lambda Pi Eta, the National Communication Association's honor society. Since graduating, she has combined her passion for writing and horses in her work.
For several years, Anna was a member of 4-H where she competed in horse bowl and hippology competitions. While in 4-H, she spent many years learning about horse health and care.
Anna has been riding horses since the age of six. She has two beloved Morgan horses, Sam and Orion. Anna has competed in driving and saddle seat divisions at horse shows throughout the United States.
Her proudest accomplishment was winning the Grand National Road Hack Saddle Seat Finals at the Grand National & World Championship Morgan Horse Show with her horse Sam. She continues to love every second she spends with her horses.
Henrietta Szathmary – Writer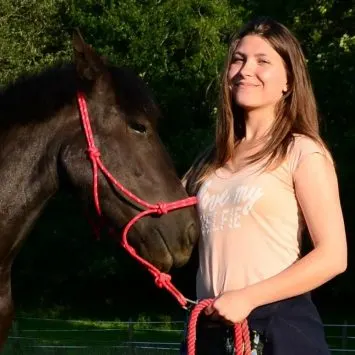 With over a decade of experience in the equine industry, Henriettas's got her life built around horses.
Her diverse equestrian background includes competing in amateur showjumping and dressage, instructing at riding camps, and holding western riding and natural horsemanship clinics.
At the age of 17, she decided to travel around Europe and volunteer at various equine facilities. In the summer of 2018, she joined the Portuguese National Endurance Riding Team and trained horses for the World Equestrian Games.
She has also started a degree course in Equine and Veterinary Biosciences and spent her second year as an exchange student at the University of Guelph, Canada.
Henrietta's own horse called Dream is a black Friesian cross Welsh D gelding whom she has big plans for. In her free time, she enjoys working on her EquiNerd YouTube channel and blog (links above).
Owner Information
Horseyhooves.com is a trading name of the company Hopnetic Limited, registered in England. Hopnetic is an online media group and digital publisher. Hopnetic's brands include Horsey Hooves, Numerology Sign, Fantasy Topics, Homely Rugs, Astrology Season and more!
Company number: 12564062.
Registered office address: 1st Floor, Unit 12 Compass Point, Ensign Way, Hamble, Southampton, Hampshire, England, SO31 4RA.
Contact Us
For all enquiries, please contact us at;
Email: [email protected]
We aim to respond within 24 hours.
Our Policy Pages