Our readers support us. This post may contain affiliate links. We earn from qualifying purchases. Learn More
Almost every child goes through a phase when they desperately want their own pony or be real cowboys/cowgirls. They get inspired by the magical horse stories they see on TV or read in a horse book.
The best horse books for kids are the ones that spark not only interest but also a passion. Some of these kids will not rest until they had their first riding lesson, and from that point onwards, there's no stopping them!
Many classic horse novels like Black Beauty have been adapted into kids' books and make for an excellent bedtime story or birthday present. Other horse books educate children about how to properly care for and ride a horse or creatively engage them.
Here are the 12 Best Horse Books for kids:
Hello, Horse – by Vivian French
This charming horse book for kids is perfect for introducing your young one to the world of horses. Directed at ages 5 to 8 years old, this cute little book has fun horse facts sprinkled between a story's lines.
Hello, Horse is about a young boy who isn't quite sure whether he likes horses until he's introduced to a horse named Shannon. Shannon is his friend Catherine's beautiful mare, whose size first intimidates the boy.
As he learns more about horses and goes for his first ride, the boy comes to like Shannon. The book's light writing style and many illustrations will surely win any young audience over.
Black Beauty – by Igloo Books
Although many people view Anna Sewell's Black Beauty as a children's novel, the author didn't originally write it for children. However, this adaptation of the popular classic is a great horse book for kids between ages 5 and 10.
Black Beauty is the story of a horse's life in Victorian England. In the book, the narrator is Black Beauty himself, who describes the ups and downs of his career as he drifted from one owner to the other.
Igloo Books' simplified version of the original novel gives children a glimpse of what it was like to be a horse in the 19th century. The book is full of beautiful illustrations that make it all the more engaging to young readers.
Misty of Chincoteague – by Marguerite Henry
Misty of Chincoteague is a popular horse book for kids 9 to 12 years old. The novel tells the story of two children who live on Chincoteague Island and dream of owning a wild pony.
Chincoteague ponies have lived free on the island for hundreds of years and are annually rounded up for evaluation and sale. Paul and Maureen Beebe fall in love with a mare called Phantom, whom the roundup men have never been able to catch. They eventually save up enough money to buy not just Phantom but her newborn foal as well.
The characters go through many adventures together during which they learn about friendship, kindness, and empathy.
Horse Life – by Robyn Smith
Horse Life is the ultimate beginner's guide to caring for and riding horses for kids. Suitable for ages 8 to 12, this manual will teach children how to be safe around horses while enjoying the time they spend with them.
The book talks about all the basics you need to know to get started with horses, from anatomy to training and even horse lingo. After reading, every child should understand what being around, caring for, and riding horses involve.
Like any other educational horse book for kids, Horse Life considers children's safety the highest priority. Make sure you familiarise yourself with the book's best practices, as they will keep both your child and horse safe.
Paint the Wind – by Pam Muñoz Ryan
Paint the Wind is a beloved children's novel directed at ages 9 to 12. It follows the adventures of a young teenage girl who discovers the truth about her past with the help of a wild mustang.
Ever since her parents' tragic accident, Maya has been living with her bitter grandmother who takes away everything dear to her. However, through a shocking chain of events, she finds herself with her mother's family who live on a Wyoming ranch.
Her encounter with the wild Paint horse Artemisia will ultimately bring the key to her freedom. This horse book for kids has won the Pennsylvania Young Reader Award and will surely be any horse-crazy child's favorite!
If I Ran the Horse Show – by Bonnie Worth
This fun and educational horse book for kids is part of the Cat in the Hat's Learning Library Series. In the book, the Cat takes characters Sally and Nick and readers aged 5 to 8 years through all things horsey.
Despite the title, Bonnie Worth's book is more about introducing kids to basic equestrian knowledge rather than how to run a horse show. With the Cat's help, children will learn essential horse lingo, facts about horse breeds, the difference between English and Western riding, and much more.
Whether your children are just getting started with horses or already think of themselves as experts, this book is bound to win them over!
My Pony – by Susan Jeffers
This sweet little horse book is for kids 3 to 6 years old who have always dreamed of having their own pony. Through lovely illustrations and a heart-melting story, the author conveys that everything becomes possible when you use your imagination.
A little girl wants a pony more than anything in the world, but she can't have one. Instead, she draws pictures of her imaginary mare, Silver, who is a dappled gray.
Through her artwork, the little girl made her biggest wish come true. She even gets to ride her silver pony through the beautiful countryside in her dreams!
Pocket Genius: Horses – by DK
Despite being no bigger than the size of your palm, Pocket Genius: Horses features more than 125 horse breeds! Not only that, but children will also learn about equine anatomy, evolution, behavior, color patterns and so much more.
This handy horse book for kids has a child-friendly layout and presents information in bite-size chunks. Suitable for ages 8 to 12 years old, the book is full of beautiful images that no child will be able to resist.
If your young one is suddenly eager to learn everything there is about horses, this informative encyclopedia is the best place to start!
Spud & Charli – by Samantha Wheeler
Spud & Charli is an adventurous horse book for kids 8 years old and above. The story is about a horse loving teen Charli who is super excited to go on her first ever riding camp.
However, things hardly turn out as she expected. With the overconfident girl Mikaela picking the gorgeous palomino Razz, Charli ends up riding a retired racehorse. Spud is huge and doesn't exactly look like any girl's dream horse.
And that's not all, at night there are bats everywhere and Charli's heart is in her throat. Will she be able to face her fears and overcome the challenges of the camp so she can safely return home?
The Boy, the Mole, the Fox and the Horse – by Charlie Mackesy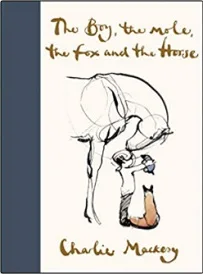 This award-winning bestseller is a special book that parents can also enjoy alongside their children. The story explores some important life lessons through the characters' adventures, kind of like Antoine de Saint-Exupéry's Little Prince.
This thought-provoking horse book is for kids 12 years old and above, as well as adults. It has over 100 hand-drawn illustrations and a language easy to understand by young readers.
The storyline follows the adventures of a curious boy, a selfish mole, a watchful fox and an all-knowing horse. In their conversations, they share thoughts and experiences about kindness, vulnerability, friendship and love. According to the New York Times, "the book in itself is a work of art".
Pony Scouts series – by Catherine Hapka
Suitable for ages 4 to 8, the Pony Scouts is the perfect horse book series for young kids. The easy to read text and adorable illustrations is what makes these books so addictive to pony-loving children.
The story's main character is Meg, who moves to the countryside after living in the city her whole life. Luckily, Meg couldn't be more excited about the changes as she's always loved horses.
In her new home, Meg quickly teams up with other horse crazy girls to form the Pony Scouts. Even years later, your child will have fond memories of this engaging book series.
For Horse-Crazy Girls Only – by Christina Wilsdon
Is your little girl incurably obsessed with horses? Does she watch horse movies all day and holds onto everything that resembles a horse? Then she'll love Christina Wildson's book For Horse-Crazy Girls Only!
Featured in our best horse gifts for girls guide, this fun and informative horse book is for kids 8 to 11 years old. It has everything a horse loving girl needs to know, from info on horse breeds, disciplines and even how to braid a horse's mane.
What's more, you'll find out what makes a great horse party and what are the best horse movies to watch. And if you're curious about how horse crazy you really are, there's a quiz for that too!