This post may contain affiliate links. We earn from qualifying purchases. Learn More
Sometimes it can be hard to buy gifts for the horse-lovers in your life, as you don't always know what they have. That's why we are sharing the eight best horse subscription boxes that will make a wonderful gift for the equestrian you know.
Subscription boxes arrive on a scheduled basis, whether that is monthly or quarterly. Each box is packed full of fun and unique horse goodies, including stuff such as treats, brushes, books, and riding gear.
Included in our list of the best gifts for horse lovers, these subscription boxes are a fun and convenient way to receive new equine products. You can't beat getting quality horse products sent straight to your doorstep.
Here are the 7 best horse subscription boxes for equestrians:
Cavali Club
Cavali Club thoughtfully picks out high-quality products for both horses and riders. Their subscription boxes are sent out four times a year, once each season.
Their mission is to introduce horse-lovers to new and exciting products, all while supporting fellow equestrian entrepreneurs in the process. They feature such items as clothing, jewelry, treats, equine wellness, people wellness, and home decor. The products they include in each box are stylish, yet practical.
To subscribe, you can pre-purchase all four boxes for a discounted price of $220 ($236 value) or get charged $59 every three months. Every box is shipped for free and you can cancel at any time.
No matter what discipline you ride, you will love the premium, essential, and novel equestrian items Cavali Club has to offer. See the Cavali Club box here.
The Stable Box
The Stable Box is a premium monthly subscription box packed full of goodies for both horses and riders. Every box features at least five full-size products, from suppliers both old and new.
Items are carefully chosen to ensure subscribers are receiving the most practical items. Each box includes the latest issue of Horse and Rider magazine, along with items for both horses and people. They include a great selection of horse care products, grooming equipment, horse treats, lifestyle products, and accessories.
The Stable Box costs £39.99 ($54.09) a month with shipping is free and you can cancel your subscriptions at any time. The Stable Box is located in the United Kingdom and they ship worldwide. Find The Stable Box here on CrateJoy.com.
The Feisty Filly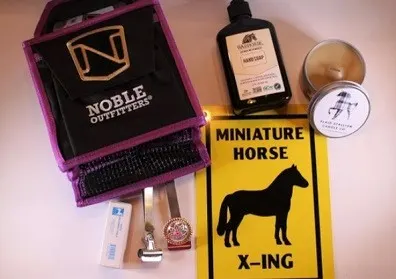 The Feisty Filly is a monthly horse subscription box that delivers fun and useful gifts for both horses and riders. Items range from homemade items, recent niche, and name brand, giving you a wide variety of goods.
Subscribers can choose from western, English, trail, or miniature horse boxes. Once you choose which category you want, you fill out a customization form to make sure each box is tailored just for you.
Items include gourmet treats, tack, grooming products, supplements, riding products, accessories, and more. Every month you will receive 5-7 products that are equestrian approved.
The Feisty Filly box costs $49.99 a month. Shipping is included in the price and the subscriptions can be canceled at any time. Find out more details here on CrateJoy.com.
LaLa Horse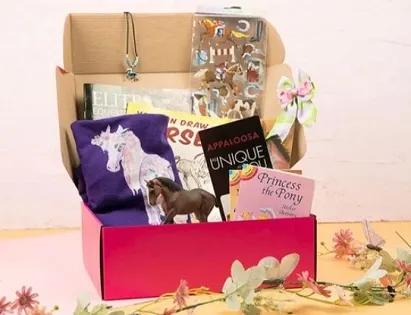 LaLa Horse is a subscription box made just for young equestrians. Educational and practical, the boxes provide young aspiring horse riders with quality products.
Junior riders from every discipline will enjoy the boxes that are customized to their individual age, style, and riding discipline. Boxes include a variety of items including toys, brushes, jewelry, lead ropes, books, horse treats, and accessories. Customized products are also included to make it even more special for your child.
The Young Equestrian Box is available from $39.95 a month and is for kids or teenagers between the ages of 6-18+. Find the LaLa box here on CrateJoy.com.
High Point Ready
Created specifically for the all-around horse and rider, High Point Ready offers a great selection of equestrian products. Each box is made to help riders reach their show goals, with every item being practical for horse shows.
A team of equestrians carefully researches and selects each item to ensure they are all something you would use. Items include recovery products, leg protection, leather tack, show ring essentials, and accessories. Tried and true brands along with new ones are included, providing variety in the items.
Riders can choose from the Novice Box or High Point Ready box, depending on if they want the smaller version or full-size box. The Novice Box is available for $44.95 a month and the High Point Ready box is $59.95 a month. Find out more details here on CrateJoy.com.
Pony Xpress Club
For the horse-crazy kid, the Pony Xpress Club makes the perfect gift. Like pony camp in a box, they provide a wonderful selection of horse gifts that certainly beat what you can find at the toy store.
In the monthly box, you can expect to find a variety of items including books, arts & crafts, toys, accessories, and more. The products are fun and will keep your horse-obsessed kiddo happy and busy. Every item is carefully selected to ensure your kid will love each box. Kids will especially enjoy getting Breyer and Schleich model horses.
Also, read our guide on the best horse toys for kids.
A horse and pony size box is available depending on how many products you want each month. The horse box is available for $59.95 a month, $175.50 three month prepay and $345 six month prepay.
The pony box is available from $39.95 a month and they also offer a saddle bag book club for avid readers at $19.95 a month. Find out more details here on CrateJoy.com.
Saddle Box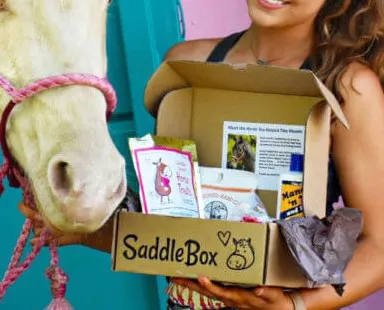 Every month, Saddle Box sends out products that range from horse treats, grooming tools, tack, and gifts. Each box is full of wonderful surprises that both you and your horse will love.
Every shipment includes Saddle Box's original gourmet horse treats that are equine approved. All sales benefit horse rescues, shelters, and adoption centers across America. With each purchase, subscribers receive a picture and information on a rescue horse they helped with their purchase.
Boxes are $36.95 and include free shipping. Gift options are able for one, three, six, and twelve months, with personalized hand-written notes included.
Every box is quality checked and equestrian approved. Saddle Box is a fantastic subscription box for riders of every discipline. Find the Saddle Box here.
Also read: