This post may contain affiliate links. We earn from qualifying purchases. Learn More
Great cowboy gifts are things they can put to good use, while looking good doing it.
Cowboys work hard and play hard. When it's time to choose something special for them, you want to give them the best gift you can find!
Don't worry about where to find the perfect gift for them. Whether for a birthday, Christmas, anniversary, or just because, we've made a list of gift ideas for you, full of perfect choices for your special cowboy.
Here are some unique cowboy and western gift ideas.
1. American-Made Cowboy Hat Holder Star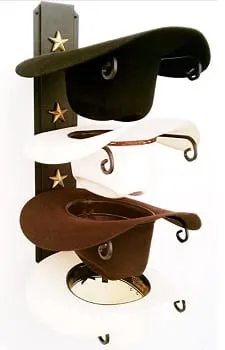 Stylish and practical, the American Made Cowboy Hat Holder Star is a great gift for cowboys of all ages. With the ability to mount it on walls, this hat holder can hold up to four cowboy hats.
Designed to keep hats pristine, this hat holder is a unique gift idea for cowboys. Its beautiful design and quality craftsmanship make it a perfect addition to any house. Cowboys can rest assured knowing their hats will hold their shape with this hat holder.
2. Cowboy Recipe and Cooking Book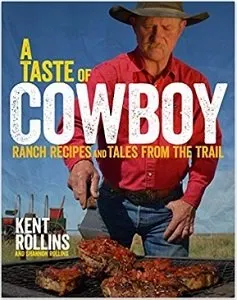 For the cowboy who loves to cook, A Taste of Cowboy: Ranch Recipes and Tales from the Trail is a great gift. Renowned chef and cowboy Kent Rollins shares some of his favorite recipes and tales from the trail.
This quality cookbook includes classic dishes like barbeque, chicken fried steak and meatloaf. Kent combines his cooking and cowboy background in this authentic cookbook.
3. Ariat Men's Boot-Embroidery Rodeo Brown Wallet
Made from high-quality material, the Ariat Men's Boot-Embroidery Rodeo Brown Wallet is a must-have for all cowboys. This beautifully detailed wallet will hold up against even the toughest of cowboys.
This wallet includes several card slots, a clear ID slot, and removable picture holder. Stylish and practical, this is a stylish wallet for cowboys.
4. Rustic Custom Name Horseshoe Boot Rack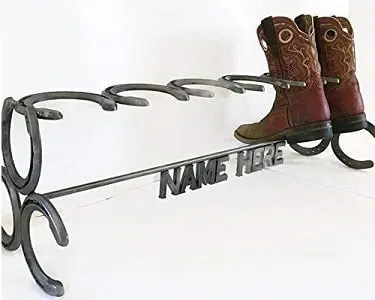 Made from brand new, genuine horseshoes, this shoe rack is able to hold anywhere from one to four pairs of boots. The ability to customize this rack with a name or phrase makes it thoughtful and unique. The high-quality boot rack will make a great showpiece in your home's entrance.
5. Rhino Bilt Boot Scraper
Prevent muddy cowboy boots from making a mess in the house with the Rhino Bilt boot scraper. The all-in-one boot cleaner removes dirt, sand, snow, mud, gravel and debris.
Easy to install and made with durable hardware, this boot scraper can be mounted anywhere. A thought gift idea for cowboy men who trudge in dirty boots.
6. Belt Buckle
Every cowboy needs a great looking belt buckle, or two…or four. This cowboy gift for your favorite man is a guarantee to make him happy.
Montana Silversmiths has been making great looking engraved buckles and silver for over 45 years. From their catalog classics to completely custom buckles, they offer exactly what you've been looking for to best suit your cowboy.
7. Personalized Cowboy Flask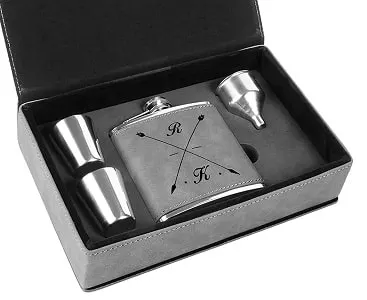 For the fun days and nights in your cowboy's life, this cowboy gift idea is just the ticket.
From a party in town to a cold night on the range, this flask is a perfect companion for your man to have in his pocket. The flask, and its box, are personalized for him. Shot glasses and funnel complete the set for a total package.
8. Cowboy Hat Holder for Truck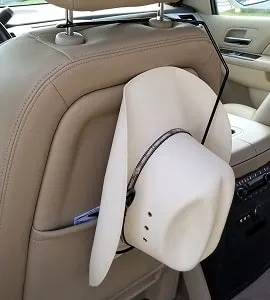 A practical gift for your practical cowboy may be found in something he didn't even know he was missing.
Eliminate the worry about his hat being damaged or misshapen with this cool gadget present. Made to fit in pretty much any truck, your cowboy can stow his hat safely on the back of the seat. Simple and unique, this is one handy cowboy gift.
9. Tough 1 Nylon Saddle Bag
Perfect for a day out on the trails, the Tough 1 Nylon Water Bottle/Gear Carrier Saddle Bag is an awesome gift any cowboy will love. Easy to use and durable, this saddle bag is ideal for the avid trail rider.
This saddle bag includes two zipper pouches, two mesh pockets and two bottle holders. It is designed to fit both western and English saddles.
10. Kangaroo Cowboy Hat Gift Idea
No cowboy is complete without a hat. The Kangaroo Cowboy Hat is classic and affordable, perfect for any cowboy's wardrobe. The Kangaroo Cowboy Hat is made from quality felt and metal studs. It is designed to fit most adults and large kids.
11. Ariat Men's Heritage Western Cowboy Boot
You can't go wrong with a classic pair of comfortable cowboy boots. The Ariat Men's Heritage R Toe Western Cowboy Boot will make any cowboy happy.
These top-quality boots for beginner riders are made from authentic leather, with a gel-cushioned sole that provides comfort throughout the day. The beautiful western pattern makes them great for a day of riding or a night of dancing.
If the cowboy in question is a vegan, check out our guide to vegan cowboy boots for men.
12. HeatMax Toasti Toe Warmer
Having cold toes on a chilly winter morning is a terrible feeling. The HeatMax Toasti Toes Foot Warmer are perfect for keeping cowboy's feet warm on cold days at the barn.
Odorless and disposable, these heat warms are easy to install and will keep your feet warm for hours. They can even be used for your hands and body. They are a perfect stocking stuffer for Christmas morning.
13. Cowboy Up Truck Decal
He loves his horse, he loves his gal and he loves his truck. Give your cowboy a gift that will cover all three!
Easy to customize to the rear window of your cowboy's chariot, the personal look to this decal will set him apart from the herd. Looking good on the road to the rodeo in a snap.
14. Heavy Jacket for Ranch
Keep your cowboy warm in any weather with this thoughtful gift. Carhart's Arctic Duck Coat is warm, waterproof, and tough enough to take a beating. Pleated elbows ensure full movement to work with the stock. The long cut covers past the lower back to stay warm while bending, riding, and working.
It's a good-looking working man's coat for a good-looking hard working man.
15. Cowboys Personalized Whiskey Decanter Set
Adding a touch of personalization to a gift makes it extra special. The Cowboys Personalized Whiskey Decanter Set with Gift Box is a wonderful gift for any occasion.
This whiskey decanter includes handmade design with a beautiful depiction of a cowboy riding. You have the ability to customize this unique decanter with a name and date. This beautiful piece would make a great anniversary gift for your cowboy husband.
16. Contour Felt & Wool Ranch Pad
Get your cowboy a gift both him and his horse will love. The Diamond Wool Contour Felt Ranch Pad is a best seller thanks to its top-quality design.
Perfect for a cowboy who spends lots of time in the saddle, this pad is designed to contour to the horse. With a wither relief notch and thick wool felt, both horses and cowboys will feel comfortable. This durable saddle pad is a must have for all cowboys.
17. Rustic Horseshoe Rack
Ideal for hanging bridles, halters or coats, this beautiful Horseshoe Hook will make a great gift for cowboys.
Featured in our horse decor ideas guide, this English oak plaque can is rowed with 3 durable cast iron horseshoes hooks. This popular cowboy gift is easy to mount, making it perfect for the barn or at home.
18. Magpul Ranch Gloves
A gift for your cowboy can be something that he already has, that just needs a bit of an upgrade.
He'll be so impressed with these incredible tough leather gloves. No feed-store brand work gloves will be able to compare. The ability to feel the task at hand while working is paramount to getting the job done safely. Give him the gift of quality performance with these wonderful gloves.
19. Cast Iron Boot Jack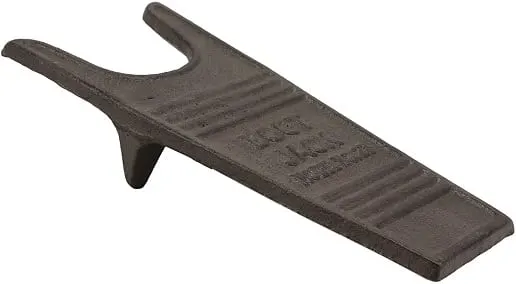 Not only is this unique cowboy gift a practical choice, but it's also a stylish and timeless addition to his home.
The classic solid cast iron of this indestructible tool is the epitome of rustic-cool. Cast with a functional and stylish design, this jack is a step above the typical. Perfect for the entryway, and counted on for years to come, gifting this boot jack is just right.
20. Cowboy Fire Pit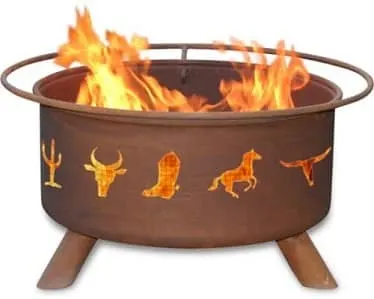 Give your cowboy a gift to unwind with at the end of a hard day.
A fire ring is a perfect tool to partake in a tradition that started centuries ago. Cowboys have enjoyed the time spent around a fire under a starlit sky for generations. This fire pit brings that tradition home for him. The pit also comes with a BBQ grill insert and a five-year warranty.