Our readers support us. This post may contain affiliate links. We earn from qualifying purchases. Learn More
No horse-lovers' home is complete without a touch of equestrian decor. To make things easier for you, we are sharing 20 horse and equestrian-themed decor ideas that will brighten any home.
From sophisticated rustic pieces to elegant modern decor, there is something for every horse-crazy home. All of these stunning items bring a sense of equestrian flair to your decorating style. They make great talking pieces when you have guests over while capturing your love for horses.
Here are 20 gorgeous horse decor items for your home:
1. Horse-Sweat & Leather Scented Candle
Enjoy all the familiar smells of the barn from the comfort of your own home. The unique horse-sweat and leather scents come together to create an inviting aroma.
This rustic candle would be a wonderful addition to your family room to enjoy the smells of sweet, grassy fragrance with a touch of leather. The candle is made from natural soy and comes in a charming mason jar.
A portion of every candle sold goes to help rescue animals, so you can feel good buying it.
2. Rustic Custom Name Horseshoe Boot Rack
Keep your floors clean and your boots safe with this adorable horseshoe boot rack. A name or phrase can be added to the rack to make it special just to you.
Depending on your needs, the rack can be built to hold anywhere from one to four pairs of boots. The lovely rustic construction makes a wonderful statement piece in the entrance of your home.
All the horseshoes used are genuine and brand new, so you know you are getting a quality product.
3. Horse Head Wreath
This festive horse wreath is a charming addition to your home during the holiday season. The elegantly crafted horse head is constructed from garland on a sturdy plywood frame.
It features holly leaves with red glitter berries and silver berries, jingle bells and a bright red plaid bow. Each wreath is handcrafted with care and includes a storage box to keep it safe when not in use. This would be a great decoration to any equestrian's home during Christmas time.
4. Repurposed Horseshoe Door Handle
You can have a touch of barn life at home with this unique door handle made from repurposed horseshoes. This handcrafted piece is rustic and sturdy, which allows you to add it to any part of your home.
In addition to being used as a door handle, it can be turned vertically to be used for hanging towels and kitchen equipment. It can even be used as a draw pull for large furniture. Whether inside or outside, it'd make a fun feature to your home.
5. Horse Bit Toilet Roll Holder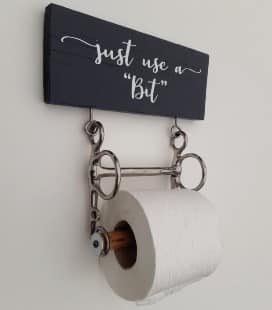 Do you have a toilet paper hog in your house? This adorable toilet paper holder features a pelham bit with the clever phrase "just use a bit" to remind bathroom users not to go overboard on their toilet paper usage.
This handmade product is rustic and chic, bringing a bit of horse humor to your home. The board for the holder is available in black and white to meet your style needs.
6. Pelham Horse Bit Pillow Cover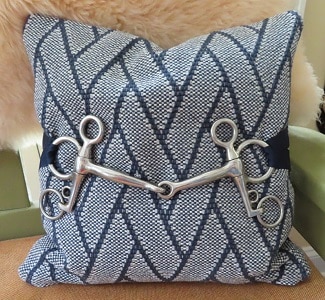 This classy pillow cover features a pelham bit attached by a lovely navy grosgrain ribbon. The beautiful blue and white upholstery grade fabric makes for a great accent to your favorite couch.
A zipper is featured at the bottom of the case so you can easily add your pillow in. It measures 13 x 13 inches, which is fitting for chairs, beds or couches.
7. Personalized Horseshoe Gift
What little girl doesn't love horses? Featured in our best personalized equestrian gifts guide, this personalized horseshoe is cute for hanging up in your daughter's bedroom.
Swarovski crystals, pearls and flowers line the edge of the horseshoe which comes in pink, red lilac and white. Sparkly bling letters are used to spell out any name up to eight letters and a pink ribbon is attached for easy hanging.
8. Willow Tree Quiet Strength Plaque
This sentimental piece shows the loving bond between horses and humans. Casted from artist Susan Lordi's original carving, each plaque is hand painted to perfection.
The plaque can be hung on a wall or displayed on a plaque stand. With a simplistic design, it captures the emotions of love, strength, courage and hope.
It comes packaged in a fitted box with a card, making it a thoughtful gift for a horse owner.
9. Horseshoe Western Iron Wall Hooks
Whether for hanging towels in your bathroom or coats in your entryway, these horseshoe wall hooks will bring character to your home. The solid iron construction is durable and functionable, all while being charming.
There's no need to worry about a complicated installation, as the hooks come with predrilled holes and screws. At 4.75 x 4.5 inches it is just the right size for indoor or outdoor spaces.
10. Horse Rustic Toilet Paper Roll
Add a little fun to your bathroom with this charismatic stallion toilet paper holder. Your guest will get a kick out of the way this handsome stallion holds the toilet paper.
The piece is constructed from durable designer resin that is high quality and functional. It arrives ready to hang by keyhole slots and features a spring-load roller. Whether for your barn or home, you can't go wrong with this bathroom accessory.
11. Barn Rules Metal Sign
No barn is complete without this rustic sign that includes quintessential barn rules. The bright red background stands out anywhere you hang it, making it a great talking piece.
Each sign is handmade from an eco-friendly process and built from sturdy metal. It measures 12 x 16 inches, so it can easily be read by those walking by.
12. Hand Forged Rustic Horseshoe Heart
Spread the love with this elegant rustic horseshoe heart. Whether you hang on the wall or use it as a picture frame it adds a lovely touch of equestrian flair to any space.
Each piece is hand-forged and then wire brushed to bring out the character of the horseshoes. A light coating of beeswax is added to protect it from the elements.
No matter where you put this signature piece, it will be an eye-catching conversation piece.
13. Horseshoe Wine Bottle Holder
Sometimes after a long day of working at the barn, you need a nice glass of wine to relax. This rustic horseshoe wine rack allows you to easily store your favorite wines in the comfort of your home.
The weathered finish on the cast iron horseshoes makes a stylish addition to any kitchen. No assembly is required, so you can place it straight on your kitchen countertop or home bar. It can hold three wine bottles, which is great for when you host your next house party.
14. Horse-themed Rug
Welcome your guest to your home or bedroom with this elegant horse-themed area rug. Featured on Homely rugs, it's perfect for adding an equestrian touch to a girl's room.
Featuring vibrant colors printed onto colorfast nylon, this rug looks great and is tough enough for muddy boots. The back of the rug has a non-skid safety coating.
15. Custom Metal Horse Heart Sign
Showcase your barn with this eye-catching custom sign. With a charming horse heart, you can personalize this sign to include a barn name, last name, or business.
Each sign is laser cut to ensure precision and a powder coat is applied for a smooth, durable finish. Black, silver and red finishes are available so you can choose the color that fits with your space and style. Depending on where you want to put it, you can choose five different sizes to get just the right fit.
16. Custom Horse Ribbon Display
You worked hard to earn your horse show ribbons so you deserve to show them off. This custom horse ribbon display is a graceful way to showcase your winnings.
The displays can have your name added along with your choice of a horse silhouette. Extensions can be added if you are wanting to hang up more of your ribbons.
You can choose from several different wood and font colors, so you can get just the right color combination to match your home.
17. Equestrian Motivation Sign
In the ideal world, we would be spending the majority of our time at horse shows, sipping on a nice glass of champagne between classes. Though that may be unrealistic, this spunky sign reminds us all of what we'd rather be doing.
To match your style, there are several gorgeous kinds of wood and paint colors to choose from. In addition, there are over 70 stunning horse silhouettes to choose from.
18. Horse Bathroom Set
Every equestrian can agree that home is where the horses are, as this horse bathroom set states. This set is not only made from high-quality materials but can be custom-made to your family's name.
The set includes a shower curtain, bath mat, and towels, with the ability for the pieces to be purchased separately.
The bath mat is made entirely from memory foam microfiber, with anti-slip backing and fast-drying capabilities. This set brings a hint of country to your bathroom that your family and guests will adore.
19. Custom Horse Oil Portrait
Your horse is an important part of your family so it only makes sense to include them in your home. This magnificent custom horse painting will capture the beauty and spirit of your horse, allowing you to see them even when you aren't at the barn.
Each custom piece is created using oil paint, which makes for an incredible masterpiece. Different sizes are available, whether you want something small or large.
A custom painting of your hose would make a fantastic talking point when hung up in your living room.
20. Color Painting Horse Wall Art Canvas
Simple yet elegant, this breathtaking canvas captures the essence of the equine species. Three color-painted horses on a white background make for a show-stopping piece that will fit right in at any home.
This thick canvas is professionally made and ready to hang anywhere in your home.
See out other horse-related gift & decor articles here.