Our readers support us. This post may contain affiliate links. We earn from qualifying purchases. Learn More
For avid trail riders, having a saddle bag can be very beneficial. They can be used to store water bottles, first aid kits, and any other necessities you may need while out on the trails.
Equestrian saddle bags are designed to easily be attached to your saddle. Though most saddle bags are meant to fit the pommel of western saddles, you can get some that can be fitted to English saddles as well. They include easy to use pockets to store any goods you may need while out on your ride.
Roomy, durable, and easy to use, these saddle bags we've chosen will have you set for your next adventure or make a great cowboy gift.
Here are the 6 best horse riding saddle bags:
Tough-1 Printed Saddle Bag
Stylish and roomy, the Tough-1 will keep you well equipped out on your ride. Made from durable nylon, this bag can withstand several years of use.
With two large zipped pockets, a mesh pocket, and two insulated water bottle pockets, you have room for the basic trail riding essentials.
With adjustable straps, you can easily attach this bag to your saddle. The stylish floral pattern on the brown nylon that looks like leather will help you stand out.
Cashel Saddle Bag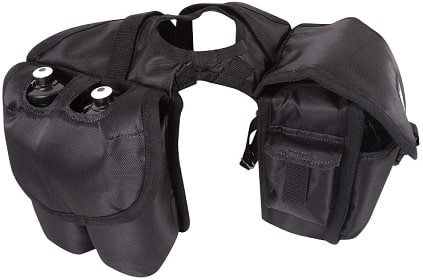 Designed with convenience in mind, this saddle bag attaches around the pommel of your saddle. The roomy bags are easy to access while being out of your way while you ride. The unique criss-cross straps go around the pommel, with an additional two buckled straps on the backside holding it securely in place.
This durable nylon bag includes a phone pocket and two insulated padded pockets, with one designed to hold two one-liter bottles.
The pocket liners can even be removed and washed, so you don't have to worry about any messes or odors building up. This is a great saddle bag that will last years of wear.
TrailMax Original Pommel Pocket
Loved by many trail riders, the bag easily attaches to the pommel of your saddle, while being convenient to access and not interfering with your seat.
Perfect for carrying your phone, keys, water and lunch, this heavy duty zipper bag is made from polyester. It is water resistance and UV proof, giving you peace of mind your necessities are safe.
The two webbed nylon straps with buckles allow this pouch to fit on western and endurance saddles. This easy to clean bag is machine washable and dryable.
Affordable and durable, this is a great choice for trail riders who are looking for a compact bag for their essentials.
Weaver Leather Trail Saddle Bag
Designed for the most rugged trail riders, this saddle bag provides lots of space. Made from tough polyester with a weather-resistant polyurethane coating, it can hold up on harsh weather conditions.
With one large buckled insulated compartment, one large buckled compartment with interior pockets, two side pockets, and two mesh pockets, you will have room for your essentials and more.
Reflective piping is added to keep you visible out on the trails. With adjustable straps for stability, this bag will stay in place even on rugged terrain.
Great for ranch work or long weekend rides, this hardy saddle bag has ample room to store whatever you may need. So pack your ice-cold water, lunch, first aid kit, rope, phone, sunscreen, bug spray, and whatever else you may need to make your ride enjoyable.
Weaver Leather Chap Leather Saddle Bag
If you are wanting an authentic leather saddle bag, then look no further. With top grain chap leather and brass plated hardware, you are not only getting a stylish saddle bag, but one that will last. It even features inside stitching for a smooth outside appearance.
The two extra-wide compartments provide generous storage space. With elegant buckle straps, you can ride relaxed knowing your supplies are safe.
The soft, supple leather is well constructed and perfect for trails. Embrace the Old West with this authentic leather bag.
Handmade Bison Leather Pommel Bag
If you're looking for something small, but more unique, this handmade pommel bag is beautiful. Crafted to fit a western or Australian saddle's pommel, it measures 7 inches long. The bag and straps are made with top-grain vegetable-tanned US Bison leather.
Although Amazon has many good options for saddles bags, if it's unique and handmade you're looking for, we recommend visiting Etsy. There are several private sellers on there who are making gorgeous saddle and pommel bags. Click here to see saddle & pommel bags on Etsy.
If do decide on a leather bag, clean it at least twice a year with a good quality saddle soap and conditioner.