This post may contain affiliate links. We earn from qualifying purchases. Learn More
If you lead a vegan or vegetarian lifestyle, leather boots can be problematic, as they are made from cowhide. Fortunately, we are going to share the best vegan cowboy & cowgirl boots available on the market.
Vegan boots can be just as stylish and durable as traditional leather boots. There are several vegan-friendly materials that can be used to construct boots.
Whether for riding or a night of dancing, these leather-free cowboy and cowgirl boots are perfect for adding to your closet.
Best Mens Vegan Cowboy Boots
1. Roper Men's Basic Square Toe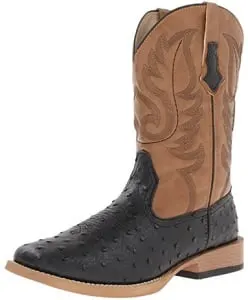 Built from 100% synthetic materials, these boots are vegan-friendly and made to last. They come in four classic colors to your liking.
The square toe and double stitching make for a classic cowboy design. With a flexible synthetic outsole and cushioned foot sole, you will have comfort in the saddle and on the dance floor. The smooth lining and two-tone design make for a sleek boot.
2. Roper Men's Vintage Square Toe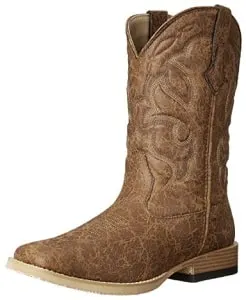 Bring home some classic western style with these vintage western boots. Crafted from all synthetic materials, they have a traditional square toe and distressed tan appearance.
The flexible sole helps provide enjoyable wear. They are ideal for horseback riding or everyday wear. Considered the best vegan cowboy boot brand, these are a great example of Roper's best faux-leather cowboy boots.
3. Roper Men's Square Toe Cowboy Boot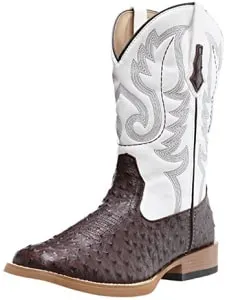 With a quality faux ostrich leather finish, these vegan riding boots will be a great add-on to your wardrobe. The brown and white design is sophisticated and fun.
The padded insole allows for a comfy finish whether you are at the barn or out on town. They are lightweight and even feature pull-on tabs, so you don't have to struggle to put them on. The broad square toe and decorative stitching make for a traditional western style.
4. Laredo Men's Monty Faux Leather Western Boot
You can feel good wearing these stylish snakeskin boots as they are made from 100% synthetic materials. The snazzy snakeskin vamp and brown shaft make for a classic look.
The cushioned insole and a flexible outsole make for a comfortable boot you can wear without worrying about having sore feet at the end of the day. They are practical for everyday wear, but can also be dressed up for a country wedding. These boots are a wonderful vegan version of traditional snakeskin boots.
5. Metrocharm Faux Crocodile Leather Boots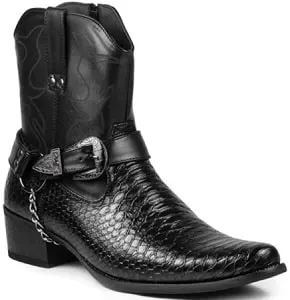 These dapper boots are perfect for any fashion-forward guy who loves a bit of country charm. Made from synthetic materials, they include a convincing faux crocodile vamp.
The lightly padded sole keeps your feet comfy no matter where you go. A belt buckle chain strap is a great detail included with these boots that makes them unique. They are fitting for any formal occasion or a fancy date night.
Best Vegan Cowgirl Boots for Women
1. Roper Women's Amelia Western Boot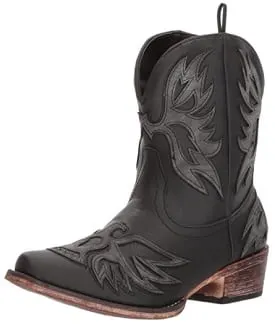 Stylish and made from faux leather, these comfy boots will stand out in the crowd. The shaft and vamp have a unique eagle design that gives the boots some personality.
The padded insole and rubber sole allow your feet to stay comfortable all day long. You can choose from black, brown or vintage beige depending on your liking. Whether for riding or for a night out, these shoes are eye-catching and vegan-friendly.
2. Coconuts By Matisse Boot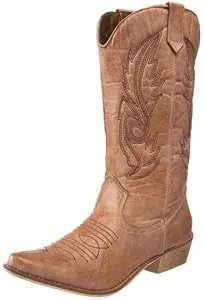 Made entirely from man-made materials, these fashionable boots are a wonderful addition to your shoe collection. They are available in nine different colors, so you can choose what shade is just right for you.
The exceptional craftsmanship shines through with intricate tooling and design. Tabs are conveniently sewn on which makes it easy to pull them on and off. They are practical for a day at the barn riding or a night out on the town dancing.
3. Roper Women's Riley Western Boot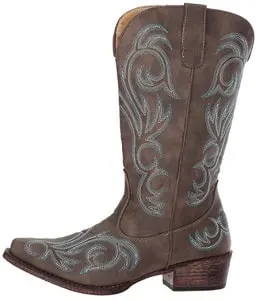 These chic cowgirl boots feature a fun embroidery design that is full of western flair. Made entirely from man-made products, they come in five fashionable colors.
The snip toe and traditional heel make for a classic western look that is practical and durable. Cushion insoles allow your feet to stay comfortable while horseback riding. In addition to wearing them to the barn, they are also great for concerts or a day out with friends.
4. Coconuts by Matisse Women's CIMMARON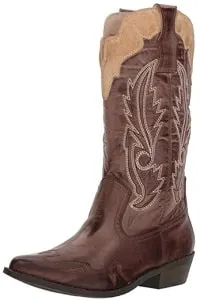 If you are looking for a fancy and versatile pair of faux-leather cowgirl boots, then this is just the pair for you. Available in nine fantastic colors, you can choose the pair that meets your fashion needs.
They are made entirely from vegan-friendly materials without sacrificing their quality or comfort. The beautiful v-shaped shaft is fitting for formal events, while still being practical for everyday wear. They are a wonderful balance of beauty, utility and comfort.
5. Very Volatile Women's Raspy Boot
The epitome of country flair, these sharp vegan cowgirl boots are made from faux leather. They come in four classic colors, each that makes for a wonderful addition to your wardrobe.
The pointed toes, stylish stitching, and elegant embroidery make for a boot that can be dressed up or dressed down. Though they are vegan-friendly, they have the look of authentic leather boots. They are comfortable enough to be worn all day and all night without your feet aching.
6. Canyon Trails Classics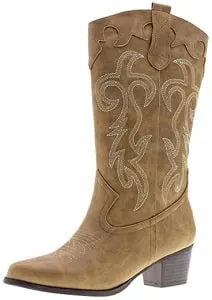 With a classic cowgirl design, these adorable vegan boots are made from quality synthetic materials. They come in black, brown and tan, so you can rock them with any outfit.
These beautifully embroidered boots feature pull tabs, so you can easily put them on and take them off. The flexible outsole allows for maximum comfort no matter what you are doing.
Durable and fashion-forward, they are great no matter how you wear them. These cowgirl boots are a perfect match with a western dress!
7. Roper Women's Chunks Western Boot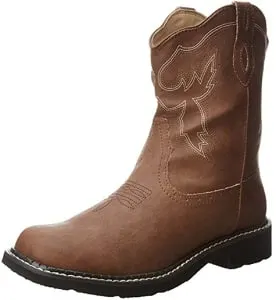 If you are looking for sturdy vegan-friendly cowboy boots, then these are just that. Lightweight and durable, you will be surprised that these boots contain no leather.
They are great for a day of riding at the barn, as you can rest assured your feet won't be sore at the end of the day. While working at the barn, they will keep your feet safe and dry, providing much-needed protection. They are the ultimate ranch-approved faux-leather boots.
8. Stylish Pierre Dumas Mid-Calf Boot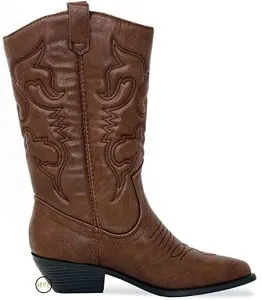 These comfortable western boots are made entirely of vegan materials. They come in 16 fun and fashion-forward colors, so you can find a pair that matches your personality.
Whether with jeans or a dress, they are the perfect way to complete your outfit. The distressed finish is soft and comfortable, to keep you on your feet all day long. No matter what you wear them for, you will love their look and fit.
9. Silver Canyon Cimmaron Round Toe Boot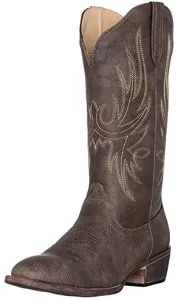 With intricate stitching and traditional old west style, these vegan boots are sure to get you lots of compliments. They are available in five unique colors that will stand out in the crowd.
Though they are made from synthetic materials, they feel and look like real leather. They are durable and comfortable, with a cushioned insole that will prevent your feet from getting sore. Whether for a date night or day at the barn, these make a great gift for a cowboy.
Choosing the Right Pair of Vegan Boots
Vegan boots can be a great option if you lead a lifestyle free of animal products. They are environmentally conscious and oftentimes look the same as leather.
Despite what some people may think, vegan boots can be durable, comfortable and cute. Vegan leather is often more lightweight than traditional leather, which allows for a pleasant fit. They also tend to be more flexible and take less time to break in.
How to Tell if Cowboy Boots are Vegan
Most boots will include in their description if they are vegan-friendly. However, if it does not specify in the description, you can tell by certain materials if they are vegan or not.
When looking for vegan boots, look for boots that are described as synthetic, faux leather, PU or man-made. Some boots are a mix of real and fake leather, so make sure they say they are 100% synthetic, man-made, PU or faux leather.
If the shoes contain a textile or diamond-shaped symbol on your show, that is an indicator that it is vegan.