This post may contain affiliate links. We earn from qualifying purchases. Learn More
In the universe of footwear, cowboy boots hold a unique place, embodying a timeless blend of style, culture, and practicality. Yet, for those who wear them, comfort is equally important as aesthetics.
We've roamed the range of options available, considering factors such as material, design, and user reviews, to bring you a roundup of the most comfortable cowboy boots that are ideal for walking in and all-day use.
Whether you're a seasoned cowboy boot wearer or a newcomer looking to step into this iconic piece of footwear, join us as we uncover the best choices for both comfort and flair.
5 Most Comfortable Cowboy Boots For Men
Ariat Groundbreaker Work Boot
The Groundbreaker work boot is 100% full grain leather with a suede upper, rubber sole, and four-layer footbed for cushioning.
Made with comfort, performance, and durability in mind, it has a lightweight, stabilizing shank to give more support. It also boasts a trademark Duratred outsole to prolong wear. Designed to live and work in, this boot is sure to meet the toughest standards and hold up to a long workday.
Fans of Ariat boots are loyal to the brand, claiming that these boots hold up better than any other comparable brand. They are rebounded for their all-day comfort and are built to last no matter what kind of torture they are put through.
Ariat Rambler
A slightly different style but still the same great Ariat quality, the Rambler has Advanced Torque Stability technology, a composite forked shank, and Duratred outsole, beautified by decorative stitching, squared toe, and mid-calf shank.
The gel-cushioned footbed adds comfort, along with a heel stabilizer for shock absorption and support. Imported, it is made of 100% distressed leather.
Dan Post Men's Milwaukee
Made with handcrafted excellence, the Milwaukee is 100% leather, imported, and has a leather sole. Features include dual pull tabs, elaborate stitching, stacked heel, and a supportive shaft with a scalloped topline. It has a Comfort Cushion insole and cushion comfort technology.
Justin Stampede Cowboy Boots
In both the original workboot and the regular style, the Justin Stampede boasts the J-Flex Flexible Comfort system and Justin's Stabilization technology. This boot has removable orthotic inserts and a rubber sole. It is made of 100% leather and constructed for a hard day of work.
Whether you choose the work boot or the regular Stampede, these boots have the good looks and durability to take you anywhere your day demands.
Durango Rebel
The Rebel is another very comfortable cowboy boot made of full-grain leather with a square toe. It has a contoured, ventilated, and removable cushioned footbed.
The Cushion Flex insole accompanies a tempered steel shank and a slip and oil resistant dual density and abrasion-resistant rubber outsole. This cowboy boot is made to outlast anything you throw at it with comfort and style.
5 Most Comfortable Cowboy Boots For Women
Us ladies do lots of hard work around the barn caring for our four-legged friends. The last thing we need are blisters on our feet, so treating ourselves to some comfortable cowboy boots for women is the least we can do.
Laredo Miss Kate Western Boot
Crafted from genuine leather, these comfortable cowboy boots for women are high on both style and comfort. The insides are lined with leather and finished off with a comfortable cushioned insole. A 13-inch shaft protects your lower leg in the saddle, and a snip toe design gives the boot added style.
These boots are also slightly wider than traditional cowboy boots, so they're ideal for people with wide feet. We think these are some of the best looking boots on the market.
Justin Gypsy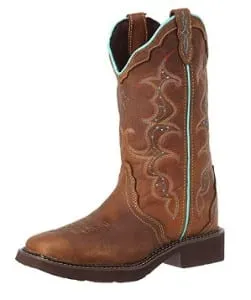 Ideal for day to day wear, the Justin Gypsy boot is a very comfortable cowboy boot. The Justin Gypsy collection is one of our favorite brands of cowboy boots as they combine great western styling with outstanding comfort.
A thick synthetic sole provides extra cushion for the footbed and protection from the elements. Whether you're horseback, around town, or doing farm chores, these comfortable boots will you look and feel great.
Ariat Probaby
A really great choice for comfort, this cowboy boot is a personal favorite. Honestly, this boot is one of the most comfortable cowboy boots you will ever wear.
Similar to the Ariat Fatbaby, but with a higher shaft and just slightly narrower toe, it checks off all the boxes for comfort and durability.
It is 100% leather with a rubber sole, low heel, and round toe shape. This durable, long-lasting boot is perfect for daily wear, walking, riding, and keeping up with life.
Durango Lady Rebel
This is another boot I have owned, and though it probably took a little longer to break in, it was very comfortable once it was. It's a great boot for riding, also, with a nice, high, mid-calf length shaft, and distressed full-grain leather.
It comes in many colors, and here I have included a brown and tan style and a pink and brown style for those who like more color in their wardrobe.
There are also other color variations available if you prefer. A low heel and synthetic sole complete this wearable boot's package.
Ariat Fat Baby Heritage Boots
If you want the most comfortable cowboy boots on the market, the Ariat's Fat Baby Heritage boots are just that. The Fat Baby collection boots are made comfort as the top priority.
The Everly sole delivers amazing cushion and wear-resistance, making these ideal for people with wide or and flat feet. Certainly our choice for the best casual cowboy boots for women.
How to Make Cowboy Boots Fit More Comfortably
To try on boots, be sure you wear socks of the same thickness you will be wearing them with every day. We recommend boot socks, as they are made to stay in place with the boot giving a little on the heel as well as covering the calf to prevent rubbing on the leg. The socks we recommend are these Ariat Women's socks.
Expect the boot to feel a little bit snug. The leather will give a little as you break them in, making them form to your foot.
There should be only a small amount of slipping in the heel. Over time they will loosen, and if they are too large to begin with, it can cause blisters on the heel.
Leave a little wiggle room for your toes. This is especially important if you are going with a style that has a slim or pointed toe.
The instep holds your foot in the boot, so be sure this area of the boot fits you well. Again, it will loosen somewhat with wear.
The ball of your foot should line up with the widest point on the sole of the boot.
Most boots fit about the same as any other shoes in sizes, but Ariats tend to run just a little bigger. Some say a half size smaller fits them well in an Ariat boot. It's always best to try them on if you can.
Frequently Asked Questions
Are cowboy boots comfortable?
Yes, if you choose a well-fitting pair of boot that suit your style, cowboy boots can be just as comfortable as athletic shoes.
Is your heel supposed to slip in cowboy boots?
A small amount of movement is okay, but a boot should not move up and down too much on your heel when you walk.
How can you break cowboy boots in really fast?
Steaming boots until the leather is warm and pliable is the best option if you need to break them in quickly. Once the leather is soft, wear them around until they are completely cooled. Using a hairdryer to warm the leather can help as well. Just be sure to wear them until they are cool. However, if you find a well-fitting boot, breaking them in shouldn't be necessary.
How long do cowboy boots last?
Most boots, if taken care of, will last several years, even with constant wear. They may need occasional minor repairs, but a good quality cowboy boot should last no less than two years, even with daily wear. Practicality is what makes a great cowboy or cowgirl gift, and comfortable cowboy boots are just that!
How can I make my cowboy boots last longer?
To make them last longer and maintain their suppleness, we recommend cleaning them at least twice a year with a quality leather cleaner or saddle soap. After, add a layer of soft leather oil or conditioner.