Our readers support us. This post may contain affiliate links. We earn from qualifying purchases. Learn More
Horse riding or playing sports on your own just got a whole lot easier. The development of auto follow cameras means you can now set up a camera alongside or inside the arena to capture your riding sessions without the need for a camera operator to pan, zoom, start or stop recording.
So how do these robotic tracking cameras work? The rider wears a watch/tag that the robotic base tracks and automatically adjusts the camera's zoom to focus on the object.
Also, unique to the Pivo Pod, the Pivo app tracks the outline of the horse and riding through sophisticated AI.
These cameras are useful for all kinds of sports and activities such as horse riding (which we will focus on), surfing, football, and making YouTube videos.
Why Should I invest in an Auto-Follow Camera?
Many riders spend a lot of time training their horses on their own but are unable to see what they're doing from afar to go back and review their riding session.
An auto-follow camera can help us review our riding progress or even have live online riding lessons with instructors.
Benefits of Using a Motion Tracking Camera:
Analyze your riding position and the horses' way of going to help you progress
Send a video to a trainer or friend for advice and feedback
Record a clinic or lesson so that you can go back later and make notes on the trainer's comments/instructions
Vlogging on YouTube
Live Streaming
Let's take a look at the 4 best auto-follow cameras for sports and horse riding.
4 Best Auto Follow Cameras
Pixio & Pixem
Considered the best-in-class, the Pixio is an automated tracking video camera that is compatible with most standard video cameras. For the complete package, you can buy a bundle that includes both a camera and a tripod.
The Pixem is an automatic tracking camera mount that is designed for use with your existing smartphone and tablet. Connect and place your smart phone to the provided mount and see the Pixem smoothly following around the arena.
It will also control your phone's camera zoom feature to auto-zoom in and out to keep you perfectly in frame. It's like having your own robotic cameraman!
Created by the company Move 'N See, the Pixio is also the official auto-follow camera supplier of FEI Dressage and US Equestrian. See this video below from US Grand Prix Rider, Suzie Halle on why she uses the Pixio.
Included in the basic bundle for both are three micro beacons with tripods, either a tag (Pixem) or a watch (Pixio) with a wristband, batteries and chargers. The Pixem also includes a smartphone / tablet holder. See here on their website.
Pros
Can be used indoors or outside
Using the 3 beacons the whole arena can be covered
Well supported with easy to follow YouTube tutorials and set up guides
Range of 330 foot / 100m
Tracking and zoom is fully automatic
Live streaming is available via the free app
Live lesson / coaching packages are available for a subscription charge (Move 'N See)
Cons
Only water resistant but the beacons can be protected by any plastic bag and they will still work. A rain cape can be purchased separately for the robot and camera unit
Set up is required with the beacons being placed around the arena to triangulate the rider's position
Verdict
If you have the budget, the Pixio bundle with a camera and tripod is the most comprehensive and professional start-up package with good support and versatility for all kinds of sports. If you'd rather use your phone or tablet as the camera, the Pixem is the one.
Get more information here on their website.
Pivo Pod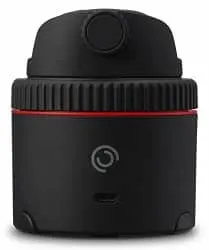 Built specifically with horse riders in mind, the Pivo has gained a following and traction over the last year in the equestrian world.
Although the Pivo is not a robot cameraman but an auto-follow camera mount, it can perform most of the requirements a horse rider would need to film their ride in a menage or field.
Rather than a camera, the user will need a compatible smartphone (most common phones are compatible). When engaged in horse riding mode, the Pivo will follow you and your horse as you ride and has a full 360 degree rotation angle.
Many features include live streaming and video calls, auto-zoom (which can be controlled by your trainer via a live lesson streaming session), and the ability to take photos with a snap of your fingers or a set command with your voice.
Additionally, Pivo have a big and very active Facebook group (click here to see the group) dedicated to equestrian Pivo owners. In the group, users can ask other users for help with setting up and using their Pivo. Pivo support also regularly responds to posts on the group.
Pros
Affordable
Suitable for both indoor and outdoor use
Designed for equestrians
Large online equestrian community
Cons
Motion tracking isn't as smooth as the Pixio/Pixem
Verdict
Overall, we think the Pivo is the best motion tracking camera mount for horse riders on a smaller budget. With its awesome online community and ease of use, you can't go wrong with the Pivo.
See the more details here on the Pivo website.
Soloshot3 Robotic Cameraman
Soloshot was one of the first motion tracking cameras available with the inevitable teething problems. Soloshot3 is the third generation so improvements have been made but it is still only suitable for use outdoors.
The SoloShot3 with Optic25 camera is the one recommended for a standard 20m x 40m arena. It uses GPS sensors to automatically track the Tag worn by the rider to keep them in the frame.
Included in the bundle is the base unit, camera, Tag and armband, mini USB charging cable and getting started guide. You will need a 64gb microSD card or a 128gb UHS for the high-resolution video which are sold separately.
Pros
360-degree rotation
Automatically adjusts, pans and zooms
Best used for activities within a 600-foot range of the base but can track up to 2000 feet
Straight forward to set up and well supported with user guides and online videos
Livestream via the Soloshot app
Ability to track multiple tags from one base
Cons
For recording sessions longer than 90 minutes you will need to add a power bank to your base
Not weatherproof but a rain cover can be purchased separately
Only for outdoor use although an indoor accessory is planned but not yet available
Verdict
Good starter set if you are on a limited budget and only filming outside. Read customer reviews here on Amazon.
Swivl C Series Robot
The Swivl C Series is a Robotic mount for iPad, camera or smartphone use to track and record videos of a moving person.
It is particularly popular with educational institutions for recording presentations, video observation, and coaching. Originally designed for indoor use it can be used outside. The bundle includes a base, primary marker, and a USB marker charger.
Pros
Markers capture audio as well as video
360-degree rotation
Swivl Cloud is free with unlimited storage
Cons
One camera has a range of 32 feet so multiple cameras are needed to cover a normal size arena which increases the cost significantly
You must use the cloud with the multi-camera option
Swivl app needs to be installed and open to operate
Verdict
Probably not the best option for recording riding sessions, but good if you are vlogging or doing educational videos.
Read customer reviews on Amazon
Which Auto-Follow Camera System is the Best?
If you're able to afford it, the best auto-follow camera is the Pixio or Pixem. Move N' See, creators of Pixio and Pixem, are the leading company for automatic cameras in the sports niche.
However, if you're looking for a cheaper option made for equestrians, the Pivo is the best option for filming horse riding or indoor YouTube videos.
See more details about the Pivo here and click here for more information on the Pixem/Pixio.