This post may contain affiliate links. We earn from qualifying purchases. Learn More
One of the best ways for athletes to improve is to watch video footage of themselves training. Auto-follow cameras let you analyze your ride and receive helpful feedback, allowing you to grow as an equestrian.
Auto-follow cameras automatically follow motion without having to rely on a cameraman. They use smart technology to track you, always keeping you in frame. No more asking a friend to film your ride only to get shaky footage in return.
Whether you are vlogging for fun or recording your riding lesson, an auto-follow camera can be a beneficial tool to have. The sophisticated AI technology tracks motion and zooms in and out, all without needing a cameraman.
Here are the best auto-follow cameras for sports, vlogging, and horseback riding.
Best Auto-Follow Cameras for Sports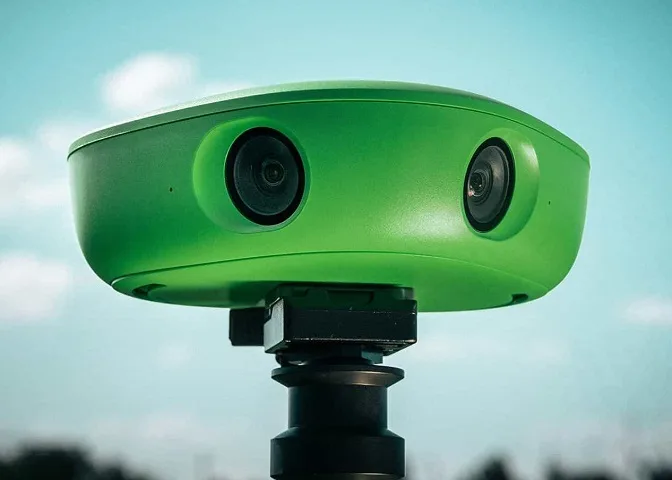 No matter sun or rain, night or day, the Veo Cam 2 will record your sports games in all conditions. The revolutionary sports camera can live stream your games via 4G, Wi-Fi, or a wired internet connection.
After mounting the camera to the tripod, you can raise it up to 23 feet on the tripod to get the optimal view of your game. Then, connect the camera to the Veo app to begin live streaming or recording. After live streaming, you can instantly watch your video, allowing you to analyze your game.
The AI technology detects the surface of the field, automatically adjusting to give you the best quality video. You can use the Veo Cam 2 indoors or outdoors, with the ability to store more than six soccer games worth of footage.
As the world's first portable AI camera that can automatically live stream your games, Veo Cam 2 is a reliable, high-quality option for athletes.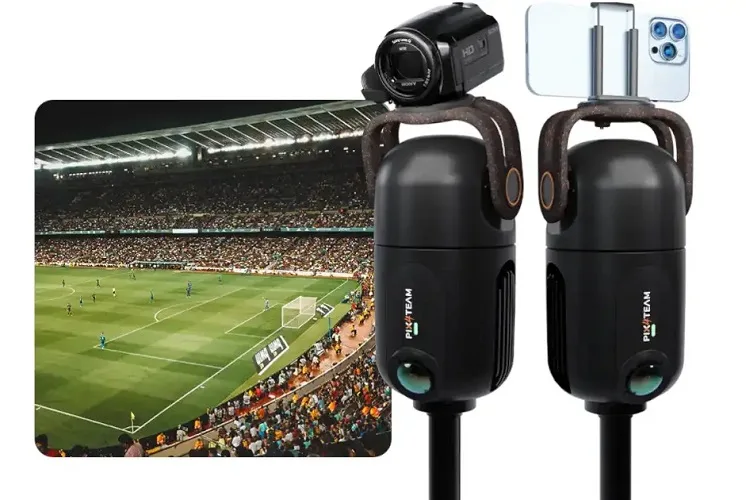 No matter what sport you play, the Pix4Team uses state-of-the-art technology to give you the best footage of your matches. The advanced auto-follow technology ensures you will never miss a moment of gameplay. Left-right, up-down, and zoom movements are automatic so you can rest assured you are getting the best footage of your game.
The easy setup allows you to define field limits on the app to ensure you only record game footage and not the crowd. With the app, you can easily live-stream your games and watch them afterward to relive the best moments of your match. The Pix4Team is the only sports auto-follow camera on the market compatible with video-analyzing software.
You can use your choice of a video camera, smartphone, or tablet with the Pix4Team. With the optional subscription, you can even post the score, game time, and ads on your video.
The Pix4Team offers a high-quality auto-follow camera with custom packages depending on your sport for the ultimate gameplay experience. It is suitable for a variety of sports such as American Football, Basketball, Soccer, Volleyball, Hockey, and many more.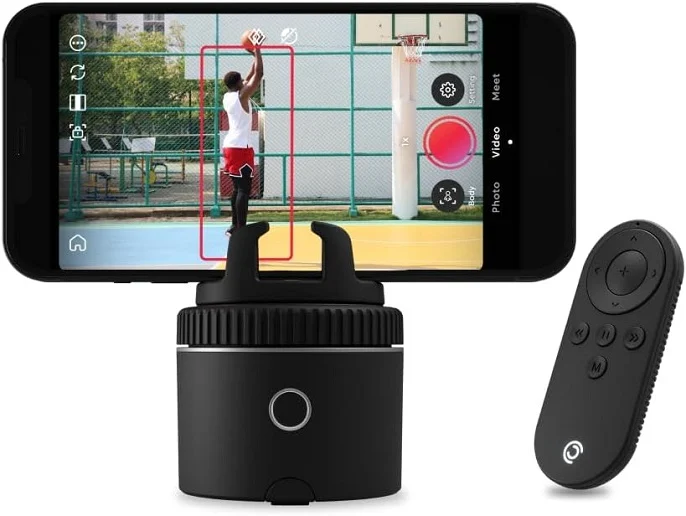 Created with athletes in mind, the Pivo Pod uses motion-track technology with 360° rotation so you never miss a moment. It is a versatile camera that allows you to record just about any sport.
With 2X rotation speed and 6 tracking speeds, the Pivo Pod is designed to keep up with you whether you are shooting hoops or playing tennis. You can easily connect your smartphone to the Pivo Pod and share your videos with your trainer to receive helpful feedback.
For ease of use when you are on the field, you can use a remote to start and stop recording, control rotation, zoom in, or change mode. It has two tracking abilities: smart tracking for face, body, horse, and dog, as well as action tracking that allows you to track just about anything you draw a box on.
The Pivo Pod is an affordable, quality option from which athletes of all levels can benefit. It also has a very active Facebook community support group.
Best Auto-Follow Cameras for Horse Riding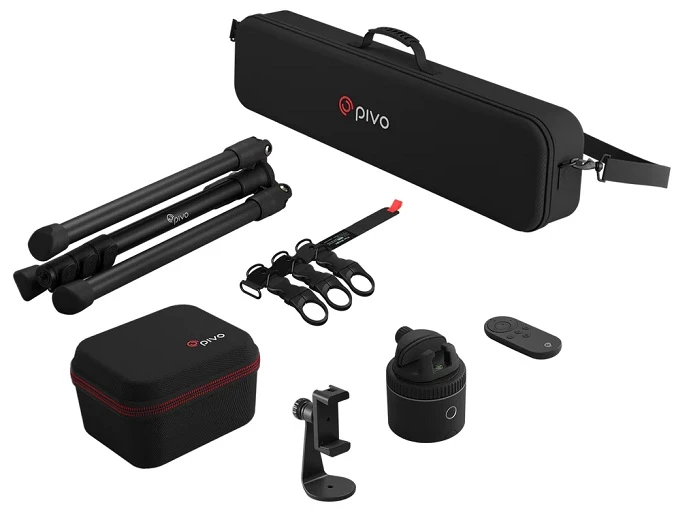 No need to ask your friend to record your lesson, as the Pivo Equestrian Pack has you covered. The Pivo Equestrian Pack has everything you need to capture your ride, no matter the discipline.
The smart horse tracking auto-follow always keeps you in view thanks to the 360° rotation and six tracking speeds. The advanced auto zoom technology adjusts to keep you in the frame for the best-possible training videos that will allow you to analyze your ride. The Pivo Pod can be used in indoor and outdoor arenas with the ability to long-distance call your trainer as you ride.
The horse feature on the app allows you to seamlessly track your ride, even taking pictures with the smart capture feature. You can even use the handy remote to easily control your video from the saddle.
The Pivo is a quality, affordable option for equestrians of all levels and disciplines. It is easy to set up and uses smart technology to track your horse as you ride.
There is also a very active and helpful Pivo Equestrian group on Facebook.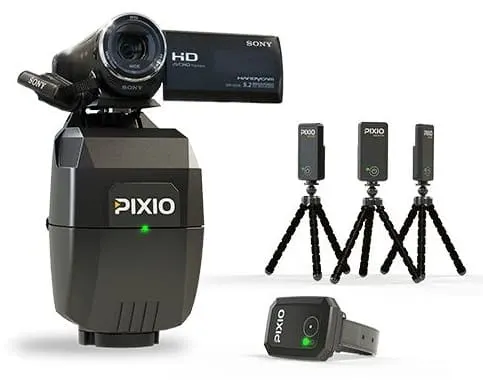 As the official training support device of US Equestrian, you can trust Pixem & Pixio to flawlessly capture your ride. With incredible accuracy, Pixem & Pixio will auto-track your ride in both indoor and outdoor arenas.
Pixem & Pixio are designed to be used for lessons, training, shows, sales videos, equestrian vlogging, and more. The Pixem is designed to be used with a smartphone or tablet, whereas the Pixio is designed to be used with a video camera (ex. Sony or Canon).
Both options have live streaming capabilities and automatic zoom technology, with a range of 330 feet to cover all of the arena.
The Pixem & Pixio use three beacons placed in the arena and a tag (Pixem) or watch (Pixio) to track your ride effortlessly while always keeping you in frame. Both the Pixem & Pixio are high-quality cameras that use smart tracking technology with markers for professional-grade videos.
The SoloShot3+ uses the newest technology to expertly capture your ride every time. With a fast and easy setup, you will be able to spend more time focusing on your ride.
Using a waterproof and shock-resistant tag that the subject wears, SoloShot3+ can track as far as 2,000 feet. The auto zoom and focus automatically zooms to keep you in frame the entire time you are filming. The new and improved image quality allows for sports 4K video and 65x optical zoom, so you can get professional-quality video without hiring a cameraman.
You can easily share your ride with your trainer with live streaming capabilities. After filming, you can easily edit your video using SoloShot's auto edit. The SoloShot3+ is a great, high-quality choice for trainers and students, as its smart technology allows for seamless tracking.
Best Auto-Follow Cameras for Vlogging
Whether you are creating content for your social media or your business, the Camrola allows you to seamlessly film all of your content. You can easily film horizontally or vertically with 360° rotation so you can rest assured you will stay in focus no matter where you go.
Thanks to the built-in camera, you will have face-tracking capabilities without having to download an app or connect to Bluetooth. The camera is compatible with all video apps like Facebook, Zoom, YouTube, and Instagram, allowing you to easily share your content.
The Camrola is easy to set up, so you can right to creating content. It is a quality, affordable option that you can easily use with your smartphone for all of your vlogging needs.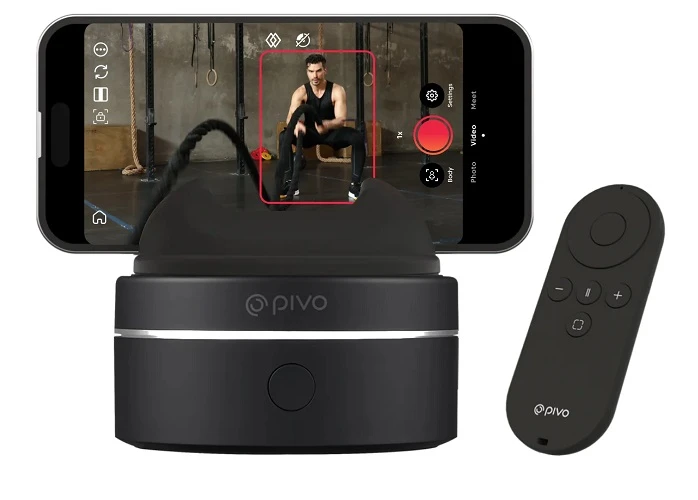 The Pivo Max allows you to easily record all of your vlogging content, from workouts to product reviews. Designed for performance, it will give you the professional edge you need for your vlogging content to be successful. It utilizes both smart tracking and action tracking to cover all your content needs.
The Pivo Max is compatible with smartphones, tablets, and cameras. With 360° rotation, 2X rotation speed, and multiple speed modes, you can flawlessly record all of your vlogging videos. A handy remote allows you to start and stop recording, control rotation, zoom in, or change mode.
The Pivo Max uses state-of-the-art technology to seamlessly track you as you create. It is a high-quality, reliable option that is a perfect option for a professional vlog.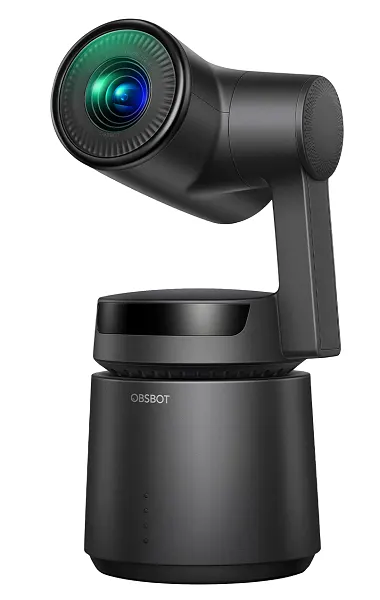 Achieve stable and smooth footage for your vlog with the OBSBOT Tail. The cutting-edge camera uses an advanced neural network to achieve AI tracking, intelligent composition, and power gesture for your best content yet.
The OBSBOT Tail uses a Sony CMOS sensor, Hoya optical lens system, and three-axis gimbal so you can achieve professional-grade content no matter what you are filming. Vloggers can use a variety of different hand gestures to have complete control of their video as they film. A multi-functional video app allows you to easily edit your videos before posting.
The OBSBOT Tail includes a variety of helpful features such as crazy-time, shar-lock, one-shot, pet-tracking, and tap-lock so you can create your best vlog to date. It is a great option for aspiring and established vloggers to create high-quality content for their viewers to enjoy.
Which Auto-Follow Camera System is the Best?
For professional-quality videos, the Pixem & Pixio cameras are the best options. They offer reliable tracking both indoors and outdoors, with auto zooming that will always keep you in frame. They are the trusted option of many top riders.
Pivo is a great option if you want a more affordable option, especially for more casual users. Unlike Pixem & Pixio, it doesn't use beacons and a watch or tag to track you as you ride. Instead, it uses smart technology to follow your motion as you ride.
Why Should I Invest in an Auto-Follow Camera?
Auto-follow cameras allow equestrians to review and share their ride. They are easy to set up and you don't have to worry about having someone else film for you.
Watching a video of yourself riding not only allows you to see what improvements you need to make but also allows you to track your progress. It is a great tool to assist you as you train.
Benefits of Using a Motion Tracking Camera:
Analyze your riding position and the horses' way of going to help you progress
Send a video to a trainer or friend for advice and feedback
Record a clinic or lesson so that you can go back later and make notes on the trainer's comments/instructions
Create sale videos to boost your horse's chances of selling
Vlogging on YouTube
Live Streaming