Our readers support us. This post may contain affiliate links. We earn from qualifying purchases. Learn More
Ennis is no doubt one of the most popular characters in the Yellowstone prequel 1883 (2021-2022).
The soft-hearted cowboy was quick to charm Elsa, the daughter of James Dutton, and won her love in the early episodes of the show.
Eris Michael Nelsen is an American actor and producer who plays Ennis in the Yellowstone spinoff 1883. He was born in 1991 in West Palm Beach, Florida, and is married to actress Sainty Nelsen.
| | |
| --- | --- |
| Born: | June 26, 1991 (age 31) |
| Birthplace: | West Palm Beach, Florida, United States |
| Height: | 5ft 8 (172.7 cm) |
| Profession: | Actor, Producer |
| Wife: | Sainty Nelsen |
| Zodiac Sign: | Cancer |
Alongside 1883, Eric Nelsen is known for appearing in the action thriller A Walk Among the Tombstones (2014) and the drama series The Affair (2014-2019).
So far, the actor has had over 30 television appearances, including series regular and recurring roles. He also starred in various movies and often had the opportunity to work with Academy Award nominees.
Eric Nelsen Started Acting When He Was 15
According to Nelsen's mother, Teresa Gumley, the actor was lucky to grow up in Palm Beach County, Florida.
His hometown presented Nelsen with many opportunities to be involved in the performing arts, which contributed to his swift rise to fame.
Prior to breaking into the industry, Nelsen attended The King's Academy, followed by the BAK Middle School of The Arts. He learned to tap dance at Nicole's Dance Studio and even competed in national competitions.
In an interview with The Palm Beach Post, Nelsen admitted that he wouldn't be where he is now had it not been for the dance studio.
However, he soon made his transition into acting and performed in various local plays. Unlike most actors, he maintained his interest in theater far into his career.
His stage appearances include The Good Mother and the Broadway musical 13, where he played a popular but rather simple football kid.
In 2006, Nelsen landed his first on-screen roles in the TV series Sensing Murder (2006- ) and Guiding Light (1952-2009).
Eric Nelsen's Acting Highlights
Eric Nelsen's long list of television credits features iCarly (2007-2012), Law & Order (1990-2010), The Bay (2010- ), Blue Bloods (2010- ), the Hulu remake of All My Children (2013), NCIS (2003- ) and The Affair, among others.
In 2014, he landed a role in the Universal Pictures movie A Walk Among the Tombstones, where he acted alongside Academy Award nominee Liam Neeson.
The following year, he starred opposite Academy Award winner Chris Cooper in Coming Through the Rye (2015).
Nelsen's most recent movie appearance was in the sports drama film The Last Whistle (2019). He says he will continue growing in the entertainment industry to make his family proud.
Eric Nelsen is a Multi-Award Winning Actor and Producer
Nelsen put many years of hard work and dedication into his acting career. All his efforts finally paid off in 2018, when he received a Daytime Emmy Award for Outstanding Supporting Actor in the Amazon series The Bay.
For his work as a producer on the show, Nelsen won another three Daytime Emmys in 2015, 2017, and 2018. In fact, he became the youngest producer in history to receive an Emmy Award at the age of 23.
In 2020, Nelsen's gift for producing was also recognized on stage, when he won a Tony Award for the Broadway play The Inheritance (2019). That same year, he pocketed four more awards for his outstanding work as a producer of the play.
While producing is clearly a field he's talented in, Nelsen's greatest passion will always be acting. "I produce to be able to act more," he told The Palm Beach Post.
Producing also allows him to choose which actors and crew he works with and which direction a show will take.
Eric Nelsen Learned a Lot From His Co-Stars on 1883
One of Nelsen's favorite parts of being in 1883 was the acting legends he got to work with. He learned many invaluable lessons from the likes of Tom Hanks, Sam Elliot, Tim McGraw, and show creator Taylor Sheridan.
"I'm a mega fan of Tom Hanks," Nelsen confessed. "Despite the magnitude of his success, he doesn't take himself seriously. He was approachable and kind, and I always strive to be that way."
He also learned a lot about what it takes to be a great actor from seasoned veteran Sam Elliot. According to Nelsen, the 77-year-old actor is an extremely down-to-earth and giving man. He loves to hang out with his fellow co-stars on set, giving out advice and supporting everyone through the day.
As for country singer and actor Tim McGraw, Nelsen appreciated his ability to make people laugh on set. The two ended up becoming close friends during the filming of 1883.
Last but not least, actor and director Taylor Sheridan taught Nelsen the importance of treating the cast and crew like family.
Working with the iconic Western storyteller has been like a dream for the Ennis actor, who hopes he will never wake up.
"I pray that I stay in his universe," he reflected. "There'll never be an opportunity I would say no to from him." (Source: The Palm Beach Post)
Related: Why Did Tom Hanks Make a Cameo Appearance in 1883?
Eric Nelsen Went to "Cowboy Camp"
"Cowboy Camp" is an intensive training program invented by Taylor Sheridan that gives actors an idea about what it's like to be a real cowboy.
The camp usually lasts for several days and involves venturing into the wilderness on horseback. There, the actors will learn the ins and outs of riding, roping, and shooting from experienced cowboys.
Similar to his fellow cast members, Nelsen also left Cowboy Camp with massively improved horsemanship skills. Although he had some prior experience with horses due to his parents, he soon discovered he has a lot more to learn.
According to Nelsen, developing his riding skills to a higher level helped him focus on his acting work during filming. Because he didn't have to worry about staying on the horse, he could truly become his character and be in the moment.
Cowboy Camp is also the reason why Taylor Sheridan's creations are so believable. During the camp for 1883, the actors even ate food from the time period, which helped make the show even more authentic.
Related: 1883 Actors Who are Cowboys in Real Life
Who Replaced Ennis on 1883?
was shot dead by a bandit at the end of Episode 5 "The Fangs of Freedom". Pinkerton agent Shea Brennan hired a cowboy named Colton to replace Ennis on 1883.
As we learn from his conversation with Elsa, Colton was a friend of Ennis', which consoles the grieving widow.
Throughout the journey, Colton keeps a constant eye on Elsa and tries his best to protect her from harm.
Nelsen Confronted Taylor Sheridan About Ennis' Death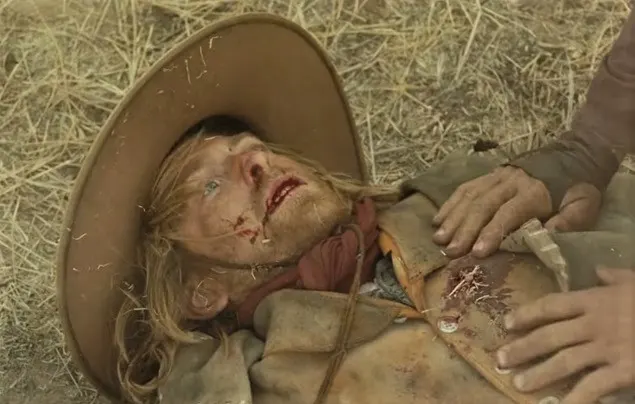 Viewers around the world were shocked when Ennis fell from his horse and died halfway through the series in episode 5. His light, goofy character and romantic involvement with Elsa were things everyone wanted to see more of.
The opinion of fans was also shared by the Ennis actor himself, who thought the character's presence counterbalanced the dark and cruel world of the show.
"I saw Ennis as the outlet to kind of go against the grain of the show a little bit," he told Newsweek. "We live in this extremely dark, gritty world in 1883, and Ennis is that little beacon of light that can pop through and put a smile on audience's faces—but at the same time, he is also a badass cowboy."
Doubting Sheridan's decision to kill the character off, Nelsen confronted the show creator about Ennis' storyline.
In response, Sheridan explained that his death represents a turning point in Elsa's journey, sending her in a direction she otherwise wouldn't be heading.
Unfortunately, Sheridan says, it had to happen this way.
Is Eric Nelsen in Yellowstone?
Eric Nelsen is not in the Yellowstone series and hasn't been cast in the upcoming season either. He plays the character of Ennis in the spinoff series 1883 and that's as far as his involvement with Yellowstone goes.
Nelsen has recently been in some Dodge Ram commercials with Yellowstone actor Jefferson White. As a result, rumors have begun circulating that Ennis might be Jimmy's great-great-grandfather.
While there is no basis for this theory other than the imagination of fans, it cannot be ruled out that the idea might inspire Taylor Sheridan. We'll just have to wait and see what the grand creator comes up with next.
8 Facts You Didn't Know About Eric Nelsen
He moved to New York with his family when he was 13.
He has three siblings, Katy, Joseph, and Matt.
His younger brother Matthew Gumley is known for his voiceover work.
His father trained polo horses, and his mother showed horses as a profession.
Nelsen has been in numerous commercials for big companies.
He was badly injured during the filming of Hardflip (2012).
He married Sainty Nelsen in 2013 in Fort Worth, Texas.
Nelsen and his wife have a daughter and a son, born in 2019 and 2020 respectively.
He lives with his family in Forth Worth, Texas.
You can connect with Eric Nelsen through his Instagram, where he hosts a weekly show advising aspiring actors.
Also read: