This post may contain affiliate links. We earn from qualifying purchases. Learn More
Taylor Sheridan has made quite a name for himself in the entertainment world. He is the driving force behind the hit TV series Yellowstone, as he is the director, writer, producer, star, and co-creator.
Taylor Sheridan is an American actor who is the creator of the Yellowstone TV show in which he also played Travis Wheatley. He was born on May 21, 1970, in Cranfills Gap, Texas.
| | |
| --- | --- |
| Born: | May 21, 1970 |
| Birthplace: | Cranfills Gap, Texas |
| Nationality: | American |
| Height: | 1.79 m |
| Wife: | Nicole Muirbrook Sheridan |
| Net Worth: | $40 million (estimated) |
Though you might recognize him as Travis Wheatley in Yellowstone, Sheridan has starred in other notable shows. He has had roles in the popular TV series Veronica Mars and Sons of Anarchy.
Is Taylor Sheridan a Real-Life Cowboy?
Taylor Sheridan is a real-life cowboy who grew up on a ranch in Cranfills Gap, Texas. Ever since his youth, he has loved the country lifestyle, and horses have played a pivotal role in his life.
When he was just 14 years old, Taylor Sheridan got his first job working on a cattle ranch just a few miles from Cransfill Gap. He worked for $400 a month and a bunk. Since this humble beginning, his career has really taken off.
Taylor Sheridan and his family currently own Bosque Ranch, a premier equine facility in Weatherford, Texas. The star has also owned Quarter horses all throughout his life and has several now at his ranch.
Taylor Sheridan's Wife Is a Real-Life Cowgirl
Taylor Sheridan is married to Nicole Muirbrook Sheridan, an American model, and actress. The couple got married in 2013 and have a son together named Gus. The family lives at their gorgeous ranch in Weatherford, Texas.
Taylor and Nicole met when Taylor had a brief stint coaching actors, and Nicole signed up for lessons.
Not only is Taylor Sheridan a cowboy himself, but Nicole is also a real-life cowgirl. She grew up riding horses through the mountains at her grandparents' ranch near Jackson, Wyoming.
Nicole is an avid equestrian who competes in cutting competitions. She has been quite successful in the sport, taking home top honors at shows such as the 2020 Careity Foundation Celebrity Cutting Event.
Though the Sheridans have many horses, her two main cutting horses are Sweetie and Simba.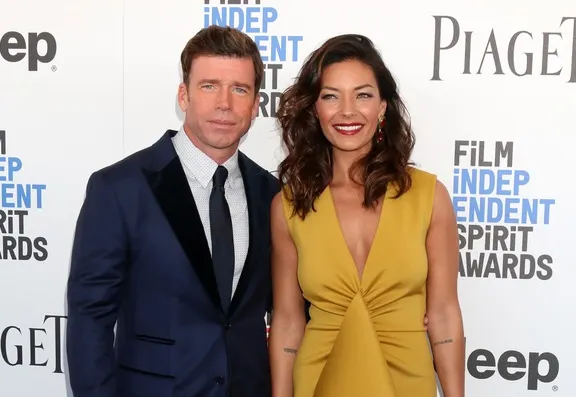 Taylor Sheridan is also on the board of the National Cowgirl Museum and Hall of Fame. In addition, she spends much of her time handling the business side of the family ranch.
Does Taylor Sheridan Own 6666 Ranch?
Taylor Sheridan and a group of investors bought 6666 Ranch in January 2022 for just under $200 million.
Four Sixes Ranch sprawls over 260,000 acres of land, making it one of the largest in Texas. It was founded in 1870 when Captain Samuel "Burk" Burnett purchased 100 head of cattle with the brand "6666" on them.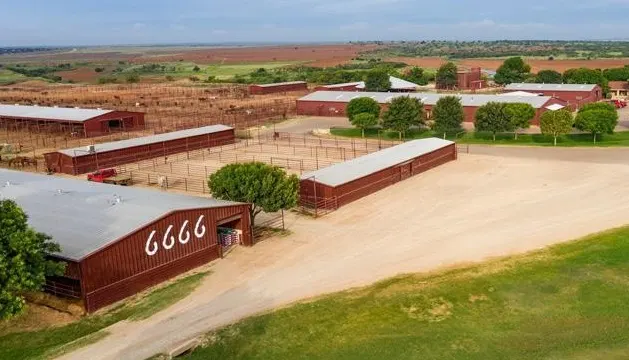 This is quite exciting news for fans of Yellowstone, as the beloved show is getting a spin-off series 6666 based on the historic ranch. Filming for the upcoming series will take place at the series' namesake.
Also, check out our guide on the 6666 ranch which covers its history, sale, size, location, and much more!
Four Sixes Ranch is dedicated to producing the country's finest Quarter horses and Angus cattle. The remarkable ranch also has state-of-the-art veterinary and reproductive services.
Four Sixes Ranch includes 119 pastures that range anywhere from a few hundred acres to nearly 16,000 acres of grassland.
The property also has 18 solar wells, 29 windmills, and 10 submersibles with 66 tubs. Depending on the season, there are anywhere from 50-100 employees, with nearly 20 full-time cowboys.
He Supplies Most of the Horses for Yellowstone
Taylor Sheridan and his family own over 100 horses. Many of the horses seen on Yellowstone belong to the Sheridan family, as they supply most of the horses for the show.
Taylor Sheridan works year-round to prepare his horses for the big screen. To perform their best, he makes sure the horses are truly comfortable around everything. This includes being comfortable working with large film equipment, including 40-foot cranes and 50 feet of dolly tracks.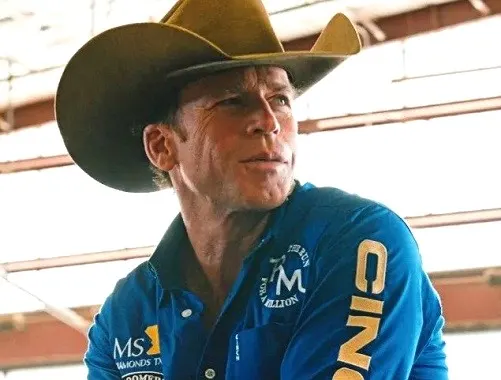 In addition to Taylor Sheridan's horses, some big-name Quarter horses have made it onto the show. One such notable horse is the AQHA reining world champion and National Reining Horse Association Futurity champion Lil Joe Cash.
Custom Made Gun, The Run for a Million co-champion, and World Equestrian Games medalist, also made an appearance on the show.
Other notable Quarter horses to star in the show include Metallic Cat, Walla Walla Starbuck, Dun It Chexinic, and Spookernickerin.
Taylor Sheridan Taught the Yellowstone Actors How to Ride
Not only does Taylor Sheridan provide the majority of the horses for Yellowstone, but he also taught many of the actors how to ride. Most of the show's stars had little to no horseback riding experience prior to being cast.
When Taylor Sheridan could not find an actor with good riding skills to play a trainer, he gave the role to himself. His character Travis Wheatley is a horse trainer and rodeo competitor for Bosque Ranch on Yellowstone.
Here is a behind-the-scenes video on Taylor Sheridan's cowboy lifestyle and him teaching Yellowstone actors to ride:
He Breeds and Shows Quarter Horses
When he's not busy producing some of Hollywood's biggest hits, Taylor Sheridan is showing and breeding Quarter horses. He has been a lifelong member of the AQHA (American Quarter Horse Association), winning the AQHA Spirit Award in 2019.
The Sheridan family owns and shows reining, cutting, and cow horses. The family is quite successful in the show ring, with both Taylor and Nicole clinching numerous awards.
In addition to showing, the Sheridan family also has a successful breeding program, producing top-quality Quarter horses. In 2021, Sheridan became a member of the Texas Cowboy Hall of Fame.
Also read: What Does the Yellowstone Logo Mean?
He Won the First-Ever NRHA Reiner of the Year
In 2019, Taylor Sheridan won the inaugural NRHA (National Reining Horse Association) Reiner of the Year award. Taylor Sheridan won the award for his role in promoting and highlighting reining in The Last Cowboy and The Run For A Million.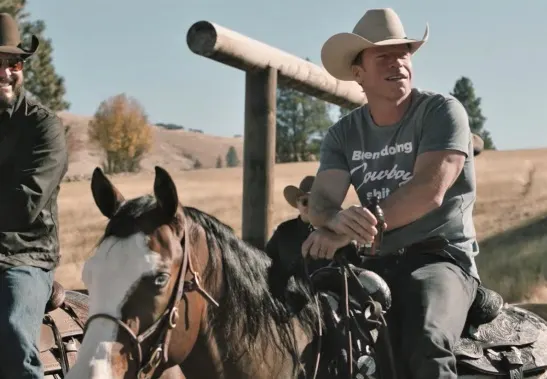 The award is given annually to a "person/entity who enacts a measurable, positive influence on the industry."
The Last Cowboy is an unscripted reality show produced by Taylor Sheridan that follows cowboys competing in the elite sport of reining. During the show, eight men and women expertly guide their horses in hopes of winning the Run for a Million.
The Run for the Million is the richest event in the history of reining and takes place in Las Vegas, Nevada.
He Got His Start in Acting After Dropping Out of College
After dropping out of Texas State University, Sheridan moved to Austin. In Austin, he took up odd jobs to make ends meet including being a house painter and mowing lawns.
While job hunting at a local mall in Austin, he was approached by a talent scout who sent him to Chicago to give acting a shot. He scored his first acting role in an episode of Walker, Texas Ranger in 1995.
After that, Sheridan spent time with acting gigs in New York City and Los Angeles. He landed his first recurring role in 2005 with Veronica Mars.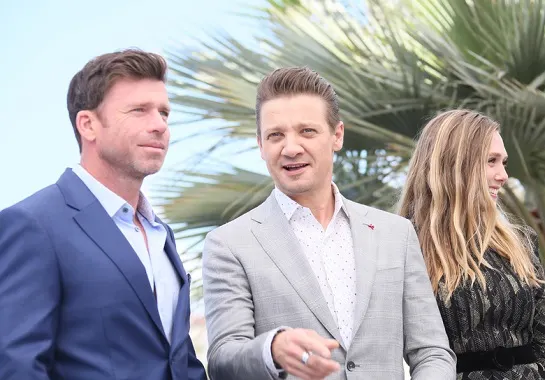 He got his first big break in the film industry by writing Sicario and Hell or High Water. From there, Sheridan's career took off, with Yellowstone bringing the star much success.
Did Taylor Sheridan Write Yellowstone?
Taylor Sheridan is the main writer for the Yellowstone series. John Linson, Brett Conrad, John Convey, Eric Jay Beck, and Ian McCulloch have also written for the series as well.
Also read: 35 Best Yellowstone Quotes
Taylor Sheridan's Work Outside of Yellowstone
Taylor Sheridan is most known for his work on Yellowstone, but he has also worked on TV shows and movies such as Sicario, Hell or High Water, and Mayor of Kingstown.
With season five of Yellowstone around the corner, Sheridan has been hard at work. He has also been busy with three Yellowstone spinoff shows, 1883, 1923, and 6666.
What is Taylor Sheridan's Net Worth?
Taylor Sheridan has an estimated net worth of at least $40 million. He made most of his money from being a writer, actor, director, producer, and creator. In 2021, he signed a $200 million deal with Paramount Global to create five more TV shows.
Sheridan began acting in 1995 and began directing in 2011. In 2015, he had his first role as a writer, and he began producing in 2018.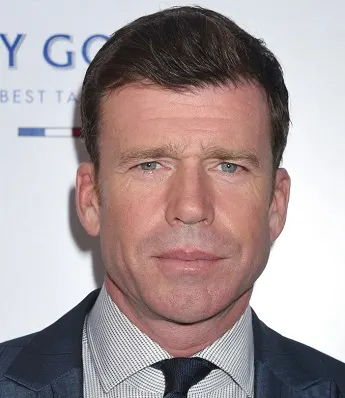 In addition to his career in the TV and film industry, Sheridan also earns money from Bosque Ranch. The ranch brings in money by hosting rodeos, film and TV shoots, concerts, music festivals, charity events, and private events.
The stunning ranch features an "ongoing unique dining experience that includes intimate dining experiences at the Chef's Table." The ranch is also home to Nic's Bar, which overlooks the indoor riding arena.
According to the AQHA, Sheridan has also brought home $10,428 in lifetime earnings from reining and cutting as of October 2020.