This post may contain affiliate links. We earn from qualifying purchases. Learn More
There has been quite a bit of buzz recently around the new spinoff prequel serious to Yellowstone called 1883.
While the show has quite the star-studded cast, with names such as Tim McGraw, Faith Hill, and Sam Elliott, one celebrity guest appearance came as quite the surprise.
Legendary Hollywood star Tom Hanks makes a cameo in the second episode of 1883 titled "Behind Us, A Cliff,".
Tom Hanks landed his cameo role as General George Meade in 1883 due to the fact he and his wife Rita Wilson are friends with Faith Hill (who plays Margaret Dutton) and Tim McGraw (who plays James Dutton).
"You never want to botch a scene when you got Tom Hanks in there with you. But yeah, he's a great guy. We've been friends for a long time. Rita, his wife, and Faith are best friends, and Tom and I've been friends for 25 years, 24 years. I knew that there was this part in there, and I gave him a call said, 'Hey, would you be interested in showing up doing a cameo in this show that we're doing?' And he goes, 'Tell me when to be there,' and he just showed up,'" McGraw told Cinemablend.
Hanks revealed that he filmed the scene in just one day in late September, outside Weatherford, Texas.
In his cameo appearance, Hanks played a three-star Union general in a flashback scene of James Dutton in the Civil War. The scene takes place during the aftermath of the Battle of Antietam.
James Dutton, a confederate soldier, wanders through the bloodshed of the battlefield before encountering Union soldiers. He is approached by Tom Hanks's character, General George Meade, who offers him some emotional support through the carnage of wartime.
Who is General George Meade?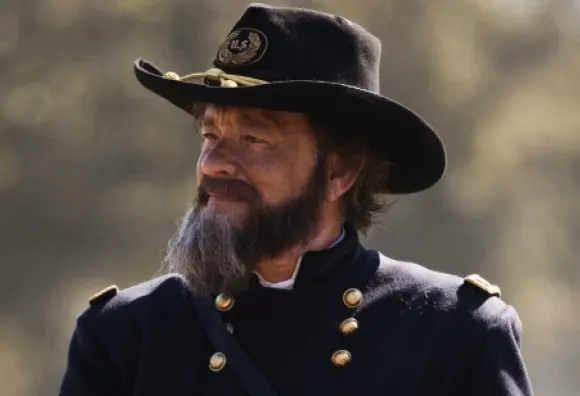 General George Meade was a real-life Union general who is best known for defeating Confederate General Robert E. Lee at the Battle of Gettysburg. He served in the United States Army from 1835 to 1836 and 1842 to 1872.
Meade served in the Second Seminole War, Mexican-American War, and the Civil War. In addition to being a general in the Army, he was also a civil engineer.
During his time in the Civil War, Meade rode a horse by the name of Old Baldy. Meade purchased Baldy from the government in 1861, naming him Baldy because of his white face.
Meade rode Old Baldy, his favorite mount, in several major battles including the Battle of Gettysburg.