This post may contain affiliate links. We earn from qualifying purchases. Learn More
Colby has been a trusty ranch hand on Yellowstone since season one. He is loyal to the Duttons and even receives the brand in the third season, marking him as forever a part of the ranch.
From working cattle to fixing fences and defending the ranch, Colby does it all. He is an important aspect of the Yellowstone Dutton Ranch and is a vital member of the bunkhouse.
Throughout the series, Colby and fellow ranch hand Teeter develop feelings for each other. They have now become one of the most beloved couples in Yellowstone.
Who Plays Colby on Yellowstone?
Colby is played by Denim Richards on Yellowstone. Richards is an American actor born on August 10, 1988, in Anaheim, California.
Richards has been acting for over two decades in theatre, film, and television. His love for performing began at a young age when he performed as a guest soloist at the world-renowned Crystal Cathedral.
In 2006, Richards placed first in acting and singing in the Los Angeles NAACP competition. He then went on to place fourth in nationals.
Richards landed his first acting credit in a role on an episode of Lincoln Heights in 2007 as a choir member. He has continued his passion for performance with a successful career in acting.
Notable Denim Richards TV Shows & Movie
The Book of G.A.M.E. (2018) as Sage
Yellowstone (2018-present) as Colby
Good Trouble (2019) as Elijah Adrieux
Montford: The Chickasaw Rancher (2021) as Jack Brown
County Line: All In (2022) as Dante Hill
County Line: No Fear (2022) as Dante Hill
Demin Richards as Colby in Yellowstone
Demin Richards first appeared briefly as Colby in season one and was promoted to a series regular from season two onward, a testament to his performance and the character's popularity among viewers.
To portray the character of Colby authentically, Richards underwent intensive preparation. He learned the various aspects of cowboy culture and ranch work, from riding horses to roping cattle.
He has stated in interviews that the experience was challenging but extremely rewarding, as it allowed him to immerse himself in the character and the world of "Yellowstone" more fully.
Colby represents the quintessential cowboy: hard-working, loyal, and skilled in his profession. He is part of the close-knit group of ranch hands known as the "bunkhouse boys," which also includes characters like Rip Wheeler, played by Cole Hauser, and Jimmy Hurdstrom, played by Jefferson White.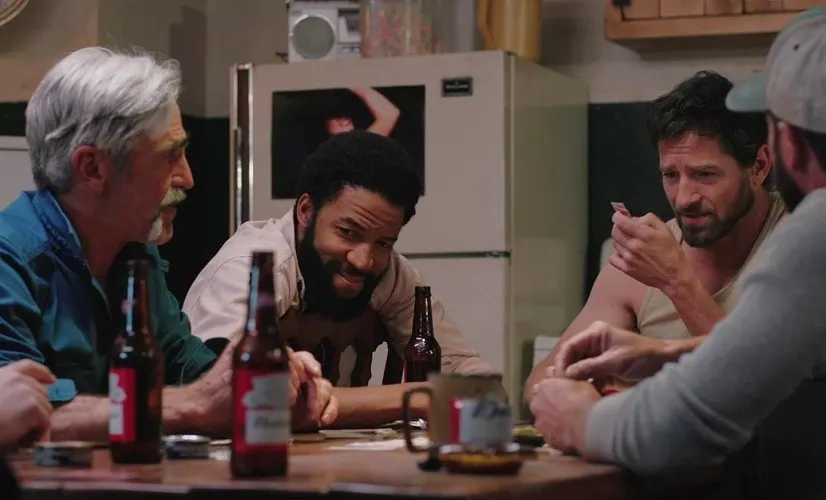 One aspect of Colby's story that has attracted considerable attention is his budding relationship with fellow ranch hand Teeter, played by Jennifer Landon.
Their on-screen chemistry has been a hit with audiences and has added another layer of complexity to Colby's character.
5 Interesting Facts About Denim Richards
He Has His Own Production Company
Richards's passion for acting goes further than his role in front of the camera. He has his own production company called Lazer Focus Productions, LLC (LFP).
As a multi-ethnic company, LFP takes pride in what it does. The company is focused on telling original stories while being a platform for showcasing amazing talent that can be found everywhere. The company works to provide opportunities for professionals in the entertainment industry.
He is Writer and Director
Richards has also done work as a writer and director. In 2020, he was the writer and director of the short film The Zoo. He also serves as the writer and director for The Forgotten Ones, which is currently in production.
He Founded Youth Empowering Success
Richards is a big believer in love, believing that everyone should receive it, especially children. He believes that "in this day in age where everyone is so busy, we have to remember that the youth are our future."
While using this mindset, Richards established the non-profit organization Youth Empowering Success (YES). YES focuses on providing youth with a "positive voice through the arts: singing, acting, dancing, public speaking, and/or filmmaking."
With his program YES, Richards travels to different grade schools to inspire youth. He also works as a mentor for third, fourth, and fifth graders at MLK Elementary.
He is Active in Many Charities
Richards is passionate about helping other people. He works with several charities to help those in need.
Richards works with such charities including United Steps, Rowell's Foster Children's Positive Plan, RAINN (Rape, Abuse & Incest National Network), and the Innocent Justice Foundation. He strives to be a role model to those around him while inspiring others with hope.
His Father is a Horse Trainer
Working on set with horses in Yellowstone comes naturally to Richards. This is partly due to his father being a horse trainer.
Richards's father takes in abused horses and rehabilitates them. The actor spent his childhood riding horses, which has proved to be beneficial for his role in Yellowstone. In addition, Richards also rode horses for the Western film Montford: The Chickasaw Rancher.
"We're really on those horses and those horses are really doing their thing, so that's been a tremendous experience. But we also have some of the best trainers and wranglers in the world," Richards told Outsider.
"So as much as I want to give my dad obviously a tremendous amount of credit for giving me the opportunity to be comfortable. I also want to give a lot of credit to our amazing wranglers that we have on Yellowstone that really allow us to not have to pay so much attention of how to get them here and here. They've trained us too, along with the horses, to just be able to focus on doing what we do best first, which is be able to act."
What is Denim Richards's Net Worth?
Denim Richards has an estimated net worth of $700,000. While it is unclear how much money he makes per episode of Yellowstone, the hit Western drama is likely where most of his income comes from.
Is Denim Richards in a Relationship?
Denim Richards is not married and as of now, he does not appear to be in a relationship. Richards is quite active on Instagram, where he often shares behind-the-scenes looks at Yellowstone and motivational posts. However, there is no indication on his social media that he is in a relationship.