Our readers support us. This post may contain affiliate links. We earn from qualifying purchases. Learn More
Yellowstone (2018- ) is a Paramount Network drama series created by Taylor Sheridan.
Set against the mountainous backdrop of Montana, the show follows the lives of the Dutton family, the owners of the largest ranch in the United States.
Fans of Yellowstone are no doubt familiar with the talented ranch horses featured on the show. After all, they are at the heart of the cowboy culture Yellowstone so accurately depicts.
However, you might not be aware that some of the horses in Yellowstone are real-life celebrities! In fact, many are among the world's best cutting, reining and ranch horses produced by Taylor Sheridan himself.
Who Owns the Yellowstone Horses?
The Yellowstone horses are owned by show creator Taylor Sheridan, who is also a ranch owner and western riding competitor.
While he supplies most of the horses to the show, champion horses of rodeo celebrities also make an appearance.
"As far as my horses go, I supply most of the horses to Yellowstone," Sheridan told Cowboys and Indians. "And then I have horses that I show and breed. Right now, I've probably got as many horses as I have cattle, and I have too many horses."
Most Western movie sets employ wranglers and stunt coordinators who are usually responsible for sourcing the horses for production. Yellowstone is unique in that regard, thanks to Sheridan's lifelong passion for horses and personal involvement in the equine industry.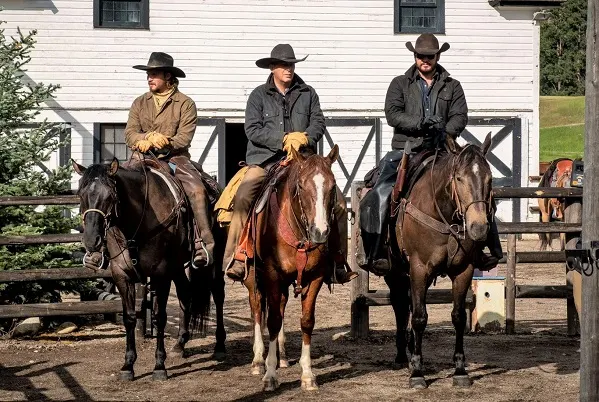 While most Yellowstone horses belong to Sheridan, he also brings in outside horses for specific scenes.
Having reining champions such as Custom Made Gun and Metallic Cat featured on the show was a real treat for fans of the sport.
11 Horses Used in Yellowstone
When John Dutton was looking for a cow horse in Season 4, many exceptional Quarter horses lined up to show off their skills. Each of these horses are at the top of their game as far as reining and cutting goes and boast an impressive competition record.
Meet the champion reining horses who made it to stardom both on- and off-screen:
Metallic Cat
Metallic Cat is perhaps the most famous Quarter horse champion appearing in Yellowstone. We first catch a glimpse of the magnificent stallion in Season 4 when Jimmy travels to the 6666 Ranch under the orders of John Dutton.
Later on, horse trainer Travis Wheatley (Taylor Sheridan) recommends Metallic Cat as a potential cutting horse for John. Impressed by the stallion's skill, he becomes a co-owner of the horse together with Travis.
Affectionately known as Denver, Metallic Cat was born in 2005 and is sired by the legendary High Brow Cat. In 2017, he became one of the world's most expensive cutting horses when Robert Patton Jr purchased him for $14 million.
Throughout his career, Metallic Cat won many titles and awards with his rider Beau Galyean. In 2008, he became a National Cutting Horse Association (NCHA) Futurity champion and was named the NCHA Horse of the Year in 2009.
The fabulous red roan is also a National Reined Cow Horse Association (NRCHA) champion and NCHA leading sire. He has now retired from showing and spends his days as a breeding sire. As of 2022, his offspring's earnings amount to an eye-watering $40 million.
Metallic Cat's Owner Bought the Rights to Yellowstone Stardom
During the 2019 NCHA charity event, Metallic Cat's owner Bobby Patton bought the rights to have him star in the Yellowstone series for $165,000.
The funds were forwarded to the NCHA Charities Foundation for the benefit of the organization.
Metallic Cat's role in Yellowstone will likely continue into Season 5 and the upcoming spinoff 6666.
Metallic Memorey
Sired by the legendary Metallic Cat and out of top NCHA earner Memorey, Metallic Memorey followed in his father's footsteps in becoming a movie horse.
Like his sire, Metallic Memorey is a champion reining horse with lifetime earnings over $30,000. Nicknamed "Diggs", the horse was a finalist at the NRCHA Snaffle Bit Futurity in 2019.
Dun It Chexinic
Dun It Chexinic is one of Taylor Sheridan's prized Quarter horses that appear in the Yellowstone series. Born in 2007, the bay gelding has so far brought home $32,000+ in earnings.
Besides having him star in his show, Sheridan also competed with the gelding at the Careity Celebrity Cutting Competition.
Here is a video of Dun It Chexinic:
Spookernickerin
Among Yellowstone's equine cast is the sorrel gelding Spookernickerin. He is a NRHA money-earning Quarter Horse owned by Jules Stewart.
Lil Joe Cash
To the delight of fans, the American Quarter Horse Association (AQHA) world champion Lil Joe Cash made a cameo appearance in Yellowstone Season 1 Episode 5.
Owned by Russel Giles, the sorrel stallion appears during the NRHA Futurity event with rider and trainer Andrea Fappani.
The 2008 stallion was sired by Nu Chex To Cash and out of RS Lilly Starlight, an AQHA Superhorse. Despite having to pause his career for a year and a half, he became a successful competition horse in the years that followed.
Walla Walla Starbuck
The funkily named Walla Walla Starbuck is one of Sheridan's horses that appear in Season 1, Episode 5. Other than Yellowstone, the red dun stallion is well-known on the reining circuit, having brought home over $50,000 in NRHA earnings.
High-Class Trash
High-Class Trash is another reining champion that is featured in the Yellowstone series. She was sired by the 2009 NRHA Futurity Open champion Gunnatrashya and is out of NRHA Hall of Fame member Taris Little Vintage.
High-Class Trash competed at the 2018 NRHA Futurity with rider Tracer Gilson. The pair also qualified for the Open and Intermediate Open finals of the 2018 Best of the West and High Roller futurities.
Custom Made Gun
Owned by Maria Cecilia Fiorucci, Custom Made Gun appears in Yellowstone Season 1 with NRHA $3 million trainer and rider Tim McQuay.
Before being cast in the series, the palomino stallion was co-champion of the prestigious The Run for a Million event. He was also a medal-winning member of the US team at the World Equestrian Games.
Born in 2011, Custom Made Gun was sired by the famous Colonels Smoking Gun (aka "Gunner") and out of Hollywood Dun It.
Smartly Starstruck
Smartly Starstruck was one of the cow horses lined up for John Dutton in Yellowstone Season 4. At a young age, Starstruck was a finalist at the NRCHA Snaffle Bit Futurity Open and has consistently achieved top results ever since.
Considering his mother was the first to win the World's Greatest Horseman competition, it's no wonder that Starstruck is equally talented in the sport.
Together with rider Todd Bergen, the pair came fourth in the 2019 World's Greatest Horseman competition in Fort Worth.
Starstruck's top finishes from previous years include the Reserve Championship at the 2016 NRCHA Hackamore Classic and the Open Bridle Championship at the NRCHA Snaffle Bit Futurity. His lifetime earnings amount to an impressive $73,625.
Nineteen Ten
Another champion Quarter Horse featured in Yellowstone is the red roan stallion Nineteen Ten. Ridden by Kelby Phillips, the pair were reserve champions at the 2019 NRCHA Snaffle Bit Futurity Open. They were also finalists at the 2020 NRCHA Derby and Tres Osos Derby.
With lifetime earnings of $142,877, the stallion is now standing at stud at Oswood Stallion Station in Weatherford, Texas.
Not My Day Job
With his shining reining and cutting career, Not My Day Job was an obvious choice when it came to casting horses for Yellowstone.
Actively competing since 2008, the AQHA champion won several prizes with rider Bob Avilla and his wife, Dana. Affectionately known as Brutus, the horse performed in various western events, including reining, roping, halter, and working cow horse classes.
Throughout his career, Not My Day Job reined in approximately $16,832 in earnings.
Also read: 5 Yellowstone Actors Who are Real Life Cowboys
Who Are the Reining Horses in Yellowstone?
The reining horses in Yellowstone include Metallic Cat, Dun It Chexinic, Walla Walla Starbuck, Lil Joe Cash, High-Class Trash, Smartly Starstruck, Metallic Memorey, Not My Day Job, and Spookernickerin. While some of these horses are owned by Taylor Sheridan, many belong to outside parties.
Yellowstone features many top money-winning horses in the NRCHA and NRHA. Thanks to Sheridan's connections, viewers can watch these horses showcase their extraordinary skills on-screen.
Are the Horses on Yellowstone Cutting Horses?
Most of the horses on Yellowstone are reining and not cutting horses. However, horses like Metallic Cat or Dun It Chexinix have competed in both reining and cutting disciplines.
Taylor Sheridan owns several cutting horses at his ranches in Texas, some of which feature in Yellowstone. He rode his first cutting horse to victory at the Utah Cutting Horse Association Show back in 2017.
Here is a video with Jake Ream talking about the Yellowstone horses:
Is Taylor Sheridan A Real Cowboy?
Like several Yellowstone actors, Taylor Sheridan is also a real cowboy himself. He is the owner of two Texas ranches where he produces high-quality reining and cutting horses as well as cattle.
Sheridan grew up on a ranch in Bosque County, Texas, where cowboying was a way of life. Given his cowboy roots, it's no surprise he became one of the greatest Western storytellers of his time.
He now resides on a beautiful ranch in Weatherford, Texas, with his wife, son, and over a hundred Quarter horses. He regularly competes in reining and cutting events and has received numerous prizes and awards over the years.
For his accomplishments in competing and filming, Sheridan was even inducted into the Texas Cowboy Hall of Fame in 2021.
Sheridan also co-owns the iconic 6666 Ranch that served as the filming location for the Texas scenes in Yellowstone Season 4. However, the ranch is more than just a giant film set and still operates in the traditional sense.
Here is a video about Taylor Sheridan and ranching life:
Also read: 17 Famous Horses in Movies and TV Series