This post may contain affiliate links. We earn from qualifying purchases. Learn More
Teeter is a tough-talking cowgirl from Texas who gets hired to work on the Yellowstone ranch in Season 3.
The hilarious scene where Rip picks her over the other applicants is a memorable one fans aren't likely to forget.
To avoid further issues in the bunkhouse, John told Rip to hire a cowgirl who is either "mean or ugly". Thanks to her impressive roping skills and badass attitude, Teeter was just perfect for the job.
Jennifer Rachel Landon is an American actress who plays the role of Teeter on Yellowstone. She is 5ft 7 (170.2 cm) tall and was born on August 29, 1983, in Malibu, California.
Landon is an award-winning actress known for her roles in As the World Turns (1956-2010) and Yellowstone (2018- ). She has an impressive list of TV and film appearances and has been a part of the Yellowstone cast since 2020.
Below are 7 interesting facts and FAQs about Jennifer Landon.
She Graduated From New York University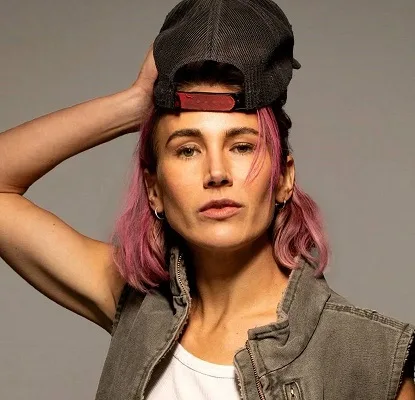 After finishing school in the Brentwood neighborhood of Los Angles, California, Jen Landon went on to study in New York City. There, she attended the Tisch School of the Arts of New York University and graduated with a degree in Drama in 2005.
While in New York, Landon also studied with the Atlantic Theater Company Acting School and appeared in various theater plays.
After finishing her studies, she returned to California and is currently based in Los Angeles.
Jennifer Landon Has Been Acting Since Age 5
When she was just 5 years old, Landon was cast to play a small role in the TV series Highway to Heaven (1984-1989). It was her father who gave her the role in the show, with whom she would work once more before his death.
In 2004, Landon had her first movie appearance in L.A. DJ. The following year she landed a guest role in the CBS soap opera As the World Turns.
Due to her outstanding portrayal of Gwen Norbeck Munson, she was offered a three-year contract with the show.
In 2006, her character pursued a music career in the series, which allowed Landon's singing talent to shine. She performed and recorded two country singles, "Slide" and "I Saw Love".
In the years that followed, she appeared in several movies and TV series, including The Young and the Restless (1973- ), Banshee (2013-2016), and Animal Kingdom (2016- ).
Since landing her role on Yellowstone in 2020, she's made an appearance in an episode of Helstrom (2020) and in FBI: Most Wanted (2020- ).
The career of this talented and ambitious actress is far from over, and there's certainly more we can expect from Landon in the future.
Jennifer Landon is an Award-Winning Actress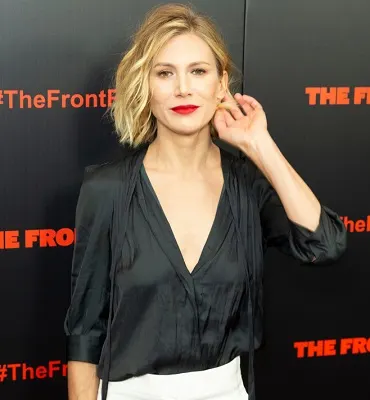 For her performance in As the World Turns, Jen Landon won three consecutive Daytime Emmy Awards in the category of "Outstanding Younger Actress in a Drama Series". Winning multiple Emmys at such a young age was a fantastic achievement that secured Landon's acting career for decades to come.
Overall, the actress appeared in 500 episodes of the long-running CBS show. While her main role was playing Gwen Norbeck Munson, she also played the character's lookalike Cleo Babbitt for a short time in 2007.
Although Landon left the show the following year, she returned in 2010 for the last two weeks of the series.
Landing the Role of Teeter on Yellowstone Was a Step-up for Landon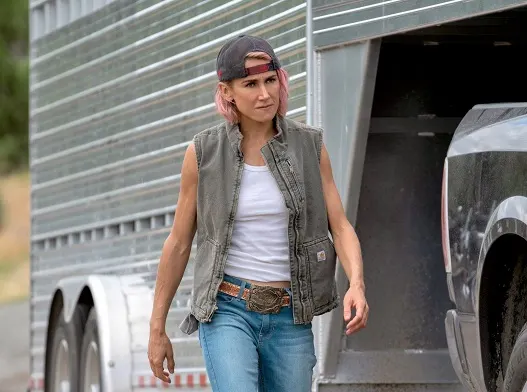 Believe it or not, getting cast for the role of Teeter on the hit series Yellowstone seemed far out of reach for Landon. She shared her thoughts on her audition for the role on IMDb:
"I did NOT think there was a shot in hell I was getting this job. So I just went, OK, I'm gonna be this person, as I see her, to me, and that will be the only way I feel good walking away from this audition."
As it turns out, she did not walk away from the audition feeling good. In fact, according to a story she shared on IMDb, Landon's head went completely blank and she said "I love you" instead of "thank you" to the casting director! It must've been a huge shock when she got a callback for the role after all!
Jen Landon's Thoughts About Teeter
Playing Teeter on the hit show did turn out to be the dream job Landon imagined. In her words, being on Yellowstone taught her to "Take big swings, but always root it in truth and do YOU."
What's more, Landon wholeheartedly loves the character she's been assigned to play. She shared some of her insights about Teeter in the YouTube video "Teeter's Journey":
"One of the things I love about Teeter is that she's fully alive, and she wants to be fully alive" – Landon explained. She goes on to say that "You know, as grumpy as she could seem sometimes, she really likes people, which is what's so relieving. And she gives us all permission to be just a little weirder in our own lives."
Watch the full video here:
In a video interview with ET Canada, Landon shared she likes the amount of screen time Teeter gets on Yellowstone. She thinks it's great that Sheridan doesn't oversaturate the show with the character as she is an "acquired taste".
However, Teeter did become a fan favorite over the last two seasons of the show and fans want to see more of her. With regards to Season 5, Landon is unsure whether viewers are going to see more of Teeter than usual.
As for her relationship with Colby, the actress found it amusing how Teeter harassed the cowboy and not the other way around.
If they are to stay together in the upcoming season (and we all hope they do!), Landon thinks their relationship will unfold in a "refreshing" way.
Landon Loves the Downtime She Gets on Set
The actress also shared how much she loves spending downtime on the Yellowstone set. She gets to see a whole different aspect of production behind the scenes and learns a lot every day from observing the actors and crew.
Who knows, the experience might inspire Landon to follow in his father's footsteps and try out directing for herself!
Why was Teeter Fired From Yellowstone?
In Season 4 Episode 6 "I Want to Be Him", John Dutton kicked all girls out of the bunkhouse, Teeter included. His decision was a shock to fans as we all know how hard Teeter has worked to earn her place.
Teeter was fired from Yellowstone simply because she is a woman. Barrel racers Mia and especially Laramie caused utter chaos in the bunkhouse by igniting tension between Lloyd and Walker.
And so, John decided there are to be no more girls in the bunkhouse and gave them their final paycheck. However, Teeter wasn't just going to leave quietly.
Other than being the hardest worker of all the ranch hands, she is also wearing the brand which convinced John to let her stay in the end.
Is Teeter on Yellowstone Michael Landon's Daughter?
Jennifer Landon, the actress who plays Teeter on Yellowstone, is Michael Landon's daughter. She was born from the legendary actor's third marriage to film producer Cindy Clerico.
Jen Landon's family somewhat explains why she became so successful in her acting career. His father appeared in several great movies and series of the 20th century, including Bonanza (1959-1973), Little House on the Prairie (1974-1983), and Highway to Heaven (1984-1989).
He also directed many of his own TV series and won multiple awards in recognition of his work. In 1998, he was posthumously inducted into the Western Performers Hall of Fame at the National Cowboy & Western Heritage Museum in Oklahoma.
Sadly, Michael Landon died of pancreatic cancer at the age of 54 when Jen was only 7 years old. Learning of her father's illness was one of the most difficult times of her life. "I was not ready. I wasn't ready to hear it at all, not at all." the actress told IMDb.
Also read: 20 Yellowstone Trivia Questions For Devoted Fans
8 Other Interesting Things About Jennifer Landon
She doesn't like watching TV.
She loves going on long walks and enjoying the outdoors.
Her favorite actors are Michael Fassbender and Frances McDormand.
She wants to open a restaurant one day.
She likes to eat healthily.
Her brothers also work as screenwriters, directors, and actors.
She has spoken up against racism and police brutality.
She regularly donates to charity and volunteers at local organizations.