Not sure what gift to get a horse lover? Buying gifts for your horse-loving friends and family isn't always easy.
For the equestrian you know who seems to have it all, you want to get more creative. Fortunately, we are sharing the best gifts you can give your equestrian loved ones.
Choosing the Right Horse Related Gift
Before you go shopping for the equestrian in your life, there are some details you should know to help ensure you buy a meaningful present. A present that is custom to the rider you know or their horse will be something that is truly special.
Before you start shopping, it is helpful to find out:
The discipline they ride.
What their horse's name is (barn and registered).
What breed of horse they own.
What their barn colors are or their favorite color is.
This information will help you find something that is specific to their needs and wants. In addition, it will also lessen the chances of the gift being returned.
From custom brushes to gorgeous horse home decor, this list has it all. Whether they are an avid rider or are simply just horse-obsessed, they will adore these thoughtful horse gift ideas. Equestrian-approved, they are guaranteed to bring joy to any horse enthusiasts.
20 Best Gifts for Horse Lovers & Equestrians
Horse Scent Candle
Bring home the scent of freshly cut hay fields with this natural soy candle. Every equestrian is familiar with this soothing smell that reminds them of horses peacefully eating.
The fresh-cut hay fragrance is infused with natural orange essential oil that captures the scent of summer florals with fresh-cut grass. The natural soy is safer than traditional candles and is non-toxic. It would make a unique horse-themed gift and talking point when you have fellow horse lovers over.
This seller also has 15 other horse-related scented candles such as High-End Saddle, Wash Rack, and Early Morning Ride. See the other candles here.
Huntley Equestrian Back Pack
Whether for bringing to the barn or horse shows, this sturdy backpack is great for carrying riding gear. The tough nylon fabric features a water resistant finish which is fitting for barn life.
It features several roomy compartments for storing items, including an adjustable helmet pocket with ventilation panels. The exterior features a cell phone compartment and a beverage holder, which is great for on-the-go equestrians. This makes a practical gift for riders of all ages.
How to Draw a Horse Guidebook
With detailed step by step directions, this practical book can help anyone learn to draw horses. Even beginners can find success drawing horses thanks to the detailed instructions.
Throughout the 32 pages, there are beautiful horses in different poses. The book includes 28 different horse breeds, which provides an excellent variation on what you can draw.
This makes a creative birthday present for the young horse rider in your life with an artistic side.
Ariat Women's Softshell Jacket
This stylish jacket is great for everyday wear or wearing to the barn. The zip front style is wind and water resistant, which is ideal for riding.
The sleek black jacket features beautiful embroidery of the Ariat brand. There is plenty of room on the jacket to get additional embroidery or patches added to show off accomplishments. It would make an exciting present to wake up to on Christmas morning.
Ophena Magnetic Safety Stirrups
These revolutionary safety stirrups not only help to improve your riding, but they are safer than traditional English stirrups. The unique design is unlike any other stirrups on the market, which makes them a special gift.
The open design ensures that your feet cannot get caught if you fall. A magnetic insole is included that connects with the stirrups to create a superior grip in any condition.
The Ophena stirrups can be used with regular stirrup leathers and are available in several sizes for the perfect fit. For more information, see our guide on the best safety stirrups for adults.
Personalised Stable Door Plaque
Horses deserve special recognition as they are such an important part of our lives. A custom stall door sign is a brilliant way to showcase your horse.
The beautiful solid pine plaque is engraved with the horse and owner's name. A lovely galloping horse is featured, which makes the piece really stand out. This would make a thoughtful present for a horse owner who doesn't have personalized plaque already.
Also read our personalized gift guide for horse lovers here.
Premium Horse Riding Gloves
Made from high quality synthetic leather, these gloves are durable and comfortable. They are practical enough for everyday riding, but are also elegant enough for horse shows.
The four-way stretch upper design is highly-breathable, keeping hands cool during hot summer days. A handy velcro strap ensures a perfect fit every ride. They are ideal for equestrians both beginner and advanced.
Custom Horse Portrait
If you're looking for a memorable and thoughtful present for the horse rider in your life, you can't beat a custom horse portrait. They will absolutely love being able to have a portrait of their own horse they can admire everyday.
The incredible attention to detail makes for a stunning piece that shows the spirit of your horse. The portraits are hand-painted with watercolor, with different sizes available. This gift is one that will last a lifetime.
You can also find other custom equine artists here on Etsy.
Horse-Opoly Board Game
An activity the whole family can enjoy, Horse-Opoly is a property trading game made for horse lovers. This fast-paced game actually encourages horseplay.
Throughout the game, you can buy your favorite horses, collect hay bales, and trade them for your dream barn. Be careful to look out for farrier fees, bucking bronco,s and the dreaded trailer.
Throughout the game, there are many interesting facts about horses, making this a fitting gift for equine enthusiasts of all ages.
Interested in board games? See our list of the best horse board games.
Matching Saddle Pad, Polo and Stirrup Cover Set
Stand out in the schooling arena with an embroidered matching saddle pad and polo set with the monogram of your choice.
In addition, once done riding, cover up your stirrups with stirrup covers to keep your saddle from getting scuffed or scratched.
The all-purpose saddle pad is diamond quilted and polo wraps are made from soft, quilted fleece. There are many vibrant colors available, each as beautiful as the next. This fun set would make a magnificent birthday gift for your favorite equestrian.
The all-purpose saddle pad is diamond quilted and polo wraps are made from soft, quilted fleece. There are many vibrant colors available, each as beautiful as the next. This fun set would make a magnificent birthday gift for your favorite equestrian.
Pivo Auto-Follow Camera Mount
Every equestrian knows the struggles of getting quality videos of them riding. Fortunately, this handy interactive pod allows for hands-free face, body, horse, and action tracking, smoothly capturing horses and riders in action.
The Pivo is compatible with iPhones and Androids and covers every angle as you ride, so you can easily assess your lesson.
A convenient remote is featured and the Smart Capture modes allow you to easily take pictures and videos with a voice command, a snap of a finger, or even by striking a pose.
The Pivo would make a fantastic birthday gift for your equestrian significant other, so they no longer have to rely on your shaky videography skills to see themselves ride.
For Pivo alternatives, see our guide to the best auto-follow cameras for equestrians.
Everything You Want to Know about Horses Book
This comprehensive book can teach a horse-crazy girl all the basics about horses. Learn everything from the different breeds of horses, a horse's anatomy, and quirky facts about the best animal in the world.
Not only is this book educational, but it also comes with horse-themed party ideas and suggestions for the best horse movies to watch. An ideal little gift for a young and learning horse lover.
Wonderful World of Horses Coloring Book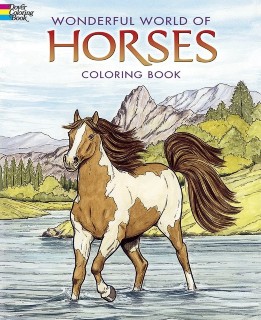 Whether young or old, one can still enjoy a good coloring book. This fun coloring book allows imaginations to run wild, with 30 stunning horses.
From wild horses to show horses, the illustrations capture the grace and power of the equine species. It is a pleasant way to relax and unwind while creating a masterpiece.
It is a great gift for the horse-obsessed kids or even adults. We also recommend this horse sticker book here on Amazon.
Oster Horse Grooming Kit
This high-quality horse grooming kit includes all the essentials needed to groom a horse. This durable set, which comes in blue and pink, includes a curry comb, stiff brush, soft brush, mane and tail brush, mane and tail comb, and hoof pick.
A handy tote is featured to keep all the pieces organized and safely stored.
Not only will the brushes give your horse a glowing coat, but they are also comfortable to use thanks to their rubber control-touch handles.
Personalized Horse Brushes
Never worry about brushes getting put in the wrong grooming box againwith these elegant personalized brushes. Each brush is beautifully hand engraved with the word or initials of your choice.
All the pieces have sturdy wood handles and the brushes are made from premium natural fibers.
The brushes can be bought individually or as a set, making a memorable gift for your horse riding daughter on Christmas morning.
Oster ECS Mane and Tail Brush
Give the equestrian in your life a gift that both her and her horse can enjoy. This heavy duty brush works wonders for removing stubborn tangles in a horse's mane and tail.
Not only can the horse benefit from the brushing, but the owner can too as it is a good way to bond and relax.
The ergonomic, touch control handle is comfy to hold and the ball-tipped bristles won't cause breakage. It is available in pink and blue, both of which are super cute.
Western Horse Soft Fleece Throw Blanket
After a long day at the barn, nothing beats curling up with a cozy blanket and turning on a heartwarming movie. This super soft fleece blanket brings a touch of western flair home while showcasing a beautiful running horse.
The blanket is machine washable and made from fine polyester. It would make an adorable Christmas gift for your girlfriend, so you can cuddle up together on a cold winter evening. Other designs are available on Amazon.
Horse Shirt with Attitude
Know a horse rider than would much rather be at the barn than go to a ball? This clever shirt is fitting for any young girl who'd rather wear riding boots over heels any day.
Whether to the barn or to hang out with friends, this lightweight t-shirt is great for everyday wear. It is available in five different colors in both youth and adult sizes.
Ariat Women's Stripe Horse Riding Sock
When spending all day at the barn, having quality socks is vital for keeping your feet comfortable. The over the calf socks provide protection against boot rubs, stopping sores from forming.
Not only are these socks comfy, but they are also stylish and soft. They feature stripes and cute horses, while being one size fits all so anyone can sport them. Any cowgirl would appreciate these socks to wear with her favorite pair of boots.
These would go great with a comfortable pair of cowboy boots!
Vintage Horseshoe Wine Rack
Add a touch of equestrian style to any home with this chic horseshoe wine rack. With the ability to hold six wine bottles, 750 ml, and 1.5 L, it is a great addition for those who love to host parties.
The dark steel horseshoes are not only sturdy but look elegant no matter the style of your home. It would make a thoughtful Christmas gift for your trainer, who deserves a glass of wine after all the hard work they do.
Frequently Asked Questions
What is the Best Gift to Get a Horse Owner?
The best gift to get a horse owner is something that is personable and they can cherish forever. We consider a custom horse portrait as the best personalized horse gift, as it is meaningful and makes a great addition to any home.
What Are the Most Practical Gifts for Horse Owners?
If you want to get a practical gift, stick with something that can be used on a regular basis. Go for supplies they use frequently like fly spray, hoof grease, horse treats, leather cleaner and shampoo and conditioner. You can even create a gift basket with supplies they use on a regular occurrence for a practical present.
What Are the Best Stocking Stuffers for Horse Owners?
If you are looking for stocking stuffers, accessories are a great way to go. Fleece headbands, gloves, horse treats and socks all make wonderful small presents. Gift cards to tack shops also make for a pleasant surprise Christmas morning.
What Are the Best Gifts for Horse Owners Who Show?
If you have a friend or family member who shows horses, there are some great accessories you can get them. Number magnets, garment bags, boot bags, hat carriers and lapel pins will help keep them organized and looking good.
What Are the Best Christmas Horse Gifts?
Christmas is a wonderful time to get a thoughtful gift for your favorite equestrian. Try to get something that will surprise them, like a custom horse portrait, a professional horse photoshoot, custom horse jewelry, or a spot at a riding clinic.
Also read our gift guide on the best gifts for horse trainers.