Our readers support us. This post may contain affiliate links. We earn from qualifying purchases. Learn More
Finding the right gift for a horse lover can be a challenge. Luckily, they will always be in need of something, whether it's comfy riding socks or more treats for their favorite horses.
You just need to find out what they already own without being too suggestive.
If the equestrian you're buying for happens to own a horse, your job is even easier! Getting a gift for their horses is a sure way to make any equestrian happy.
Here are some great unique gift ideas for horse lovers.
1. Horse Scent Candle
Bring home the scent of freshly cut hay fields with this natural soy candle. Every equestrian is familiar with this soothing smell that reminds them of horses peacefully grazing.
The fresh-cut hay fragrance is infused with natural orange essential oil that captures the scent of summer with freshly cut grass. Natural soy is safer than traditional candles, burns 50% longer, and is non-toxic. This scented candle is a great conversation starter and ideal for lighting on a cold Christmas evening.
This seller has 15 other horse-related scented candles such as High-End Saddle, Early Morning Ride, and even Involuntary Dismount!
2. How to Draw a Horse Guidebook
With detailed step-by-step directions, this practical book can help anyone learn to draw horses. Even beginners can find success drawing horses thanks to the detailed instructions.
Throughout the 32 pages, there are beautiful horses in different poses. The book includes 28 different horse breeds, which provides an excellent variation on what you can draw.
3. Pivo Auto-Follow Camera Mount
Every equestrian knows the struggle of getting quality videos of themselves riding. While family and friends can lend a hand from time to time, they can't always be present in the right moments.
Fortunately, this handy interactive pod allows for hands-free face, body, horse, and action tracking, smoothly capturing horses and riders in action. It's like your very own cameraman who works for free!
The Pivo is compatible with iPhones and Androids and allows you to easily assess your riding lesson. The Smart Capture modes allow you to easily take pictures and videos using voice command, a snap of a finger, or even by striking a pose.
The Pivo is a luxurious gift idea for your equestrian who loves to post her horse riding on social media or simply wants high-quality videos to look back on and improve their riding.
For Pivo alternatives, see our guide to the best auto-follow cameras for equestrians.
4. Premium Horse Riding Gloves
These luxurious leather gloves from GripPro Equestrian Gloves will delight the most sophisticated equestrians. Elegant and stylish, they come in a wide variety of sizes and colors to fit every taste.
According to reviews, the extra soft and comfy leather gives riders the impression that they're not wearing any gloves. What's more, conductive fabric on the thumb and forefinger makes the gloves touchscreen-friendly and easy to use on cell phones.
When selecting the size, aim for a snug fit as the leather will stretch over time. Extra material between the fingers where the reins sit ensures the gloves will last a long time. The quality of the leather is best maintained using saddle soap on a regular basis.
5. Horse Knowledge Poster
This beautiful horse knowledge poster will teach a young or new equestrian the basics of horse anatomy, health, and how to care for a horse.
The poster is printed on high-quality resin-coated photo base paper made to last. The seller offers several sizes to fit your needs.
Regardless of experience, horse knowledge posters are a great addition to any horse lover's room or office.
6. Custom Breyer Horse
What could be a better gift than a custom model of a favorite horse! This seller can create a miniature version of any horse using Breyer models and photos from buyers.
You can choose almost any model and color for your custom Breyer horse. Your order will be complete within 3-6 weeks, depending on the complexity of the horse's color and markings.
Every horse lover has that one special horse that means the world to them. If you're looking for a truly one-of-a-kind gift for a horse owner, surprise them with a custom model of their horse!
7. Horsehair Bracelet
This charming horsehair bracelet is a wonderful gift for a special equestrian. You have the option to mail in their favorite horse's hair and name for a unique personalized gift.
Hoofbeat Designs will transform the horsehair into a magical keepsake that will last a lifetime. You can also choose to add a heart, circle, or horse-head-shaped charm with a horse's name on it.
Every piece is fully handcrafted with great attention to detail.
8. Custom Horse Portrait
If you're looking for a memorable present for the horse rider in your life, it's hard to beat a custom horse portrait. Any horse owner would love having a portrait of their own horse they can admire every day.
This artist's incredible attention to detail makes for a stunning piece that brings out the character of your horse. The portraits are hand-painted with watercolor, with different sizes available.
You will only have to wait for one to two weeks for your portrait to be ready.
9. Horse-Opoly Board Game
An activity the whole family can enjoy, Horse-Opoly is a property trading game made for horse lovers. This fast-paced game encourages horseplay that you won't forget.
Throughout the game, you can buy your favorite horses, collect hay bales, and trade them for your dream barn. Be careful to look out for farrier fees, bucking broncos, and the dreaded trailer!
The game also teaches you many interesting facts about horses, making this a fitting gift for equine enthusiasts of all ages. You can either choose to play the standard game or a one-hour version. Be careful, it's addictive!
Interested in board games? See our list of the best horse board games.
10. Soft Throw Horse Blanket
After a long day at the barn, nothing beats curling up under a cozy blanket and turning on your favorite movie. This super-soft throw blanket showcasing running horses brings a touch of western flair to your home.
The blanket is machine washable and made from fine polyester. It would make an adorable Christmas gift for your horse-crazy significant other, so you can cuddle up together on a cold winter evening.
11. Saddle Pad Set
Stand out in the schooling arena with this deluxe saddle pad set! It includes a high-end saddle pad with a matching browband, ear bonnet, and boots in the color of your choice.
The all-purpose saddle pad is diamond quilted and reinforced with extra shock absorption to protect the horse's back. The boots are padded with soft wool that is kind to your horse's legs.
12. SaddleBox Subscription Box
If you were looking for the perfect subscription box for an equestrian, you found it! To a horse lover, a year of SaddleBox will feel like they have a birthday every month!
SaddleBox uses the advice of equine experts who make sure only quality equestrian products end up in your monthly parcels. Every SaddleBox contains a selection of grooming tools, horse treats, tack, and gifts for horse owners. The subscription costs $36.95/month with free shipping to the United States.
What's more, your SaddleBox also comes with a chance to win a free custom-made saddle! Even better, every month you will receive the photo of a rescue horse you helped with your subscription.
13. For Horse-Crazy Girls Only Book
This comprehensive book is the perfect gift for a little horse-crazy girl who wants to know all about horses. Learn everything from the different breeds of horses, a horse's anatomy, and quirky facts that make horses so awesome.
Not only is this book educational, but it also comes with horse-themed party ideas and suggestions for the best horse movies to watch. Fun quizzes, trivia, and horse jokes will keep readers of all ages engaged. An ideal little gift for a young horse lover.
14. Wonderful World of Horses Coloring Book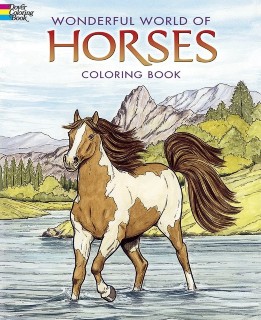 Whether young or old, one can still enjoy a good coloring book. This fun coloring book allows imaginations to run wild, with 30 stunning horses.
From wild horses to show horses, the illustrations capture the grace and power of the equine species. It is a pleasant way to relax and unwind while creating a masterpiece.
15. Horse Grooming Kit
Grooming kits are a necessity for any horse owner, but they are also a great horse gift to beginners learning how to care for a horse. Even if your fellow horse lover already has one, there's a good chance the items in it are old and need replacing.
This high-quality horse grooming kit includes all the essentials needed to groom a horse. Designed to last, this attractive set includes a curry comb, dandy brush, face brush, mane and tail brush, comb, hoof pick, sponge, sweat scraper and even grooming gloves!
The kit comes in a handy tote is featured that keeps all the pieces organized and in one place. Wooden material gives the tools extra durability and a feel-good vibe.
16. Ariat Waterproof Jacket
Life can be hard for equestrians when they have to take care of their horses in unforgiving weather. Does your fellow horse lover often complain about getting soaked on a trail ride or trying to catch her horse? Get her this quality waterproof jacket to help with her struggles.
This Ariat women's jacket is breathable, waterproof, and features a removable hood and adjustable cuffs. It's a lightweight jacket that's perfect for most of the year. It can also fit warm layers underneath so you can stay dry in the winter too.
17. Personalised Stable Door Plaque
Horses deserve special recognition as they are such an important part of our lives. A custom stable door sign is a brilliant way for your loved one to showcase her horse.
This beautiful solid pine plaque is engraved with the name of the horse and owner. It also features the image of the horse, which makes the piece really stand out. This would make a thoughtful present for a horse owner who doesn't have a custom plaque already.
You can browse a selection of different stable door plaque designs on Etsy. If your loved one boards her horse, it's also a good idea to ask the barn manager if custom plaques are allowed.
18. Personalized Horse Brushes
Never worry about brushes ending up in the wrong grooming box again! These elegant personalized brushes are beautifully hand-engraved with the name and symbol of your choice.
Sturdy wood handles and premium natural fibers ensure that brushes are of the highest quality. You can choose from a body brush, finishing brush, dandy brush, or curved riding hat brush.
The items can be bought individually or as a set, making a memorable gift for your horse-riding relative or friend on their special day.
19. Ophena Magnetic Safety Stirrups
These revolutionary safety stirrups not only help to improve your riding, but they are safer than traditional English stirrups. The unique design is unlike any other stirrups on the market, which makes them a special gift.
The open design ensures that your feet cannot get caught if you fall. A magnetic insole is included that connects with the stirrups to create a superior grip in any condition.
20. Huntley Equestrian Back Pack
This sturdy and long-lasting backpack is great for carrying riding gear to the barn or horse shows. The tough nylon fabric features a water-resistant finish which is perfect for equestrian life.
The roomy inside compartment is ideal for storing large items, such as riding breeches or packed lunch. The backpack also features an adjustable helmet pocket with ventilation panels on the outside. The handy cell phone compartment and a beverage holder are great additions for on-the-go equestrians.
21. Horse Shirt with Attitude
Cheer up your horsey friend with this humorous t-shirt! Comfortable and stylish, the product is made with quality fabric and comes in sizes small to 3XL.
22. Funny Horse Riding Socks
These funny horse-themed socks are the perfect addition to your favorite equestrian's wardrobe! The unique design will brighten up their day and get them noticed everywhere they go.
The socks are 100% polyester and feature a cushioned heel and toe for extra comfort. Ideal for everyday use or as horse riding socks.