Our readers support us. This post may contain affiliate links. We earn from qualifying purchases. Learn More
Muck boots can be a lifesaver at the barn, however, name brands like The Original Muck Boot Company and Ariat can be quite expensive.
We are sharing six cheap alternatives to muck boots that will keep your feet clean and protected at a fraction of the cost.
These waterproof muck boots will keep your feet dry, safe, and comfortable while you muck stalls or wash horses. They are great to wear for any barn chores, so you don't have to worry about ruining your leather riding boots. Muddy pastures are no match for these quality yet affordable muck boots.
Here are the 6 Best Cheap Alternatives to Muck Boots
Obcursco Waterproof Rubber Boot for Men and Women
Whether you are working at the barn or out on a hike, these boots will keep your feet safe from mud and water. With an anti-slip rubber sole, you don't have to worry about losing your traction in wet conditions.
The excellent shock absorption keeps you as comfortable as possible, so you don't have to worry about sore feet at the end of the day. In addition, the insole also provides flexibility while being breathable. The 6mm neoprene upper keeps your feet insulated from the cold when temperatures start to drop.
Why we like it:
Tough rubber bottom with a breathable yet insulated neoprene upper.
Anti-slip bottom for additional traction.
Comfortable, waterproof, unisex and durable.
TIDEWE Men's Waterproof Muck Boots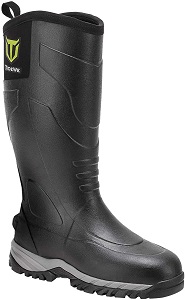 These boots offer reinforced rubber material on the entire exterior on top of a neoprene lining, with additional protection on the toe and heel. To help you relax at the end of the day, they offer kick tabs so you can easily slide them off.
The EVA contoured mid-sole offers cushioning and comfort, with an ergonomically designed arch for maximum performance. With an anti-slip outsole, you have the traction you need for any weather condition. Even in frigid winter temperatures, these boots will keep your feet cozy and comfy.
Why we like it:
Exterior is all reinforced flexible rubber, with additional protection at your toes and heel.
Kick tabs allow for ease to put on and take off.
Comfortable, waterproof and durable.
Dunlop Chesapeake Boots with Safety Steel Toe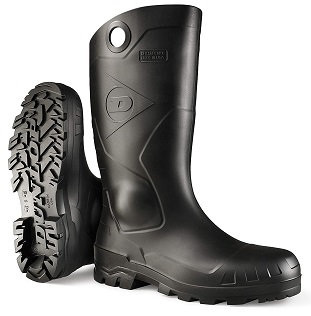 Light yet durable, these boots are ideal for farm chores or even worksites. They are made from Flex-O-Thane/Pvc while also featuring a steel toe for safety.
The unique energy absorbing BAY-LOC outsole features channels to repel water, so your feet are always dry no matter the weather. They offer great traction, as they have superior slip protection. No matter the season, these are a reliable pair of muck boots at a great price.
Why we like it:
Lightweight yet durable.
Made from sturdy Flex-O-Thane/Pvc with a steel toe.
Waterproof, anti-slip and comfortable.
Noble Outfitters Women's Mud Boots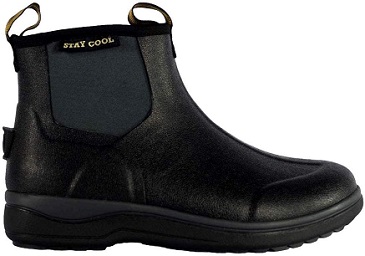 With all the benefits of muck boots at a short height, these boots are great for all your barn needs. The contoured foam interior provides a custom and secure fit that will keep your feet happy all day long.
With a 3.5mm neoprene and 3D mesh lining along with sturdy rubber, they are built to last. The insole is not only shock-absorbing, but also antimicrobial, which is ideal for fighting off stinky odours. They even feature ultra breathable and moisture wicking technology, which is especially great for staying cool on hot summer days.
Why we like it:
Foam interior offers custom and secure fit.
Shocking-absorbing and antimicrobial insole.
Waterproof, breathable, moisture wicking and comfortable.
Guide Gear Men's Camo Rubber Boots
No matter if you are out hunting or working at the barn, these boots will meet all your needs. They are built to withstand whatever you throw at them, no matter the season or the weather.
Thanks to the 5mm neoprene camo uppers with rubber shells, your feet will be comfortable and dry. A rear pull-on loop allows you to easily pull them on and off, which is helpful after a long day of working.
The rubber outsole provides grip for slick and muddy surfaces and the insole is removable, so you can wash it or even put in your own.
Why we like it:
Rear pull-on loops make them easy to put on and take off.
The rubber outsole provides superior grip.
Waterproof, comfortable, and durable.
HISEA Women's Waterproof Rubber Muck Boots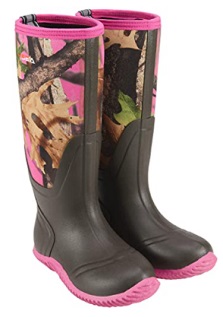 From fishing, hunting, hiking, and barn chores, these versatile boots do it all. With a reinforced rubber shell and a 5mm neoprene upper that retains heat, these boots are durable and flexible all at once.
The breathable H-Airmesh lining allows air to travel through the boot while keeping water out. Thanks to the anti-slip outsole, these boots provide superior traction and stability, which is a must for any outdoor work.
No matter if it is a freezing winter morning or a hot summer afternoon, these boots will keep your feet comfortable and protected.
Why we like it:
Versatile, with a sturdy rubber foot and a flexible neoprene upper.
Unique H-Airmesh lining is breathable while keeping your feet comfortable in all temperatures and weather.
Waterproof, anti-slip, and durable.
Also read our guide on the best muck boots for men and women.
Why Choose Muck Boots?
Muck boots are completely waterproof and often feature neoprene uppers. This allows for flexibility and breathability when working.
Unlike rain boots, muck boots have a hard rubber toe, or sometimes a steel toe, to protect your feet. This is ideal for when working around horses, as you don't want to risk any broken toes by getting your feet stepped on. They also typically provide more traction than the average rain boot, which is ideal for working conditions.
Oftentimes, muck boots are lightweight. Known for their versatility, people wear them for barn/farm work, hunting, fishing, garden work, worksites, and even walking. They are ideal for all seasons and weather conditions.
FAQs
Are Muck Boots Good for Walking?
Though many boots aren't typically used for walking, they can be great for it. They provide traction in wet conditions while keeping your feet dry, protecting them from the elements. They can be a great choice for hiking, as they can provide stability while being comfortable.
What Are Muck Boots Good For?
Muck boots are good for working outdoors in wet, muddy or dirty conditions. They provide stability and traction in tough conditions.
They offer more protection for your feet than rain boots, which is great for working around horses and farm animals. Muck boots can handle cold and hot temperatures, as they provide insulation.
Should Muck Boots Be Tight?
Muck boots should be fitted to your feet and calves, but not to the point that they are uncomfortable to wear. They are designed to hug your feet like sneakers, providing top-notch comfort. Ideally, they should not be loose enough where water or dirt can get in.
What Socks Do You Wear With Muck Boots?
Crew socks are the best to wear with muck boots to prevent any rubbing and to keep your feet cozy and comfortable. Ankle socks are fine, but you may get chafing or rubbing when you first wear them.
In summer, you want to stick with cotton socks, as they are more breathable. For winter, wool socks are ideal as they help keep your feet warm.