This post may contain affiliate links. We earn from qualifying purchases. Learn More
For both boys and girls, LEGOs make wonderful toys to encourage building and imagination. These horse LEGO sets for young equestrians provide hours of entertainment for your little cowboy or cowgirl.
From stables to carriages, these sets let young horse lovers live out their equestrian dreams. Known for their quality, LEGO horse sets are a must-have for horse-crazy kids. They include fun horses, people, and accessories that kids can build and then play with.
1. LEGO Friends Heartlake Stables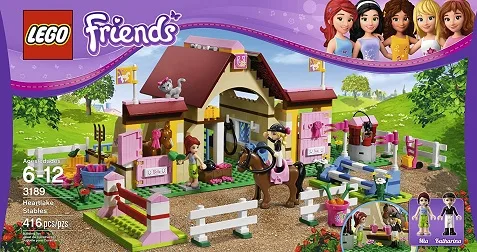 This adorable horse stable LEGO set has it all, with two stalls, a hand trolley, a well with a bucket, and fencing. Two horses come with this set, Bella, and Niki, along with their riders Mia and Katharina.
Kids can brush and tack up the horses, along with playing with them over jumps. There are even ribbons, so friends can have competitions with the LEGO riders and horses. The set has 416 pieces, including a cat, frog, carrots, pitchfork, wheelbarrow, soap, flowers, and much more. This horse toy set is ideal for kids aged 6 to 12 years old and would make a wonderful Christmas present.
2. LEGO Friends Foal's Washing Station Building Kit
Join Emma and her black foal Diamond as they get ready for their first show. Children can give her a good wash with the special horse shampoo, then groom her with the brushes and combs.
A display table for the grooming tools and a feeding area with a storage crate is also included in the kit. There are also treats and bows, so kids can spoil Diamond. There are 77 pieces total in this set and it is fitting for children aged 5 to 12 years old.
3. LEGO Friends Sunshine Ranch
This gorgeous horse LEGO set features friends Mia and Liza, along with two horses, a foal, a bunny, and a hen. The barn is two stories tall, with two stalls, a paddock, outdoor seating, and upstairs living quarters for the girls.
In addition to all the fun stuff in the barn, there is also a tree, purple bench, hen house with eggs, area for the bunnies, cat, wheelbarrow, and carrots. There are also brushes and tack, so Mia and Liza can ride their horses Mocca and Blaize, while also playing with Fame the foal. This set features 721 pieces and is appropriate for children aged 6 to 12 years old.
4. LEGO Friends Heartlake Riding Club
Kids can play with Mia and Stephanie as they train and care for their horses. The classic style two-level barn includes two stalls, a trophy area, changing room, a dining area, and a loft bedroom.
Included in our best horse gifts for girls, the horse riding club LEGO set also includes a revolving exerciser to warm up the horses before taking them out riding over the jumps.
After riding, kids can care for the horses with grooming and feeding accessories including brushes, soap, hair bows, bucket, fork, hay, apple, and a carrot. The set has a total of 575 pieces and is ideal for kids ages 6 to 12 years old.
5. LEGO Stephanie's Horse Carriage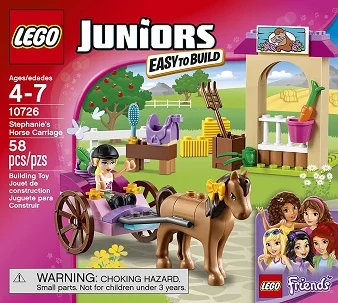 Kids will love playing with Stephanie and her carriage horse, Mocca. In addition to driving, Stephanie can also ride Mocca over jumps and groom her in the stable.
After a day full of driving and riding, children can have Stephanie feed Mocca some hay and a carrot. There is even a cute bow that can go in her forelock. This set includes 58 pieces and is fitting for kids aged from 4 to 7 years old. It would make a great birthday present for any little horse rider.
6. LEGO Friends Mia's Horse Trailer
Join friends Mia and Emma as they take their ATV and horse trailer out with their adorable horse. Kids will find their sense of adventure as they can set up a forest scene to go horseback riding in.
The trailer includes a ramp and side door, so the horse can easily be loaded into the trailer. This cute set also features a grooming box, brushes, and a carrot. There are 216 pieces in this set and it is ideal for kids ages six and older.
7. LEGO Disney Cinderella's Royal Carriage
Your kid will feel like a princess or prince as they play with Cinderella's magical royal carriage. The stunning gold and white carriage is pulled by two stunning white horses.
Kids can play with Cinderella, along with her fairy godmother and Gus Gus, as she gets ready to ride away in her carriage to the ball. In addition, the set also includes a pumpkin patch and a treasure chest that fits on the back of the carriage. This set includes 237 pieces and is fitting for kids ages six and older.
8. LEGO Friends Stephanie's Horse Jumping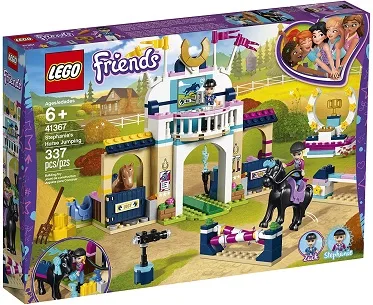 Children can play along with friends Stephanie and Zack as they take their horses Paddy and Lucy out riding. The stable has two stalls, where the horses can get ready for their next show jumping competition, as well as a viewing balcony.
After grooming the horses in the horse-care area, kids can play with Stephanie and Zack as they ride their horses across the jumps. A trophy and winner's podium are included to encourage friendly competition. This set has 337 pieces and is for kids ages six years and older.
9. LEGO Friends Mia's Foal Stable
Kids will have a blast building this stable for Mia and her two adorable foals. The stable includes one stall and a horse grooming area, along with a separate paddock.
Children can care for the foals by feeding and grooming them with accessories that include a brush, storage box, carrot, hay and an apple. There is also a tractor with a trailer so Mia can drive around a foal with some supplies. This charming set has 118 pieces and is appropriate for kids ages four and up.
10. LEGO Duplo Horse Jumping
This small yet entertaining set includes Cecila and her horse, April. Kids can tack up April and send Cecila off riding. A buildable jump is included so children can dream about one day becoming professional showjumper.
There is also a trophy stand to celebrate April and Cecila's big win in jumping. This set has 54 pieces and is for children ages five and older.