This post may contain affiliate links. We earn from qualifying purchases. Learn More
College is an exciting point in many people's lives. For those looking for a career in the horse industry, there are several great equestrian colleges and universities in the US.
These equestrian universities and colleges offer a wide variety of programs in equine science, equine management, and other specializations for a career with horses. They also offer riding programs in various disciplines, including hunt seat, western, dressage and saddle seat.
In addition, they house top-notch equine facilities, where students can ride and learn all about horse care and management.
Additionally, most universities offer students the ability to show. Some offer intercollegiate riding programs, where students compete against riders from different schools. Others show at local, regional and USEF (United States Equestrian Federation) rated shows.
The Intercollegiate Riding Associations:
The Intercollegiate Horse Show Association (IHSA)
The National Collegiate Equestrian Association (NCEA)
American National Riding Commission (ANRC)
Intercollegiate Dressage Association (IDA)
Intercollegiate Saddle Seat Riding Association (ISSRA)
USEA Intercollegiate Eventing
Best Equestrian Colleges and Universities in the USA
1. William Woods University (Missouri)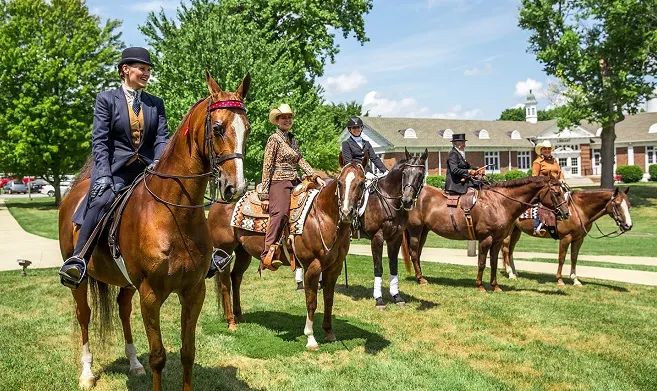 As the first university in America to offer a four-year degree in equestrian science, William Woods University offers in-depth equine programs. Located in Fulton, Missouri, the programs combine the riding, teaching, training, and business skills students need for a successful equine career.
The university offers majors and also minors in equestrian science, equine administration, and equine general studies. William Woods has 150 show-quality horses in dressage, hunter/jumper, saddle seat, and western disciplines. Students have the ability to compete at horse shows all around the country, from local schooling shows to USEF rated shows.
There are four heated barns, one for each discipline, in addition to two heated indoor arenas, a lighted outdoor ring, and a 40-acre cross-country course. Each riding discipline has its own club, in addition to an intercollegiate Competitive Judging Team.
A 17-acre Center for Equine Medicine is also located a few blocks off of campus that allows students to gain hands-on experience.
See more details on the William Woods University website.
2. Stephens College (Missouri)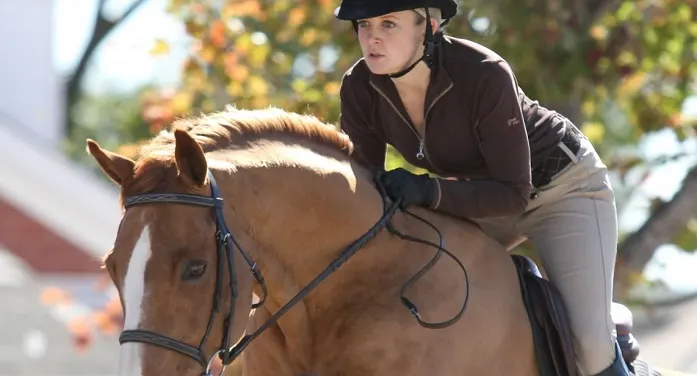 As a small all-women college, Stephens College offers immersive learning in a small class environment. Located in Columbia, Missouri, Stephens has majors and also minors in equestrian studies, a business-oriented equestrian degree, and equestrian science.
Stephens College has riding classes in saddle seat, hunter/jumper, western, dressage, and driving disciplines. Students also have the opportunity to compete at national, regional, and community horse shows. Those attending have the opportunity to tailor the program to their needs, allowing them to flourish and find their path in the equestrian world.
See more details on the Stephens College website.
3. University of Kentucky (Kentucky)
The University of Kentucky College of Agriculture allows you to turn your passion for horses into a successful career. Among several opportunities, the university offers an in-depth equine studies program that includes bachelor's degrees in equine science, equine management, and a unique equine internship program.
Located in Lexington, Kentucky, students have the opportunity to work with many different farms in the area. The Maine Chance Equine Campus is a 100-acre facility just a few miles from campus that includes an equine education complex, along with an equine health research center. It offers in-depth research in equine health and diseases, along with nutrition and horses and rider safety.
The University of Kentucky also has a large riding program. It includes intercollegiate teams (including IHSA) and clubs in western, hunt seat, eventing, saddle seat, dressage, polo, rodeo, and horse racing. Additionally, students are even given the opportunity to learn about horses through study abroad programs.
See more details on the University of Kentucky website.
4. Murray State University (Kentucky)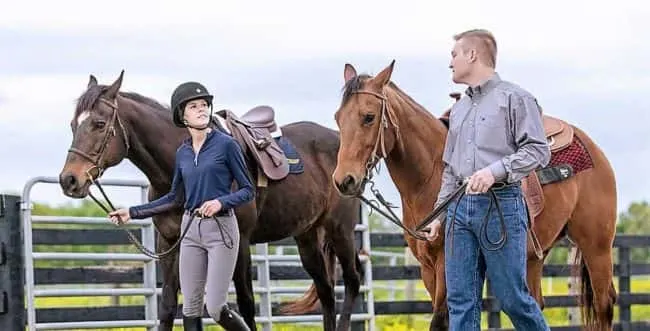 Murray State University offers an animal science/equine program, where students can choose an emphasis in equine management, equine science, or food animals. The equine center combines hands-on learning along with traditional classrooms, allowing students to learn about equine nutrition, reproduction, exercise physiology, and teaching.
Murray State, located in Murray, Kentucky, also offers students a variety of different riding programs. It has IHSA teams in hunt seat and western, along with a dressage team, rodeo team, and horseman's club. In addition, there is an in-house breeding program where students can further their knowledge in the horse world.
See more details on the Murry State University website.
5. University of Findlay (Ohio)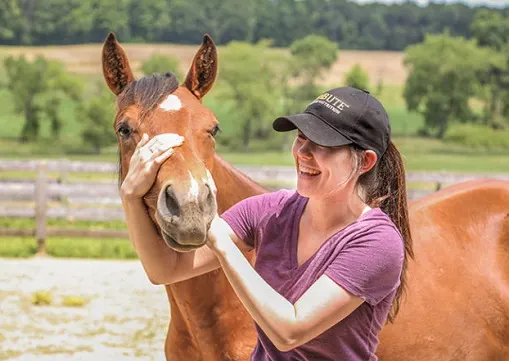 The University of Findlay, located in Findlay, Ohio, offers equestrian degrees in English Equestrian Studies, Western Equestrian Studies, and equine business management. The state-of-the-art programs include riding five days a week on show-quality horses.
The University of Findlay provides students many different options to learn and grow in show jumping, hunt seat, eventing, dressage, and western disciplines. The university is home to more than 130 horses, indoor and outdoor arenas, and also a grass hunt field. There are two equestrian facilities, the 32-acre English equestrian complex, and the 150-acre western equestrian complex.
Students have the ability to compete on the IHSA hunt seat, IHSA western, IDA dressage, ranch horse team, and eventing teams. Those who are training to become professional riders are also given the opportunity to show in USEF rated competitions.
See more details on the University of Findlay website.
6. University of Louisville (Kentucky)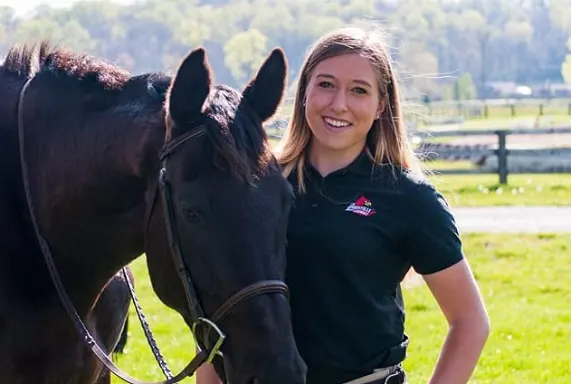 The University of Louisville offers a unique equine business degree that combines work with industry professionals, local connections, and specialized courses, with core business discipline. The program offers degrees and a minor in equine business, in addition to a Post-Baccalaureate Certificate in Equine Business.
Located in Louisville, Kentucky, the university is only a mile and a quarter from Churchill Downs Racetrack. The programs combine classroom learning with hands-on learning in the field, along with study abroad possibilities and also regional field trips. It is the only AACSB accredited college of business with an undergraduate equine program in the world.
The university offers a wide variety of riding teams and clubs. This includes a riding and racing club, polo team, and eventing team. Along with clubs, the program also offers intercollegiate riding programs in saddle seat, western and hunt seat.
See more details on the University of Louisville website.
7. Colorado State University (Colorado)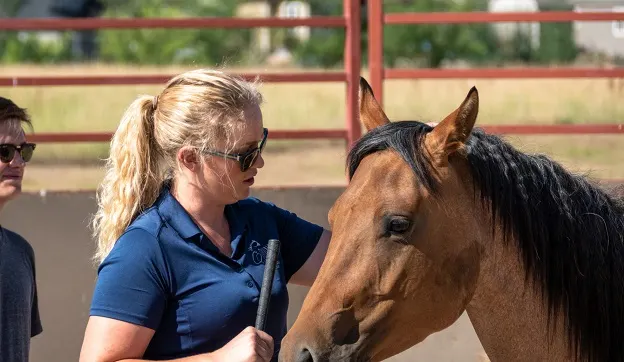 Colorado State University has a broad equine studies program, with a bachelor's degree in equine science, along with several related graduate programs in animal sciences. The program offers foundation courses in areas including equine reproduction, genetics, nutrition, and disease management.
To help prepare students for their future careers, the university also works with four collaborative programs that give students valuable experience. This includes the department of animal sciences, equine reproduction lab, equine orthopedic center, and Temple Grandin Equine Center. The new Temple Grandin Equine Center works with equine-assisted activities and therapies.
Located in Fort Collins, Colorado, the university has three barns, two indoor arenas, an outdoor arena, and also multiple indoor stalls. There are also multiple clubs including polo, ranch horse, rodeo, and English. In addition, there is also an IHSA hunt seat team and a horse judging team.
See more details on the Colorado State University website.
8. Texas A&M University (Texas)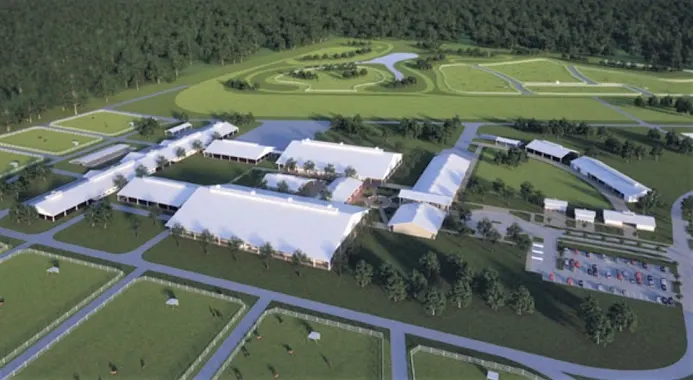 Located in College Station, Texas, Texas A&M University offers an extensive program in equine science. With state-of-the-art facilities, students can immerse themselves in learning different topics such as equine care, management, evaluation, behavior, and nutrition.
Texas A&M is home to an equine complex for teaching and outreach, a veterinary medical teaching hospital, and a reproduction pavilion. Additionally, there also is a 65-acre equestrian center that includes 94 stall spaces, covered arena paddock/turnout areas, and round pens.
To encourage students to become involved as possible, A&M is home to a large variety of clubs and riding teams. This includes a horse judging team, polo club, rodeo club, pre-vet society, and stock horse team. There is also an intercollegiate NCEA hunt seat and western teams.
See more details on the Texas A&M University website.
9. Emory & Henry College (Virginia)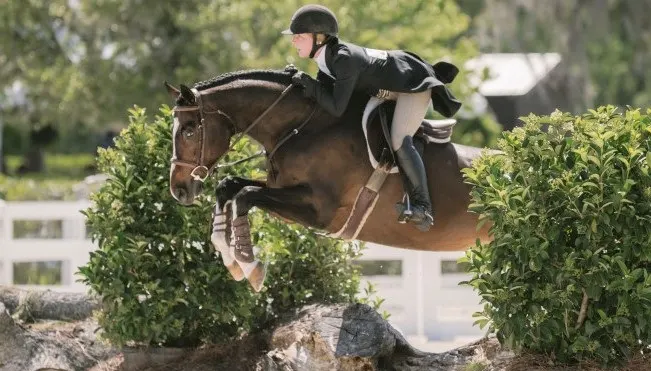 Emory & Henry offers degrees in bachelor of arts in equine science and Bachelor of Science in equine science, in addition to an equine science minor. To prepare students, the college offers a broad range of courses in teaching, schooling, horse show management, judging, stable management, anatomy, first aid, and equine nutrition.
Located in Emory, Virginia, the college's studies begin with an emphasis on the mechanism of the horse, a commitment to traditional horsemanship, and the workings of rider position. The 120-acre riding center has indoor and outdoor arenas, in addition to a cross-country course that is ideal for competitions and training. The college provides 50 quality horses for students to ride.
Emory & Henry is home to a large riding program. The riding programs include hunters, jumpers, equitation, and dressage. With intercollegiate teams in IHSA, IDA, and ANRC, students have the opportunity to gain competitive experience.
See more details on the Emory & Henry College website.
10. Auburn University (Alabama)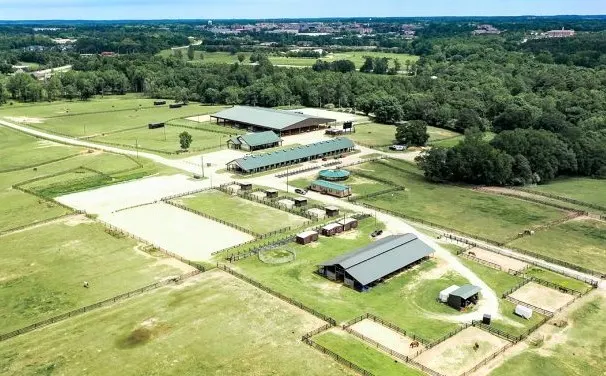 The Auburn University School of Agriculture offers equine-related majors and minors, including equine science and pre-veterinary. The program offers interactive equine teaching, research, extension, and performance activities.
Located in Auburn, Alabama, the school features a 60-acre equine that houses between 55-65 horses. There is a climate-controlled show barn, laboratory and veterinarian, and farrier areas. In addition, there are four riding arenas, a teaching arena, and 15 spacious pastures.
Auburn University also offers an extensive riding program where riders of all levels can grow and compete. Students can show in western and hunt seat with NCEA and IHSA teams.
See more details on the Auburn University website.
11. Penn State University (Pennsylvania)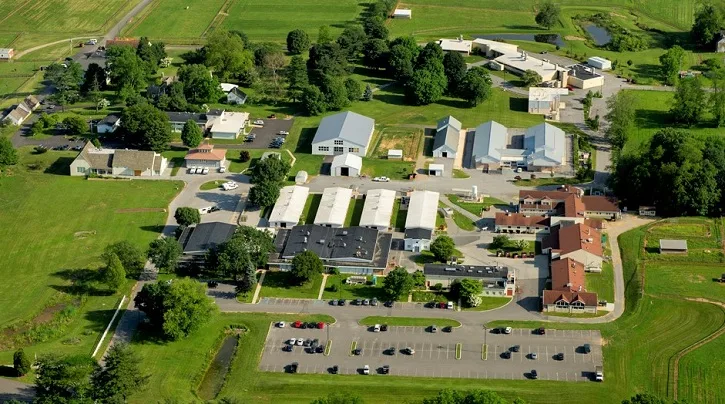 Penn State University's College of Agricultural Sciences offers an animal science program that includes a minor in equine science. The core courses for the minor include basic equine science in addition to other electives focusing on topics such as management, genetics, and breeding.
Located in University Park, Pennsylvania, Penn State's equine facility has two barns, an indoor arena, a round pen, a breeding shed, paddocks, and pastures. The university houses approximately 60 Quarter horses as part of its breeding program.
The stallions and mares are maintained, bred, with foals being born and raised until they are two years old. Most of the young horses are sold and the university also hosts an annual sale as part of the equine program.
Penn State also offers a riding program in hunt seat. Riders can compete on the equestrian team at IHSA events.
See more details on the Penn State University website.
12. Savannah College of Art & Design (Georgia)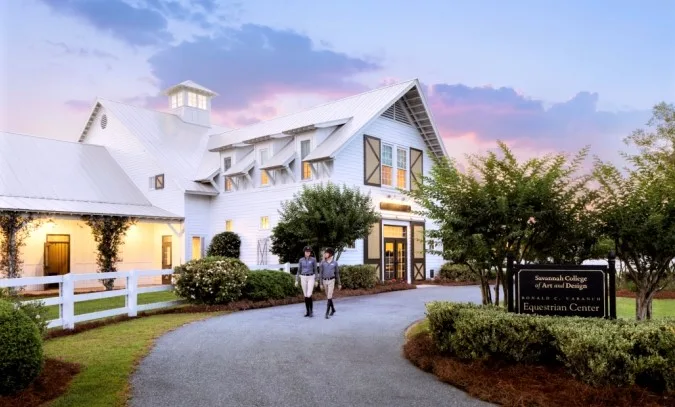 Savannah College of Art & Design offers a comprehensive equine program with a Bachelor of Arts in equestrian studies, along with a minor. The program combines theory and practical courses in equine science, riding, and management.
The college is home to a world-class equestrian facility that spans 180 acres. It includes two barns, three competition arenas, a covered riding arena, paddocks, pastures, and a staff veterinarian. Students are able to get hands-on and customize their experience to tailor to their career goals.
Savannah also offers a competitive hunt seat program for students. The equestrian team competes in both IHSA and ANRC events. The college also regularly hosts the United States Hunter Jumper Association's Trainers Symposium. With these opportunities, riders are able to gain firsthand experiences in training, judging, and horse show management.
See more details on the Savannah College of Art & Design website.
13. St. Andrews University (North Carolina)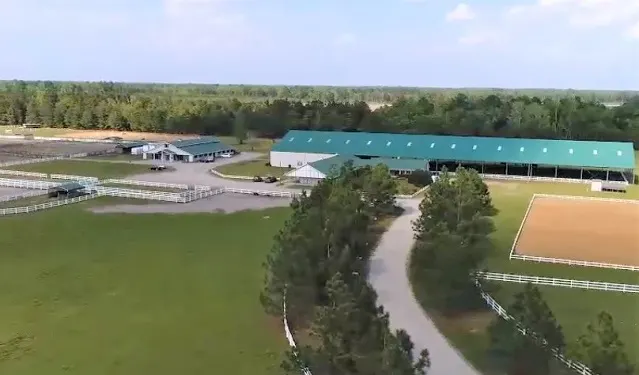 Located in Laurinburg, North Carolina, St. Andrews University offers equine-related majors in equine science, equine business administration, and therapeutic horsemanship. The equestrian programs combine classroom learning with hands-on, real-world experience to prepare students for their future careers.
The 300 plus acre equestrian facility includes four barns, two covered arenas, one indoor arena, and three outdoor riding arenas. In addition, there is one dressage arena, two hunter trial (derby) courses, several riding fields, and extensive turnout. St. Andrew's also has an extensive competitive riding program that includes hunt seat and western IHSA, IDA dressage, and ANRC teams.
See more details on the St. Andrews University website.
14. Centenary University (New Jersey)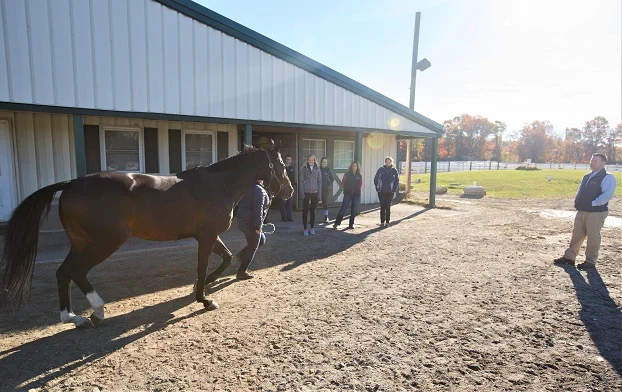 Centenary University features an in-depth horse program, with degrees in equine studies, equine science, and animal health (equine pre-vet track). Within equine studies, students can focus on media and public relations, business management, or training & instruction.
Located in Hackettstown, New Jersey, Centenary is home to a large equestrian center that includes three large arenas, a show-ready indoor arena, classrooms, and three barns. In addition, there is also a veterinary pharmacy, a natural-terrain hunt field, and twelve large turnout paddocks. A study abroad program is also available at the University of West England – Hartpury College. Through this, students can take the British Horse Society's Preliminary Teaching Certification exam.
The university is home to several intercollegiate riding programs including ANCR, IDA, and IHSA hunt seat and western teams. In addition, students also have the ability to compete at USEF rated show s through the hunter/jumper team. The campus also has a therapeutic riding center where students can learn and gain experience in Equine-Assisted Education and Therapy (EAAT).
See more details on the Centenary University website.
15. Oklahoma State University (Oklahoma)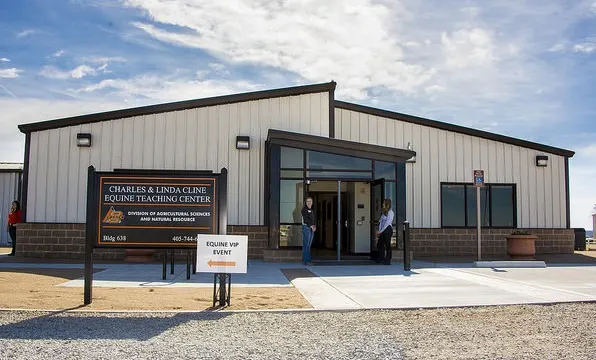 Located in Stillwater, OK, Oklahoma State University's equine program is part of the Ferguson College of Agriculture animal science major. Students can partake in the Equine Enterprise Management certificate program, where they will receive the knowledge and skills necessary for the horse industry.
The equine teaching center spans 60 acres, featuring pastures, a teaching barn, a small indoor arena, outdoor arenas, and classrooms. In addition, there is a building dedicated to the breeding program where students can gain hands-on experience. Oklahoma State also has a judging team, an equestrian team (western and hunt seat), and a horseman's association, along with an NCEA team.
See more details on the Oklahoma State University website.