Our readers support us. This post may contain affiliate links. We earn from qualifying purchases. Learn More
Are you searching for the perfect present for the cowgirl in your life? Look no further, because we've rounded up a list of the most fabulous and thoughtful gift ideas that'll have her galloping with joy!
From stylish western wear to practical riding gear and sentimental keepsakes, our comprehensive guide covers everything you need to delight your favorite horse-loving lady.
Whether she's a seasoned rodeo queen or just dipping her boots into the equestrian world, we have something to suit every taste and budget.
So, saddle up and join us as we explore a treasure trove of cowgirl gift ideas that'll make her heart sing "yeehaw!
1. Boot Butler Boot Storage Rack
For the cowgirls who have several pairs of boots, the Boot Butler Boot Storage Rack is an excellent gift. Easy to assemble and space-efficient.
Not only will your boots be conveniently stored, but you don't have to worry about them getting any creases. While only taking up seven inches of closet space, this rack can hold up to five pairs of boots.
2. Just A Country Girl Denim Baseball Cap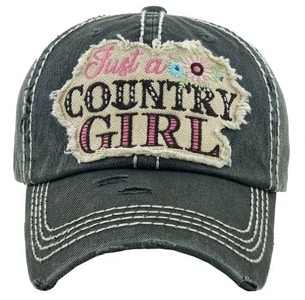 Rock up to barn with this badass country girl's hat. Perfect for summertime, this baseball cap has a vintage country design and a strong country woman quote.
The cap comes in many color variants and is made from high-quality 100% cotton, and has a washed denim look.
3. Horse Hair Bracelet Keepsake
A truly unique and sentimental gift, this Horse Hair bracelet keepsake is an exquisite piece of jewelry handcrafted from your horse's tail hairs, woven into a beautiful, durable braid.
The bracelet features an elegant sterling silver clasp and charm, adding a touch of luxury and sophistication to the design. It is the perfect way to celebrate the special bond between a horse lover and their equine companion.
4. Horse Sweat & Leather Smelling Candle
All country barn girls love the familiar tack room smell. This candle captures the warming fragrance of sweetgrass and the scents of high-quality leather saddles.
The rustic-style horse sweat & leather candle is a brilliant way for a country girl to bring the tack room smell home. It also makes a unique talking point when she has horse friends over.
You can also find other country and horse-smell candles on Etsy.
5. Livingston Woven Straw Cowboy Hat
Every cowgirl needs at least one cowboy hat, but the more the better. The Livingston woven straw cowboy hat comes with a beautifully decorated band with a blue jewel.
Lightweight and breathable, this hat is ideal for hot summer days. It includes a sweat-absorbent band and a wide brim to block from harmful sun rays.
6. Western Faux Cowhide Throw Blanket
Add a touch of warmth, comfort, and style to a living space with this faux cowhide throw blanket.
Made from premium microfiber, this lightweight yet cozy blanket offers excellent thermal insulation, making it perfect for snuggling up during chilly nights. The soft, plush fabric provides a luxurious feel, while the playful pompom fringe adds a dash of charm to the blanket's design.
Machine washable and easy to maintain, this blanket is a delightful blend of comfort, durability, and style.
7. Ariat Women's Western Boot Sock
Every cowgirl needs quality socks to wear with their boots. These ARIAT Women's Western Boot Socks are not only cute with an adorable cowboy boot pattern, but they are also practical and built to last.
8. Foster & Rye Countertop Horseshoe Wine Bottle Rack
Elevate your wine storage with this rustic yet elegant Foster & Rye countertop horseshoe wine bottle rack. Crafted from durable cast iron, the rack's unique horseshoe design holds six bottles, ensuring they stay secure and organized. Its compact size and charming aesthetic make it a perfect addition to any countertop, bar, or kitchen.
9. Art3d Padded Lightweight Vest for Women
The Art3d padded lightweight vest is stylish yet practical gift to keep cowgirls looking good, but warm when riding on cold Christmas evenings. One of the main reasons we chose this is because of its practicality.
You can look good doing chores around the barn, and the vest doesn't restrict your movement when riding. The vest is high-quality & lightweight, comes with hand pockets, and is machine washable. Overall, a practical, yet affordable country girl gift!
10. Ariat Women's Fatbaby Western Boot
Ariat Fatbaby boots are a must for every cowgirl. With a classic western design and different styles to choose from, they are the perfect boots for everyone.
These comfortable women's cowboy boots are ideal for a cowgirl who spends long days at the barn. These boots are durable and comfortable and made with high-quality leather and padded soles.
Well-made and with a beautiful design, they are practical and stylish. They also make create riding boots for beginners. What more could you want from a pair of boots?
11. Women's Vintage Leather Waist Belt
Every cowgirl needs a western belt to go with her favorite pair of jeans. Vasgood's women leather vintage western belt is stylish and affordable.
Available in different colors, each belt has a beautiful vintage western buckle. A punch tool is included to provide the perfect fit. The belt comes enclosed in a beautiful gift box, making your job even easier.
12. Pivo Pod
If your cowgirl is an avid horse rider and lover, then the Pivo could be the perfect gift idea. Pivo is an auto-follow camera mount that a user can put their phone and track their ride in a paddock or menage.
After a short installation, the camera will track the rider and horse, and automatically zoom in and out. It's perfect for recording and looking back at your ride to spot any mistakes your making. Pivo is also ideal for Equine YouTubers.
Though the Pivo isn't the cheap gift on our list, it's certainly the best premium option.
13. Tough 1 Leather Saddle Bag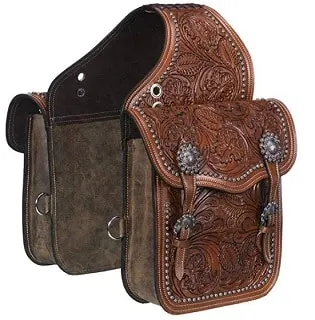 Saddlebags are a great gift for any avid trail riders. The Tough 1 leather saddlebag is made from high-quality leather with a beautiful floral design. Durable and convenient to use, horn bag includes two roomy pockets and a quick grip closure, with an easy snap at the horn.
This is the most beautiful saddlebag design we've come across, so it would be a great statement piece out trail riding.
14. Women's Floral Loose Casual Blouses
These beautiful casual blouses made a nice added top. If added to an outfit of jeans and a t-shirt, a beautiful blouse would really finish the outfit country girl vibe.
Lightweight and easy to wear, you can't go wrong with a good floral top. This would be a cute dress to wear with cowboy boots too!
15. Horse Heart Silhouette Engraved Wine Glass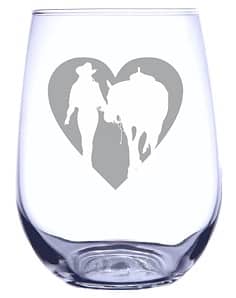 Sometimes after a long day, a relaxing glass of wine is the perfect way to end the night. Every cowgirl will love this beautifully etched girl and horse wine glass.
This quality glass is dishwasher safe and the etching will last forever. The elegant design makes a perfect addition to any cowgirl's house.
16. Adjustable Horse Halter
The Weaver Leather Adjustable Patterned Nylon Horse Halter is a great gift that any cowgirl and her horse will love. With a beautifully designed pattern, this unique halter would make a great birthday or Christmas present.
This durable halter is box stitched with brass plated hardware. This quality halter is one of the best on the market.
17. Personalized Horse Halter Hook
If you want the ultimate personalized gift for the cowgirl you love, look no further. This Personalized Horse Halter Hook can be customized to look like your girlfriend's beloved horse.
Beautifully hand-painted, this horse hook is great for bridles, halters, and coats. Easy to install, this is a thoughtful gift for a horse lover.
18. Cowgirl Makeup Bag
Adorable and customizable, this Cowgirl Makeup Bag is a must have for any cowgirl. Great for storing makeup or toiletries, this bag can be customized with any name.
Featuring a beautifully designed horse, this is the perfect gift for cowgirls. This great bag is well made and durable.
19. Custom Equestrian Grooming Brush
If you're looking for a great anniversary gift for your wife, a custom horse grooming set is something she will love.
Crafted with fine bristles and beautifully finished wood, this brush can be engraved with any name. This truly unique gift will stand out thanks to its outstanding quality.
20. Barrel Racing Bauble Ornament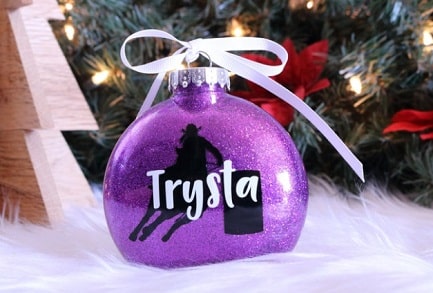 This Christmas tree bauble ornament for any cowgirl who loves to barrel race is a thoughtful gift. You can request to have any name on the bauble and in various colors.