Our readers support us. This post may contain affiliate links. We earn from qualifying purchases. Learn More
It's no secret, women love horses. There is nothing that can beat horse-obsessed women's fascination with horses. But why do women like horses? What do they find so attractive about these animals?
If you know anything about women who love horses, you'll know not to come between a girl and her horse. Girls with horses are not to be messed with!
Reasons Why Women Love Horses
1. Horses Give Girls Confidence
Once you've realized you can work with an animal that doesn't talk; an animal that's ten times your size – there isn't much that can stand in your way!
The obstacles of life melt away. Anything becomes possible. You learn the death stare and you perfect it. Challenges melt at the mere sight of you. You KNOW you can, come bucks or bolts…
2. Horse & Rider Connection
There isn't a stronger bond than the one between a woman and her horse. When you come into the yard and your pony nickers at you over the stable door or comes running across the field… That's real, unconditional love right there.
Sure you may want to wring their neck when they refuse to go past that plastic bag even though it's been there for WEEKS, but you get it. It kind of makes you love them a little bit more.
3. Horse Riding Releases Endorphins
Horse riding is like an endorphin overload. It's like a drug. Once you start you just can't get enough!
Exercising and reaching your horse riding goals releases endorphins. Not mention, having a close connection with another living being is one of life's great gifts.
It's comforting and heart-warming and reminds us that we're loved, we can succeed in anything we put our mind to, and that somewhere in the world there is a safe haven for us to relax and be ourselves.
4. Owning a Horse Teaches You Self-Reliance
At the yard, women are the queen of their castle. No man can tell her how to do something better!
She will scoop that poop and push that wheelbarrow as no man can! In fact, most non-horsey guys hate mucking out. But girls who love horses know that to keep their horses healthy they need to get their hands dirty. They need to get the job done, and they do it on their own terms.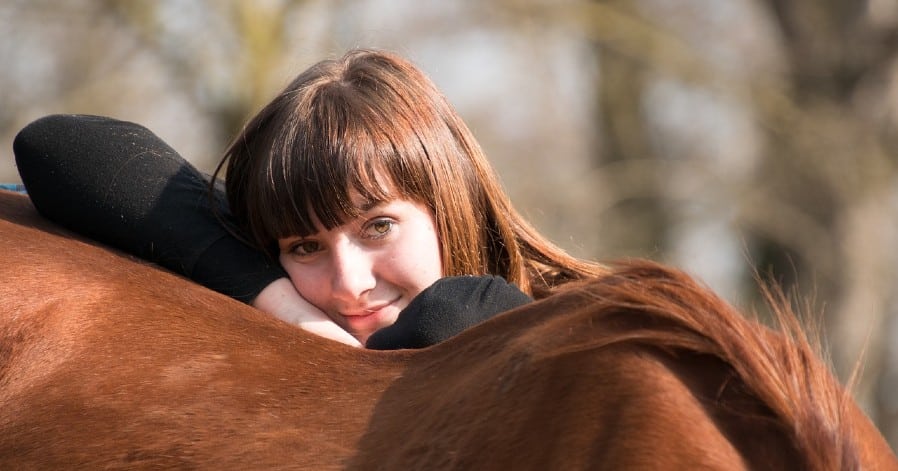 5. Horses Connect Us to Nature
As a child you would dream of going on adventures on your own into the wild. Being free to do as you please, feel the breeze on your face.
Horses fulfill our need to get out there and explore the world. It connects us with nature and the big outdoors in a way that few other activities can.
Read More: What are Horse Girls? Meme & Stereotype Explained
6. Horse Riding Adds Competition To Our Lives
Whether they admit it or not, each and every yard is competitive on one level or another.
Whether it's about competing in shows, or just showing off when you ride in from the fields in nothing but a halter… You're being pushed to be the best version of yourself.
7. Making Friends at the Yard
Horse people are a breed in their own right. We're stranger than most. And there's nothing better than having friends to meet up with after a tough day of "real world" problems and get to the most important part of life – your horses.
8. Horse Riding is a a Stress Reliever
I cannot stress this enough. Horses are the best stress-reducers in the WORLD! Sure you may get a panic attack when your horse spooks at a rabbit, but at least they helped you forget about the hole they're eating into your bank account.
And let's face it horses are cheaper by the hour than any therapist ever. And they keep you out of trouble because they need you just as much as you need them.
9. Girls Love the Smell of Horses
Yes, you might think we stink of poop and sweat and all things gross, but for us, there is no better smell than the smell of horses. Simply, the smell of horses is the smell of happiness.
10. The Horse Riding Attire & Dress Code
From comfortable and relaxed to smart and shiny, horses create an environment where you can dress in just about anything and still feel like you look like a million bucks.
Even if you're wearing an old t-shirt, wellies, and all the mud and hay in the barn, you feel good so you know you look good. And there's no judgment. The dirtier and sweatier you are the more fun you had.
Comment below on what you love about horses the most. Have they helped you in life, saved you from depression, or lightened a dark day?
Also Read: