No matter how old you are, buying your first pair of riding boots is exciting. Choosing your favorite pair is just one step closer to getting into the saddle.
No matter what discipline you ride, you will want boots that are practical. As a beginner, no matter what your age is, the right boots are key to happy riding.
Choosing the Right Pair of Riding Boots for Beginners
When selecting a pair of boots, you will want a pair that will keep your feet comfortable and safe while you are at the barn.
Durability is also vital, as being at the barn can be tough on shoes. Though leather is the most popular material for riding boots, they can also come in rubber and synthetic materials.
Typically, riding boots will have a heel between 1 – 2 inches long and a hard tor. Short, tall, and western boots are all good options for riding. Paddock boots are often the favorite choice among new riders as they are easy to put on and only go slightly above your ankle.
However, there are also some great tall and western boots that are ideal for new riders as well.
Since finding the best pair of riding boots can be a bit intimidating when you are a beginner, we have carefully selected the nine best pairs.
Here Are the 9 Best Horse Riding Boots for Beginners
Ariat's Scout Zip Paddock Boot
You don't have to worry about aching feet, as these stylish boots provide optimal support and cushioning with a four-layer footbed. Made from full grain leather and a sturdy zipper they are easy to put on and are designed to last.
The moisture-wicking lining will keep your feet dry all day, whether you are riding or cleaning stalls.
The unique duratread sole provides the ultimate grip to keep your feet properly positioned in your stirrups, which is especially important for novice riders. They are tough yet comfortable and can easily be worn with half chaps.
Why we like them:
Easy to put on and pleasant to wear, while providing great protection.
Durable and available in womens and children's sizes.
Include moisture wicking technology to keep your feet dry.
Saxon Syntovia Zip Paddock Boot
With a tough rubber outsole and a soft EVA footbed, your feet will be kept comfy while riding. Made from sturdy synthetic leather, they feature a durable zipper to make them easy to get on and off. At an affordable price, they are great for children who are growing quickly.
They will hold up against even the toughest kids and keep their feet safe all day at the barn. The unique contoured elastic sides allow for ease of movement in your ankle. Moisture wick lining is built in to provide relief for feet on hot summer days.
Why we like them:
Affordable and available in women and children's sizes.
Durable and easy to put on. With moisture wick lining.
Unique contoured elastic sides give you ideal ankle flexion.
Ariat Terrain Work Boot
These versatile riding boots for beginners are not only great for riding, but also for hiking and barn maintenance. Maximum comfort is provided thanks to their unique ATS (Advanced Torque Stability) technology that allows for superior support. Built from full grain leather and synthetic upper, they can be worn in all weather.
They feature a padded collar with sturdy shoe laces for optimal fit. Moisture wick lining is included to keep your feet dry in any conditions. Whether you are out on a trail ride or having a riding lesson, they are ideal for all day wear.
Why we like them:
Available in men and women's sizes, they provide ultimate comfort and are great for people who get foot pain.
Ideal for beginners as they are great for other things such as hiking and barn work.
Easy to put on and will keep your feet dry and protected.
TuffRider Starter Back Zip Field Boots in Synthetic Leather
If you are looking for your first pair of tall boots, then look no further. Stylish, waterproof and practical, these field boots are made from synthetic leather so they won't break the bank.
They feature a full-back zipper with a snap closure which makes them hassle-free to pull on. With a flexible build and memory pad footbed, these vegan riding boots are comfortable and hardy. Not only do they look elegant, but they will keep your feet happy while you ride.
Why we like them:
Available in children and women's sizes.
Sturdy, with a flexible build and convenient back zipper.
Affordable yet durable, waterproof and comfortable.
Ariat Fatbaby Western Boot
Great for any new cowgirl, these boots provide style and support. They are even fashionable enough to wear outside the barn as they are available in different colors that allow you to stand out.
The unique 4LR technology in the sole provides wonderful cushion and support, which is great for long hours spent in the saddle.
Made from premium full-grain leather with a suede upper, these horse riding boots for beginners are built to last as well as keep your feet safe.
Why we like them:
Stylish with unique cushion and support.
Available in children and women's sizes.
Built to last and keep your feet safe at the barn.
EQUISTAR Zip Paddock Boot
Designed with new riders in mind, the unique EquiStar Sole System provides an elite long-lasting secure fit.
Constructed from hardy synthetic leather, with a zipper front and wide elastic sides, you will have them on in no time. At an affordable price, they are awesome for beginners.
Ideal for all-day wear, they are lightweight and flexible to prevent your feet from being in pain. They are designed to hold up against all types of weather, making them great for the barn.
Why we like them:
Affordable, hardy and safe.
Lightweight, flexible and available in women and kid's sizes.
All-weather proof and comfortable.
Cons:
The zipper can be sticky.
ARIAT Heritage Breeze Lace Paddock Boot
With full-grain leather, with a padded collar, these lace-up women's riding boots are designed to fit snuggly to your feet. The breathable lining with the gel-cushioned footbed provides ultimate comfort and shock absorption while you are riding.
The duratread outsole allows for novice riders to keep traction in their stirrups. They are even washable so you can easily clean them after a long day at the barn. You'll be eager to lace up these lightweight boots and get riding.
Why we like them:
Durable, washable and long lasting.
Comfortable to wear with good traction.
Breathable with a gel cushioned footbed.
Ariat Heritage Men's Western Cowboy Boot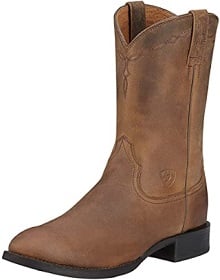 Great for any new cowboy, these boots provide superior fit and durability while at the barn. With a beautiful western design, they are made from full-grain leather and are easy slip on thanks to their pull-on loops.
The duratread sole provides solid traction, keeping you safe while you ride. With a lightweight build, you don't have to worry about having aching feet at the end of the day. The gel cushioned footbed provides support while also featuring moisture wicking technology.
Why we like them:
Features easy pull-on loops.
Built to keep men's feet comfortable while providing traction and durability.
Moisture wicking technology is ideal for hot and humid days.
TuffRider Starter Front Zip Paddock Boots
Ideal for children or women who are beginner riders, these boots are affordable and are well made. Pair them with half chaps or wear them by themselves, as the synthetic leather is soft and breathable.
The large elastic gussets on the sides and convenient zipper make them easy to get on and off, which is a great feature for beginners.
Designed with safety in mind, you can rest assured your feet will be safe while riding and working at the barn. Rainy days are no match for them, as they are weather resistant.
Why we like them:
Available in children and women's sizes.
Durable, breathable and waterproof.
Comfortable and affordable.
FAQs
Can I Wear Tennis Shoes for Horseback Riding?
Tennis shoes are not recommended for horseback riding. They provide no protection and have no heel, so they can easily slip in stirrups.
Are Cowboy Boots Good For Horse Riding?
Most comfortable cowboy boots are good for riding as they often have the right style heel and are made from sturdy leather. However, some western riding boots are designed more for fashion and aren't the best choice for riding.
In fact, a new pair of boots makes a great gift for an equestrian.
For more gift ideas, also read our articles on the best gifts for cowboys and gifts for cowgirls.
Are Paddock Boots Good for Riding?
Paddock boots, sometimes referred to as jodphur boots, are a great choice for riders of all skill levels. They are popular among many beginner equestrians as they are comfortable, affordable and are easy to wear.
Are Short or Long Boots Better?
Both short and long boots are great for beginner riders. Short boots are often easier to wear and cheaper, making them a top choice for many riders to wear during lessons or pleasure riding.
Some people opt to wear paddock boots with half chaps to replicate tall boots. Most dressage riders opt to wear a type of tall boot called dress. Field and hunt, which are also a type of tall boot, are also popular for hunters, show jumpers and eventers.
Can You Wear Shorts Riding?
Shorts are not recommended to wear while riding. They offer very little protection and make you vulnerable to rubs and irritation from the saddle. Jeans or riding pants are the best options to wear while riding.