This post may contain affiliate links, we may receive a commission if you make a purchase using these links. As an Amazon Associate I earn from qualifying purchases.
All throughout her life, Queen Elizabeth has been a lover of horses. She is an avid equestrian that has ridden and owned horses for many years.
The Queen began riding horses when she was only three years old. She soon became an accomplished equestrian and would often ride in Royal ceremonies as well as for leisure.
In addition to riding, the queen is a passionate horse breeder, conversationalist, and racehorse owner.
Here are nine interesting facts about Queen Elizabeth and horses.
1. Queen Elizabeth's First Horse Was a Shetland Pony
Queen Elizabeth's very first horse was a Shetland pony named Peggy. Her Majesty got Peggy at the young age of 4 as a birthday present from her grandfather, King George V.
After her first pony, the Queen continued to ride. She made her debut as a princess at the annual Trooping the Colour ceremony on horseback on a horse named Tommy. While riding at ceremonies, she would ride sidesaddle.
From 1969 to 1986 the Queen would ride her horse Burmese for Royal ceremonies. Burmese was a black mare that was a gift from the Royal Canadian Mounted Police.
In addition to ceremonies, the Queen would also ride Burmese for leisure. Today, she is often seen riding her Dales ponies within the grounds of Windsor Castle.
2. Queen Elizabeth Breeds and Owns Several Racehorses
The Queen is an avid fan of Thoroughbred racing. After her father, King George VI, passed away, she inherited breeding and racing stock.
The Queen's Thoroughbred breeding program is at the Royal Stud in Sandringham. As yearlings, they go to Polhampton Stud before heading to various training stables. She routinely visits to observe and assess her Thoroughbred horses.
To date, Her Majesty's horses have won over 1,600 races. Her horses have won all the British Classic Races at least once with the exception of Epsom Derby. She is extremely knowledgeable about the Thoroughbred industry and is a patron of the Thoroughbred Breeders' Association.
3. Queen Elizabeth Only Rides Native Ponies Now
Though the Queen has ridden various horses throughout her life, she only rides native ponies now. This is due to the fact that they are closer to the ground.
The Queen typically rides Fell ponies. One of her most trusty Fell ponies is a mare named Carltonlima Emma. Emma became so popular that she even got her own Breyer model made after her. She enjoys taking her beloved ponies for leisure rides.
4. Queen Elizabeth Breeds Shetland, Fell and Highland Ponies
Queen Elizabeth is a huge supporter of Britain's native pony breeds. She breeds Shetland, Fell and Highland ponies.
The Shetland pony breeding program is at Balmoral in Scotland, along with the rare Highland ponies. Her Fell pony breeding program is at Hampton Court. Her breeding program helps preserve the traditional bloodlines in these native British breeds, making sure they are preserved and enhanced. She is also a patron of the Fell Pony Society and Highland Pony Society.
5. Her Daughter Was the First Royal to Compete At The Olympics
Queen Elizabeth isn't the only horse enthusiast in her family. Her daughter Princess Anne and granddaughter Zara Tindall followed in her footsteps.
Princess Anne was the first Royal to compete at the Olympic Games. She competed at the 1976 Olympics aboard the Queen's horse Goodwill in Eventing. Though she did not medal at the Olympics, she took home a gold medal at the 1971 European Championships and two silver medals in 1975 in eventing.
The Queen's granddaughter, Zara Tindall, is also a competitive equestrian. Zara has won a silver medal at the 2012 Olympics in eventing, and gold and silver medals at the European Eventing Championships.
In addition, she also took home gold and silver at the 2006 FEI World Equestrian Games and silver at the 2014 FEI World Equestrian Games.
Her late husband Phillip, and her grandsons Prince William and Prince Harry also have horse riding experience, mostly playing horse polo.
6. Her Favorite Place to Visit in America is Kentucky
The Queen's favorite place to visit in the United States is Kentucky, Thoroughbred country.
While in Kentucky, the Queen enjoys meeting with other horse enthusiasts. Conversations almost always center around Thoroughbred racing when she visits the Bluegrass state.
7. She Regularly Attends the Royal Windsor Show
The famous Royal Windsor Horse Show is regularly attended by Queen Elizabeth. Considered one of the biggest horse shows in the world, it is a big event for the Queen and she is often spotted having a good time watching.
The Queen has entered many of her homebred horses and ponies in the show across the years. She even won the Pony and Dogcart class at the first year of the show. Her late husband, Prince Phillip, was a regular competitor in the International Driving Grand Prix until retiring in 2003.
Included in our list of the most famous horse riders, Queen Elizabeth regularly watches many classes at the show and even meets some of the horses. She even met the famous dressage horse Valegro in 2019.
8. Queen Elizabeth Received the First-Ever FEI Lifetime Achievement Award
Due to her lifelong contribution to the horse industry, Queen Elizabeth was awarded the first-ever FEI Lifetime Achievement Award in 2014. She received the award from former FEI President Princess Haya.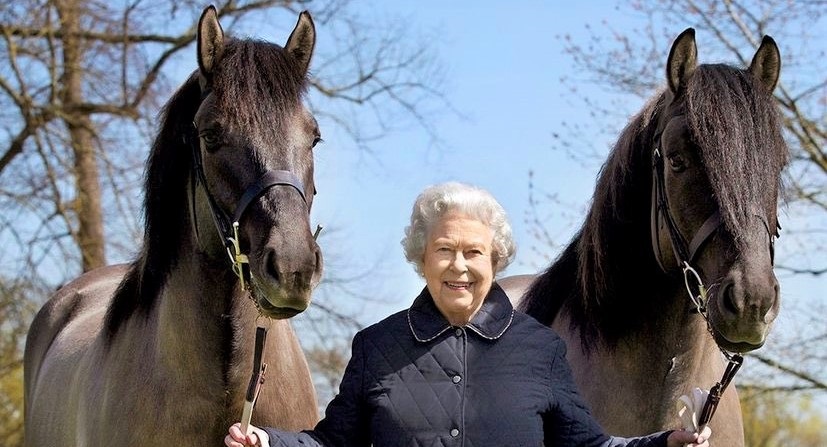 "The bond between The Queen and horses is truly extraordinary and I can't think of anyone more fitting to receive this very special FEI award in the Year of the Horse. I am very proud to be giving this award on behalf of the FEI family," said Haya.
The award itself is a stunning white gold brooch made up of a circle of nine intertwined diamond horseshoes. She received the award at a ceremony at Buckingham Palace.
The ceremony took place in the presence of former FEI President Prince Phillip and Keith Taylor, Chairman of the British Equestrian Federation.
9. She is a Patron of The Cleveland Bay Horse Society
Queen Elizabeth is helping to preserve the Cleveland Bay, England's oldest breed of indigenous horse. It is believed she saved the breed from certain extinction in the early 60s when she purchased the pure CB colt Mulgrave Supreme, slated for export. She also allowed several owners of purebred CB mares to breed to him, something never before done.
Before the invention of the motorcar, the Cleveland Bay was a preferred carriage horse for the wealthy. To this day, they are used to pull the Royal carriages. When Prince Philip competed internationally in combined driving it was with a foursome of part-bred Cleveland Bays.