This post may contain affiliate links. We earn from qualifying purchases. Learn More
Our fascination with celebrities often extends beyond their on-screen charm or musical prowess, encompassing their off-screen passions and hobbies as well.
When it comes to celebrities who adore horse riding, their passion shines through, creating a unique blend of glamour and equestrian elegance.
These celebrities not only appreciate the thrill of horse riding, but they also share a deep, loving bond with these majestic creatures.
Here are ten famous celebrities who are not just stars on the big screen or the music stage, but also passionate horse lovers.
1. Viggo Mortensen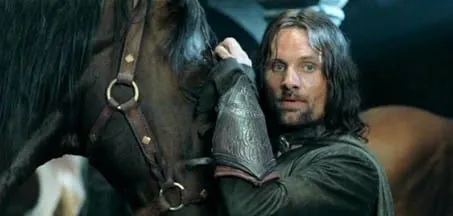 Viggo Mortensen is most known for his roles in Hidalgo and the Lord of the Rings series. Not only were these roles big for Mortensen's career, but he came to own three horses from these films.
After filming Hidalgo, Viggo Mortensen bought the Paint stallion RH Tecontender "TJ" from the set. TJ was one of the horses used to portray Hidalgo during filming and his wonderful personality left a lasting impact on his human co-star.
Viggo Mortensen was impressed by TJ's natural ability to act and how easy he was to work with so he bought the beautiful stallion. He even came to the Hidalgo movie premier aboard his beloved TJ.
During his time filming Lord of the Rings, Mortenson rode two horses, a bay Dutch Warmblood named Uraeus and a chestnut named Kenny.
Viggo Mortensen rode both these horses during the movies, developing a close connection with the two of them.
After filming he bought his two equine co-stars, who went on to live with a vet in New Zealand, with Viggo visiting them frequently.
2. William Shatner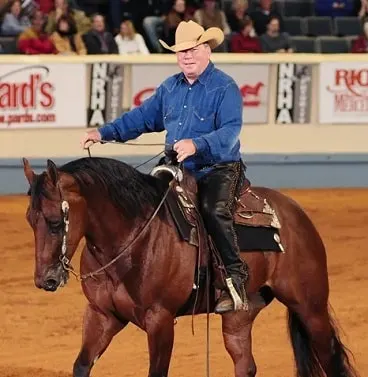 William Shatner is well known for his iconic role as Captain James T. Kirk in the Star Trek series. Outside his acting career, he has been active in the horse industry for many years.
Shatner has been an owner and exhibitor of Saddlebreds, Quarter Horses and Standardbreds. In 2001 he married horse trainer Elizabeth Anderson Martin, with the two splitting their time between their Saddlebred farm, Belle Reve, in Kentucky and their Quarter Horse farm in Los Angeles.
Shatner has shown horses in reining, western pleasure, five-gaited, fine harness and roadster to bike divisions.
He has won multiple world titles at the Kentucky State Fair World Championship Horse Show in fine harness and roadster to bike divisions with his Saddlebreds and Standardbreds respectively.
In 2018, Shatner received the NRHA (National Reining Horse Association) Dale Wilkinson Lifetime Achievement Award.
3. Kaley Cuoco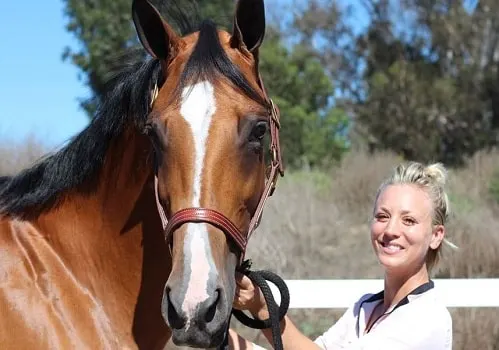 Best known for her role as Penny in the show The Big Bang Theory, Kaley Cuoco is an avid equestrian. When she is not busy with her acting career, she enjoys spending time at the barn with her horses.
Cuoco competes as a show jumper and has found much success in the show ring. In 2018, she married Grand Prix rider Karl Cook, who shares her same passion for horses. The pair had their wedding at their barn, resulting in some truly gorgeous photos.
In addition to the show horses she owns, Cuoco and her husband also own two rescue dwarf miniature horses, Smooshy and Blanco, who have their own Instagram page.
Cuoco is even the face of the FEI campaign, #ForTheLoveOfEquestrian. She often posts about her horses on her social media for her fans to enjoy.
4. Bella Hadid
Bella Hadid is well known for her successful modeling career, winning "Model of the Year" in 2016. Outside of modeling, Hadid is a passionate lover of horses, which began at a young age.
The model has been riding since the age of three and grew up on a horse ranch for 10 years. For several years, she was a competitive show jumper and was very successful in her show career, most recently competing in equitation.
She had a lifelong goal to have a professional riding career and even had her goals set on competing at the 2016 Rio Olympics.
However, after contracting Lyme disease in 2012 she had to give up her dreams of making it to the Olympics due to the severity of her symptoms affecting her ability to train.
Hadid's sister, GiGi, and mother, Yolanda, are also equestrians themselves. Hadid still enjoys spending time with her horses and riding when she is not busy modeling.
5. Mary-Kate Olsen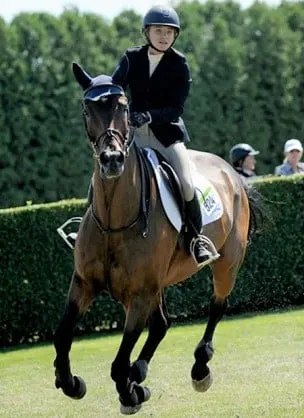 For actress and fashion designer Mary-Kate Olsen, horses have been a huge part of her life. Olsen began riding when she was six-years-old and ever since then horses have been an important part of her life.
Olsen competes in show jumping and began competing internationally in 2019. In just her first year of international competition she won a 1.25m two-phase showjumping class at Longines Global Champions Tour. For her victory, she was aboard her Belgian-bred gelding, Fatum.
Olsen's experience as an equestrian has been an influence on her fashion designing. Her show coats have even influenced blazers in her clothing lines.
Olsen makes sures to design her clothes with comfort and fit in mind, which she believes is key to all good fitting riding clothes.
6. Morgan Freeman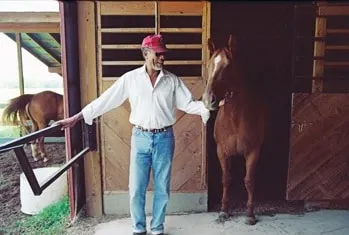 As one of the most recognizable voices in Hollywood, Morgan Freeman has had an incredible career as an actor. Outside of acting, he has found horses to be a relaxing break from the pressures of show business.
Freeman began riding when he was just a kid, where he rode horses in farm fields near his home in Mississippi. When he was 19, he rode a friend's horse, Socks, who helped him gain confidence in the saddle. During his role in Robin Hood, Prince of Thieves, he rode an Andalusian named Fury, who he says taught him humility in the saddle.
When family matters brought Freeman back to Mississippi, he bought a 124-acre ranch and his first horse, a Quarter Horse, Sable. By 2004, he was the owner of seven horses on his ranch. Today, he is still an avid horse lover.
7. Madonna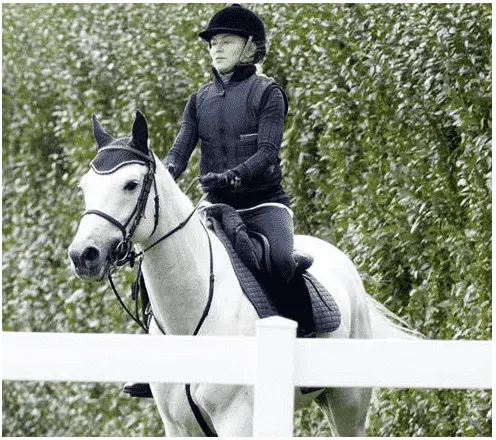 Pop sensation and actress Madonna is well known for her successful career, but she is also a horse rider in her free time.
Unlike others on this list who've been riding since a young age, Madonna didn't get her start in horses till she was in her 40s.
On her 47th birthday, Madonna rode a new horse that she was unfamiliar with. Within minutes of getting on her new mount, she was thrown, resulting in her breaking eight bones. It took Madonna six months to recover and gain her confidence to get back in the saddle.
Today, Madonna still enjoys riding horses in the Hamptons. She even rode with David Letterman, a fellow equestrian, for a segment on his show.
8. Julia Roberts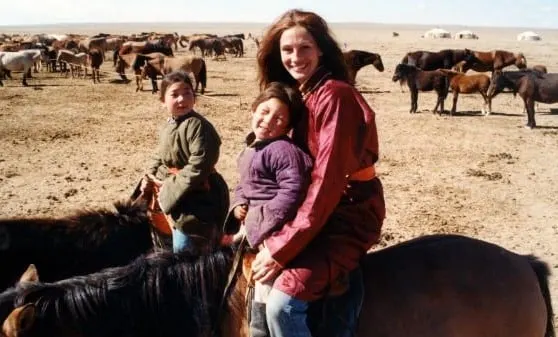 Julia Roberts is the star of many beloved movies, including the famous film Runaway Bride where she gallops away on a horse in a wedding dress. Outside her career as an actress, Roberts has been a lifelong lover of horses.
Roberts has been barrel racing ever since she was a child. The star would even compete at rodeos during her youth. She even owns a ranch in New Mexico where she has several horses she rides.
Roberts even went to Mongolia to film the documentary, Wild Horses of Mongolia. During her time in Mongolia, Roberts spent time living with nomadic people for several weeks while studying their culture and their relationships with the Mongol horse.
9. Johnny Depp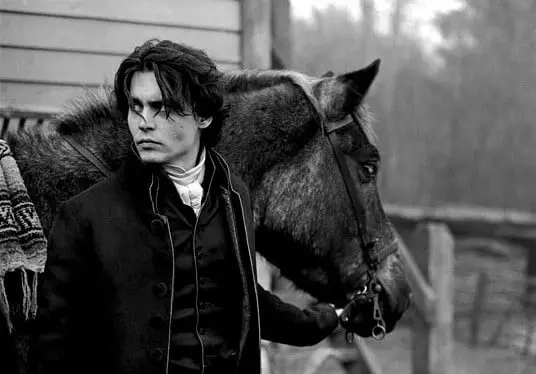 Johnny Depp has been the star of many hit films, including many roles where he rode horses. Outside of his acting, horses have also been a part of Depp's life, as he has ridden for many years.
After starring in Sleepy Hollow, Depp bought his equine co-star as the one-eyed horse was set to be put after filming. Later in his career while filming The Lone Ranger, Depp almost got trampled by the horse he was riding.
After a tack malfunction, Depp slid off his galloping horse and was nearly run over, but fortunately, he was okay.
For many years, Depp was the owner of a fully running horse farm in Kentucky. The farm, which is known as Betty Sue's Family Farm after his late mother, includes three barns and 10 paddocks. Depp, who was born in Kentucky, has deep ties with the state.
10. Queen Elizabeth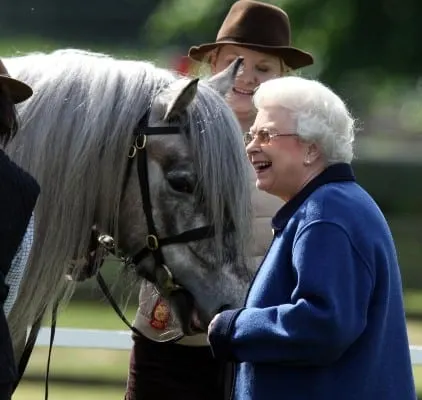 Queen Elizabeth II has long been a lover of horses, as she began riding at the age of three. She got her first horse, a Shetland pony named Peggy, at just four years old.
By 18, the Queen was well-known for her riding skills, as she rode in many royal events. Throughout her life, she has been an owner and breeder of many top Thoroughbred racing horses. In addition to Thoroughbreds, she has also bred Shetlands, Fell, and Highland ponies.
Every year, Her Majesty hosts the Royal Windsor show in Windsor Park. For several years the Queen rode different horse breeds, before making the switch to riding just native ponies. Even in her 90s, the Queen still enjoys riding. She most recently has been riding her 14-year-old Fells pony, Fern.
Also read: 8 Things You Didn't Know About Queen Elizabeth and Horses