Our readers support us. This post may contain affiliate links. We earn from qualifying purchases. Learn More
Barrel racing is a fast, exhilarating sport. Some of the most famous barrel racing horses have made a lasting impact in this exciting discipline.
Barrel horses need to be athletic, agile and coordinated. As one of the most popular events at rodeos, it has become very competitive. It takes precision from both horse and rider, as the winner may be determined by just thousandths of a second.
Barrel racing has long been dominated by Quarter horses. They have the conformation and athleticism to excel at this demanding and quick-paced rodeo event. Almost all the top barrel racing horses have been Quarter horses.
Here are the seven most famous barrel racing horses.
1. Gills Bay Boy
Gills Bay Boy, better known as Scamper, was a bay Quarter horse gelding born in 1977. He was ridden by the famous barrel racer Charmayne James.
Also, read our list of the 8 most famous barrel racers.
As one of the most talented barrel horses ever, Scamper and James won an incredible 10 WPRA (Women's Professional Rodeo Association) World Barrel Racing Championships. In addition, the dynamic duo also won six NFR (National Finals Rodeo) championships. During the 1980s and 1990s, they won numerous titles, championships, and awards.
Scamper's most memorable win was at the 1985 WPRA World Championship. During their 7th go-around, Scamper's bridle broke and James kept the bit in his mouth as long as she could.
During the last barrel, Scamper opened his mouth and his bridle completely came off. The pair managed to complete the run and went on to win the championship.
After a fantastic career, Scamper became the first barrel horse inducted into the ProRodeo Hall of Fame. With his help, James became the first barrel racer to surpass the $1 million mark in earnings.
Scamper was also the WPRA's Horse With the Most Heart in 1986, 1988–93, and won the 1992 AQHA Silver Spur Award. He passed away on July 4, 2012, at 35 years old.
Here is a video of Charmayne James and Scamper:
2. Sonny Bit O'Both
Sonny Bit O'Both was a bay Quarter horse gelding born in 1973. He was owned by the legendary barrel racer Martha Josey.
From 1978-1981, Josey and Sonny competed at the NFR. In 1980, Sonny became the first and only horse ever to win the AQHA (American Quarter Horse Association) and WPRA World Championships in the same year. Together, Sonny and Josey were an iconic team, taking home several wins and gaining national attention.
In 1980, Sonny also won the Horse With the Most Heart award. He was a top horse for Josey and was a star in the ring. He earned Josey her first world title.
Here is a video of Sonny Bit O' Both and Martha Josey:
3. Flo's Heiress
Flo's Heiress, affectionately known as Babyflo, is a sorrel Appendix Quarter horse mare who was born on April 20, 2006. Babyflo is owned by famed barrel racer, Fallon Taylor.
After taking a hiatus from competing, Taylor got back into the ring with Babyflo. Babyflo was homebred by Taylor and out of her previous barrel horse, Flowers and Money.
After a great start to their career, Babyflo was named the 2013 AQHA/WPRA Barrel Horse of the Year. Just one year later, the pair went on to win the 2014 WPRA Barrel Racing World Championship.
Babyflo quickly became a fan favorite along with her rider, Taylor. The sorrel mare even has her own Breyer horse model.. Now, Babyflo's offspring are even following in the winning ways of their dam.
Here is a video of Fallon Taylor racing Babyflo:
4. DM Sissy Hayday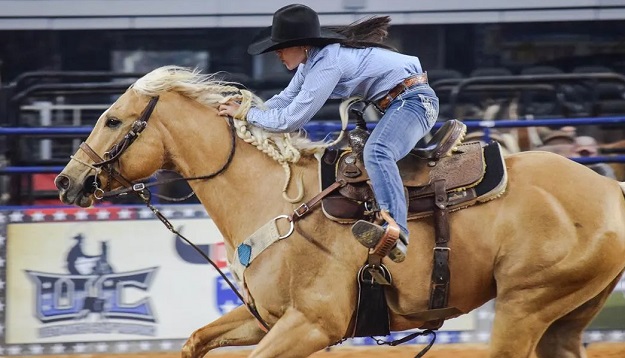 Relatively new to the spotlight, DM Sissy Hayday and rider Hailey Kinsel have taken the barrel racing world by storm. DM Sissy Hayday, affectionately known as Sister, is a palomino Quarter horse mare born in 2011.
Kinsel's family purchased Sister at a young age and soon got to work training her as a barrel horse. Sister and Kinsel began competing in 2016 and soon they were dominating the barrel racing scene.
In 2017, Sister qualified for the NFR and was the Reserve World Barrel Racing Champion and also won the RFD-TVs the American, the "world's richest one-day rodeo."
From 2018-2020, Sister and Kinsel won three consecutive barrel racing world championships. Sister won the 2018 WPRA/AQHA Barrel Racing Horse of the Year Award.
In 2019, the palomino mare set an arena record at the world-famous Calgary Stampede, with a time of 16.93. That year, Sister also tied for the Horse With the Most Heart award.
Here is a video of Hailey Kinsel racing DM Sissy Hayday:
Also Read: 15 Interesting Facts & FAQs About Hailey Kinsel
5. MP Meter My Hay
MP Meter My Hay, better known as Stingray, is a palomino Quarter horse mare born on April 29, 2002. She is owned by the barrel racing phenomenon Sherry Cervi.
In 2010 and 2013, Stingray and Cervi won the WPRA World Barrel Racing Championship. In 2013, Stingray also set the NFR average record of 138.15 seconds in 10 runs. That same year, the iconic mare won the Horse with the Most Heart award. In addition, Stingray has also taken home two NFR Barrel Racing Average Championships.
After a successful barrel racing career, Cervi's husband Cory Petska, took Stingray back into the ring as a roping horse. Stingray grew to become just as famous as her owner and even as her own Breyer horse modeled after her.
Here is a video of Stingray and Sherry Cervi:
6. Star Plaudit
Star Plaudit, commonly known as Red, was a Quarter horse gelding born in 1948. He is only the second barrel horse to be inducted into the Pro Rodeo Hall of Fame.
In addition to being a talented barrel horse, Red also excelled in steer wrestling. He holds the unique record of winning two world championships and contributing to a third in just one year.
In 1962, Red won the GRA (now the WPRA) world title in barrel racing with owner Sherry Combs Johnson. That same year he also won the RCA world title in the steer wrestling with Tom Nesmith and helped Nesmith win the RCA All Around championship.
Johnson credits Red's talent as a barrel horse from his background in steer wrestling. She rode him to five more Finals qualification, as he continued to find success as a barrel horse.
After retiring at 18, Johnson let her daughter ride the champion horse. Red passed away at 22 years old in 1970.
7. French Flash Hawk
Born in 1987, French Flash Hawk, also known as Bozo, was a sorrel Quarter horse owned by Kristie Peterson. Peterson purchased the dashing gelding as a two-year-old for only $400 from a feedlot.
Though the two formed a quick bond, Peterson did try to sell Bozo as a three-year-old for $2,500. However, the potential buyer backed out due to the fact that his hooves needed to be done. This proved to be a blessing in disguise, as Bozo went on to become one of the most remarkable barrel horses.
Bozo and Peterson became unstoppable in the ring, earning over $1 million. Bozo went on to win the WPRA Barrel Racing Horse of the Year an incredible five times. In 1994, 1996, 1997, and 1998, he was the World Champion Barrel Racing Horse.
Among his many other accomplishments, he is also a member of the ProRodeo Hall of Fame and won the WPRA's Horse With The Most Heart from 1995-1998.
Also, read our list of the 8 most famous barrel racers.