This post may contain affiliate links. We earn from qualifying purchases. Learn More
Horse racing is a centuries-old tradition with a distinct culture around it. Adoring fans around the world are hooked onto this fast-paced and exciting sport that celebrates horses for the incredible athletes they are.
If you're looking to buy a gift for a horse racing enthusiast, you need to know a thing or two about the sport and its history. However, as this involves time-consuming research, we have put together a list of the best horse racing gifts to make your job easier.
Rest assured that any of these gifts would delight a horse racing enthusiast. Whether you're buying for a big occasion or just to show how much you care, you will find what you're looking for!
Here are the fifteen best horse racing gifts.
1. Horse Racing Tracks Map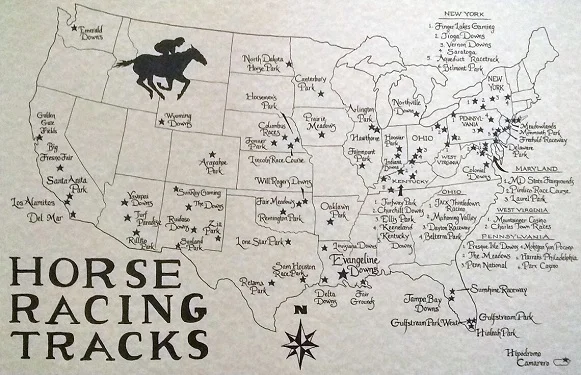 This hand-drawn map lists all the major horse racing tracks in the United States from east to west. Printed on aged parchment paper, it looks best in a rustic frame hanging on the wall of a horse racing fan.
From Saratoga in New York to Santa Anita Park in California, all historic racetracks are featured in this design. The map is a striking reminder of the importance of horse racing in American culture and history.
The size of the map is 11 x 17 inches and it dispatches within 1-4 days. This thoughtfully designed Horse Racing Tracks Map will be a treasured keepsake of anyone who loves horse racing.
2. Horse Racing Mug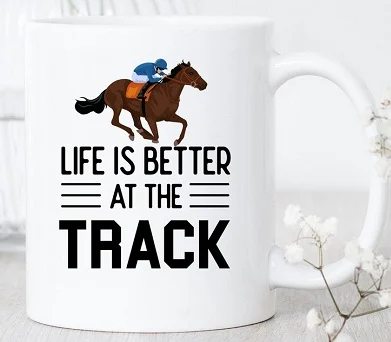 This humorous mug is a thoughtful gift to anyone who's passionate about horse racing. Made with love and great attention to detail, this beautiful piece is sure to become your loved one's new favorite mug.
When ordering, you can choose between 11oz and 15 oz sizes. The mug is made of ceramic and features a high-quality print that will resist the microwave and dishwasher.
This glossy Horse Racing Mug is a must-have in every horse racing fan's cupboard. The seller also has other designs on offer that you can browse in the MyPerfectMug shop.
3. Triple Crown Winners Coin Set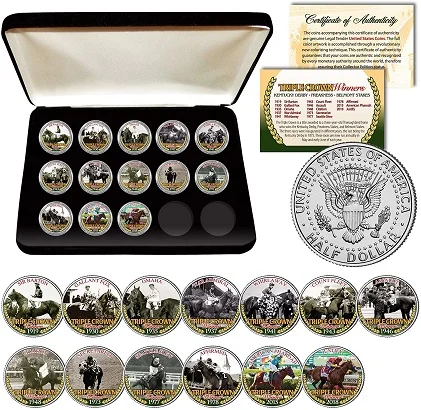 Does the person you're buying for get excited by collectibles? Then you might want to consider this limited edition coin set featuring Triple Crown winners.
On June 9, 2018, a chestnut colt called Justify won the 150th Belmont Stakes race and became the 13th Triple Crown Champion. In commemoration of this historic moment, Merric Mint released this Genuine Legal Tender U.S. coin set to honor the 13 Triple Crown winners of horse racing.
Photos of Triple Crown Champions from Sir Barton (1919) to Justify (2018) are printed on the head side of 13 JFK Half Dollar coins. The set comes in a luxurious coin display box lined with black felt. You'll also receive a Certificate of Authenticity proving your coins are authentic and have Collector Edition status.
4. Racehorse Share
What better gift to give a horse racing enthusiast than a share of an actual racehorse? Owning racehorse shares has become a simple and inexpensive venture thanks to websites like MyRacehorse and Racehorse Club. Watch your loved one's eyes light up when you tell them they own part of a real-life racehorse!
While owning a racehorse share is exciting in itself, it also unlocks exclusive ownership experiences. Through MyRacehorse, you'll receive regular updates on your horse, as well as invites to various events. Examples are farm tours and morning workout visits where you can watch your horse run and chat with the trainer.
Using MyRacehorse will even grant you access to the Winner's Circle if your horse wins the race. Bask in the glory and celebrate the win with the team and other shareholders. You can also attend premium events like owner-exclusive parties on the day of the race.
Racehorse Club is another platform where you can purchase "microshares" of racehorses. Buying a share will automatically make you a member of Racehorse Club with all the benefits. You'll receive a welcome package and gain access to exclusive events and regular updates from your horse's trainer.
Owning a microshare allows you to enjoy all the perks of racehorse ownership without the big expenses. There's also the possibility of making money should your horse be profitable, although this is rarely the case.
5. Twine Kentucky Derby Bottle Stopper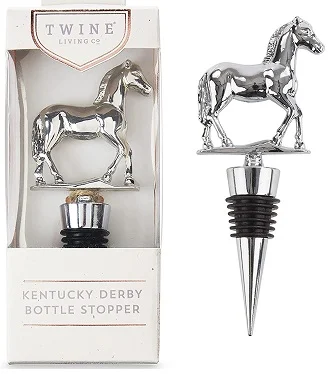 This classy bottle stopper will add style to your wine cabinet. Featuring a Thoroughbred racehorse on top, it's a great gift to any horse racing fan looking to spice up their home decor.
Twine's Kentucky Derby Bottle Stopper keeps wine fresh by providing an airtight seal. The sloped metal stopper has a rubber grip that prevents outside air from spoiling your drink. The racehorse is made of pewter and displays highly detailed features.
This elegant bottle stopper is better than traditional cork in every way. A perfect gift for someone who appreciates good wine and loves horse racing!
6. Historic Rockingham Park Jewelry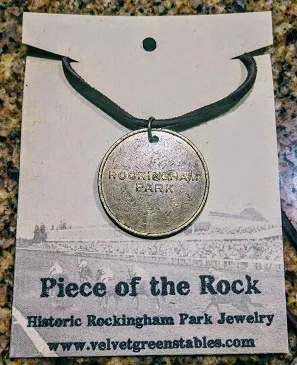 This little piece of horse racing history will delight fans of the sport. Rockingham Park was a one-mile race track in Salem, New Hampshire. Built in 1906, it was once considered to be the finest racecourse on the planet!
Several racehorse legends ran here in their early career, including the famous Seabiscuit. Although the track closed in 2009, fans haven't forgotten the glorious races of Rockingham Park.
These bronze tokens granted visitors access to the track's Grandstand back in the day. There's a finite number of pendants left, making them an extra special limited edition gift to horse racing fans. You can select the length and color of the leather cord attached to the pendants when ordering.
7. Horse Racing Socks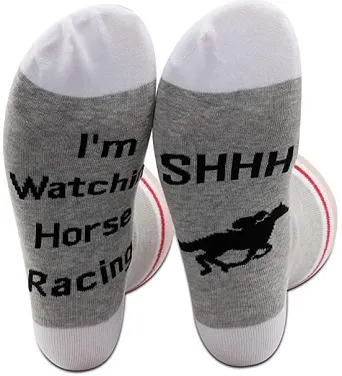 Put a smile on your loved one's face with these funny Horse Racing Socks! They are great for any occasion or just as a joke.
The socks are 77% cotton, 20% polyamide, and 3% elastane, making them comfortable, soft, breathable, and stretchy. They fit sizes 4-13 and won't fade or shrink in the washing machine. The words and image are stitched permanently into the material, so there's no risk of the design peeling off.
These Horse Racing Sock are ideal for everyday wear, whether you're heading to the office, the barn, or staying at home. Stuff them down the Christmas stockings this year and your loved one is guaranteed to appreciate it!
8. Derby Day Horse Racing Board Game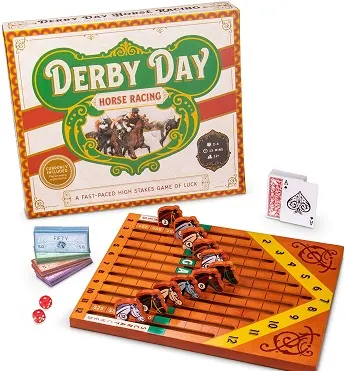 This popular board game doesn't just entertain horse racing fans but also the whole family. In Brybelly's Derby Day board game, you deal cards to 2-6 players, with every card being a share of a racehorse. If your horse wins that round, you'll be a step closer to winning the game.
There are 12 horses racing to the finish line on the board, and how fast they run is determined by the roll of the dice. You will need to draw cards in each round and follow the instructions you see. You can also place bets for a chance to advance faster in the game.
Derby Day comes with its own paper currency, featuring racehorse legends such as Seabiscuit and Secretariat. The notes range from $5 to $100 and should be split evenly between players at the start of the game.
This fun board game is easy to learn and makes for the perfect entertainment on a rainy day. If you have a large party, there are alternate rules that allow for 12+ players per game. Derby Day can also accommodate real money bids and features scratch lines on the side.
Also Read: 10 Best Horse Racing Board Games
9. The Horse God Built Book
Considered the greatest racehorse of all time, Secretariat was truly one of a kind. Although many of us have heard of Secretariat, Eddie "Shorty" Sweat, who was vital to Secretariat's success, has been all but forgotten.
Written by best-selling equestrian writer, Lawrence Scanlan, this book explores the life and fascinating behind-the-scenes stories of Eddie and Secretariat.
As the book description says, "The Horse God Built is a moving portrait of the powerful bond between human and horse." This is a fascinating read for any horse racing fan!
10. Horse Racing T-Shirt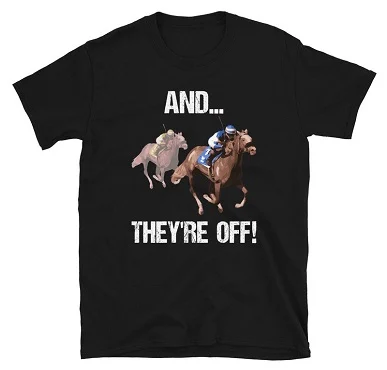 Every horse racing enthusiast needs one of these funny T-shirts. It showcases their passion for the sport and also makes for a great conversation starter!
This humorous Horse Racing T-Shirt is made of thick cotton for extra softness and comfort. It features double stitching on the sleeve and neckline, ensuring maximum durability. Numerous buyers have praised the high quality of the product and great customer service from the seller.
If this design is not your cup of tea, you can choose from the seller's other Horse Racing T-Shirts. They all feature classic lines such as "I'd rather be at the track."
11. Horse Racing Sculpture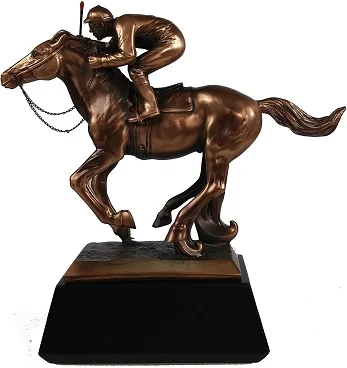 This exquisitely detailed Horse Racing Sculpture is a charming addition to office desks, living room shelves, or bedside tables. The bronze-plated shell gives the piece a vintage look that will stand out in any decor.
Many horse racing fans like to make their passion obvious to visitors. They will often have photographs of racehorses scattered across their home, alongside other related items. This stunning sculpture will make a wonderful addition to the receiver's collection of horse racing-themed ornaments.
12. Tickets to a Horse Race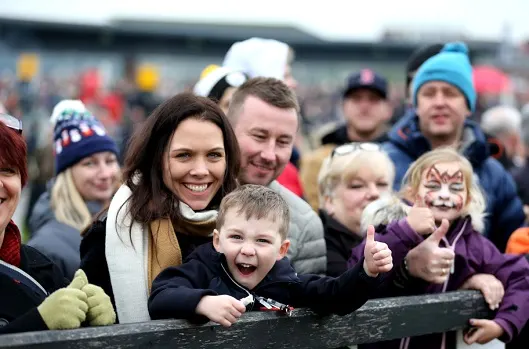 A ticket to a nearby race is a classic gift to horse racing enthusiasts. Nowadays, you can just go online and purchase a ticket to the event of your choice. Major races such as the Kentucky Derby have various package deals on offer for a truly unforgettable experience.
However, it's not much fun to attend a race alone. Why not surprise your loved one with two tickets instead of one? They will have twice the fun if their best friend or partner can also be there.
If you're buying tickets to a major race, be aware that they often sell out quickly. Tickets will usually go up for sale several months prior to the event, so it's a good idea to sign up for an early bird mailing list to have the best chances of booking a spot.
13. The Most Glorious Crown Book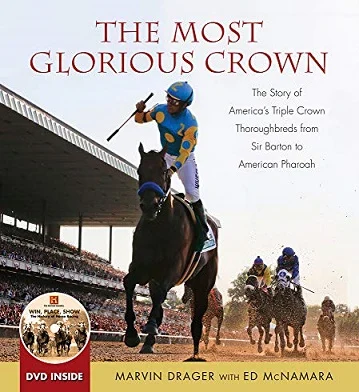 This education book recounts the story of 12 Triple Crown Champions not including Justify (2018). The winners of the American Triple Crown are undoubtedly among the biggest stars in the sport of horse racing.
Marvin Drager and Ed McNamara's book recounts each champion's rise to stardom in great detail. You'll also find stories of the trainers, jockeys, and owners who shared the spotlight with these exceptional athletes.
What's more, you can follow each horse's development through 150 authentic black-and-white photographs that show the stars in different stages of their career. The book also features original racing forms from all three Triple Crown races.
This book is a great gift to anyone who loves horse racing and its stars. It has recently been updated with chapters on the 37-year gap between Affirmed (1978) and American Pharaoh (2015) the winning the Triple Crown.
14. Horse Racing Motivational Canvas
Keep your loved one motivated every day with this horse racing-themed canvas! Great for office or bedroom walls, this stunning canvas will make any space a touch cozier.
You can choose to order a canvas or a poster with various sizes available. Canvas versions are printed with fade-resistant and non-toxic HP Latex Inks. They are shipped mounted on a 3/4″ thick wood frame ready to hang.
All orders include tracking and are dispatched within 2-7 business days. This Horse Racing Motivational canvas is a wonderful gift for any occasion.
15. Horse Racing Pin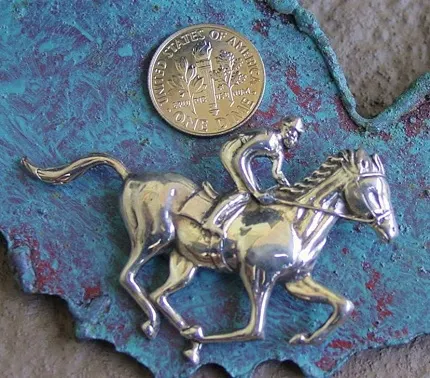 This beautiful and elegant Horse Racing Pin is the perfect addition to your race day outfit! Made of .925 sterling silver, it makes for a special gift to a special person.
The brooch is approximately 2 1/4″ long 1 5/8″ high and weighs 11.8 grams. The horse and rider have been sculpted to the finest detail, highlighting the Thoroughbred's powerful muscles.
Any horse racing fan would be delighted to receive this fine piece of horse racing jewelry. Items like these carry a special meaning to their bearers and are often passed down for generations in the family.