This post may contain affiliate links. We earn from qualifying purchases. Learn More
Though most of us would love to spend all of our time at the barn, it is simply not possible.
Fortunately, these horse racing board games are a wonderful way to keep you entertained when you're not with horses.
These games give you all the excitement of the races, but from the comfort of your own home. You can choose your own horse and put your skills to the test in these exciting horse racing tabletop board games with dice.
Here are the eleven best horse racing board games.
1. Derby Day Horse Racing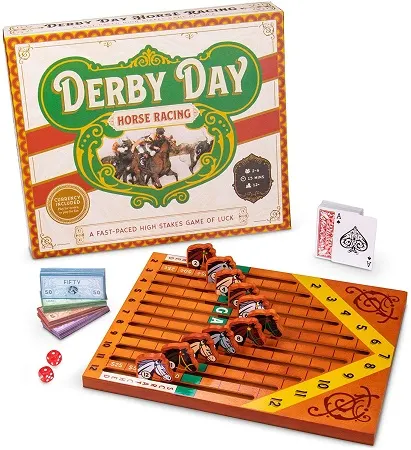 In this fast-paced game, you will place your bets and cheer on your horse in hopes it will cross the finish line first. Easy to learn, this game is fun for the whole family as it encourages friendly competition.
Perfect for Kentucky Derby lovers, the game features dice, a deck of cards, beautifully designed horse pieces, a board, and money. The money even features some of the most famous racehorses in history.
By dealing out the playing cards, you can split shares among the players. There are 12 horses on the track, with the game including 2-6 players ages 12 and up.
2. Desktop Derby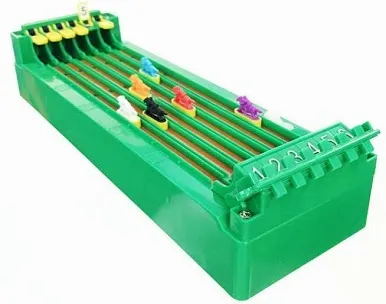 Commonly seen in TikTok and Instagram videos, Desktop Derby is battery powered horse racing game. Put the horses in their starting places, then hit the start button and watch the little horses racing up the track.
Every race is different with a random winner. It's probably the simplest yet funniest game on our list.
Watch it in action below:
3. Fineni
With elegant metal racehorses, this game puts your racing skills to the test. The board is crafted from high-quality pinewood, with all the lines carefully etched so they will not fade.
This fun game uses both dice and playing cards to help you cross the finish line. Test your betting abilities by choosing one of the 11 horses. This luxuriously crafted tabletop game has a classic design that can make a great decoration even when you are not playing.
4. Across The Board Kentucky Derby/Churchill Downs
Take your turn "Running for the Roses" by racing at Churchill Downs in this iconic Kentucky Derby game. Churchill Downs even officially licenses this board game, so you know you are getting an authentic experience.
The board is a realistic opal-shaped track made from Maple Veneer. There are 11 hardy rubber horses you can choose from as you showcase your racing abilities. The game also features dice and a deck of cards to test your betting skills.
Roll the dice to scratch the horses and begin building your pot in hopes of winning. It is something that all horse racing enthusiasts will love.
5. WE Games Grand National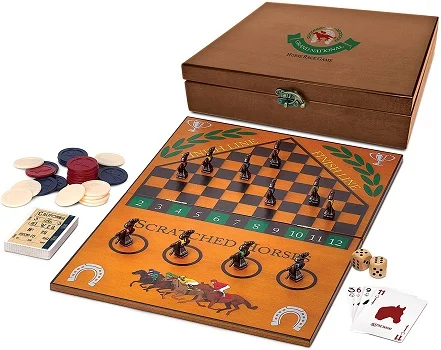 Ever want to take part in the glamourous Grand National? Well, now is your chance with this beautifully crafted and fun game.
This luxurious set features a wooden storage box, wooden board, metal horse pieces, dice, cards, and racing chips. The wooden storage box even features a beautiful horse painting on the inside.
Adults and kids alike who enjoy horse racing will have a blast playing this game, as it improves critical thinking. This game is great for testing your skills and encouraging friendly competition as you race to cross the finish line.
6. Hey! Play! WoodenTabletop Horse Racing Game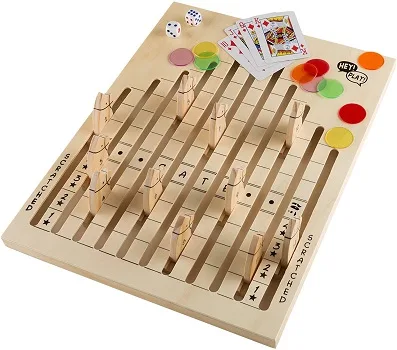 Fun and affordable, this game will test your luck at the track. It is the perfect activity for family game night, as it is recommended for ages six and up.
You can customize the rules to make the experience unique to your friends and family in this game. Use the chips provided or play with real money to increase the stakes. It also comes with a durable wooden board, wooden horses, cards, and dice.
7. GoSports Derby Dash Horse Race Game Set
Test your odds at the racetrack with this exhilarating game. With each roll of the dice, you get closer to the finish line in hopes of taking home the win.
The board includes 11 horses, a wooden board, and dice. There is also a dry erase board with a marker so you can keep track of the score. People of all ages will enjoy trying their hand at racing.
Derby Dash is easy to learn and will provide hours of entertainment. This set comes at a great price and will encourage everyone's competitive side.
8. Winner's Circle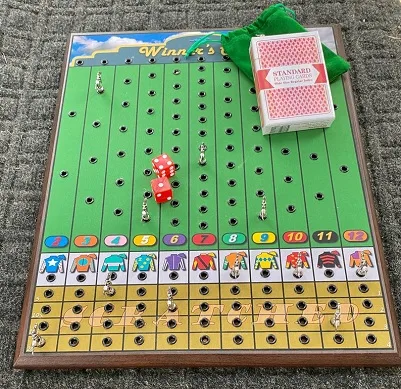 Winner's Circle is a beautiful handmade creation of a classic horse racing board game. Made in the USA, the pewter miniature racehorses magnetically attach to the board giving a unique feel when the horses are moved.
The 15"x12" board with a custom linen-like surface comes with a deck of playing cards, two dice, 12 pewter horses, and a lovely velvet bag to protect the board.
9. Wooden Horse Racing Tabletop Game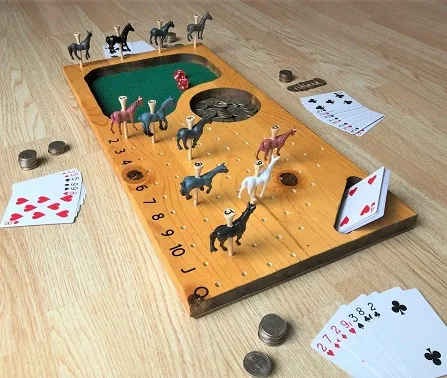 This wonderfully crafted tabletop board game measures approximately 11″ x 23.5″. Handmade in the United States, it has a handy felt pad to roll the dice and an area for users to place their chips.
The game some with everything you need to get started, except for the chips/quarters.
10. Photo Finish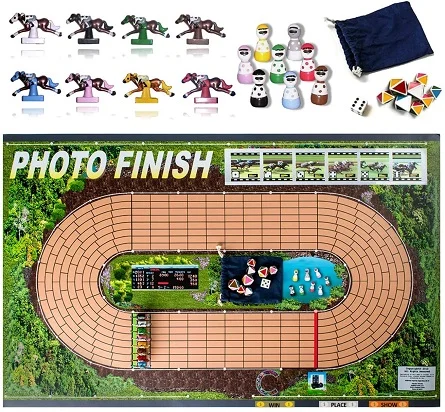 Photo Finish is a unique horse racing board game. Instead of traditional dice, they have dice with sides of varying sizes. If a small side is facing up when roll, the horse will move more paces than that of a bigger side. Similar concept, but done differently.
Also, instead of all the horses staying in their respective lanes, players can move their horse over to another lane to block others off, or avoid being blocking themselves. This rule along with a couple of others gives Photo Finish another dimension where players have to use some skill and not just rely on luck.
11. Host Your Own Race Night
Although it isn't a tabletop board game, we wanted to include this on our list last. As the title suggests, included in the box are DVDs of real races where users can compete with fake money.
Included are racecards and stake slips. Host Your Own Race Night is ideal for entertaining a small host of horse racing lovers for an evening.
Also, see our guide on the best board games for horse lovers.