This post may contain affiliate links. We earn from qualifying purchases. Learn More
The annals of horse racing are adorned with many luminaries, but none shine quite as bright as the legendary Secretariat. Known fondly as "Big Red," this remarkable equine was born on March 30, 1970, and it wouldn't be long before he galloped into history.
In 1973, he spectacularly clinched the Triple Crown, becoming the first horse in 25 years to claim this prestigious title, and astonishingly set new records in each race.
Secretariat's meteoric rise to fame transcended the racecourses, turning him into a nationwide sensation. The cherry on top of his illustrious career was his induction into the National Museum of Racing and Hall of Fame in 1974.
To further appreciate the magnificence of this horse racing titan, let's delve into some fascinating facts about Secretariat.
1. Secretariat Holds the Fastest Time in the Kentucky Derby
Secretariat is most well-known for his incredible performances in the 1973 Kentucky Derby, Preakness, and Belmont. Not only did he win all three of these races to become the Triple Crown champion, but he did it all in record times.
Even though it's been well over 40 years since Secretariat won the Triple Crown, he still holds the records for the fastest time in each race.
Secretariat won the Kentucky Derby with a record time of 1:59 2⁄5, the Preakness with a time of 1:53, and the Belmont with a time of 2:24.
Out of the races he won, many consider Secretariat's greatest race to be the Belmont. In the final race of the Triple Crown, Big Red blew his competitors away, winning by an incredible 31 lengths.
Not only did he set a record time for the Belmont, but it was also the fastest 1 1⁄2 miles raced on dirt in history.
2. Secretariat's First Start Was Rough
Though Secretariat's racing career was legendary, it didn't start that way. In his first start, a horse named Quebec cut in front of the field, leading to a chain reaction that caused the chestnut to get bumped hard.
His jockey at the time, Paul Feliciano, said Big Red would have fallen if he wasn't so strong. Though he was able to recover from the bump, he ran into traffic on the backstretch. He was able to push through and ended up placing fourth in the race.
As a young horse, many people didn't find him impressive. His groom, Eddie Sweat, thought the young colt was clumsy and a bit on the wild side. Despite his unsuccessful first race, Secretariat proved to be a star. He went on to win 16 of his 21 starts.
3. Secretariat's Owner Was a Woman
When Secretariat won the Triple Crown, the racing industry was still heavily dominated by men. However, his owner was a woman called Penny Chenery.
In 1968, Chenery's father fell ill and she took over his stable, Meadow Stud in Doswell, Virginia. Her siblings urged her to sell the farm, but she wanted to keep it running.
To keep the stable profitable, Chenery decided to breed. This led to her breeding the stable's mare Somethingroyal, to stud Bold Ruler, resulting in the birth of Secretariat.
In January 1972, Secretariat was sent to Lucien Laurin's winter stable for training. The chestnut colt gained a reputation for being a kind, likable horse. Though at first he wasn't impressive, he made steady improvements throughout the spring.
Chenery believed that her big chestnut Thoroughbred had what it took to be a racehorse. Despite his rough beginning on the race track, she had faith in him and he soon proved to be an incredible athlete.
4. Secretariat's Heart Was Two and a Half Times Bigger Than Average
Not only was Secretariat was known for being kind-hearted, but he also had a big heart in the literal sense.
After Secretariat was euthanized on October 4, 1989, at the age of 19, veterinarian Thomas Swerczek performed a necropsy. Swerczek discovered that Secretariat's heart weighed between 21-22 pounds, two and a half times bigger than an average horse heart.
"We just stood there in stunned silence. We couldn't believe it. The heart was perfect. There were no problems with it. It was just this huge engine," said Dr. Swerczek.
5. Secretariat Was Syndicated Under the Terms He Would Retire From Racing
Unfortunately, the death of Chenery's father left her with a hefty estate tax on Meadow Stud. In order to pay the tax, she syndicated Secretariat's breeding rights for $6.08 million to Clairborne Farms.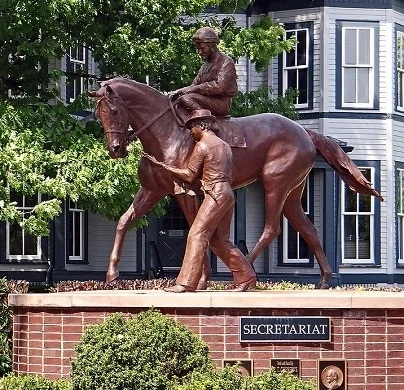 Chenery sold 32 shares worth $190,000 each, retaining four shares for herself. The sale was made with the agreement that Secretariat would not race as a four-year-old and Chenery would have control of all of his three-year-old racing career.
After his racing days, he was sent to Claiborne Farm in Kentucky to stand at stud.
6. Secretariat Was Featured on Several Top Magazines and Became a Celebrity
After his outstanding journey to become the ninth Triple Crown winner, Secretariat was featured in many best-selling magazines. He graced the covers of Sports Illustrated, Time, and Newsweek.
The big chestnut also received so much fan mail that Chenery needed a secretary to handle all of it. She hired the William Morris Agency to manage the Thoroughbred's public engagements. Secretariat received so much attention from the press and his adoring fans he even learned to pose for the camera.
There is even a movie about him called Secretariat (2010).
7. When Secretariat was First Bred to Non-Thoroughbred Mares
When Secretariat first arrived at Claiborne Farm, his sperm displayed some signs of immaturity. To test his fertility, he was bred with three non-Thoroughbred mares.
His first foal was out of an Appaloosa mare and was given the name First Secretary. Initially, the Appaloosa Horse Club refused to register him, so he was registered in Canada, with the registration then being transferred to the USA.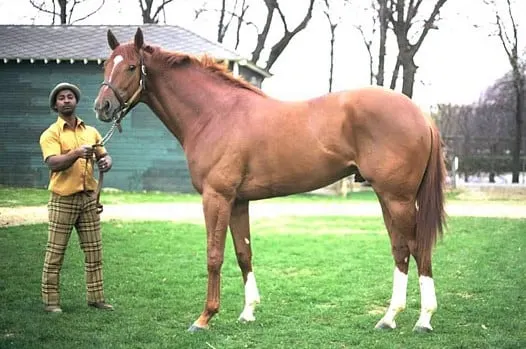 The legendary racehorse produced a colt that had a chestnut coat with a blanket pattern.
After it was proved Secretariat was an able stud, he went on to produce 663 named foals. Of those 663 foals, 341 were winners, with 54 of those being stakes winners.
Some of Secretariat's most successful offspring include General Assembly, Lady Secret, Risen Star, Kingston Rule, and Tinners Way. He also proved to be an outstanding broodmare sire.
8. Secretariat is the Only Non-Human to Make ESPN's 50 Greatest Athletes of the Century
Secretariat was acknowledged for his incredible athletic ability even outside the horse racing world. His winning ways gained the appreciation of sports fans all over.
In 1999, Secretariat made ESPN's Greatest Athletes of the Century. As the only horse to make the top 50, he ranked 35 on the list. Two other legendary Thoroughbreds, Man o' War and Citation, made the top 100 ranking 84 and 97 respectively.
The chestnut stallion also racked up numerous other awards and honors. During his racing career, he won five Eclipse Awards, including Horse of the Year in 1972 and 1973.
Secretariat ranks number two, only behind the great Man o' War, in Blood-Horse magazine's list of the Top 100 U.S. Racehorses of the 20th Century.
How Did Secretariat Die?
Secretariat was euthanized at the age of 19 due to laminitis. After a month of treatment, his condition did not improve and the tough choice to put him down was made.
The famous chestnut Thoroughbred is buried at Claiborne Farm in Paris, Kentucky. Unlike most racehorses, where only the head, heart, and hooves are buried, Secretariat was given the honor of being buried in full.
How Tall Was Secretariat?
Secretariat was 16.2 hands tall and weighed 1,175 pounds. He was well-balanced, with powerful hindquarters and a large chest.
With good height and an excellent build, many considered Big Red to have "nearly perfect" conformation. His strong hindquarters and natural athletic ability gave him an exceptionally large stride. During his three-year-old season, he ate 15 quarts of oats daily.
Who Was Secretariat's Jockey?
For the first two races of his career, Secretariat was ridden by jockey Paul Feliciano. Feliciano was then replaced by jockey Ron Turcotte.
Turcotte was Secretariat's jockey for the rest of his career and led the bold chestnut to his phenomenal Triple Crown win. Unfortunately, in 1978, Turcotte was left paralyzed from the waist down after a racing accident.
How Much Did Secretariat Earn as a Racehorse?
During his racing career, Secretariat earned a whopping $1,316,808. Today, this would be worth over $7.7 million. When breeding, his stud fee was $70,000.