This post may contain affiliate links. We earn from qualifying purchases. Learn More
Horses are fascinating and versatile animals and there's so much to learn about them. Once you get roped in by their charm and beauty, there's no turning back.
If you've stumbled upon our popular horse quizzes, you've probably been a horse lover for a while. Perhaps you take regular riding lessons, own a horse yourself or admire them some other way.
Test your equestrian general knowledge with these 20 horse trivia questions. This quiz is the sixth in our series of horse quizzes. Don't forget to share your results and to check out our other fun horse quizzes!
Try our Ultimate Horse General Knowledge Quiz now!
1. To measure a horse, you go from the ground vertically up to where?
2. Which of the following is NOT a horse breed?
3. True or false: Horses can only breathe through their nose.
4. Which of these is not part of a horse hoof?
5. What do you generically call a horse with white patches on top of a base coat color?
6. What is the segment of hair that hangs between a horse's ears?
7. What is the smallest breed of horse?
8. Name this horse gait: fast, two-beat, the legs on the same side move together
9. True or False: Horses can sleep both lying down and standing up.
10. How many bones are there in a typical horse skeleton?
11. The mother of a horse is called its…
12. Approximately how many months is the normal gestation period for a pregnant horse?
A brush used to oil the hooves
---
A strap that prevents the saddle from sliding backwards
---
14. What is this behavior called?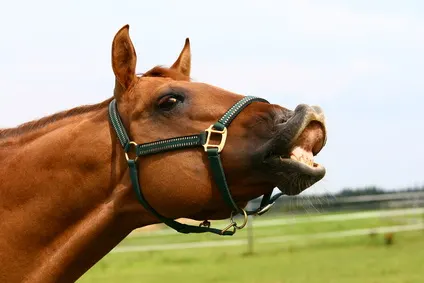 15. Which animal below is the horse's closest relative?
16. How many hours a day do horses sleep?
17. Are equines carnivores, herbivores or omnivores?
18. Which Western riding sport is this?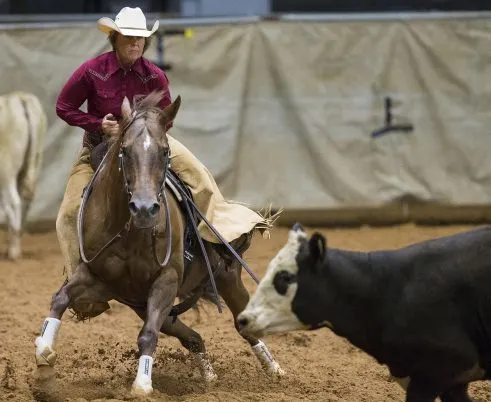 19. True or false: Estimating a horse's age by its teeth is a myth.
20. Which one is NOT a cue riders use to guide a horse?
Share the quiz to show your results !
Subscribe to see your results
Horse General Knowledge Quiz
I got %%score%% of %%total%% right
%%description%%
Also, don't forget to check out our other fun horse quizzes on topics such as dressage, horse racing, horse breeds, horse anatomy, and many more!