This post may contain affiliate links. We earn from qualifying purchases. Learn More
Taylor Sheridan has been a busy man as he has become one of the most prominent creators in Hollywood. After making it big with the hit neo-Western drama Yellowstone, his success has only continued from there.
The 'Sheridanverse' continues to expand as the Texas native has a big lineup of TV shows and movies set to release in the upcoming future. While he continues to grow the world of Yellowstone, his work goes well beyond the Duttons. Sheridan continues to deliver riveting, drama-filled content.
Here is a look at all of Taylor Sheridan's upcoming TV shows and movies
Lawmen: Bass Reeves (November 6, 2023)
Lawmen: Bass Reeves follows the story of real-life lawman Bass Reeves. Believed to be the inspiration for The Lone Ranger, Bass Reeves was the first black U.S. Deputy to serve West of the Mississippi River. After escaping from slavery, Reeves eventually went on to serve as a federal peace officer in Indian Territory, arresting over 3,000 criminals while never getting injured.
David Oleyowo takes on the titular role, starring alongside Denis Quaid, Barry Pepper, Donald Sutherland, Forrest Goodluck, and Garrett Hedlund. The series is set to premiere on November 5, 2023, on Paramount+ and will feature eight episodes.
Finestkind (November 2023)
Sheridan returns to his film roots with the release of Finestkind. The crime thriller has received mixed critic feedback, with reviewers calling it "messy" and "frustrating."
Finestkind follows two brothers who reunite in the commercial fishing industry in New Bedford, Massachusetts. The film stars Jenna Ortega, Tommy Lee Jones, and Ben Foster.
Finestkind premiered at the Toronto International Film Festival on September 8, 2023. It is set to join the streaming service Paramount+ sometime in November 2023.
Land Man (TBC)
Land Man is set to follow the geopolitics of the Texas oil industry. As of now, it is not disclosed as to when the series will premiere.
According to IMDb, the premise for the series reads. "Set in the proverbial boomtowns of West Texas, Land Man is a modern-day tale of fortune-seeking in the world of oil rigs. The series is an upstairs/downstairs story of roughnecks and wildcat billionaires fueling a boom so big, it's reshaping our climate, our economy, and our geopolitics."
Land Man is based on the podcast Boomtown which follows the multi-billion dollar oil industry in Texas. The series is set to star Billy Bob Thorton, Michelle Randolph, and Jacob Lofland.
Tulsa King Season 2 (TBC)
After just three episodes aired, Paramount+ renewed Tulsa King for a second season. As of now, the crime drama series does not have a release date for its second season.
The series, which shattered records, does not currently have a premise for the second season. However, there will likely be legal trouble for Dwight Manfredi after the first season ended with him in handcuffs due to a setup by Stacey Beale.
No details are currently available regarding the cast for season 2 of Tulsa King. We will likely see the return of much of the original cast, including Sylvester Stallone, Andrea Savage, Max Casella, Martin Starr, and Domenick Lombardozzi.
Yellowstone Season 5 Part 2 (TBC)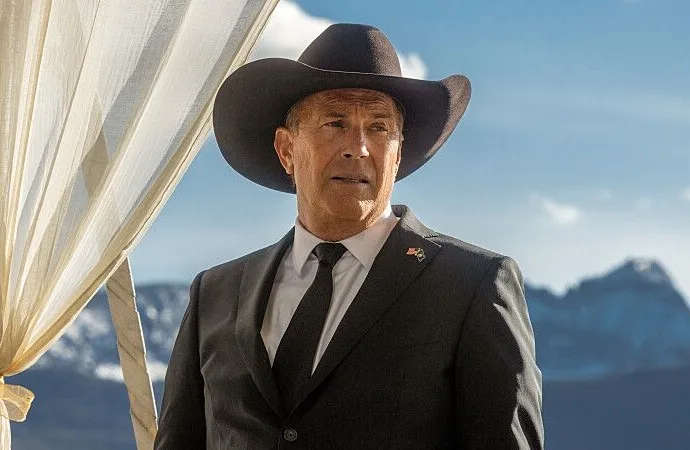 After being pushed back from the summer of 2023 to November 2023, it is likely we won't see the return of Yellowstone until 2024. Between the writers' strike and scheduling conflicts, filming for the remaining episodes has yet to begin.
Not much has been revealed as to what will be in store for the final episodes of Yellowstone. However, we will likely see the feud between John and Jamie conclude, as well as plenty of other drama among the Dutton family.
While Kevin Costner announced that he is leaving Yellowstone, he will still likely appear in a few episodes to wrap up the storyline of John Dutton. We can also expect to see the return of Kelly Reilly, Cole Hauser, Wes Bentley, Luke Grimes, and Kelsey Asbille.
Untitled Yellowstone Sequel (TBC)
In May 2023, Paramount announced that Yellowstone would be followed up with a sequel series. Though the spinoff has not been named, it will have 'Yellowstone' in the title.
Little is known about the unnamed Yellowstone sequel that originally was set to premiere in December 2023. However, the series likely won't come out until 2024 due to delays from the WGA and SAG-AFTRA strikes.
As of now, we know that Matthew McConaughey is set to take on the lead role in the series. Aside from McConaughey, no other cast members have been revealed.
1923 Season 2 (TBC)
The Yellowstone prequel 1923 is confirmed to be returning for a second season. There is currently no release date for the series, but it is likely to return sometime in 2024.
As of now, no official premise has been revealed for the series, however, we can expect to see Jacob and Cara Dutton go to war with Donald Whitfield to save their ranch. In addition, we will likely see the arrival of Spencer to the ranch and reunion with his wife Alexandria, as well as the continuation of Teonna Rainwater's storyline.
We can expect to see the return of Helen Mirren, Harrison Ford, Brandon Sklenar, Julia Schlaepfer, Aminah Nieves, Timothy Dalton, Michelle Randolph, and Darren Mann.
6666 (TBC)
Sheridan's 6666 is set to be a spinoff of Yellowstone that takes place in the same timeline. While much anticipated the series to be released in 2023, it has been put on hold due to the strikes.
The series is set to explore the history of the iconic 6666 Ranch which still operates as it did two centuries ago. It is home to some of the finest horses and cattle in the country, as well as the location where cowboys are born and made.
So far, no cast list released for the series. However, it is believed that Yellowstone's own Jimmy (Jefferson White), Emily (Kathryn Kelly), and Walker (Ryan Bingham) will star in the series.
1944 (TBC)
Sheridan's Yellowstone universe lives on with another prequel series set to follow 1923. In February 2023, Tom Prince, an executive at 101 Studios (which is a production studio for Yellowstone), announced the upcoming series 1944.
As of now, 1944 is still only in the development stage. It will likely be quite some time until the series premieres.
Though there is currently no official synopsis, the series will likely follow the Duttons as they navigate life in America during WWII. There is no cast list for the series at the moment.
Mayor of Kingstown Season 3 (TBC)
Sheridan's successful series Mayor of Kingstown is set to return for a third season. While the release date is unconfirmed, it will likely not air until 2024 or even early 2025.
As of now, no synopsis has been released for season 3 of Mayor of Kingstown. However, the third season will likely deal with the aftermath of Kingston's turmoil. In addition, sources suspect it will focus on Mike McLusky's struggle to manage the chaos while also providing support to Kyle as he battles guilt and grief.
Jeremy Renner will be returning for his first role since his snow plow accident on New Year's Day, 2023. While Dianne West is not returning, we will likely see Derek Webster, Tobi Bamtefa, Emma Laird, Nishi Munshi, Aidan Gillen, and Hamish Allan-Headley reprise their roles.