This post may contain affiliate links. We earn from qualifying purchases. Learn More
Despite a slow start to his acting career, Luke Grimes has blossomed into a successful Hollywood star. He is currently best known for his role as Kayce Dutton in Yellowstone.
Luke Grimes is an American actor born on January 21, 1984, in Dayton, Ohio. He has an estimated net worth of $500,000 and currently resides in Montana with his family.
Grimes has both TV and film credits to his name. In addition to acting, he also has a passion for music.
Is Luke Grimes a Real-Life Cowboy?
Though Luke Grimes plays horseman and ranch hand, Kayce Dutton, on Yellowstone, he is not a real-life cowboy. Grimes grew up in Ohio and was not involved with horses during his youth.
Though Grimes did learn how to ride for Yellowstone, he states "I'm not gonna say I'm a real cowboy or anything."
Before Yellowstone, he did have brief experience with horseback riding for his role in The Magnificent Seven.
Who is Luke Grimes Married to?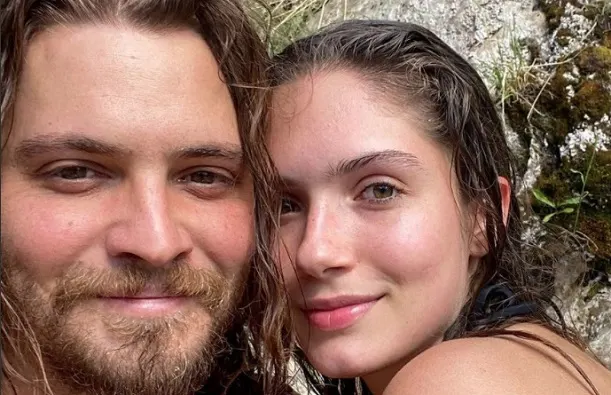 Luke Grimes is married to Bianca Rodrigues Grimes. She is a 25-year-old Brazilian model.
Luke and Bianca married in November 2018. The couple tends to be fairly private about their personal life, however, they do post photos of themselves on social media. Bianca has over 200,000 followers on Instagram.
Read more about her in our guide on Bianca Rodrigues.
Is Luke Grimes a Country Singer?
In addition to his acting, Luke Grimes is starting a new career in country music. Music has been a lifelong passion for the star, and he is looking to turn it into a profession.
Prior to his role in Yellowstone, Luke Grimes was a drummer in a country band out of Los Angeles. He is currently working with Range Media Partners and his Yellowstone co-star Ryan Bingham, who plays Walker.
So far, he has finished writing a song with musical artist Jessi Alexander and songwriter Ben Hayslip. In addition, he has recently teamed up with country singer-songwriter Hailey Whitters.
Luke Grimes also hopes to travel to Nashville to work with the legendary Willie Nelson.
He Went to Cowboy Camp for Yellowstone
Kayce Dutton is a tried and true cowboy. To prepare for his role, Luke Grimes had to attend a cowboy camp to gain experience in horseback riding.
Show producer, writer, director, and equestrian Taylor Sheridan put together a cowboy camp for the actors of Yellowstone to prepare them for their roles. Not only did Grimes learn how to ride, but also how to handle horses as well.
The cowboy training started two months prior to filming the first season in Utah. The actors were sent to train with real working cowboys to get an authentic experience.
"I remember when I got the job, and Taylor called me like six weeks out from actually shooting, and he was like 'You need to go ride, like, every day.' He had me going to a reining coach twice a week. Then I would go see Jason Rodriguez and his ranch, and we do more roping and, like, cowboy stuff," said Grimes.
After Learning to Ride, Horses Have Become an Important Part of His Life
Luke Grimes developed a new appreciation for horses after learning to ride for Yellowstone. Now, horseback riding has become a "huge part" of his life.
Though Grimes agrees he does "legitimately" know how to ride, he believes there is always more to learn and doesn't consider himself a real cowboy. He never thought horseback riding would be a part of his life, but thanks to Yellowstone it has.
"I never saw horseback riding as being a part of my life, but now it is a huge part of my life, and I love it," said Grimes.
Also read: 35 Best Yellowstone Quotes From the Dutton Family
Does Luke Grimes Do His Own Stunts on Yellowstone?
Though Luke Grimes has a stunt double, he does do a lot of the stunts himself. His stunt double is a real cowboy who does some of the more complicated scenes.
In one particular scene, his stunt double, Jordan Warrack, rode up alongside a moving truck and roped a guy out of it. However, Grimes has managed to do some of the trickier riding scenes.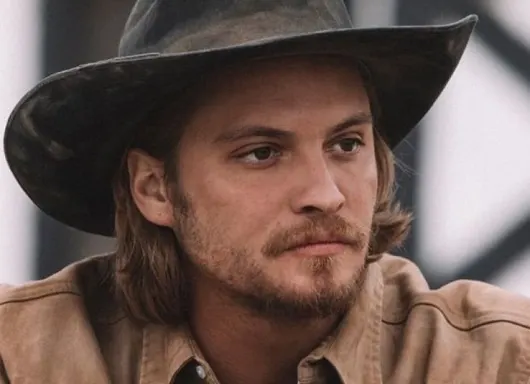 For a scene involving Kayce Dutton wrangling a herd of Mustangs, Warrack originally stood in for Grimes. However, Sheridan wanted to see with Grimes was capable of the action sequence so he gave him a shot. Though Grimes was able to do the scene, he was terrified to do it.
"I was scared to death, but of course, I wanted to try it. And to this day, the greatest day I've ever had on a set," said Grimes.
Also read: 18 Best Kayce Dutton Quotes
Luke Grimes' Work Outside of Yellowstone
Outside of Yellowstone, Grimes has starred in some acclaimed movies and TV shows such as American Sniper, The Magnificent Seven, Fifty Shades of Gray, Fifty Shades Darker, Fifty Shades Free, and True Blood.
Grimes made his acting debut with the 2006 film All the Boys Love Mandy Lane. While most of his first film credits were for relatively small roles, he had main cast roles in the shows Brothers & Sisters and True Blood. Yellowstone has been his biggest role to date.
He Auditioned for the Role of Edward Cullen in Twilight
Luke Grimes auditioned to play America's favorite vampire, Edward Cullen. Though he lost the role to Robert Pattinson, Grimes went on to later play a vampire in True Blood.
He Went to School for Acting
After graduating from Dayton Christian High School in 2002, Grimes went on to attend the American Academy of Dramatic Arts to study acting.
Other notable actors to attend the school include Anne Hathaway, Danny DeVito, Jessica Chastain, and Paul Rudd.
Kayce Dutton is His Favorite Character He Has Played
Not only is Kayce Dutton a fan favorite among viewers of Yellowstone, but he is also Luke Grimes' favorite character he's played to date. He has appeared in all four seasons of the show and is returning for season five.
"This is my favorite character I've ever played, and my favorite world as far as a story I've ever been a part of. And just starting there, it's an incredible experience," said Grimes.

He said, "And then add on top of that, is that all these other really dedicated actors… no one's phoning it in, no one's showing up to get paid."
"Everybody really cares about what they're doing, and it's just really nice. It's an inspiring environment, and hopefully, I can continue to work with people like this," said Grimes.
For Yellowstone super fans, you can also purchase some of the clothing items worn by Kayce Dutton in Yellowstone on shopthescenes.com.