Our readers support us. This post may contain affiliate links. We earn from qualifying purchases. Learn More
With a prosperous career in the music industry, Ryan Bingham has also found success on the big screen. He is most recognizable as ranch hand Walker on Yellowstone.
Ryan Bingham is an American actor, singer, songwriter, and guitarist. He was born on March 31, 1981, in Hobbs, New Mexico, and has an estimated net worth of $15 million.
Bingham's passion for music has even carried over to his acting career, as his character Walker on Yellowstone sings and plays guitar throughout the show. He is currently based out of Los Angeles, California.
Here are ten fascinating facts and common fan questions answered about Ryan Bingham.
Is Ryan Bingham a Real Cowboy?
Ryan Bingham is a real-life cowboy. He grew up riding horses and doing a lot of cowboy stuff with his family, who ranched out in New Mexico. He would rope and bull ride, with bull riding becoming a big part of his youth.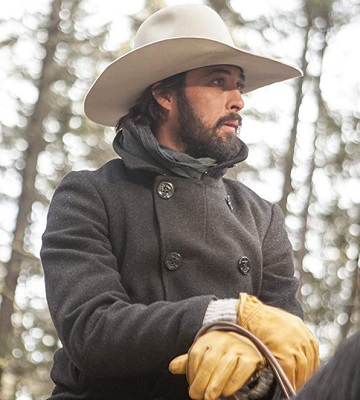 Bingham's background as a real cowboy helped gain him a spot in Yellowstone. Originally, Bingham was just supposed to write a few songs for the show. However, after connecting with the show's producer, writer, and director, Taylor Sheridan, over riding horses, Sheridan offered him a role in Yellowstone.
Also, check out our similar facts and FAQs guide about Taylor Sheridan.
Is Ryan Bingham Married?
Ryan Bingham married director Anna Axster in 2008. However, after 12 years of marriage, the couple divorced in 2021. His current relationship status is unknown.
Ryan Bingham and Anna Axster share three kids together. The couple shared a home in Topanga Canyon, California with their children before separating.
He Left Home at Age 17 For the Rodeo Circuit
Bingham had a rough childhood, as his mother drank herself to death and his father committed suicide. Since both his parents were alcoholics, he had no choice but to leave at 17 to travel the rodeo circuit.
On the rodeo circuit, Bingham competed in bull riding in the Southwest. He became close with the guys he was rodeoing with, as they took care of each other as family.
During his time on the rodeo circuit, Bingham had some wild times. On one occasion, he drunkenly rode a horse down a Main Street in nothing but cowboy boots.
He also got his two front teeth knocked out while riding a particularly volatile bull and now has fake front teeth because of it.
Ryan Bingham's Music Spans Multiple Genres
Ryan Bingham is an acclaimed artist whose music spans multiple genres. Though music has been part of his life since he was a kid, he received his first major-label debut in 2007 with Lost Highway Records.
Bingham made a name for himself and even began his own band, The Dead Horses. The band consisted of drummer Matthew "Papa" Smith, guitarist Corby Schaub and bass player Elijah Ford. They released multiple albums together, including hit songs "Hard Times", "Junk Star" and "Big Country Sky."
Bingham has also found success releasing music as a solo artist. His work has also been featured in movies including Crazy Heart and Joe.
He also collaborates with upcoming country musicians and fellow Yellowstone co-star Luke Grimes.
What Did Ryan Bingham Win an Oscar For?
In 2010, Ryan Bingham won the Golden Globe for Best Original Song for 'The Weary Kind.' Bingham and T Bone Burnett co-wrote and produced the song for the movie Crazy Heart.
In addition to his Oscar, Bingham has also received other notable awards. In 2010, he won the Americana Music Association Artist of the Year, Critics' Choice Movie Awards for Best Original Song, and the Golden Globes Award for Best Original Song.
Bingham also took home the 2009 Satellite Award for Best Original Song and the 2011 Grammy for Best Song Written for Visual Media.
Yellowstone is His First TV Role
Though Bingham is well established in the music industry, Yellowstone is his first TV role as an actor. He had three small movie roles prior to Yellowstone in Crazy Heart, Jackie & Ryan and A Country Called Home.
A Country Called Home was directed, written, and produced by Bingham's ex-wife, Anna Axster. So far, Yellowstone is the only TV show credit Bingham has to his name. He has made guest appearances on The Tonight Show with Jay Leno, Late Show with David Letterman, and Good Morning America.
He Enjoys Surfing
Despite not growing up near the ocean, Bingham loves to surf. He first began surfing in Corpus Christi, Texas, and has continued the hobby since moving to California.
He also likes to surf and finds it a great way to help clear his mind.
What is Ryan Bingham's Most Famous Song?
Ryan Bingham's most popular song is 'Southside Of Heaven' which came out on his album Mescalito in 2007. He wrote the hit song while living in Stephenville, Texas.
'Southside of Heaven' was the first song on the album Mescalito, and it is the song that got his career rolling. His ex-wife Anna Axster directed a music video for the song. To date, it has been listened to over 50,000,000 times on Spotify.
Also read: 10 Facts & FAQs About Luke Grimes, Kayce Dutton on Yellowstone
He Partnered With Live Nation to Host His Own Music Festival
In 2019, Ryan Bingham paired up with Live Nation to host his own music festival, The Western. The festival took place in Luckenberg, Texas, featuring a line-up of country music and food.
Though the festival was a hit, it has not been back since its inaugural kickoff.
He Competed on the Rodeo Team at Tarleton State University
In 2000, Ryan Bingham enrolled in college at Tarleton State University. During his time at college, he competed in bull riding for the university's rodeo team.
Bingham was a good bull rider and did well on the team, however, he soon realized his real calling was in music.
Also read: 35 Best Yellowstone Quotes From the Dutton Family