Our readers support us. This post may contain affiliate links. We earn from qualifying purchases. Learn More
Horse grooming kits have long been a staple piece of equipment for most horse owners. Grooming is an essential task to keep your horse healthy and happy.
Grooming not only keeps the horse clean but also increases the circulation to the skin, massages the muscles, and releases necessary oils for a shiny coat. It also allows you to check for any injuries and abnormalities as well as valuable bonding time with your horse.
To help you find the right one, we have reviewed the best horse grooming kits on the market and listed which essential items should be inside every kit.
What Should be in a Grooming Kit for Horses?
To groom your horse correctly, you need a few essential grooming tools, all of which can be found in most horse grooming kits. This not only makes them practical around the yard or at horse shows but also an excellent gift for a horse owner.
Here is a list of what a basic horse grooming kit should include:
Hoof pick
Rubber curry comb
Stiff brush
Soft brush
Mane and tail brush
Mane pulling comb
Sweat scraper
Other items a grooming kit may include:
Hoof dressing
Metal curry comb
Hoof oil brush
Sponges and rags
Mane and tail detangler
Fly spray
Shedding blade
Scissors
Each kit differs depending on the brand choice and usually consists of between five and ten items. However, a good quality kit typically includes a hoof pick, body brush, dandy brush, curry comb, and mane and tail combs.
Lets get into our list of the best horse grooming kits below:
5 Best Horse Grooming Kits & Brush Sets
Derby Premium Comfort 9 Piece Kit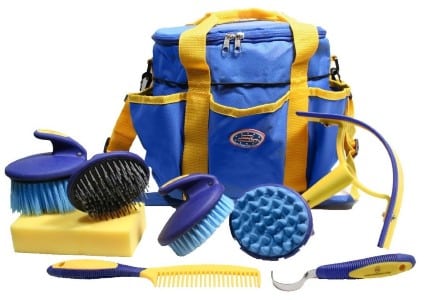 This horse grooming kit is ideal for youngsters and beginners alike with three great color options. The round-backed brushes fit comfortably in hand, and the hoof picks, and mane and tail combs comprise rubber grip ribs for extra comfort.
This complete kit contains matching grooming items which include one hard brush and one soft brush, a hoof pick, a sweat scraper, a rubber massage curry comb, mane and tail combs and a bathing sponge. The equipment comes in a handy lightweight tote bag complete with a zipper closure and shoulder strap.
Why we like it:
High quality, hard wearing brushes that will withstand daily use and seasons of pony club
Fashionable, matching set with children-friendly designs
External pockets for extra storage
Rambo 7-PC Horse Grooming Kit
This stylish horse grooming bag with a drawstring top contains seven essential grooming tools to make your horse look and feel their best. It includes a body brush, dandy brush, face brush, mane and tail brush, hoof pick, curry comb, and a sweat scraper that also doubles as a shedding blade. The bag contains side pockets for extra storage along with handles and a shoulder strap for easy carrying.
Why we like it:
A sturdy bag with ample room for storage
Large, high-quality brushes
Various pockets for extra storage
Have both handles and a shoulder strap making it easy to carry
Sweat scraper doubles as a shedding blade
Oster Equine Care 7 Pieces Grooming Kit
The Oster Equine Care kit contains seven versatile tools for fast and efficient grooming, stored neatly in a convenient and ready-to-go durable case. Everything is right where you need it and includes one stiff brush, a soft finishing brush, a coarse curry comb, mane and tail brush, mane and tail comb, and a hoof pick.
Each tool has an ergonomic design making it comfortable for your hands during grooming. The stylish case has a shoulder strap for easy transportation.
Why we like it:
Modern and stylish design
Ergonomically designed tools
Durable for long term use
Weaver Leather Grooming Set
This high-quality horse grooming kit provides everything you need to groom your favorite horse successfully. It features an excellent selection of horse grooming tools that include a hoof pick, comb, face brush, dandy brush, coarse curry, sweat scraper, and a mane and tail brush. The brushes are ergonomically designed to provide further comfort during grooming and comes complete with a durable nylon tote bag.
The grooming bag features six exterior pockets for additional storage, a drawstring closure along with nylon webbing handles and an adjustable shoulder strap making it easy to carry.
Why we like it:
Extra pockets for additional storage
Comfortable nylon webbing handles
Adjustable shoulder strap complete with a padded shoulder for added comfort
Wire reinforced top for greater stability
Southwestern Collapsible Horse Grooming Kit
This complete horse grooming kit comes with five matching tools that include a hoof pick with brush, face brush, body brush, body brush with comfortable hand strap and curry.
All the items fit perfectly into the included collapsible bucket for secure storage and transportation. Add soap and water for use as a bathing bucket.
The bucket also has a cut at the top to make pouring water easier. An additional piece on the side not only allows you to hang the bucket for easy storing but also prevents the handle from flopping and getting in the way.
Why we like it:
Easy to transport and store
Hoof pick has a brush
Plenty of room for additional items
That's it for our list of the 5 best horse grooming kits. Also, read our buyer guides on the best horse grooming bags and best horse grooming kits for kids.