This post may contain affiliate links. We earn from qualifying purchases. Learn More
Horses and humans have a special relationship unlike any other. Losing a horse is never easy, as you are losing a part of yourself.
These horse sympathy quotes will provide comfort after the loss of a beloved equine companion. Though saying goodbye is one of the hardest things to do, you will always be able to cherish the time you spent together with your horse.
Whether it is for you or a loved one, sharing these horse death quotes can help with the mourning of a horse. Horses give us confidence, freedom, friendship, and the ability to achieve our dreams, which makes losing them even more difficult.
Losing a Horse Quotes and Sayings
Somewhere… somewhere in time's own space, there must be some sweet pastured space where creeks sing on, and tall trees grow, Some paradise where horses go. For by the love that guides my pen, I know great horses live again.

Stanley Harrison
While time will fade, these hoofprints… the ones left on your heart… will never disappear.

Unknown
When I bestride him, I soar, I am a hawk. He trots the air, the earth sings when he touches it.

William Shakespeare
If there is a heaven, it's certain our animals are to be there. Their lives become so interwoven with our own, it would take more than an archangel to detangle them.

Pam Brown
God forbid that I should go to any heaven where there are no horses.

R. B. Cunningham-Graham
Our hoofbeats were many, but our hearts beat as one

Unknown
The love for a horse is just as complicated as the love for another human being. If you never love a horse, you will never understand.

Unknown
No heaven can heaven be, if my horse isn't there to welcome me.

Unknown
The only place to bury a horse is in the heart of his master.

Unknown
There are friends and faces that may be forgotten, but there are horses that never will be.

Andy Adams
I have seen things so beautiful they have brought tears to my eyes. Yet none of them can match the gracefulness and beauty of a horse running free.

Unknown
The way to heaven is on horseback.

Unknown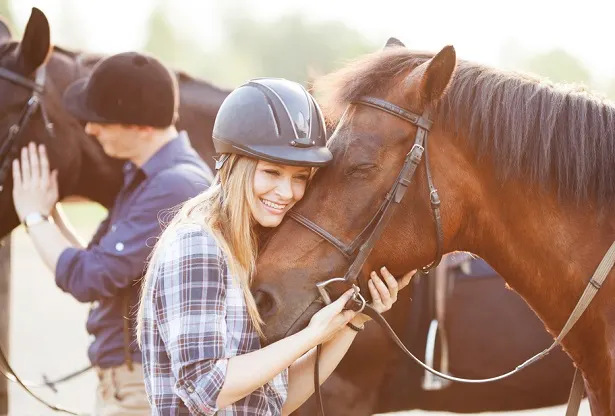 Always remember that once a horse has touched your soul, they will always be with you.

Unknown
The essential joy of being with horses is that it brings us in contact with the rare elements of grace, beauty, spirit and freedom.

Sharon Ralls Lemon
Through the days of love and celebration and joy, and through the dark days of mourning – the faithful horse has been with us always.

Elizabeth Cotton
Horses change lives. They give our young people confidence and self-esteem. They provide peace and tranquility to troubled souls. They give us hope.

Toni Robinson
When you have been blessed by the companionship and loyalty of a horse, life's most treasured gift has been bestowed upon you.

Unknown
The love of a horse knows not its own depth until the hour of separation.

Unknown
Horses lend us the wings we lack.

Pam Brown
I smile when I catch God watching me through the eyes of a horse.Kevin WeatherbyI smile when I catch God watching me through the eyes of a horse.

Kevin Weatherby
The air of heaven is that which blows between a horse's ears.

Arabian Proverb
When people say "it's just a horse" they just don't understand.

Unknown
Also Read: 11 Horse Memorial Ideas & Gifts
To many, the words love, hope and dreams are synonymous with horses.

Unknown
Once touched by the spirit of a horse, your soul remains forever enlightened.

Unknown
Sending a sympathy card with a horse loss quote can provide support to anyone whose horse recently passed. It can take time to heal, but having support can make the grieving process less painful.