Our readers support us. This post may contain affiliate links. We earn from qualifying purchases. Learn More
Losing a horse is never easy, as they play such an important role in our lives. When it comes to honoring your lost friend, there are several touching horse remembrance gifts and ideas to preserve their memory.
The bond between horses and people is truly a special one. They make us laugh, bring us joy, and are a shoulder to cry on.
Whether you or a loved one lost a horse, a memorial is a terrific way to forever commemorate them.
Horse Memorial Gifts and Ideas
1. Horsehair Memorial Bracelet
Have a piece of your horse always with you with this beautiful horsehair bracelet made from your own horse's hair. The hair is elegantly braided and comes with a stainless steel centerpiece that can be personalized with your horse's name
A stainless steel piece is engraved on the front with the phrase "always in my heart" reminding you that your beloved equine will always be by your side. This bracelet is a wonderful way to remember the special horse in your life who has passed away.
2. Custom Watercolor Portrait
Forever capture the image and spirit of your horse with a stunning custom portrait. It will make a magnificent tribute to display in your home, so you can always see your horse.
This hand-painted piece is created by watercolor paints. There are different sizes available, whether you are looking for something small or large. A custom painting is a touching way to remember your equine best friend, that you can hang proudly in your house.
3. Sculpted Hand-Painted Memory Box
This charming memory box will keep any keepsake from your horse safe and cherished. A simple yet elegant carving of a woman and her horse captures the beautiful relationship we have with horses.
The sentimental phrase "Always there for me" is engraved on the inside of the box to reaffirm your horse will always be a part of you.
Each box is crafted from artist Susan Lordi's original handed carved piece and hand-painted to perfection. It is a touching representation of love and strength, whether for yourself or a friend.
4. Horse Memorial Stone
Whether placed in a garden or hung up on the living room wall, this touching memorial is a lovely way to always remember your horse. It is a timeless piece that is meaningful and beautiful.
The slate gray stone features a grazing horse with wire angel wings and a heart cut out. The phrase "In loving memory of a faithful friend" is delicately engraved on the hand-painted resin stone. It would make a thoughtful present for someone who just lost their equine partner.
You can find other memorial stones which you can have your horse's name engraved into it. See them here on Etsy.
5. Custom Photo Frame & Plaque
This charming frame is a wonderful way to display your favorite photo of your horse. The quote "You Left Your Hoof Prints Forever On My Heart" is engraved gracefully across the frame.
The 8" x 10" frame holds a 4" x 6" inch photo, which can easily be hung up in different places of your home. Four different wood colors are available, so you could choose what style best matches your home.
A name along with a birth and death year of your horse can be personalized to add a special touch.
See other beautiful horse memorial plaques here on Etsy.
6. Donations
One of the best horse memorial gift ideas is a donation to a horse charity. There are many horse rescues and therapy riding centers that are in need of money to help care for their horses.
Donating in your horse's name is a great way to pay respect to them while helping horses in need and providing money for therapeutic programs.
7. Remembrance Christmas Ornament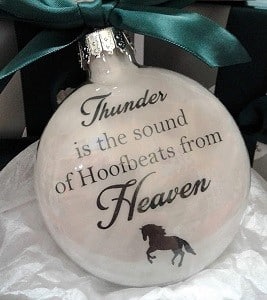 This graceful ornament will shine on any Christmas tree as a beautiful commemorative to your horse that will always hold a special place in your heart. The phrase "Thunder is the Sound of Hoofbeats in Heaven" it sketched on along with a gorgeous rearing horse.
White feathers are placed behind the creamy vellum that shines through the back of the glass. A delicate green satin bow is attached so it can easily be hung atop your tree. This ornament would make a great gift for any equestrian who lost her beloved horse.
8. Organized Gathering
Hosting an organized gathering is a great way to share your love of your horse to those close to you. Gather your close friends and family to pay to tribute and tell some of their favorite stories they have of your horse.
It is a healthy way to mourn the loss of your horse, as you are in the presence of those who love and care for you.
9. Memorial Horseshoe
Simple, yet elegant this memorial horseshoe makes for a sincere keepsake to commemorate your cherished horse. It can be hung up in a barn or home, as it features a rope of your choice for hanging.
Made from repurposed horseshoes, it has a beautiful rustic finish. A name and a custom quote can be added to a sterling silver plate to make it special to your horse. It is a wonderful sympathy gift or keepsake to admire your late companion.
10. Horse Shadow Box
Shadow boxes are one of the most customizable horse memorial gifts. They come in different sizes so you can add small and large keepsakes inside them.
When making a shadow box you can include pictures, ribbons, braided locks of hair, horseshoes and pieces of tack. With a large shadow box, you can even include your horse's halter. They are a touching way for you to make your own horse memorial.
Also Read: 24 Sympathy Quotes After Losing a Horse
11. Sponsored Class
Many horse shows have the opportunity to sponsor a class. Sponsor a class in the name of your horse as a way to carry on your legacy.
It is a way to support your sport while honoring the bond you had with your horse. In some cases, the show may even name the class permanently after your horse and read a tribute to your beloved companion every year.
A sponsored or secret get together for a friend who has lost a horse is thoughtful sympathy idea.
12. Horse Necklace
We recently saw this gorgeous little necklace on Amazon and thought we would share it on here. The necklace is made from 925 sterling silver with a polished finish. It's a sweet little horse memorial gift.