This post may contain affiliate links. We earn from qualifying purchases. Learn More
One is never too young to start living the cowboy lifestyle. For many kids, getting their first pair of cowboy boots and first cowboy hat is an exciting time.
The best cowboy hats for kids will make your child feel like a real cowboy or cowgirl. Whether they are wanting felt or straw, these quality cowboy hats will put a smile on any child's face. They are great to wear while out at the barn or even when dressing up for a party.
Here are the best cowboy hats for kids that any horse-loving child will adore.
Kangaroo Cowboy Hat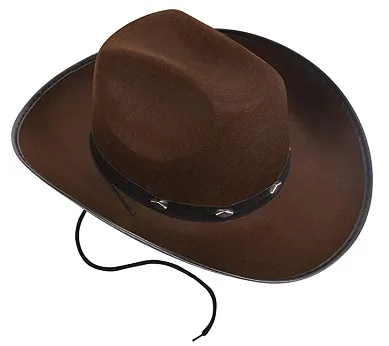 Simple yet classic, this cowboy hat makes a fun option for playing dress-up. It fits older kids and can even fit petite adults as well.
This hat features a pull-on closure for a secure fit that will stay on. It features a durable faux leather studded hatband for a touch of bling.
This hat comes in pink, black, brown, and white, so your kid and easily match it to their individual style. The felt material gives it the appearance of an authentic cowboy hat while being soft and comfortable.
Resistol Jason Aldean Jr. Straw Cowboy Hat
This gorgeous cowboy hat is a must-have for any serious young cowboy or cowgirl. It is made in collaboration with country music star Jason Aldean.
The cattleman profile on the hat provides a classic western look. Made from durable Mexican palm straw, this high-quality hat not only looks good, but will keep kids cool in the summertime. The burned look of the palm straw gives it a great authentic and rugged appearance.
For a touch of elegance, it features a leather hatband with a continuous stitched pattern. This durable hat makes a great option for wearing to rodeos.
Rhode Island Kids Cowgirl Hat
Whether for birthday parties or playing dress-up, this adorable cowboy hat is great for any young kiddo. Your child can pair it with their cowboy boots for a fun western look.
The hat itself is made of white felt-like material. For a glamorous look, the edge of the hat is lined with pink sequins, and the middle features a pink sequin star.
For a secure fit, it features an adjustable chin cord. Any little cowgirl or cowboy will feel like a shining star in this fun cowboy hat.
Simplicity Kids Western Cowboy Hat
For an authentic cowboy look, this hat makes a great option for boys and girls. The stylish design is great for rodeos and even everyday wear.
The wide brim of this straw hat offers great sun protection during bright summer days. In addition, the brim is also shapable so kids can adjust it to their liking. Inside the hat, there is a soft, breathable sweatband that allows for a comfortable fit.
This straw hat comes in black or tan, which both look great for a western look. Each hat comes with a beautifully decorated hatband, with designs including a bull, butterfly, turquoise gem, and beads. There is also an adjustable drawstring closure for a secure fit.
Western Express Western Cowboy Hat for Kids
Simple yet classy, this stylish cowboy hat has an authentic western style. No matter the occasion, kids will love wearing this hat.
The faux felt looks genuine and is available in brown or black. For a touch of elegance, they feature black and gold hatbands.
An elastic band on the interior allows for a snug fit so it won't fall off during playtime. For breathability, there are three ventilation holes on each side of the hat.
Stetson Boys Denison Jr Cowboy Hat
For the hardworking young cowboy or cowgirl, this Bangora straw hat is a must-have. It is cool, lightweight, and comfortable, making it perfect for summer wear.
For added ventilation, this hat features decorative holes in the crown. A small black hatband adds a nice touch to the white straw design.
An elastic closure on the inside allows for a secure fit no matter what your kid is up to. The cattleman crease gives it a classic look great for rodeos, festivals, and everyday wear.
Gift Express Blinking Pink Tiara Cowgirl Hat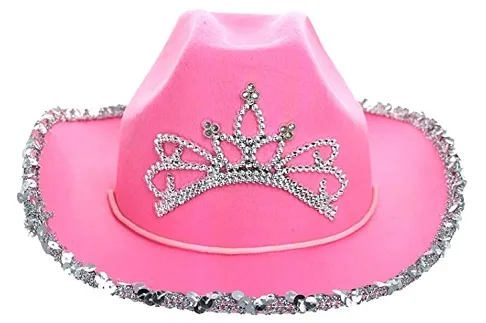 For any little kid who wants to feel like a princess, this adorable pink cowboy hat is the perfect accessory. The hat features a sequin border and a dazzling tiara.
To make it even better, the tiara even lights up for a stunning presentation of a multi-color light show. The lights can easily be controlled by an LED light switch inside the hat.
To stay on during playtime, the hat features a handy drawstring closure. From playtime to parties or even going out, this fun hat will make any little cowgirl feel special.
M&F Western Twister Bangora Cowboy Hat
Great for playtime or outdoor wear, this cowboy hat is ideal for any little kiddo. It is made with Bangora straw that is soft, comfortable, and breathable.
The woven pattern of the straw not only creates a decorative look, but also provides more breathability. For a traditional western look, it features a brown hatband with a metal hardware clasp.
For all-day comfort, the inside includes a sweatband. The hat comes in tan/chocolate and brown/chocolate, both of which offer a classic cowboy style.