This post may contain affiliate links. We earn from qualifying purchases. Learn More
The first horse riding lesson is an exciting time in any equestrian's life. It's when we get hooked on this expensive but rewarding hobby for life.
After the first lesson, there will be many more, and you will slowly begin to branch out into one or more disciplines. If you're lucky, you'll one day have your own horse and experience a whole new side of equestrian life.
But how much attention did you pay attention in your riding lessons? And how well do you know other disciplines? Regardless of where you are in your horse riding journey, this horse riding trivia is for you!
Test your knowledge now with our fun horse riding quiz!
1. What is NOT a difference between English and Western riding?
English riders push their heels down in the stirrups while Western riders do not
---
An English saddle is smaller and lighter than a Western saddle
---
Western riders are more laid back in the saddle than English riders
---
A Western bridle lacks the noseband found on English bridles
---
2. Which side do you mount a horse from?
3. Which is the correct order of arena letters going clockwise:
4. How many fingers should fit between the noseband and your horse's head?
5. What is neck reining?
When riders press the reins against the horse's neck to change direction
---
When riders hold onto the neck of an unruly horse
---
When cowboys throw a lasso onto a horse's neck
---
When you clip the hair on a horse's neck
---
6. What is this arena figure called?
7. A shoulder-in is when the horse's front legs stay by the fence while the hind legs shift towards the inside.
8. How do you know a bit is correctly fitted?
You can see two wrinkles in the corner of the horse's mouth
---
You can see an inch of the mouthpiece on either side
---
The rings sit snug against the horse's mouth
---
9. Which horse breed is most suitable for eventing/cross-country?
10. Can you name this part of the saddle?
11. Which one is NOT an English discipline?
12. Counter-canter is when the horse is leading with the outside leg.
13. After how many refusals is a rider disqualified in show jumping?
14. What is a "chair seat"?
When the rider leans back in the saddle with legs pushed forward
---
When the rider's poll, hip and heels form a straight line
---
When the rider sits with an arched back
---
15. What type of bit is this?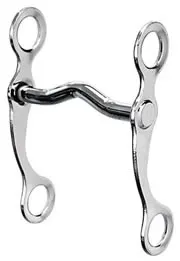 16. Which one is NOT an English gait?
17. Which one is NOT a Western event?
18. What is the main difference between English and Western riding?
The tack and equipment used.
---
Western riders always ride Quarter Horses, Paints, and Appaloosas.
---
English riders always ride Thoroughbreds and Warmbloods.
---
19. What are the three gaits performed by horses in English dressage?
20. What are 4 different types of reins used when riding Western?
Split, romal, mecate, roping.
---
Split, plaited, closed, rubber.
---
Double, running, split, rubber.
---
Laced, split, roping, closed.
---
Share the quiz to show your results !
Subscribe to see your results
15 Horse Riding Trivia Questions for Equestrians
I got %%score%% of %%total%% right
%%description%%
Also, take our other fun horse quizzes!