Our readers support us. This post may contain affiliate links. We earn from qualifying purchases. Learn More
Horses have been our loyal partners throughout history. They carried us to war, pulled our goods and powered our agriculture. Without them, human civilization as we know it today wouldn't exist.
In the modern world, horses are our partners once again for sport and recreation. More and more people are drawn to their beauty and start horse riding, children and adults alike.
If you're just starting out with horses, you're going love our beginners' horse quiz! There's so much the horse world has to offer, and the more you learn about them the more you'll want to know.
Test your knowledge now with our fun horse quiz for beginners and kids!
1. What color is this horse?
2. What side do you mount a horse from?
3. What do we lay on the stable floor as bedding?
4. What metric do we use to measure horses?
5. Name this white marking:
6. What riding equipment is compulsory to wear at every riding school?
7. The headgear used to control the horse while riding is called:
8. What are the three main horse gaits?
9. An adult female horse is called a gelding.
10. What breed is this horse?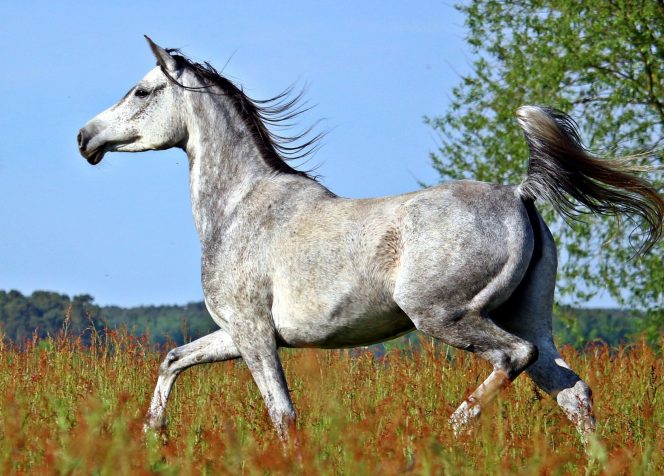 11. What do you use to clean a horse's hooves?
12. What is this part of a bridle called?
13. Which piece of equipment goes under a horse's belly and holds the saddle in place?
14. What is a baby horse called?
15. How do you estimate a horse's age?
16. Which of the following is a wild horse breed?
17. Twenty-five is an old age for a horse.
18. What is this leg marking called?
19. Which one is NOT an equestrian sport?
20. How do horses show they are angry?
Share the quiz to show your results !
Subscribe to see your results
Horse Quiz for Kids
I got %%score%% of %%total%% right
%%description%%
Don't forget to check out our other fun horse quizzes and trivia questions!