Our readers support us. This post may contain affiliate links. We earn from qualifying purchases. Learn More
Though warmbloods are often considered the best dressage horse breed and are traditionally used for high levels of competition, many other horse breeds can make wonderful dressage horses. Many breeds, including ponies, can successfully compete at different levels.
Lots of breeds can make great dressage horses, some breeds naturally excel at the sport. A good dressage horse will have excellent movement at all the gaits, good conformation, and the right attitude. In fact, a successful dressage horse will have a bit of a spark.
In general, here are the best dressage horse breeds:
| Breed | Dressage Rank |
| --- | --- |
| Dutch Warmblood | #1 |
| Hanoverian | #2 |
| Westphalian | #3 |
| Oldenburg | #4 |
| Irish Sport Horse | Intermediate |
Since dressage requires lots of precision, horses must be highly trainable. Horses should be agile while moving with grace and power. Whether competing in Introductory or Grand Prix, these are some of the best breeds to consider.
Best Dressage Horse Breeds for a Beginner
When you are just getting into dressage, just about any breed can find success in the sport. However, there are some breeds that shine at the beginning levels of dressage and can even excel at some of the higher levels as well. They are ideal for riders that are new to the world of dressage.
Friesian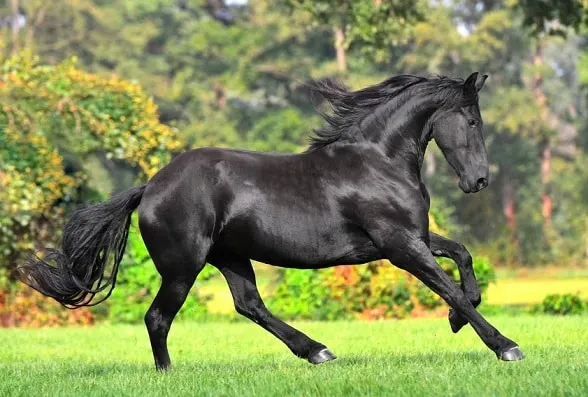 Height: 15-17 hands
Country of Origin: Netherlands
Characteristics: Friesians are known for their strength, style, and friendly temperaments.
Friesian horses are known for their beautiful black coats with long flowing manes and tails. These elegant horses stand out for their animated way of moving, making them lovely dressage horses for those looking for a stylish mount.
Friesians are making a name in the dressage world and are rising up in the ranks. They are great horses to get a start in dressage and work your way up among the levels. Their good temperaments make them suitable for junior exhibitors and amateurs.
Gypsy Vanner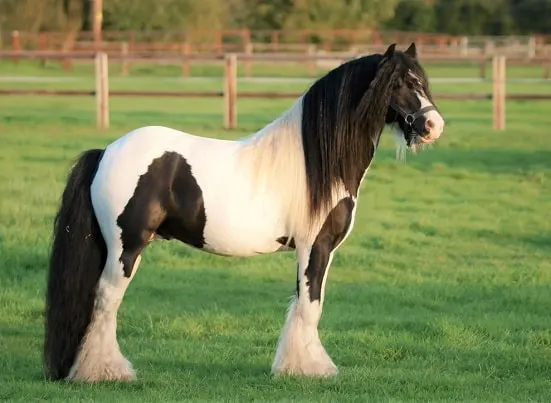 Height: 14-15 hands
Country of Origin: Ireland
Characteristics: Gypsy Vanners are known for their power, style, and friendly dispositions.
Though Gypsy Vanners may not be considered a traditional dressage breed, they are quickly becoming a popular mount for dressage riders. They are sturdy and reliable, making them a great choice for those new to dressage.
Gypsy Vanners make a statement in the show ring with their beautiful coloring and feathers. Thanks to their easy-going nature, they are ideal horses for novice riders. Their elegant way of moving and athletic ability is great for getting a start in the dressage world.
Intermediate Dressage Horse Breeds
As you move up in the levels of dressage, the levels get more demanding. As the tests become challenging, certain breeds rise to the occasion with more success than others. These breeds tend to help intermediate riders excel and work their way to the top.
Westphalian
Height: 15.2-17.2 hands
Country of Origin: Germany
Characteristics: Westphalians are known for their athleticism, agility, and friendly personalities.
Agile and muscular, Westphalians have the build for a successful dressage horse. From junior exhibitors to Olympic riders, many have found success with this stunning breed.
They are beautiful movers with great dispositions, making them highly competitive. Their kind nature and willingness to please makes them easy to train. With size and athleticism, they stand out as sport horses.
Trakehner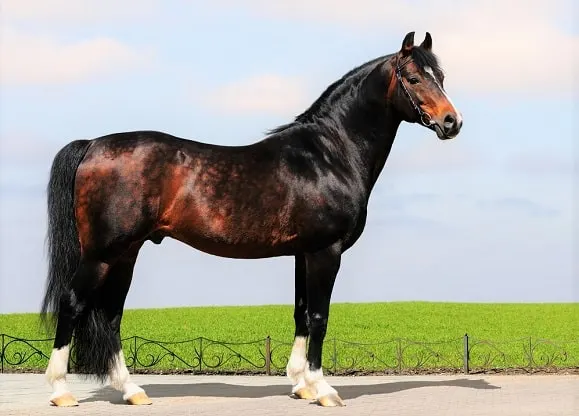 Height: 16-17 hands
Country of Origin: Germany (was Prussia at the time)
Characteristics: Trakehners are known for their good temperaments, athleticism, and agility.
Tall, athletic, and refined, the Trakehner horse has made a name for itself in the dressage world. Over hundreds of years, they have gained attention for their floaty, springy way of moving.
Keen with a good temperament, they have the perfect attitude for competing. Their athletic builds and great attitudes have led them to be Olympic champions. Willing to please with a look at me attitude, they make great mounts for amateurs and professionals.
Danish Warmblood
Height: 15.3-17 hands
Country of Origin: Denmark
Characteristics: Danish Warmbloods are known for their athleticism, style, and good temperaments.
One of the newest warmblood registries, the Danish Warmblood has quickly made a name for itself. With strong legs, muscular backs, and wonderful athleticism, they have become a powerhouse in the dressage industry.
Due to their excellent temperaments and beautiful, flowy gaits, they have shown their worth at the Olympic level. Elegant and sociable, they make great partners for all levels of dressage riders. Their cooperative and easy-going personalities make them highly trainable, an element that is important for a high performing horse.
Best Top-Level Dressage Breeds
Warmbloods dominate the top levels of dressage, finding success all the way at the Olympic level. These tall, athletic horses have everything it takes to succeed at the highest levels of the sport. The following breeds are among the most successful horse breeds in the world.
Hanoverian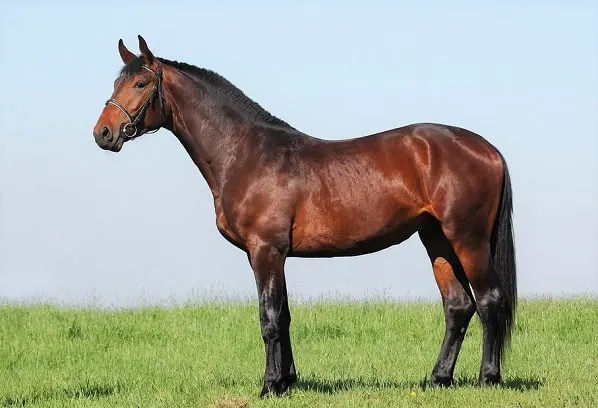 Height: 15.3-17.2 hands
Country of Origin: Germany
Characteristics: Hanoverians are known for their athleticism, stamina, and style.
One of the oldest warmblood breeds, Hanoverians have dominated the dressage world. With their sturdiness, stamina and athletic ability, they make wonderful mounts for competitive riders.
In fact, many Olympic dressage riders have medaled while riding a Hanoverian. Their reliability, elegant builds and excellent physical fitness have allowed them to excel in the show ring. They have wonderful attitudes that make them stars in the spotlight.
Dutch Warmblood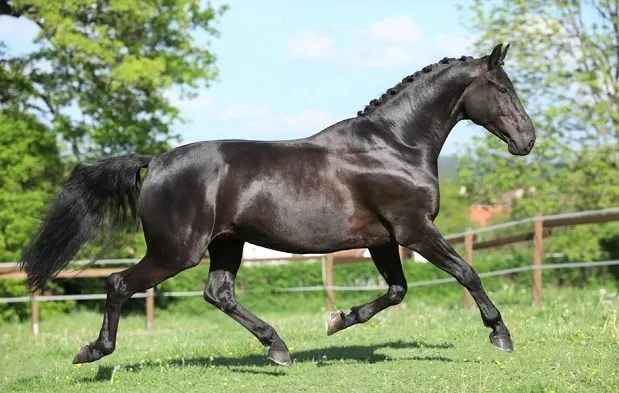 Height: 15-17 hands
Country of Origin: Netherlands
Characteristics: Dutch Warmbloods are known for their athleticism, grace, and stamina.
Athletic and stylish, Dutch Warmbloods have all the makings of a top dressage horse. With great stamina and movement, they can flawlessly perform even the most intricate moves.
As one of the largest warmblood registries, Dutch Warmbloods have found success, winning many Olympic medals. Their lovely temperaments allow them to be easy to work, as well as letting them stand out in the show ring. Powerful and graceful, it's no wonder why they are rockstars in the dressage world.
Holsteiner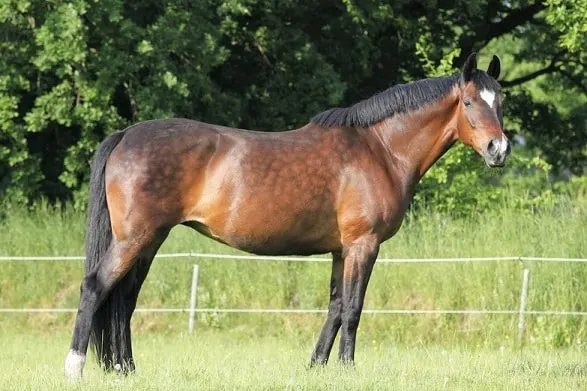 Height: 16-17 hands
Country of Origin: Germany
Characteristics: Holsteiners are known for their athleticism, willingness to please, and agility.
Expressive with a beautiful carriage, the Holsteiner has everything it takes to be a competitive Sporthorse. Their trainability and rideability have led them to success all the way to the Olympics.
They have great athletic ability and movement, making them a favorite among many dressage riders. Their willingness to work and loving dispositions make them great horses for people of all experience levels. As one of the first warmblood registries, the Holsteiner continues to find success as a competitive show horse.
Oldenburg
Height: 16.2-17.2 hands
Country of Origin: Germany
Characteristics: Oldenburgs are known for their grace, athleticism, and power.
Powerful yet graceful, the Oldenburg has proved to be a star in the dressage world. As one of the oldest warmbloods, they have gained popularity for their character as well as their strong bodies, height, and compact build.
They move with beautiful elasticity in their gaits, which has made them Olympic calabar dressage horses. Kind yet bold, they are eye-catching in the show ring. Though originally bred as workhorse, they are now known to be outstanding sport horses.
FRequently Asked Questions
What Does a Dressage Horse Cost?
Top-level dressage horses often cost between $60,000-$100,000 or upwards. However, there are many talented dressage horses you can get for anywhere from $10,000-$30,000.
Can Any Horse Do Dressage?
Yes, any horse breed can do dressage. However, there are several horse breeds that are best for high-level dressage competitions.
What Are the Levels in Dressage?
The levels of Dressage in America are Introductory, Training, First Level, Second Level, Third Level, Fourth Level, Prix Saint George, Intermediate I & II, and Grand Prix.
How Long Does It Take to Train a Dressage Horse?
Dressage training often takes several years, as it is important not to rush the horse. It often takes five years to train a horse to Grand Prix level.
What Age Do Horses Begin Dressage Training?
There are several factors that contribute to when a horse will begin training for dressage, including temperament and build. Most horses won't start work under saddle until they are three or four years old.