Our readers support us. This post may contain affiliate links. We earn from qualifying purchases. Learn More
Fall days are full of activities for you and your horse! Fun hayrides, costumes, and getting ready for Halloween with pumpkin carving!
Fancy, fun, and frightening. Horses are a perfect subject for carving your Halloween pumpkin. All sorts of horse pumpkin carving designs and scenes can be accomplished by carvers of all skill levels.
Let's take a look at some seriously cool horse pumpkin carvings. I'll even help get you ready to create some designs of your own!
Also, check out our fun horse & rider Halloween costume ideas guide.
Horse Pumpkin Carving Ideas
One of the scariest Halloween characters is the Headless Horseman. So many amazing pumpkin artists have produced some terrifying artwork with this horse and rider.
The Headless Horseman on the hunt for his next victim with his flaming pumpkin at the ready. Unique and intricate work is superbly done with this creepy carousel.
Crafty? You may be able to re-create this wonderful depiction of the Horseman! Ichabod will be quaking in his boots if he comes upon a house with any of these spooky pumpkins!
There are some incredible artists out there that have truly mastered the ability to capture realistic images in pumpkin form.
Pumpkin carvings of your horse are an actual thing.
How cool is that? Celtic horse pumpkin carving has also been brought to life with this amazing pumpkin!
This pumpkin captures an emotional moment a rider dismounts to pay his tributes at a grave.
A more classic nod to horse carousels one so loved and treasured by young horse lovers.
With skills greater than that of mere mortals like myself. These horse pumpkin masters continue to impress and inspire us all. Some have even carved 3D ones!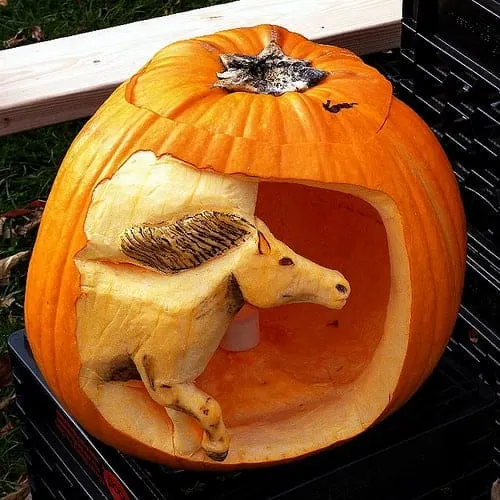 Crafty pumpkin carvers love a good nudge of inspiration. If you're like me and have a bit of experience with some pumpkin carving tools, these horse pumpkin carvings may be just the thing your creative bone needs to get started!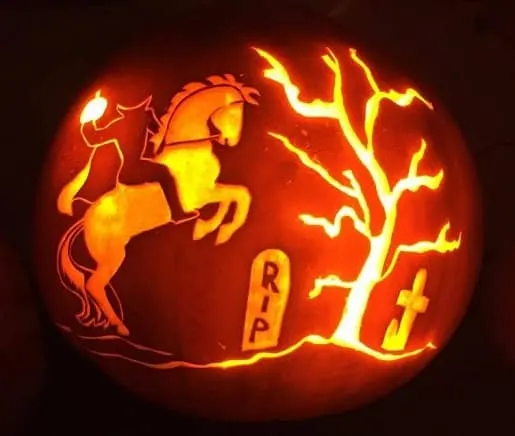 No two horses look alike, and the same should be said for a pumpkin profile of your horse!
I've had great success with this technique. Grab a sharpie and draw your horse right on the face of your pumpkin! Use your tools, following your lines, to make your cuts.
Don't worry if you're not quite ready to go fully freehand. I've some great tips to get you a customized look without having to wing it too.
Landscapes like this one are another option that you can have some fun with.
I just love the clouds with the "sunset" by candlelight. Captivating.
For a creepy look to keep in touch with the holiday, this skeleton horse pumpkin carving looks harder to pull off than it truly is.
Not only is this look great for those with a steady hand, but it's also forgiving to those who don't!
Don't forget that carving horse pumpkins is totally not your only option! Painting and decorating pumpkins is a great way to get creative. It's also a great way to decorate a pumpkin that will last longer outside than it's carved counterparts.
You can paint a simple design or a full farmland scene. Anything goes!
This is also a fun option for crafts with your kiddos. Some paint, googly eyes, and heavy paper can transform this adorable painted horse pumpkin.
I love this painted horse pumpkin twist. Painted by day, carved and glowing beautifully by night!
Even painting your pumpkin to look like your horse's head could look great. The best horse pumpkin carving is just like any other art form. If it makes you happy, it's just how it's meant to be!
Tips on Carving a Horse Pumkpin
There are plenty of ways to make easy horse pumpkin carvings! Once you have a design in mind, all you need is some basic tools and a nice firm pumpkin!
You can use markers for easy sight-lines combined with toothpicks or push pins. (Heck, anything small and pointy will work). Poke perforating holes along the outline of where you'll need to cut. Think of this step as your sketch for the real deal.
A good set of pumpkin carving tools is a must for this look. This time of year you can find them in markets, craft stores, or here on Amazon.
For fancy or more intricate designs than you don't want to free-hand, print out your image to use as a guide. Use water with a teeny bit of school glue to stick your design to the pumpkin.
If you're really really not confident that you can get a cut image just the way you want it. Use cookie cutters to "stamp" your horse on to your pumpkin.
This is also a great way to let kids safely join in the fun! If you have any boo-boos, (of the non-ghostly kind), and break your horse or jump clean away from the pumpkin, it's ok!
Just grab some toothpicks and carefully push through the piece to the surrounding rind of pumpkin. A little intimidated with the fancy stuff?
Finally, the coolest horse pumpkin carving rule is also every horse owner's saving grace.
If you give this craft project a try and find yourself with an epic disaster of a pumpkin, a fresh pumpkin is an ideal horse treat. Seriously!
Cut your stem off and toss it in the field, dust off those boots and give this pumpkin carving thing a fresh start! So give it a go! Have fun! Enjoy! And Happy Halloween!