This post may contain affiliate links. We earn from qualifying purchases. Learn More
From horseback riding to mucking stalls, having a quality pair of cowboy work boots with a square toe can make all the difference. You will want a durable pair that will provide you with stability and comfort as you work.
Square toe cowboy will give your toes more room while giving your feet much-needed support. A good pair of work boots will be built from leather or durable synthetic leather. They should keep your feet comfortable for hours at a time while offering top-notch flexibility and durability.
To Help you find the right pair, we've reviewed the best cowboy work boots with a square toe, evaluating their build quality, comfort, style, and the value they offer to the modern cowboy.
Best Cowboy Work Boots With a Square Toe
1. Ariat Men's Groundbreaker Square Toe Work Boot
From horseback riding to barn chores, these durable square toe work boots do it all. The rugged leather uppers are breathable, with mesh linings that are comfortable and dependable.
For extra comfort for your feet, the 4LR insoles are soft and cushioned. The non-slip outsole provides traction no matter the weather conditions. With an ASTM-rated soft toe, these boots will keep your feet protected.
2. Ariat Women's Round Up Square Toe Western Boot
Stylish and practical, these leather cowboy boots are great for horseback riding or even everyday wear. The synthetic air mesh lining is breathable, keeping your feet cool as you work.
With a sturdy rubber sole, these boots are durable and reliable. The 4LR insole and square tow will keep your feet comfortable all day long. There are six fashion-forward colors that will stand out in the show ring.
3. Justin Original Men's Stampede Work Boot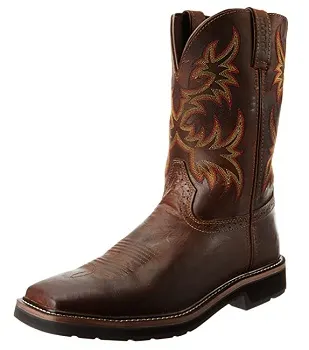 With a leather build and a steel shank, these hardy boots are built to last. Thanks to the J-Flex Comfort System, your feet won't be sore at the end of a long day of work.
The sturdy rubber outsole provides traction no matter the terrain. These versatile square toe western boots have a removable cushioned insole, allowing you to easily add a custom insole if desired. The classic stitching is attractive, making them great for riding, working, and everyday wear.
4. Ariat Delilah Women's Leather Western Boots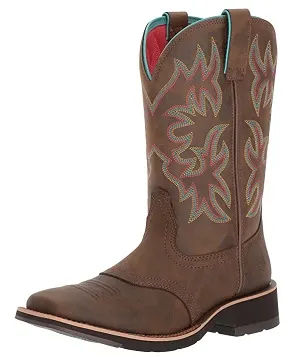 Whether for a night out or a day working at the barn, these versatile square toe cowboy boots are a great addition to your wardrobe. Ariat's unique Pro Crepe Light lightweight outsole ensures superior grip and traction on all types of surfaces, from rocky to slick ones.
The anti-slip Duratread heel provides support and stability, so your feet will be happy for hours on end. With the 4LR insole, your feet will have top-notch comfort.
The durable leather build is built to last for years, with mesh lining to keep your feet cool all year round.
5. Durango Rebel Patriotic Men's Pull-On Western Flag Boot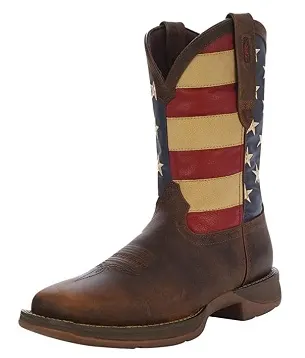 Included in our best patriotic cowboy boots guide, the Durango Rebel boots are built to last. With a tempered steel shank and a cushion flex insole, they provide excellent stability and support.
The sturdy rubber outsole is appropriate for all terrains, no matter if they are slick or rough. The shock-absorbing EVA midsole is flexible and durable, giving your feet the support they need.
With a lightweight design, you can wear them all day long, from the barn to the dance floor, without fatigue.
6. Durango Rebel Women's Cowboy Boot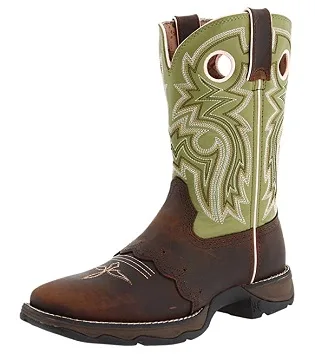 Built for the hard-working cowgirl, these leather cowboy boots with a square toe are versatile and sturdy. The Cushion Flex insole, tempered steel shank, and rolled shank area all work together to provide your feet with the support they need.
The rubber outsole offers superior flexibility, while also offering abrasion resistance. With a cushioned footbed that contours to your feet and offers ventilation, your feet will be comfortable for hours on end. Made from high-quality leather, they are available in several different beautiful colors.
7. Ariat Men's Rambler Western Boot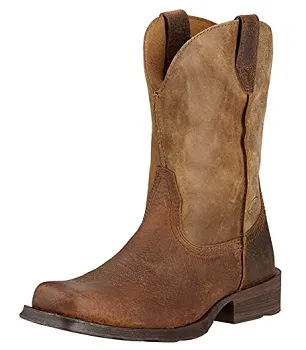 These square toe work boots are built to last, no matter what your throw at them. The Advanced Torque Stability (ATS) Technology is a mixture of a moisture-wicking lining, a gel-cushioned footbed with a heel stabilizer for support and stability.
With an all-weather design, you can wear them year-round, no matter if there is snow or rain. Flexible and wear-resistant, the Duratread outsole provides traction even on slippery surfaces.
Whether you are riding, mucking stalls, or doing ranch work, these boots promote good posture while reducing fatigue.
8. Justin Boots Women's Gypsy Collection Soft Toe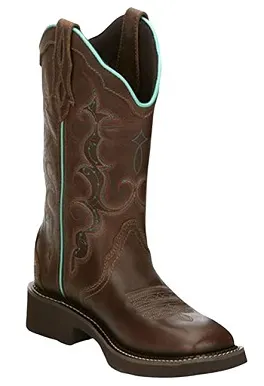 Stylish yet practical, these western square toe boots offer the support you need while riding, mucking stalls, and doing barn chores.
The unique J-Flex Flexible Comfort System keeps you ultra-comfortable with a covered cushioned insole and triple density insole.
Their leather build is durable and designed to last for years of hard work. The mesh lining is breathable, keeping your feet cool as you work. Available in seven different colors, you can easily choose the look that fits your style.
Also read: 10 Best Cheap Cowboy Boots for Men & Women