This post may contain affiliate links. We earn from qualifying purchases. Learn More
Before you saddle up, you want to make sure you have a good pair of boots on for your ride. We are sharing the best boots for western riding that will keep your feet comfortable and protected while horseback riding.
When riding western, you want a quality pair of boots that will withstand the elements. Good boots are an investment, but it is important to have high-quality gear when riding. You don't want to risk injury from wearing a pair of cheap boots.
We have split the list into 5 women's and 5 men's boots.
Best Western Horseback Riding Boots for Men & Women
1. Ariat Women's Fatbaby Western Boot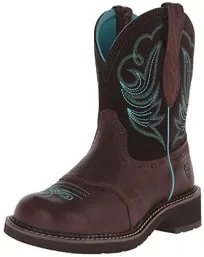 Hands-down one of the most popular women's western riding boots, the Fatbaby is practical and stylish. Made from 100% leather, they are available in 16 different fun styles that will stand out in the ring.
Ariat's unique 4LR technology provides cushioning and support for your feet all day long. The durable outsole gives you traction no matter the weather, so you never have to worry about slipping. These all-purpose boots will keep up with your busy lifestyle, from riding to ranch work.
2. Ariat Women's Heritage Lacer II Western Cowboy Boot
Riders swear by these tough leather western horseback riding boots that will keep your feet comfortable for hours on end in the saddle. The moisture-wicking lining will keep your feet cool, even while out on the trails.
The lace-up design with speed hooks allows you to get just the right fit while also adding an extra layer of durability. With the innovative ATS Technology, your feet will have superior support, stability, and cushion. The Duratread outsole provides flexibility and traction, keeping you safe at the barn.
3. Durango Women's Rebel 10″ Boot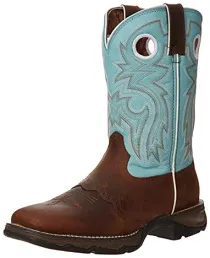 Colorful and comfortable, these leather western riding boots are built with the hard-working cowgirl in mind. The soft mesh-lining will provide the breathability you need when working horses.
With the Cushion Flex insole, tempered steel shank and rolled shank area, sore feet will be a thing of the past. The sturdy rubber outsole provides abrasion resistance and flexibility, no matter what surface you are on. These lightweight western boots are also great for a night of dancing after a day of horseback riding.
4. Justin Women's Soft Toe Boots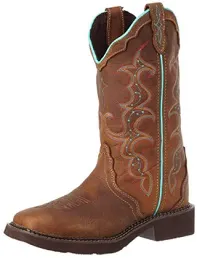 With a classic cowgirl style in six fun and stylish colors, these boots will have you set for all your western riding needs. The leather build features a mesh lining to keep you cool on those hot summer days.
Built with comfort in mind, the J-Flex Flexible Comfort System insole with removable orthotic inserts provides the support and cushion you need. The tough rubber outsole gives you the flexibility and traction you need both in and out of the saddle. With pull-on straps, you can put them on and take them off with ease.
5. Ariat Women's Wide Square Toe Western Cowboy Boot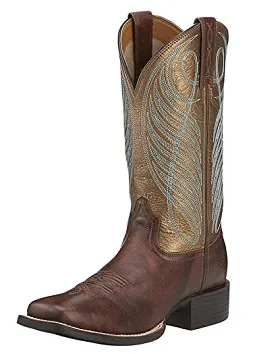 Sleek and sophisticated, these leather western boots will keep you stylish and comfortable while riding. The breathable mesh-lining and all-day cushioning with rebound provide you all the comfort you need while at the barn.
With the 4LR technology, your feet get the support and cushioning they need while you ride. The Duratread outsole provides maximum wear resistance while also giving you top-notch flexibility.
The classic stitch work on these western boots not only looks good in the ring, but also for a night out on the dance floor.
Also read: 10 Best Cheap Cowgirl Boots Under $50 & $100
6. Ariat Hybrid Rancher Men's Western Boot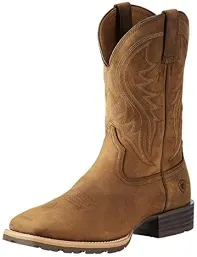 Classic yet hardy, these western riding boots will withstand all the ranch work you do. The elegant accent stitching on the full leather body creates a handsome looking boot.
The all-day cushioning insole and 4LR technology provide unrivaled comfort for hours at a time. For maximum wear resistance and stability, the Duratread outsole is oil and slip-resistant. Wear them while horseback riding or moving hay bales, as they will give you lasting comfort.
7. Ariat Heritage Roper Men's Round Toe Boots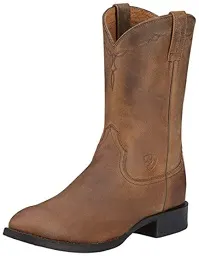 Simple yet practical, these western riding boots were made for the hard-working cowboy. From rodeo competitions to ranch work, your feet will be safe and comfortable thanks to their durable build.
With a moisture-wicking lining, your feet will stay dry and comfy even on hot, humid days. The ATS technology provides stability and shock absorption, keeping your feet feeling good from dawn to dusk.
The wear resistance Duratread outsole provides flexibility and performance even on slick surfaces.
8. Durango Rebel Patriotic Pull-On Western Flag Boot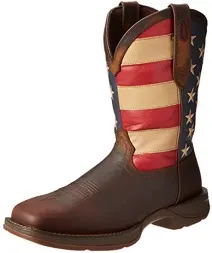 Bring a bit of patriotic flair to your wardrobe with these flashy American flag cowboy boots. The one-of-a-kind Durango Suspension System ensures you have the protection and durability you need for life at the barn.
Lightweight and flexible, the EVA midsole and cushion flex insole contour to your feet while providing much-needed ventilation. A tempered steel shank and rolled shank area provide additional shock-absorbing powers. The dual-density rubber outsole will prevent you from sliding and slipping, no matter the weather.
9. Justin Boots Men's Ropers Equestrian Boot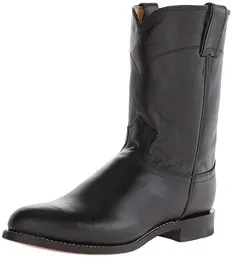 With a classic leather design, these elegant-looking boots are ideal for rodeo competitions or everyday riding. Their all-leather design gives them the durability to handle the day-to-day life of equestrians.
With the patented J-Flex Comfort System, you won't want to take them off at the end of the day, as they are so comfortable. The natural rubber composition outsoles are non-marking while giving you superior traction. Complete with pull-on straps, you will have no problem sliding them on and off.
10. Ariat Men's Heritage Lacer Western Cowboy Boot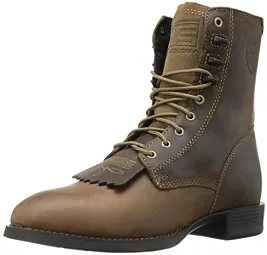 Whether out on the trails or riding in the arena, these durable western boots are built for the avid equestrian. The signature lace-up build with speed hooks gives you a custom, secure fit.
ATS technology not only provides support, but also gives you maximum performance for any barn chore. The Duratread outsoles give you flexibility and traction no matter what you are doing. With a moisture-wicking lining, your feet can breathe easily even in hot temperatures.
Also read: 10 Best Cheap Cowboy Boots
How to Choose the Right Pair of Cowboy Boots for Western Riding
Before you go shopping, there are some important factors you need to take into consideration when choosing western boots for riding. A good pair of cowboy boots will be durable, flexible, and safe, with an extra bonus if they are stylish.
Safety
Look for boots that have a heel that is 1-2 inches in length. Riding boots should have a square or round toe. Avoid chunky or steel-toe styles, as they will not fit well in your stirrups.
Material
Ideally, you want boots that are made from full-grain leather or a sturdy synthetic. In addition, look for features such as waterproof, breathable mesh lining, or insulated if desired.
Durability
A good pair of cowboy boots will be durable, yet flexible. They should be designed for riding and wearing at the barn, as you don't want a pair that will wear out easily.
Style
There are many different styles of western boots, some which vary by discipline. You can't go wrong with classic accent stitching.
Frequently Asked Questions
What are the Best Western Boots for Barrel Racing?
The Ariat Fatbaby is a go-to western boot for many barrel racers. They feature a sturdy heel and durable outsole, which is vital for the speed and agility required for barrel racing.
In addition, the many fun colors pop in the show ring, so you can show off your unique style. The durable design keeps up with the high demands of the sport. They can be comfortably worn with jeans and spurs.
Who Makes the Best Cowboy Boots for Riding?
Ariat is arguably the leader when it comes to horseback riding boots, both western and english.
They combine modern technology with practicality to ensure the best performing boots for everyday equestrians.
Ariat's boots are durable and supportive, keeping your feet safe and comfy as you ride. Made from high-quality leather, they are built to last for several years. They offer a wide variety of styles to meet your needs.
Can You Wear Cowboy Boots for Horseback Riding?
Most cowboy boots are made to be worn by western riders while horseback riding. However, some cowboy boots are made for fashion and not riding.
When choosing out a western cowboy boot for riding, always remember to go with a heel that is 1-2 inches. Ideally, you will want to stay away from boots with an angled heel, as they aren't as safe.
Stick with square or round toes and be sure to avoid pointed toes, which may slide. When riding, look for a sturdy leather build and a rubber outsole for traction.
Can You Wear Muck Boots Horseback Riding?
Typically, muck boots are not recommended for horseback riding. Though they are durable, they are often too wide to fit in stirrups and don't have the flexibility or heel length needed for riding.
However, some western muck boots are designed to double as riding boots. They come in narrower, more flexible builds with an adequate heel for riding. Just be sure to check if your mucks boots are compatible for riding before saddling up.