Our readers support us. This post may contain affiliate links. We earn from qualifying purchases. Learn More
The Thoroughbred racing industry is often dominated by colts. However, one mare named Zenyatta dominated the racing scene and showed the world what girl power is all about.
Zenyatta is a dark bay Thoroughbred mare that was born on April 1, 2004. She was born in Lexington, Kentucky, and was purchased by Jerry and Ann Moss as a yearling. During her racing career, Zenyatta won an impressive 19 races out of her 20 starts.
The only race she lost was the 2010 Breeders' Cup Classic, which she came second in. This was also the last race she ever ran in. Her incredible career, which she began as a three-year-old filly, resulted in her becoming the 2010 American Horse of the Year. In 2016, she was inducted into the National Museum of Racing Hall of Fame.
Here are eight things you didn't know about Zenyatta.
Zenyatta Was Scared of the Racetrack Starting Gate
Though Zenyatta was a star on the race track, she was not a fan of the starting gate. She was often slow to start out due to her dislike of being in the starting gate.
At 17.2 hands tall, she was claustrophobic in the gate. She would be so set on getting out of the starting gate that she would need a moment before clicking into gear for the race. Her trainer, John Shirreffs tried to work with her to get over her dislike. However, there was no point as he believed she was already as good as she was going to get.
Zenyatta Would "Dance" Before Races
Zenyatta would "dance" before races. As a high-strung mare, her dancing was her way of expressing all of her pent-up energy.
It would take a lot to handle Zenyatta before she would race, as she was full of adrenaline. She would stretch out her front legs as a way to let it all out. Since she often raced in California, where it was warm, her trainer had to be careful how much they warmed her up. She would warm herself up pretty well by dancing.
Below is a photo of Zenyatta in the walking ring at the 2008 Breeders' Cup, doing her "dance" with her front leg.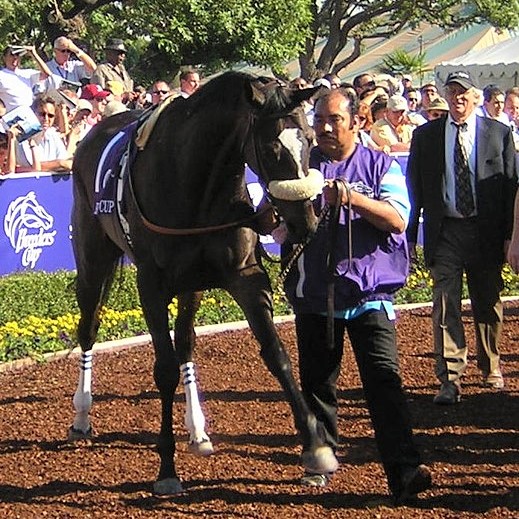 Zenyatta's Sire Won the Dubai World Cup
Zenyatta's sire, Street Cry, won the 2002 Dubai World Cup. Street Cry won the 2002 UAE Horse of the Year after winning the prestigious Dubai World Cup. After his successful career in racing, he had a successful breeding career. Zenyatta's dam, Vertigineux, was also successful, as she was the 2008 Broodmare of the Year.
Zenyatta is Half-Siblings to Winx
Zenyatta is a half-sister to Winx, one of the most successful racehorses to ever live. Both out of the sire Street Cry, Zenyatta and Winx are two of the greatest mares the racing industry has ever seen.
During her career, Winx won an incredible 33 consecutive races. Unlike Zenyatta who raced in America, Winx raced in Australia. Zenyatta, who was born in 2004, is the oldest out of the two, as Winx was born in 2011. Though the two never raced against each other, it would have been amazing to see the two half-sisters go against each other on the racetrack.
Most of Zenyatta's Races Were on Synthetic Tracks
Zenyatta raced the majority of her races on synthetic tracks. However, according to her trainer, she wasn't a big fan of them.
In fact, she had so much dislike for Del Mar's Polytrack that she wouldn't gallop on it. Her trainer, Shirreffs, would take her to Hollywood Park to train on the dirt training track there.
Despite her dislike for synthetic racetracks, Zenyatta won many times on them. This just proved how much talent she had as a racehorse.
Zenyatta Enjoyed Guinness Stout
It is not uncommon for race trainers to give horses beer, as it encourages them to eat and drink and can even help them sweat. Zenyatta particularly enjoyed drinking an ice-cold Guinness Stout after racing.
Though Zenyatta was offered other beers, Guinness Stout was the only one she liked. It was her special treat she would get to enjoy as a celebration for winning. She would happily lap it out of a bowl or eat it mixed with oats.
Zenyatta Was Named After the Album Zenyatta Mondatta, by The Police
Record producer Jerry Moss and his wife Ann bought Zenyatta as a yearling. Moss just so happens to be the producer who signed The Police to A&M records.
The Police made the album Zenyatta Mondatta, which is where Moss got the inspiration to name the Thoroughbred mare. Moss and his wife purchased Zenyatta at the 2005 Keeneland September Sale for $60,000. She went for a relatively low price, as she had broken out with a skin disease just days prior to the sale.
Zenyatta Came Second in the AP Female Athlete of the Year Two Different Times
In 2009 and 2010, Zenyatta was the runner-up in the AP Female Athlete of the Year. In 2009, Serena Willams came in first, and in 2010 the honor went to Lindsey Vonn.
She grew to have a large fan base and was featured in O Magazine, W Magazine and had a feature on 60 Minutes. During her retirement ceremonies at Hollywood Park and Keeneland Race Track, thousands of people came to see and honor this incredible mare.
Here is a montage of Zenyatta's greatest race wins:
Who Was Zenyatta's Jockey?
Jockey David Flores was the jockey who rode Zenyatta for her first three races. For the rest of her career, Mike Smith was her jockey.
Smith is a member of the National Museum of Racing Hall of Fame. He has won more Breeders' Cup races than any other jockey, with 26 victories under his belt. In addition, he was the jockey who rode Justify to the 2018 Triple Crown.
Does Zenyatta Have Any Foals?
Zenyatta has had eight foals. Sadly, she has lost three of her foals, all which died before their first birthday. None of her foals have gone on to win any races yet.
She started her career as a broodmare in 2011and currently resides at Land's End Farm in Versailles, Kentucky.
What Horse Beat Zenyatta?
At the 2010 Breeders' Cup Classic, Blame beat Zenyatta. In the exhilarating race, Blame beat Zenyatta by just a neck's length. The mare gave it her all, coming up just short of an undefeated career.
Also, read our other famous racehorse fact guides on horses such as Secretariat, Phar Lap, War Admiral, Seabiscuit, and many more. Use the search bar.