Our readers support us. This post may contain affiliate links. We earn from qualifying purchases. Learn More
Beth and Rip have grown to become the fan-favorite couple on Yellowstone.
Not only do we get to enjoy seeing present-day Beth and Rip, but we also get to see them as teenagers in flashbacks.
So far, young Beth and Rip have appeared in six episodes of Yellowstone as young Beth and Rip.
Both Beth and Rip went through their own struggles growing up, and those struggles have helped define who they are today.
With each flashback, we get to learn more about Beth and Rip's pasts. While the couple may be happily married now, their past relationship wasn't always as happy.
Who Plays Young Beth on Yellowstone? Meet Kylie Rogers
Kylie Rogers is an American actress who plays a young Beth Dutton on Yellowstone. She was born on February 18, 2004, in Dallas, Texas.
At the age of eight, Rogers and her family moved to Los Angeles. She got her first large role in the 2014 movie Space Station 76 as one of the main characters, Sunshine.
Kylie Rogers' first acting credit is for the 2012 short film Forsake Me Not. After landing this role, she went on to make guest appearances in hit TV shows such as Days of Our Lives (1965-2022), Private Practice (2007-2013), CSI: Crime Scene Investigation (2000-2015), and Chicago PD (2014-present).
Kylie Rogers is active on Instagram and Twitter where she often shares insights into her travels as well as her dog, Muffin.
The Dutton's are back! @Yellowstone 2hr season premiere TONIGHT only on @paramountnet #YellowstoneTV pic.twitter.com/0jnhIqkoJ6

— Kylie Rogers (@KylieAnneRogers) November 13, 2022
It appears that she is close to her Cheaper By the Dozen (2022) co-star Luke Prael, but there is no confirmation if the two are actually dating.
Kylie Rogers Notable Movies and TV Shows
Space Station 76 (2014) as Sunshine
Mojave (2015) as Sophie
Fathers and Daughters (2015) as Young Katie Davis
The Whispers (2015) as Minx Lawrence
Miracles from Heaven (2016) as Anna Beam
Collateral Beauty (2016) as Allison Yardsham
Yellowstone (2018-present) as Young Beth Dutton
Home Before Dark (2020) as Izzy Lisko
Cheaper by the Dozen (2022) as Ella Baker
Also read: Who Plays Beth Dutton on Yellowstone? Meet Kelly Reilly
Who Plays Young Rip on Yellowstone? Meet Kyle Red Silverstein
Kyle Red Silverstein is an American actor who plays a young Rip Wheeler on Yellowstone. He was born on May 21, 2002, in Los Angeles, California.
Silverstein began his entertainment career at age two, starring in BabyStyle magazine. He also appeared in over 20 commercials including Apple Computer, Eggo Waffles, Mcdonald's, Volkswagen and more.
Kyle Red Silverstein resides in Sherman Oaks, California, with his parents, his sister Lily, and family dogs Bob Marley and Buster. Both he and his younger sister act on stage and on screen.
Silverstein's first acting credit is the 2006 movie A Dead Calling. He got his breakout role in 2013 starring as Ethan Dawson on Grey's Anatomy (2005-present).
While filming the 2014 movie Blended in South Africa, Silverstein went on a safari where he learned about endangered species of animals. He is now a supporter of the Los Angeles Zoo Keepers Association and participates in their annual "Bowling for Rhinos" event.
Silverstein posts regularly to Instagram and often shares behind-the-scenes looks at Yellowstone.
Outside of acting, his interests include playing bass guitar and clarinet, soccer, and boogie boarding.
Notable Kyle Red Silverstein Movies and TV Shows
Grey's Anatomy (2005-present) as Ethan Dawson
Blended (2014) as Tyler
Daisy Winters (2017) as Josh
Sydney to the Max (2019-2021) as Rusty
Yellowstone (2018-present) as Young Rip Dutton
American Horror Stories (2021–present) as Quinn
Also read: 10 Best Beth and Rip Moments on Yellowstone
What Will we See from a Young Beth and Rip in Coming Episodes?
There isn't much indication of what all we will see from young Beth and Rip in season five or how many episodes they will be in. However, we are likely to get more glimpses into their relationship during their late teenage years.
In season five episode one, there is a flashback of young Beth and Rip, with Beth getting ready to leave for college to study finance. Before she leaves, she has Rip take her out on a date.
The two go out to a bar and when the bartender asks for an ID Beth leans forward and says, "I have two." Rip is visibly uncomfortable by the situation and the bartender tells Rip he has his hands full.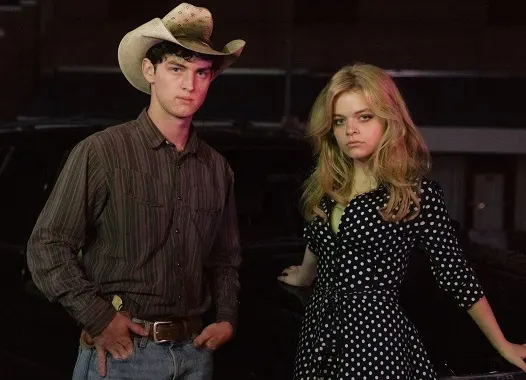 While the bartender is making a drink, Beth and Rip get into a fight. Rip decides to head home, leaving Beth the keys, and waits for her to return to the ranch.
However, when another ranch worker drops Beth off, she kisses him in front of Rip and then proceeds to invite him into the back seat of his truck to hook up.
The scene then cuts to present-day Beth when she wakes up in bed. Appearing to remember the events in a dream, she apologizes to Rip for her actions.
"This is a sort of blanket apology to generally cover the past. Everything before right now. That's what I'm sorry for. I was fucking awful to you. I was terrible. And if it is any consolation, I was worse on myself," said Beth. Rip reassures her that he is happy, but she continues on. "I robbed us of so much time together," she says. "It's still robbing us."